63 Parks Traveler
My Quest to See Endangered Condors in Pinnacles
Rock climbing, getting lost, and scouting for rare birds are all perfect pursuits in California's Pinnacles National Park. It's our 62 Parks Traveler's second stop on her journey to visit every U.S. national park in a year.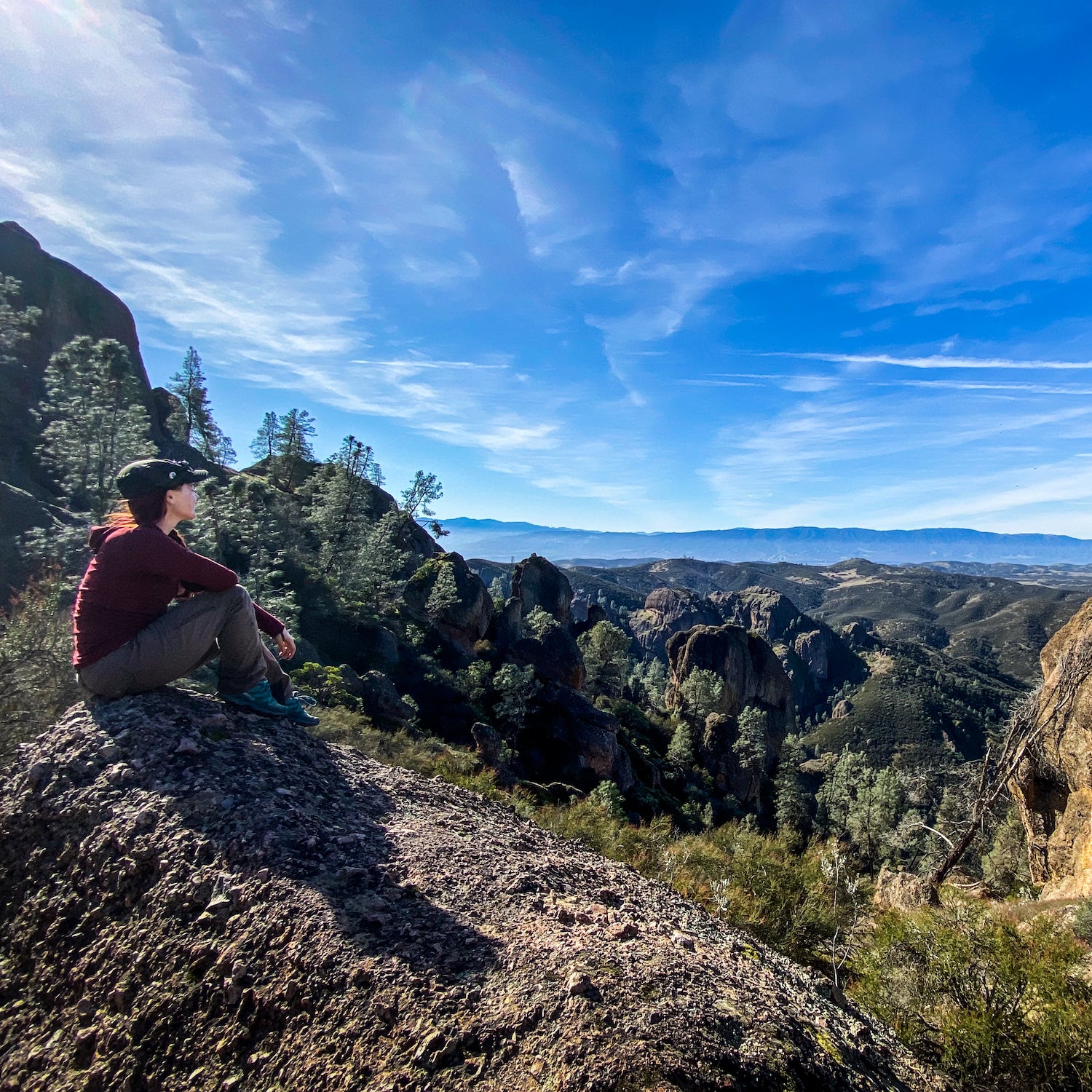 Heading out the door? Read this article on the new Outside+ app available now on iOS devices for members! Download the app.
62 Parks Traveler started with a simple goal: to visit every U.S. national park in one year. Avid backpacker and public-lands nerd Emily Pennington saved up, built out a tiny van to travel and live in, and hit the road. The parks as we know them are rapidly changing, and she wanted to see them before it's too late.
---
"If it's jerky, it's a turkey vulture," chuckled a park ranger when I asked about the difference between vultures and condors. Birding is a big deal in the Central Californian expanse of Pinnacles National Park, and I was dying to spot an endangered California condor before my two-day trip was complete.
As I hiked along Chalone Creek on the eastern side of the park, my eyes were glued to the tall spires of rock that towered above me. I tripped over tree roots and shuffled along the gravel trail, scanning the horizon as my buddy J.C. and I slogged up the three-mile approach to Costanoan, a 5.4 multipitch rock climb that would bring us into the heart of the park's High Peaks section.
But things don't always go according to plan.
We got lost. In a big way. Not realizing that the climbs in Pinnacles are incredibly well signed, we turned off the trail at the first intersection we saw after a butt-clenching scramble, in full packs, through Balconies Cave Trail. The next two hours of our afternoon were spent pacing back and forth along the base of Machete Ridge, a colossal fin of volcanic breccia, growing increasingly frustrated as the sun began to sink. I had only 48 hours in the park and felt like I was blowing it. I shoved a peanut butter and jelly sandwich into my mouth and tried to stay optimistic.
Stomping around like two clueless tourists, we finally located the base of our route with just enough time left to climb the first pitch before dark. I put J.C. on lead and craned my neck skyward as two massive black birds soared overhead. "Could it be?" I wondered.
By the time I was clipped in and ready to rappel, the remaining neon egg yolk of sun was beginning to dip behind the nearby hills. Everything in sight was bathed in amber and glowing, as if illuminated from within. Suddenly, a monstrous black bird coasted across the sky on an updraft, gliding high above my head. Even though it was far away, it looked impossibly huge. It had to be a condor.
I hiked back through the dark with J.C. in tow, smiling and unable to feel my toes in the frigid night air. Even a day full of botched plans can end on a high note.
62 Parks Traveler Pinnacles Info
Size: 26,606 acres
Location: Central California, 120 miles south of San Francisco
Created In: 1908 (national monument), 2013 (national park)
Best For: Birding, hiking, rock climbing, and car camping
When to Go: Spring (37 to 78 degrees) and fall (34 to 89 degrees) are the best times to visit. Winter usually ranges from 30 to 62 degrees, and summer averages between 50 and 100 degrees—not the best time to visit.
Where to Stay: Pinnacles Campground is centrally located and offers amenities like camp showers, flush toilets, food lockers, and even a camp store. It's the only campground in the park, so book early if you plan to visit on a weekend or during popular spring months. Pro tip: beware the tenacious raccoons—one managed to sneak into my van.
Mini Adventure: Explore Bear Gulch Cave and the Rim Trail on an easy two-mile loop that departs just south of the Bear Gulch Nature Center. Bring a flashlight or headlamp to explore the talus caves, then circle around toward the reservoir to catch a panoramic view of Pinnacles' famous rock formations. If you're lucky, you might even see a few climbers scaling the cliffs near the nature center. The cave is closed mid-May to mid-July for pupping season, when the bats raise their young.
Mega Adventure: Hike the entire park in a day on the High Peaks–Rim Trail–Bear Gulch Loop. This 8.5-mile trail starts at the Old Pinnacles Trailhead parking lot and traverses the very best of Pinnacles National Park, cutting through the steep and narrow section of the high peaks, cruising by the Bear Gulch Reservoir, and finishing with a mellow, shady stroll along Chalone Creek. Keep an eye out for woodpeckers, prairie falcons, California condors, and hundreds of other native bird species along the way. Visiting climbers won't want to miss the highly rated four-pitch Costanoan (5.4 YDS) in the park's High Peaks area.
Worth a Detour: If the park's only campground is full, Laguna Mountain is a great runner-up. Located 23 miles from the park, there are two camping areas just off the winding Coalinga Road: Laguna Mountain and Upper Sweetwater. These free BLM sites are secluded and well spaced and offer vault toilets, fire rings, shade structures, and picnic tables.