63 Parks Traveler
Alpine Lake Spotting at Rocky Mountain National Park
With more than 350 miles of trails, 124 peaks, and 147 lakes, this must-see Colorado destination is a wilderness lover's paradise. It's our 62 Parks Traveler's 22nd stop on her journey to visit every U.S. national park.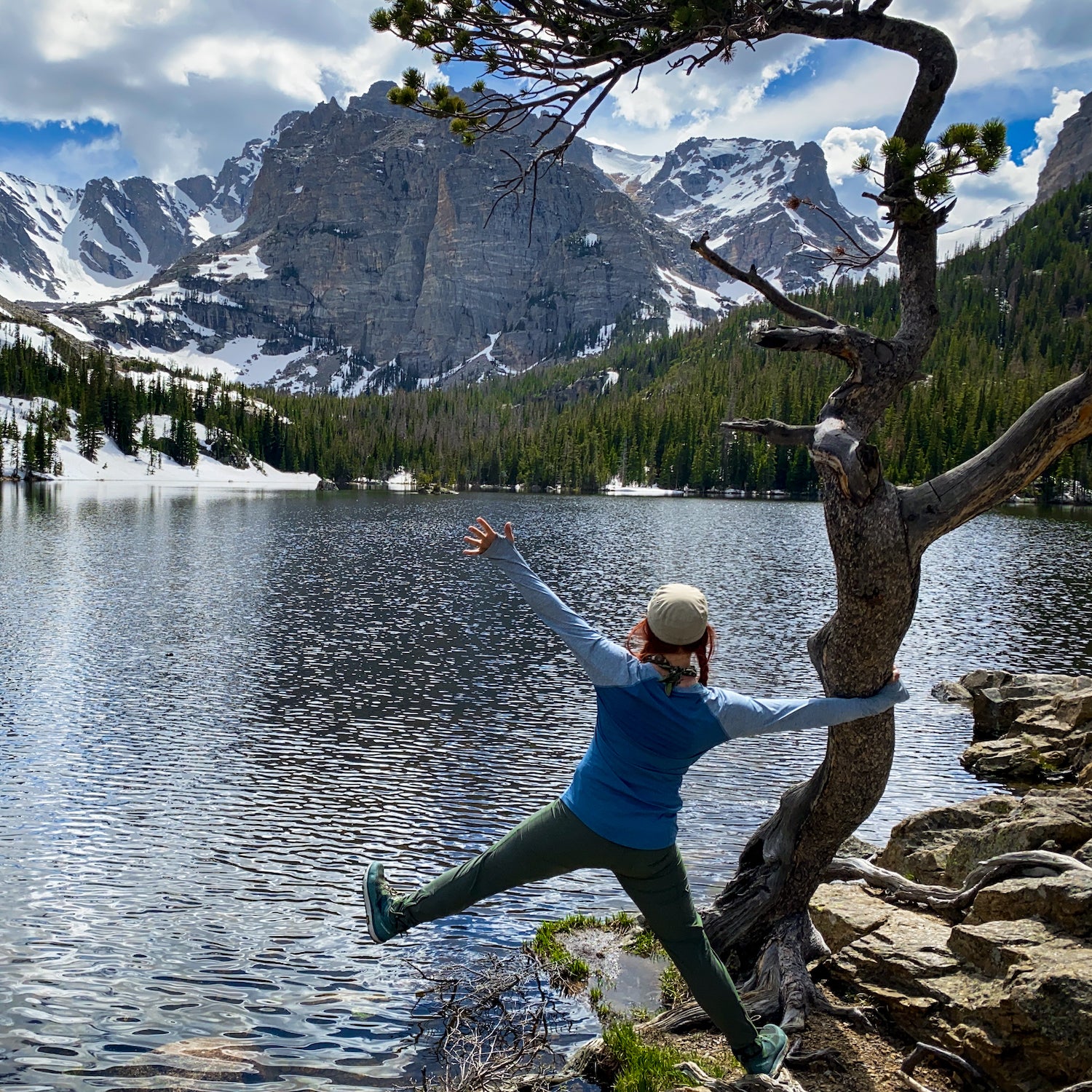 Heading out the door? Read this article on the new Outside+ app available now on iOS devices for members! Download the app.
62 Parks Traveler started with a simple goal: to visit every U.S. national park in one year. Avid backpacker and public-lands nerd Emily Pennington saved up, built out a tiny van to travel and live in, and hit the road. The parks as we know them are rapidly changing, and she wanted to see them before it's too late.
Pennington has returned to traveling and is committed to following CDC guidelines during the COVID-19 pandemic to ensure the safety of herself and others. She's visiting new parks and closely adhering to best safety practices.
---
At Rocky Mountain National Park, I had one thing on my mind: alpine lakes. With a short amount of time to explore one of the country's most popular parks, I made my visit a quest to discover as many gleaming sapphire tarns as I could during my stay.
As home to 147 lakes, 450 miles of streams, 355 miles of developed trails, and 124 named peaks, this outdoor mecca is a massive playground for diehard mountain addicts looking to rack up some vertical gain and cap it off with a polar plunge into fresh snowmelt.
I strong-armed my partner, Brian, to rise extra early for the hour drive in from Boulder, Colorado. Our mission was to nab a coveted parking spot near Bear Lake and hike the most popular trail in the park, a 3.5-mile stroll to Emerald Lake. At 8:30 A.M., the trail was already packed with day-trippers skidding all over the steep June snow without a microspike in sight.
It was far from the idyllic scene I had envisioned of pixies feeding me grapes while I basked in the sunshine on the edge of a secluded mountain lagoon. Exasperated, I grabbed my things and tramped back down the trail.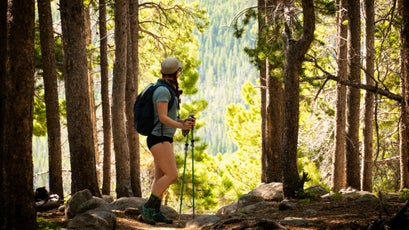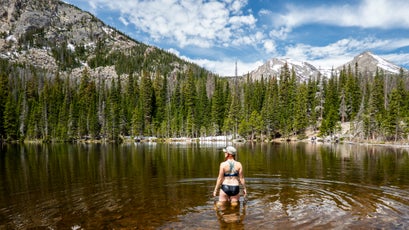 Next on my list was Mills Lake in the Glacier Gorge section of the park. While Brian napped in the van, I refilled my water bottle and set off with an ambitious goal of rushing through the 5.5 miles solo in just two hours. It was time to burn some rubber.
My boots crunched along as I climbed past thundering Alberta Falls, rock-hopping to avoid late-season mashed potato snow. Though I was speed-walking on a tight timeline, the lake itself made me stop dead in my tracks.
As a lifelong hiking aficionado, I can confidently say that this trail was one of my all-time top five. To my left, Longs Peak and its craggy fingers, called the Keyboard of the Winds, jutted straight up into the clouds, while Chiefs Head Peak, an imposing granite slab on the horizon, dominated the other half of my view. I could have easily stayed and stared until nightfall, but I was expected back at the van.
Day two would be different. Armed with a plan, a Kindle, and a backpack full of snacks, I rose early and drove through the honeyed morning light in the Moraine Park area, passing clusters of elk and wild turkeys along the way. My objective? Fern Lake.
I hiked up through a charred burn zone from the 2012 Fern Lake Fire, across a wooden bridge, and past a roaring waterfall that sprayed cool mist onto my cheeks. By the time I reached the lake's gently lapping waters, I was primed for ultimate relaxation. I ate an enormous lunch, cast off my boots, and sprawled out on the grass near the shore like a cat in a patch of sunlight.
After three hours of unencumbered mountain bliss, I was feeling brave, so I stripped down and leapt into the freezing water, sending a shock through my system that covered my whole body in goose bumps. Then something remarkable happened. Other people hanging out by the lake began to jump in, too, shrieking and laughing at the biting temperature. It was as though being loudly and publicly myself in the wild gave others the excuse to do the same, and it was a pretty epic way to end my lake quest.
The first one was too crowded, the second too quick, but this one … this one was just right.
62 Parks Traveler Rocky Mountain Info
Size: 265,769 acres
Location: Northern Colorado
Created In: 1915 (national park)
Best For: Hiking, mountaineering, fishing, climbing, scenic drives, waterfalls, and wildlife viewing
Before You Go: The northern section of the park is currently closed due to wildfires. Check the National Park Service's site for updates before you visit.
When to Go: Due to a wide range of elevations, Rocky Mountain's weather varies wildly. Summer (37 to 71 degrees) brings the best temperatures and the biggest crowds, while spring (16 to 53 degrees) and fall (18 to 61 degrees) are quieter and good for lower-elevation exploits. Winter (11 to 31 degrees) is frigid but super for snow sports. (Temperatures listed were taken at the Bear Lake Ranger Station, elevation 9,583 feet.)
Where to Stay: If you're staying in Boulder and want to splurge, the St. Julien is an eco-friendly boutique hotel that's worth your while (from $232). Enjoy post-hike spa treatments and incredible views of the Flatirons from your balcony. If you're on a budget and looking to stay within the national park, Rocky Mountain offers many reservable campsites; however, Moraine Park Campground stands above the rest for its frequent elk sightings, year-round availability, and sweeping views of the neighboring high peaks.
Mini Adventure: Hike from Bear Lake to Emerald Lake. Go ultra early to avoid swarms of people, and enjoy an easy stroll through a dense pine forest that spits you out at the foot of Hallett Peak's impressive alpine cirque. Keep an eye out for sneaky marmots.
Mega Adventure: If you're looking for a strenuous trek and an up-close look at Longs Peak (the only fourteener within the park), Chasm Lake is a fantastic 8.5-mile day hike. Topping out at 11,823 feet, the trail gives visitors a great chance to check out subalpine and tundra zones.