63 Parks Traveler
The Hidden Adventures of National Park of American Samoa
Our columnist had little idea of what to expect when she ventured to the far-flung island territory of American Samoa. In the final report of her 63 Parks series, she explains why this may be the nation's wildest, most protected landscape of them all.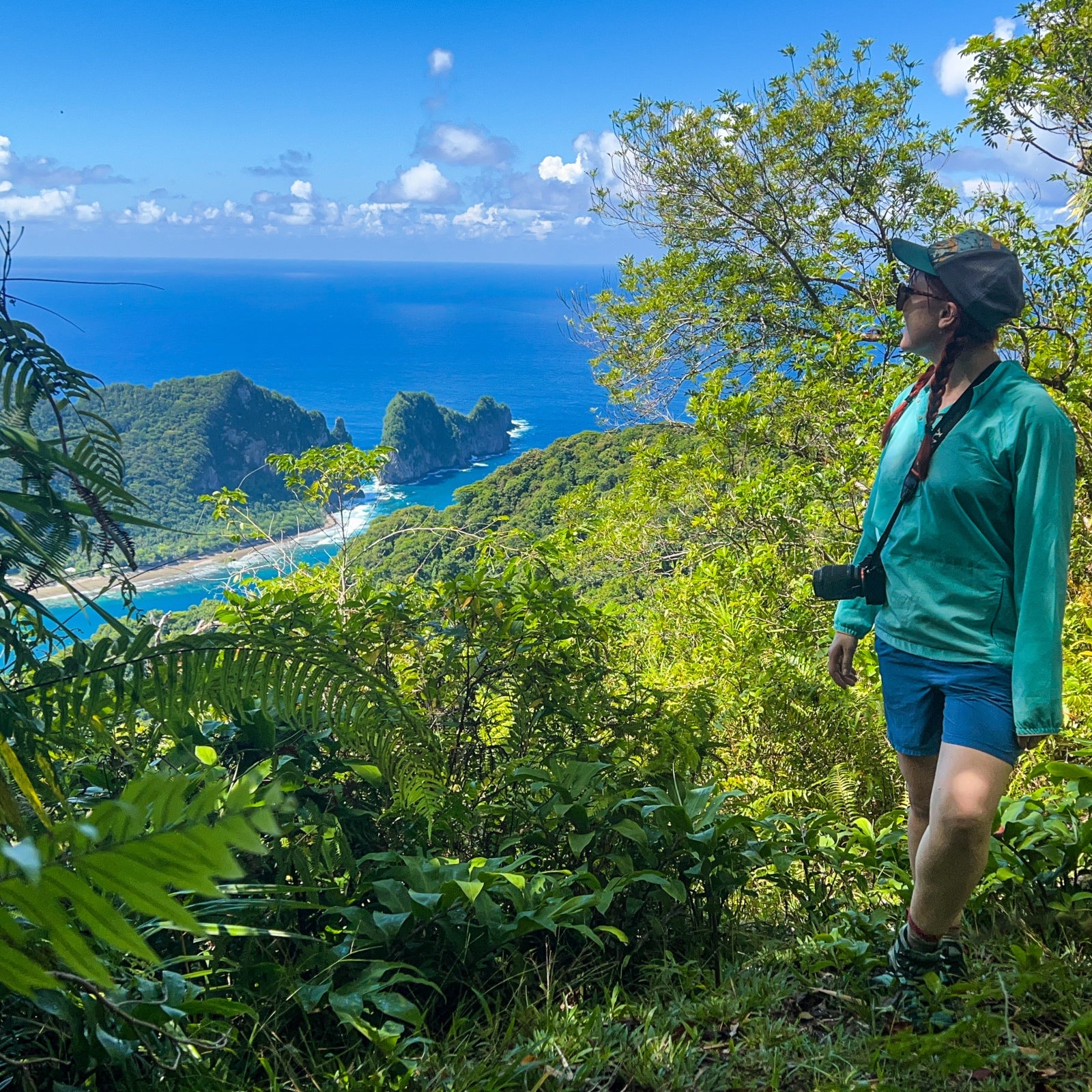 Heading out the door? Read this article on the new Outside+ app available now on iOS devices for members! Download the app.
63 Parks Traveler started with a simple goal: to visit every U.S. national park. Avid backpacker and public-lands nerd Emily Pennington saved up, built out a tiny van to travel and live in, and hit the road, practicing COVID-19 best safety protocols along the way. The parks as we know them are rapidly changing, and she wanted to see them before it's too late. American Samoa is her final park visit.
---
A wave of humidity knocks me off my feet the moment I exit the plane, like God's breath reaching in for a kiss. There's something ancient and otherworldly about the steamy air of the tropics that always feels overpowering, and American Samoa, an archipelago in the heart of the South Pacific, was no different. Everywhere I looked, thick tendrils of green poured out onto rooftops, roadways, and down steep oceanside mountains, Mother Nature working hard to reclaim whatever human development she could.
American Samoa, a U.S. territory south of the equator and northeast of Fiji, is often described as a less-developed version of Hawaii. Getting there is no quick hop across the ocean: it required a six-hour flight from Los Angeles, followed by another nearly six-hour flight from Honolulu. The park occupies parts of three volcanic islands, and as I explored its main one, 52-square-mile Tutuila, I quickly learned that this destination was much more than a far-flung version of the Aloha State.
For starters, it's important to acknowledge that the National Park Service doesn't own any of the park's grounds; in keeping with the Samoan belief of communal ownership of land, park units are currently leased from Native villages and the American Samoa government. National Park of American Samoa was specifically established to protect faasamoa, the customs and heritage of Samoa's 3,000-year-old culture. For those eager to experience the region's unique, wild beauty, you'll be happy to hear that it's home to the only mixed-species paleotropical rainforest in the United States, as well as one of the deepest natural harbors in the South Pacific, delicate coral reefs, and boulder-strewn beaches. History buffs can look at it from another angle: these islands were a key naval outpost during World War II. Today, tourism and tuna canning are the main industries on American Samoa.
Diehard hiker that I am, I made a beeline for the Mount Alava Adventure Trail on day one. With no rain in the forecast (a rarity in this corner of the world), I reasoned that the 87-degree temperature and 80 percent humidity would make for a pleasant excursion along this rugged, unmarked trail. I was wrong. Shoving the occasional fern and tree branch out of my path, I ascended a steep slope cut into the jungle. Countless spiderwebs broke across my face. Hermit crabs scuttled away from close calls beneath my boots. In under an hour, I'd sweat through my sun shirt and shorts and was panting in the midday heat. I didn't see a soul all afternoon. (That said, this national park saw only 1,887 visitors in 2022.)
My reluctant acceptance that this overgrown route through the rainforest would not be as breezy as the manicured trails I was used to in California forced me to slow down, take breaks, and listen in a way I often don't when I'm charging toward a mainland peak. The melodic trill of tropical birdsong serenaded me as I neared an undulating ridgeline where flying foxes with three-foot wingspans whooshed overhead like small, mammalian dragons. I almost didn't mind that my GPS app turned me around just before the summit–I'd been transported out of my terrestrial woes and into a state of wonder.
After a long (and scorching) backtrack through the forest, I hightailed it to Tisa's Barefoot Bar, a legendary oceanfront eatery east of the capital of Pago Pago, for a well-earned piña colada and seafood feast. Tisa Fa'amuli, the restaurant's matriarch, was a pioneer of ecotourism on the island, promoting the establishment of the private Alega Marine Sanctuary in the early 1980s, before the national park was formed. While she, her husband, Candy, and I dined on freshly caught bigeye, homegrown pineapple, and locally harvested breadfruit, I admired the bar's construction. With its hand-woven thatch-roofed panels and hewn log columns, it reflected traditional Samoan architecture.
Candy offered to take me snorkeling the following morning, so I rose with the sun to catch the low tide. We paddled out to the sanctuary to visit the area's famous underwater reefs. I allowed the slight current to rock my body along the gentle surge of waves, eyeing striped butterfly fish and listening to rainbow parrotfish crunching on coral while darting around the mounds of their massive colonies. As we slowly returned to shore, Candy spotted an endangered hawksbill sea turtle. My heart did a somersault inside my chest.
Compared to the horror-show headlines decrying miles of bleached, dying coral in Australia and the Caribbean, American Samoa's reefs are doing remarkably well. A group funded by a National Park Foundation research grant that hopes to uncover why Samoan corals appear to be more resilient to temperature increases. The team's gene-mapping efforts may reveal whether adaptation could be the reason, or possibly novel genetic diversity. The answer could restore devastated reefs across the globe affected by climate change.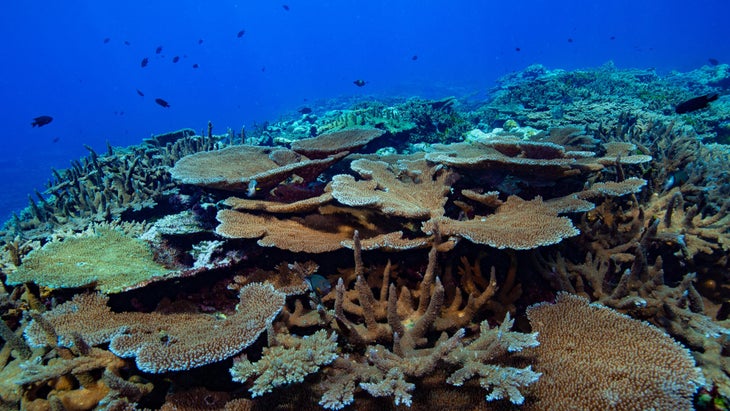 My final night in Samoa, I found myself wandering from restaurants to bars in Pago Pago, an attempt to escape the pervasive humidity. At least my red-eye flight back to Hawaii would have a temperature-controlled environment. It was a fitting ending to a trip in which I endeavored to explore and make sense of an utterly wild landscape and intense climate.
Perhaps the awe and discomfort I faced in my final national park served as a sensory metaphor for all that was noble and important and critical about my entire park experiment. After all, if we pave over our rough and difficult past—something that underlies every national park in America—how will we ever make sense of our future?
63 Parks Traveler American Samoa Info
Size: 13,500 acres
Location: The South Pacific's Polynesian Triangle, about 800 miles northeast of Fiji
Created In: 1988 (national park)
Best For: Snorkeling, hiking, diving, beach days, bird-watching
When to Go: The best months to visit are June through August (77 to 85 degrees), when temperatures and precipitation tend to be more pleasant for outdoor excursions. Autumn (78 to 87 degrees) brings the return of the rains, while winter and spring see hotter average temperatures and even heavier rains.
Where to Stay: When I said that American Samoa is undeveloped, I meant it. There are few hotels and virtually no Airbnbs on its islands. Sadie's by the Sea, on Tutuila, is conveniently located near the beach and national-park visitor center, and its ocean-view restaurant is popular with locals and tourists alike. Another solid choice is Tisa's Barefoot Bar, where you can spend the night at a thatched "eco-fale"—an open-air house—right on the water; a gourmet breakfast and dinner are included in the price.
Where to Eat: For breakfast, head to Café Felila in Pago Pago for healthy smoothies, bagel sandwiches, and buzzy espresso drinks. After a day of hiking and adventure inside the park, mosey over to Tisa's Barefoot Bar (reservations required) for a seafood dinner or, on Wednesday nights, a traditional umu, or earth-oven, feast.
Mini Adventure: Rent a car (a must for exploring the national park) and trek the Tuafanua Trail on the northern side of Tutuila. You'll climb a series of switchbacks, followed by a steep rope-and-ladder section, before dropping down to a rock beach with outstanding views of craggy Pola Island. Afterward head out for a snorkel (bring your own gear, as it can be hard to find on the island, or rent some from Tisa's and have Candy take you out to the Alega Marine Sanctuary).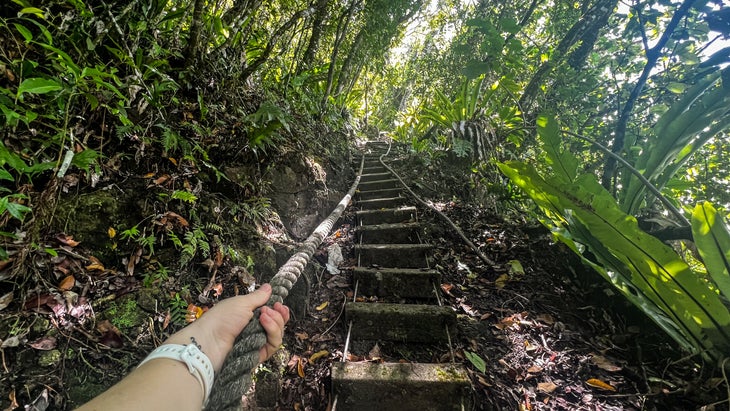 Mega Adventure: Hike 1,610-foot Mount Alava via Fagasa Pass. Although I was ultimately able to laugh at my ordeal on the Mount Alava Adventure Trail, I can't in good conscience recommend it. Instead, hike the standard route from Fagasa Pass, which is well-maintained, easy to follow, and offers breathtaking views of both sides of Tutuila and its surrounding waters.
Lead Photo: Courtesy Emily Pennington