The Best Things to Do in Every National Park
Follow these park-by-park recommendations from our expert who has explored each one to get the most bang for your adventure buck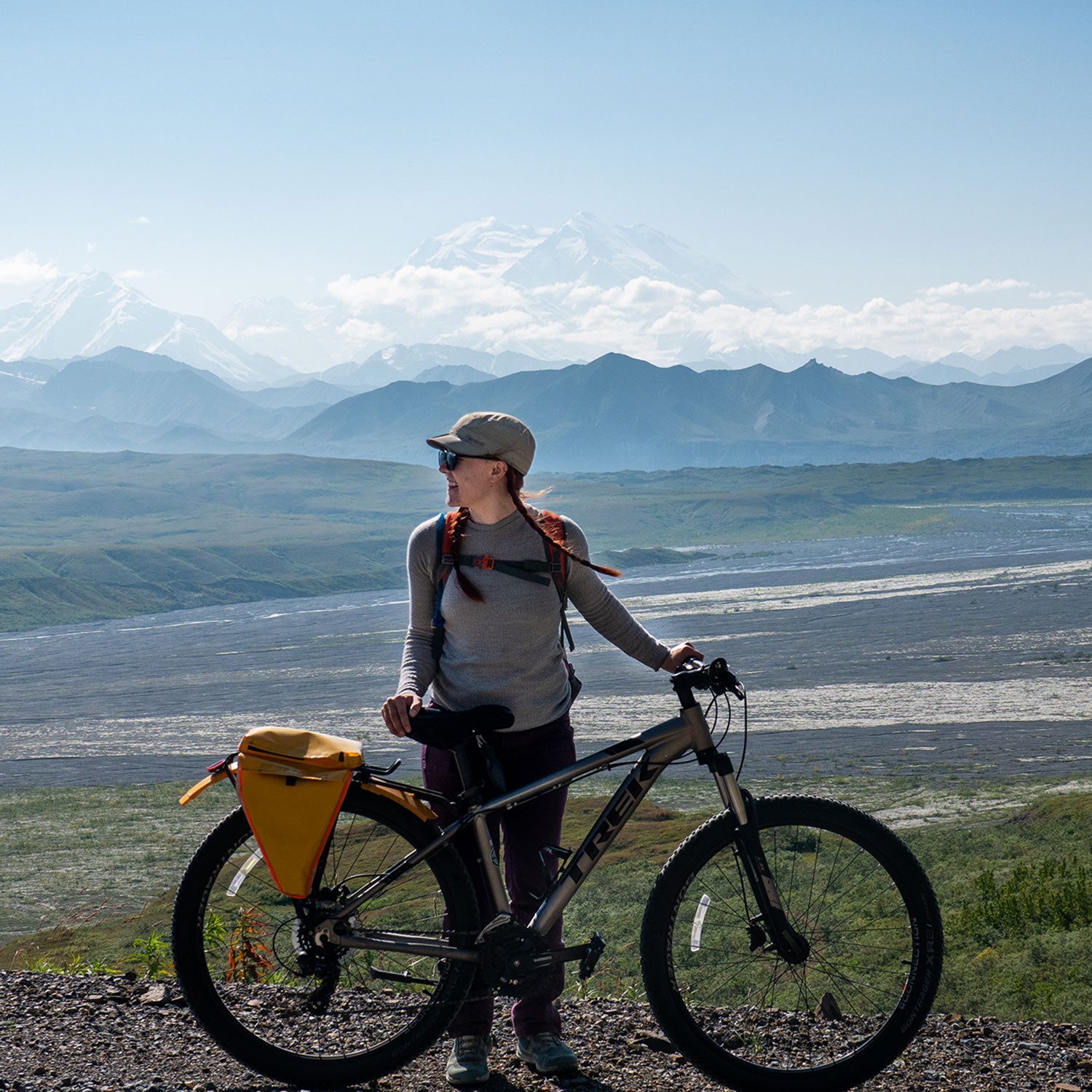 Courtesy Emily Pennington
Heading out the door? Read this article on the new Outside+ app available now on iOS devices for members! Download the app.
National parks are having a moment. From the rocky boreal forests of Isle Royale, to the arid dunes of Death Valley, to the charismatic megafauna of Yellowstone, there's no shortage of diverse landscapes to explore and adventures to be had in each of the 63 Congress-designated units.
In 2020, I embarked on a quest to visit every single national park in under a year, which took me well outside of my comfort zone, kayaking to glaciers in Alaska's Kenai Fjords, solo backpacking in the red rocks of Utah's Canyonlands, and rock climbing on the moss-splotched cliffs of California's Pinnacles. I wrote a book about it, too, called Feral, which details the nitty-gritty of my outrageous journey.
These are my picks for the best adventure in every national park.
1. Bike Carriage Roads in Acadia National Park
Situated in the far northeast of the country, Maine's Acadia National Park is known for its craggy ocean cliffs, phenomenal sunrise vistas, incredible autumn foliage, and bevy of freshwater ponds. It's also revered for its 45 miles of scenic, crushed stone carriage roads, a gift of John D. Rockefeller Jr. in the early 1900s. Acadia Bike, in central Bar Harbor, has the largest rental fleet in the state (including mountain, hybrid, and ebikes), making it easy peasy to hop on two wheels and cruise around the park. I'd heartily recommend starting and ending your ride near Jordan Pond to enjoy some of the best fall colors and post-workout popovers.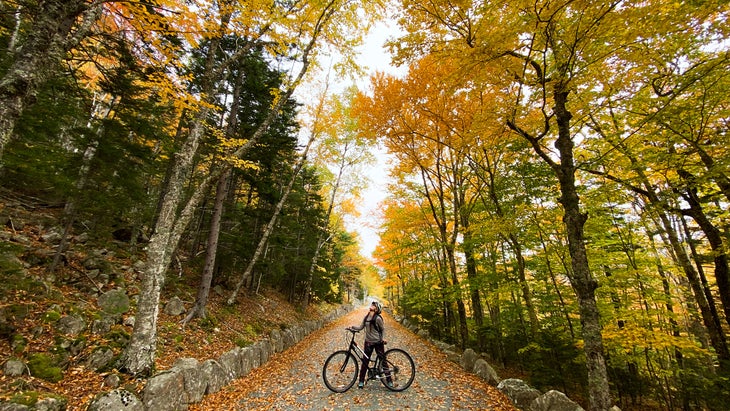 2. Take a Fiery Furnace Loop Tour in Arches National Park
Arches in Utah can get a bad rap for its crowded trails and long wait times for vehicle entry, but the park's Fiery Furnace area, which boasts a heady labyrinth of sandstone hoodoos and slot canyons, is the only permitted hiking zone. That means it's less-crowded and more regulated than old stand-bys like the trail up to Delicate Arch. Explore this outrageously unique natural wonder stress and GPS-free on a guided, 2.5-hour ranger hike, which will also offer loads of information about the area's cultural and geological history.
3. Drive the Badlands Loop Road in Badlands National Park
For the best views, prairie dog towns, and glimpses of ornery bison, there's no better (and more accessible) day trip than a meandering drive along Badlands Loop Road in South Dakota. In addition to the road's twelve designated overlooks, auto tourists here will glean second-to-none views of the park's famously striated Badlands Wall, and its rippling, rapidly eroding hills of ecru and sepia. If you're itching to get out and stretch your legs, a quick, .3-mile hike along the Window Trail boardwalk should do the trick.
4. Raft Santa Elena Canyon in Big Bend National Park
It's tough to pick just one must-do adventure in a park as multisport-friendly as Texas's Big Bend, which is known for its stellar hiking trails, 4WD-accessible desert camping, steamy hot springs, and phenomenal river access, but this one combines the best of the bunch. Not only is Santa Elena Canyon a marvel of the erosive power of water (the ravine's 1,500-foot limestone walls were carved over millennia), it's also a great single-day or overnight rafting trip. Just be sure to check the Rio Grande's flow rate before heading out.
5. Sail, Paddle, Snorkel, & Island Tour in Biscayne Bay National Park
Few national parks are primarily water-based, and, unless you own your own boat and scuba gear, getting the most out of a visit to southern Florida's Biscayne can feel like a daunting task. Thankfully, Biscayne National Park Institute, a collaboration between the park and its official nonprofit arm, offers some awesome day trips through the area's lush mangrove lagoons, underwater reef systems, and historic islets. The Institute's "Sail, Paddle, Snorkel, & Island Visit" tour includes a sailing voyage across the bay, kayaking around Boca Chita or Adams Key, and snorkeling in the same area. Pro tip: ask your guide about the time an eccentric millionaire took his pet elephant to Boca Chita Key.
6. Descend the Gunnison Route in Black Canyon of the Gunnison National Park
Sure, you could simply drive around and gawk at the spectacular view points along the South Rim of Black Canyon of the Gunnison in Colorado, but to truly appreciate the rugged expanse of one of the steepest, narrowest canyons in the world, you've got to climb down into the belly of the beast. Fit hikers and avid scramblers will love spending a day on the Gunnison Route, which drops a staggering 1,800 feet in just 1.5 miles. At the bottom, soak your feet in the mirror-clear waters of the Gunnison River before the long ascent back up.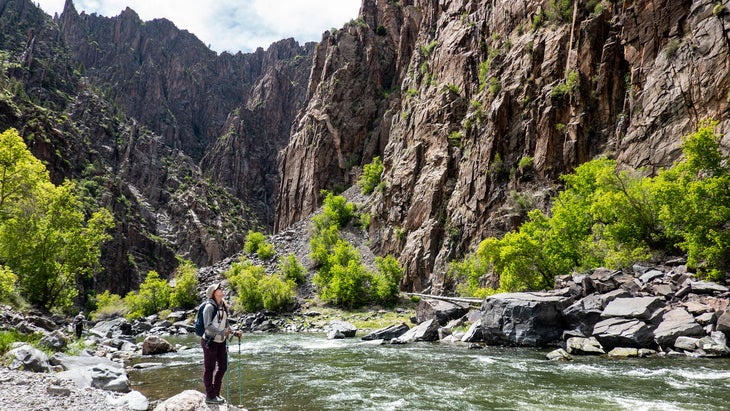 7. Hike the Figure-8 Combination in Bryce Canyon National Park
Why hike one iconic trail in Utah when you can weave together three gorgeous paths that dip below the rim of Bryce Canyon's hoodoo-studded amphitheater? The Figure-8 Combination starts at Sunrise or Sunset Point (check what times parking lots are busiest first) and merges Queen's Garden, the Navajo Loop, and the Peekaboo Loop into one strenuous, 6.4-mile day hike. As you meander through the maze of rust-tinted sandstone formations, you'll likely understand why Ebenezer Bryce, who the park was named for, called it "a hell of a place to lose a cow."
8. Mountain Bike White Rim Road in Canyonlands National Park
Canyonlands' White Rim Road is often the trip of a lifetime for dedicated cyclists and overlanders, and nabbing a coveted day use or overnight permit can be tricky business. The scenic byway in Utah, which stretches for 100 miles along the tangerine-hued cliffs of the park's Island in the Sky district, is often completed as a multi-day expedition, so that adventurers can take their time and savor the craggy mesas, crumbling pinnacles, and sweeping Green River vistas the area is known for. Unsure about going it alone or don't want to haul out your rig? Rim Tours offers a fantastic four-day bikepacking trip for canyon-loving bikers of all skill levels (e-bikes allowed).
9. Explore Cottonwood Wash Slot Canyon in Capitol Reef National Park
If you're blessed with good weather on your next trip to central Utah's Capit0l Reef, consider braving the washboard Notom-Bullfrog Road, on the park's less-traveled eastern edge, to take in the sheer majesty of the Waterpocket Fold (the park's defining feature, a 100-mile-long wrinkle in the earth's crust). On the way, stop at a ranger station for a detailed map and guide to the area's many slot canyons, which are an excellent way to spike your adrenaline while avoiding crowds. Cottonwood Wash is relatively easy to navigate and begins its narrows section after a short 1.5-mile hike. Double-check the rain forecast (never hike a slot canyon during or near a monsoon), then get ready to shimmy, climb, and squeeze your way through narrow sandstone walls.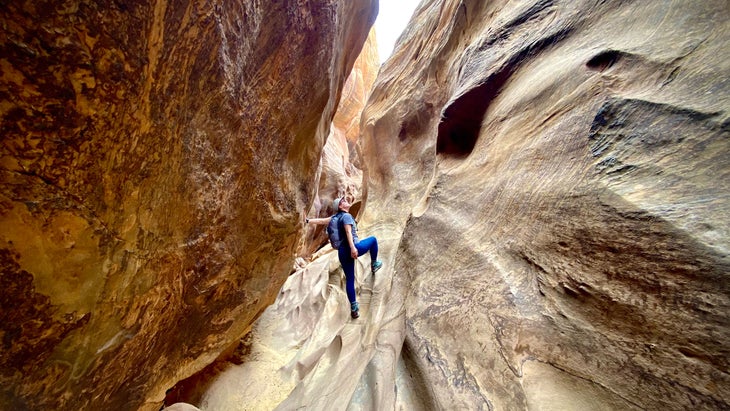 10. Take a Guided King's Palace Tour in Carlsbad Caverns National Park
One of the few national parks that's largely accessible by wheelchair (an elevator drops visitors 750 feet to the cave's main rooms and an underground cafeteria), Carlsbad Caverns in New Mexico is an out-of-this-world stop on any parks roadtrip. Chock-full of delicate limestone formations that resemble rippling jellyfish, huge white draperies, and gardens of toadstools, it's one of the most decorated cave systems in the world. The ranger-led King's Palace Tour is a great way for visitors to get an up close and personal look at the deepest portion of the cavern that's open to the public, and, if you're lucky, your guide will conduct a blackout, allowing you to take in the wild darkness of the passageways.
11. Kayak Through Sea Caves in Channel Islands National Park
Hop aboard an Island Packers ferry and get ready to explore Southern California's rugged sea caves and dense kelp forests while kayaking around Santa Cruz, the largest island in the park. BYO-kayak or book a day trip with Channel Islands Adventure Company for a guided look at some of the most colorful coves and caves. Plan your trip between June and September for the calmest waves and easiest paddling.
12. Canoe or Kayak Cedar Creek in Congaree National Park
Though I'm not a seasoned paddler by any means (my adventures have been relegated to a few guided day trips here and there), I spent my one afternoon at South Carolina's Congaree National Park shuttling cars and exploring the length of heavily-wooded Cedar Creek by kayak. Something about the tea-colored water, eerie protruding cypress knees, and wonderful silence combined to make it a magical way to soak up this small but special park, which preserves the country's largest remaining tract of old growth bottomland hardwood forest. Carolina Outdoor Adventures offers expert-led paddles if you'd prefer a group trip.
13. Cruise the Scenic Rim Drive in Crater Lake National Park
In a park mostly known for its enormous, sapphire-tinged tarn, sometimes the best way to take in the spectacular beauty is to explore by car. Crater Lake, in southern Oregon, offers one of the best scenic drives in the entire national park system–a 33-mile feat of engineering that circumnavigates the lake, which is the deepest in the U.S. Along the way, road trippers can enjoy thirty designated overlooks (Watchman and Phantom Ship were my favorites) and a flat, one-mile hike from Rim Village to Discovery Point, should they fancy a stroll.
14. Fly Fish the Cuyahoga River in Cuyahoga Valley National Park
The Cuyahoga River is a triumphant success story when it comes to modern conservation. Many outdoor enthusiasts wrote it off in 1969, when it made headlines for catching on fire due to oil slicks. Recently, it's made the news again, as the Ohio EPA deemed fish caught in this waterway safe to eat, meaning that anglers of all stripes can once again enjoy the winding, wooded Cuyahoga with peace of mind. Commercial guiding companies like Cuyahoga Outfitters and community groups like Ohio Women on the Fly are helping the people of the greater Cleveland area rediscover the joys of urban fly fishing.
15. Hike Mosaic Canyon in Death Valley National Park
As someone who's gotten lost in the Death Valley backcountry in California and spent many sunset hours blissed-out in the Mesquite Flat Sand Dunes, it might be surprising that my favorite adventure in this arid expanse is a humble, four-mile hike. However, in my mind, the journey through the narrow, winding walls and dry falls of Mosaic Canyon epitomizes the bizarre geology that characterizes so much of this massive desert park (the largest in the lower 48). Take your time on the bumpy, washboard Mosaic Canyon Road, then get ready to traverse a ravine of water-polished marble and colorful volcanic breccia before reaching an impassable dry waterfall, two miles in.
16. Bike Denali Park Road in Denali National Park
Denali's Park Road in Alaska is a graded, 92.5-mile byway that's only accessible by park-sanctioned tour or transit bus past mile fifteen. As such, it's an awesome (and uncrowded) place for cyclists to day trip or bikepack, utilizing the park's shuttle system (reserve in advance) to return to their car at the end of the journey. Bring your own or rent a bicycle at Bike Denali to weave through and around the area's fragrant spruce forests, wildflower-studded alpine tundra, and braided glacial rivers. Just don't forget to bring the bear spray.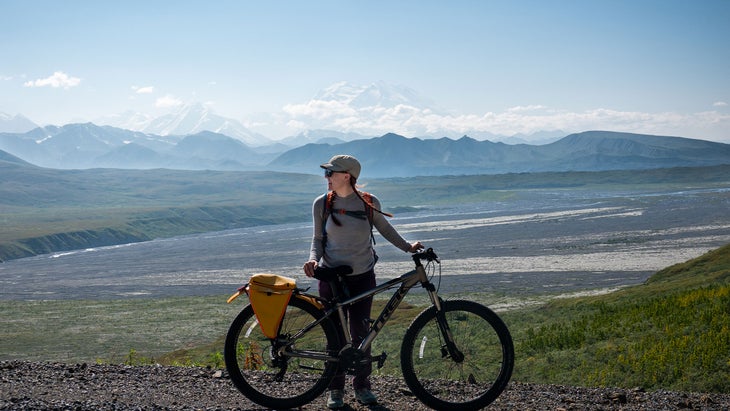 17. Camp on Garden Key in Dry Tortugas National Park
Most travelers to Dry Tortugas, which sits roughly 70 miles west of Key West, Florida, step onboard the Yankee Freedom ferry for a simple day trip to Fort Jefferson, a towering red brick fortress that helped defend the Union during the Civil War. However, the most pristine solitude and celestial dark sky vibes can be gained by intrepid travelers who stay overnight. Sandy campsites with picnic tables and grills line the far corner of Garden Key, where visitors can enjoy serene beaches, once the 3pm ferry departs.
18. Take an Airboat Tour in Everglades National Park
Yes, it might seem cheesy at first glance, but a guided airboat tour is one of the most quintessentially Everglades-y things you can do on your next trip to this southern Florida national park. Gator Park is licensed to drive their vessels across the sawgrass slough that characterizes the park's northern section, and their hour-long tour is one of the most surefire ways to see the dinosaur-like visage of an alligator in person.
19. Raft and Backpack in Gates of the Arctic National Park
My motto is: if you're going to go far, go big. Though the rafting portion of my visit to Gates of the Arctic in 2020 was canceled, I was still able to revel in the Middle Earth-style majesty of northern Alaska's Arrigetch Peaks, which extend thousands of feet above the tundra like rocky granitic shark's fins. Now, Alaska Alpine Adventures is once again offering their combination rafting and backpacking trip across this stunning landscape, which begins with a scenic float down the Alatna River before hiking up and into these marvelous mountains.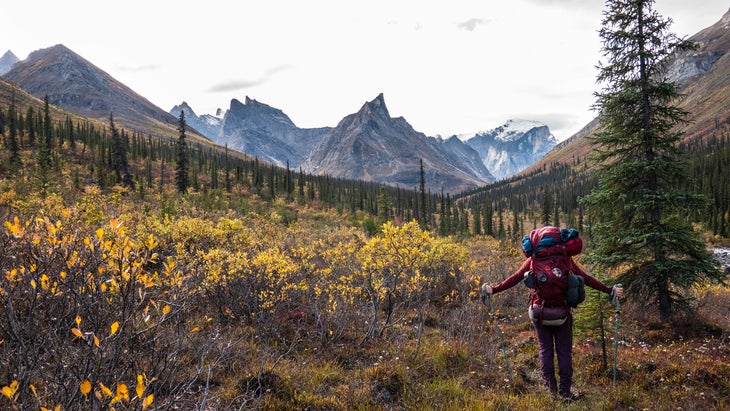 20. Tram Ride to the Top in Gateway Arch National Park
Let's face it. It's strange that there's a national park in downtown St. Louis, Missouri, to begin with, but if you're making a pilgrimage to the futuristic chrome rainbow of Gateway Arch, you might as well get as high as you can on that bad boy. Reserve your tickets in advance (they do sell out) for the Tram Ride to the Top, which offers second-to-none views of the city's iconic Midwestern skyline.
21. Overnight at Granite Park Chalet in Glacier National Park
Once hailed as "the Switzerland of America," Montana's Glacier National Park is one of the few sites in the NPS that still has hike-in mountain huts and lodges, just like the Alps. Sure, the Sperry is a bit fancier with its full-service dining room, but Granite Park Chalet boasts an incomparable view, and the opportunity to arrive via trekking one of the area's most famous trails–the Highline Trail. Enjoy countless wildflowers on your ascent (think beargrass, purple asters, and Glacier lilies), then chow down on dinner in the communal kitchen.
22. Cruise through Glacier Bay National Park
The vast majority of visitors to Glacier Bay, in southeastern Alaska, arrive via ship, and though the easiest and most affordable route into the park is on the day boat, travelers can get a longer and more in-depth look at the park's humongous tidewater glaciers aboard a park-sanctioned cruise ship. Scour the seas for feeding humpbacks, hear the calls of Steller sea lions, and enjoy a delectable dinner with the backdrop of verdant fjordlands on one of Seabourn's trips up the Inside Passage.
23. Hike Rim-to-Rim in Grand Canyon National Park
It's one of the most bucket-listy backpacking trips on the planet, a 24-mile adventure through rugged cliffs of billion-year-old sandstone with over 13,000 feet of elevation gain in Arizona. That is, if you can get a permit. Trekking the Grand Canyon rim-to-rim is a phenomenal way for fit hikers to deepen their experience of "the big ditch." Start at the Bright Angel or South Kaibab Trailhead, overnight at Bright Angel and Cottonwood Campgrounds, and get ready for the red rock experience of a lifetime. Book a hiker shuttle for your return.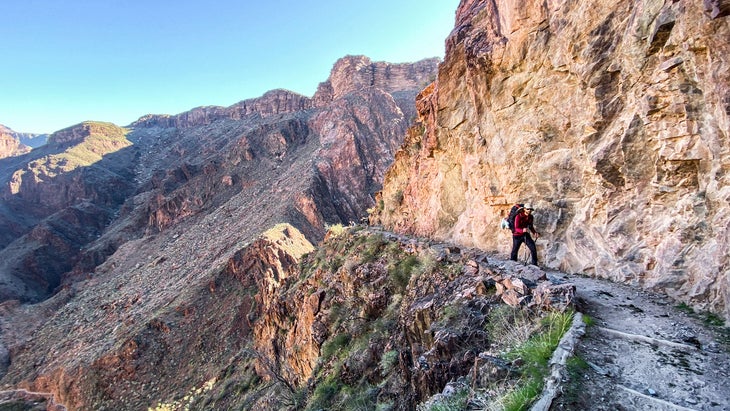 24. Backpack the Teton Crest Trail in Grand Teton National Park
Yet another sincerely epic (and much greener) backpacking adventure is the iconic Teton Crest Trail, which traverses 40 miles of jaw-dropping alpine scenery, passing craggy granitic canyons, high mountain peaks, and meadows full of lupine and forget-me-not along the way in Wyoming. Plan ahead to nab your permit for this one–they sell out months in advance–and stay on the lookout for huckleberry-chomping bears and surly marmots.
25. Hike the Bristlecone Grove and Glacier Trail in Great Basin National Park
Perhaps the most quintessentially "Great Basin" trail of them all is this 4.5-mile journey through ancient bristlecone pine forests (which can contain the oldest living things on the planet–trees up to 5,000 years old) to the foot of the Wheeler Peak Glacier. Along the way, travelers can crane their necks to take in imposing views of 13,065-foot Wheeler Peak, the second-highest in Nevada.
26. Climb the High Dune on First Ridge in Great Sand Dunes National Park
It may not have a sexy death metal name like "Black Canyon of the Gunnison," but climbing High Dune on First Ridge at Great Sand Dunes in Colorado is a great way to break a sweat while taking in the sheer enormity (thirty square miles) of these high-altitude hills of sand. It's also a much easier and more attainable goal than when I tried to hike Star Dune, which has since been dethroned as the highest in North America.
27. Bike Cades Cove on a Vehicle-Free Day in Great Smoky Mountains National Park
Most travelers to Great Smoky Mountains will immediately put a visit to traffic-choked Cades Cove (home to a handful of 200-year old settler cabins and excellent wildlife viewing) on the Tennessee side of the park on their list of things to do inside the park. But if your visit lands on a Wednesday, you're in luck. Each year, from May through September, the park implements a strict vehicle-free policy on hump day so that tourists can experience a bit more serenity. No bike? No problem. Rent one at neighboring Cades Cove Trading, near the campground.
28. Summit Guadalupe Peak in Guadalupe Mountains National Park
What was once a vast underwater reef system is now the highest point in the state of Texas, and adventurous souls can set out on the challenging 8.4-mile trek to the summit of Guadalupe Peak as a long day hike or an overnight backpacking trip (just book a primitive backcountry campsite in advance). From the apex of the hike, you'll have the privilege of gazing out at hundreds of miles of sprawling Chihuahuan Desert.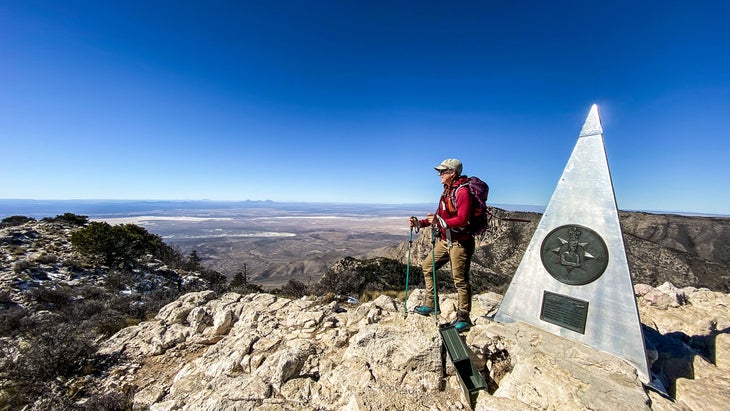 29. Hike the Keonehe'ehe'e (Sliding Sands) Trail in Haleakalā National Park
One of the most spectacular sights in Maui's Haleakalā National Park on is the multitude of blood-red cinder cones that freckle the main crater's floor, and this 11-mile trek from the Keonehe'ehe'e Trailhead to Halemau'u is one of the best ways to take it all in. I spent an entire day wandering through the Mars-like landscape of this enormous volcanic wonderland in 2020, and wished I had the time to overnight in a wilderness cabin and explore even more. Find out more about if it's okay to travel to Maui now here.
30. Take the Circle of Fire Helicopter Tour in Hawai'i Volcanoes National Park
Yes, it's a little bougie, but it's rare that the Big Island's visible lava flows are in an area that rangers will allow park visitors to stroll to, and booking a helicopter flightseeing tour that soars over the Kīlauea Crater is the surest way to safely feast your eyes on an active lava flow when visiting Hawai'i Volcanoes. Blue Hawaiian offers a mind-blowing hour-long flight out of Hilo that'll showcase the island's towering volcanoes and lush rainforests, complete with an inspired soundtrack in your headphones.
31. Soak in Mineral Water at Hot Springs National Park
Not every national park visit has to involve an epic adventure. Hot Springs, in downtown Hot Springs, Arkansas, offers the post-walk pampering and relief that many of us crave. After exploring the Ouachita Mountains and the town's historic core, post up at 111-year-old Buckstaff Bathhouse for a Traditional Bathing Package, which includes a 20-minute massage and a whirlpool mineral bath.
32. Hike the Cowles Bog Trail at Indiana Dunes National Park
The 4.7-mile stroll through Cowles Bog, one of the most biodiverse locations in Indiana Dunes, terminates at a sandy beach on the shore of Lake Michigan, which is a perfect (and uncrowded) spot for an afternoon picnic. Along the way, birders will want to scan the marshes and black oak savannas for migrating species, including the rare Kirtland's warbler and western kingbird.
33. Backpack the Greenstone Ridge Trail at Isle Royale National Park
Pack your bug spray and get ready to hike. The Greenstone Ridge Trail is the most legendary overnight hiking route in Minnesota's Isle Royale, a 42-mile path that cuts across the largest island in oceanic Lake Michigan. Spanning many different landscapes that vary from small, forested tarns to boreal woodlands peppered with slabby boulders, the hike is also a great place to try to spot moose and wolves, the latter of which was repopulated in 2018.
34. Rock Climb at Joshua Tree National Park
You don't have to be Alex Honnold to send the gnar on an outdoor rock climb, and the fine folks at Cliffhanger Guides in Joshua Tree are able to tailor-make a full- or half-day climbing adventure for any intrepid spirit who wants to scale huge, monzogranite mounds. Of course, if you've got your own gear and you're down for a little trad or bouldering on what I hear are notoriously sandbagged slabs, the southern California park boasts over 8,000 designated routes.
35. See Bears at Brooks Falls in Katmai National Park
This one's pretty self-explanatory. Book a float plane to the historic angler's paradise of Brooks Lodge in Alaska, hike the 1.2-mile trail out to Brooks Falls, and enjoy the dozens of hungry grizzly bears you're sure to encounter from a well-placed wooden platform that serves as the park's main viewing area. Day trips are available if you don't want to splurge on a room or spend the night in a tent surrounded by electrical fencing to keep the ursine creatures at bay.
36. Kayak to the Aialik Glacier in Kenai Fjords National Park
Though I was on a strict budget in 2020 when I visited every national park, I was grateful that I splurged on an all-day wildlife-viewing boat ride and Aialik Glacier kayaking trip when I traveled to Alaska's Kenai Fjords. Not only did this tour point out a wide variety of marine mammals I had never seen before (think Dall's porpoises, Steller sea lions, humpback whales, and thousands of nesting puffins), but it also brought me face-to-face with a rapidly-calving tidewater glacier which, apart from being terrifying in its scale, helped me internalize the enormity of climate change and the importance of these remote landscapes.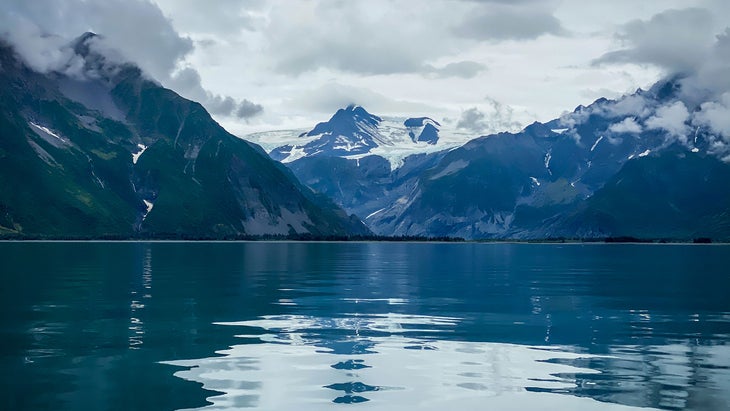 37. Backpack the Evolution Valley Loop in Kings Canyon National Park
Though this breathtakingly beautiful backpacking loop isn't fully inside this California national park (the longer North Lake – South Lake Loop isn't either), I'm listing it, because the several miles I spent traipsing around Evolution Valley when I hiked the John Muir Trail were easily the prettiest of the whole darn trek. Pitch your tent on the lake's northwestern edge for the best views of pine-studded islets and ragged Sierra peaks.
38. Walk Across the Great Kobuk Sand Dunes in Kobuk Valley National Park
Unless you're an Alaskan local hunting caribou, making the trek out to far-flung Kobuk Valley can feel like a daunting task, so most visitors here book a bush plane for the day and touch down at the park's most famous landmark–the Great Kobuk Sand Dunes. Sitting entirely above the Arctic Circle, this large dunefield might look more at home in the Sahara than the tundra, but the roughly 30-square-miles of sand that was deposited here is an unusual relic from our last ice age. Book a flightseeing tour with an expert pilot to safely experience this less-trammeled wilderness.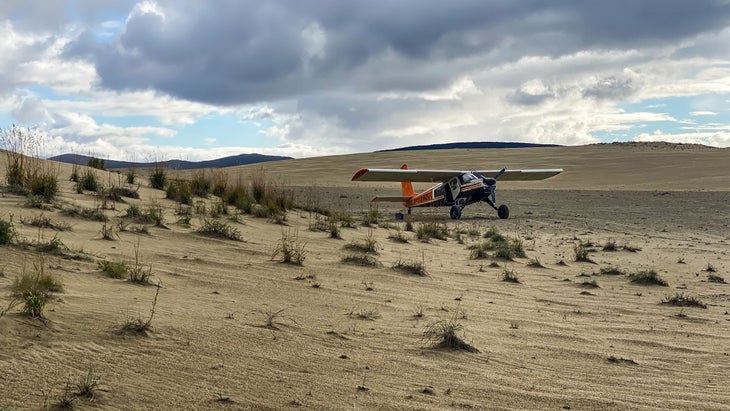 39. Paddle and Hike Around the Twin Lakes in Lake Clark National Park
Skip Port Alsworth, the main town inside this massive Alaskan park, and instead, get deep into the bush on this combination hike and paddle itinerary. It's a lighter athletic commitment than many of the state's bush trips, which can require carrying a 50-pound pack for multiple hours a day, while still highlighting the brilliant fuchsia fireweed, spectacular teal waters, and lingering tundra sunsets that epitomize Alaska's wilderness. Don't miss the opportunity to check out legendary survivalist Dick Proenneke's cabin on day 4.
40. Summit Lassen Peak in Lassen Volcanic National Park
Though the trek to the summit of California's Lassen Peak is only five miles (round trip), it feels a million miles away from the nearby town of Redlands. Rising into the high alpine, with a peak height of 10,457 feet, the trail passes scraggly whitebark pines and purple penstemons before culminating in a riveting scramble to the top. Gaze out at rocky ridgelines, cobalt Lake Helen, and the far-off visage of Mount Shasta before heading back down.
41. Explore a Cave in Mammoth Cave National Park
When road trippers head out to rural Kentucky, they might be surprised to learn that the world's longest-known cave system is hiding in plain sight. Deep in the lush, green hills of cavern country, Mammoth Cave provides an underground wonderland for spelunkers of all ages, and the Grand Historic Tour is one of the longest and most in-depth ways to explore it. Along the four-hour route, a park ranger will lead the group through eerie landmarks like the bottomless pit and the cave's abandoned tuberculosis ward.
42. Tour Cliff Palace in Mesa Verde National Park
When I first visited Mesa Verde in Colorado as a ten-year-old kid, I was blown away by how up close and personal I was allowed to get on a ranger-led tour of Cliff Palace, the largest and most well-known of the park's ancestral Puebloan dwellings. On this .25-mile guided walk, guests will learn about the site's ceremonial importance and the astonishing masonry techniques of the tribe that once called the area home.
43. Climb Mount Rainier in Mount Rainier National Park
Brush up on your rope team skills while summiting one of the most famous mountains in the country on a four- or five-day expedition up 14,410-foot Mount Rainier in Washington. This trip is not for the faint of heart–it's the most glaciated peak in the lower 48–but completing a summit bid is a bucket-list adventure for most climbers and hikers who attempt it.
44. Hike to a Hidden Beach in National Park of American Samoa
Sure, Ofu Beach gets a heck of a lot of attention from travel magazines who routinely list it as one of the most beautiful in the world, but the truth of the matter is, it's incredibly difficult and expensive to get to. Instead, visitors to the park's main island, Tutuila, can embark on a thrilling, ladder-filled 2.2-mile hike to a secret, pebble-crested beach on the Tuafanua Trail. Just beware of harsh waves on the hike's backside–go for a post-hike swim near Vatia afterwards.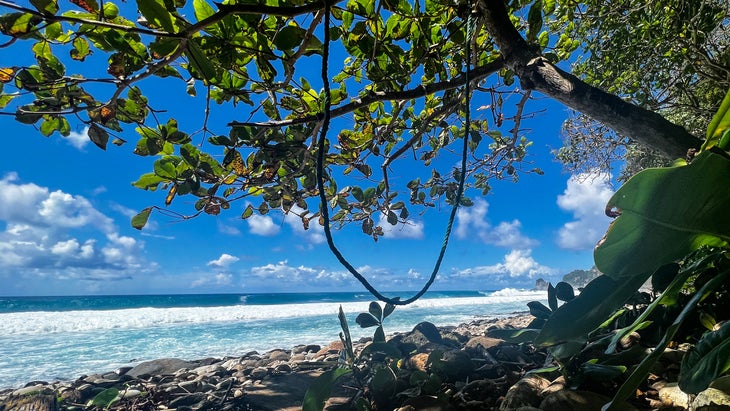 45. Whitewater Raft the Lower New River in New River Gorge National Park
New River Gorge is known for its world-class climbing and rafting opportunities, and paddling the Lower New River is an iconic way to get to know this West Virginia park. On this all-day trip that's suitable for ages 12 and up, guests will enter the splash zone on 25 class II-V rapids, including a gnarly class IV stretch that's directly under the enormous New River Bridge. Got littler ones in tow? Adventures on the Gorge also offers mellow whitewater trips on the Upper New.
46. Visit Stehekin in North Cascades National Park
A well-known stop along the Pacific Crest Trail, Stehekin is a small, remote village set in Washington's idyllic North Cascades. To get there, travelers must hike, boat, or fly in, making it the ideal place to unplug for a few days and get back to roots. Once there, pick heirloom apples at the Buckner Homestead or try your luck at summiting McGregor Mountain.
47. Walk or Backpack in the Hoh Rainforest in Olympic National Park
One of the primary draws of Washington's Olympic National Park is its large acreage of old-growth temperate rainforest, a verdant expanse of moss-covered maples and moldering stumps that'll excite any avid forest bather. Travelers here could go the tourist route and tramp along the one-mile Hall of Mosses Trail, or you could explore the path less taken on an overnight along the just-as-stunning Hoh River Trail, which boasts much of the same scenery, sans crowds.
48. Hike the Blue Mesa Trail in Petrified Forest National Park
I can be a bit of a "let's hike 15 miles" masochist in the national parks, but this understated one-mile lollipop loop in Arizona's Petrified Forest totally wowed me back in 2020. Not only is it family friendly, it also traverses a rare stretch of striped blue badlands formations, formed approximately 200-225 million years ago. Travelers here can also see a few wonderful examples of petrified conifer wood, from which the park gets its name.
49. Hike Through Volcanic Peaks in Pinnacles National Park
California's Pinnacles is home to a mind-bending expanse of volcanic peaks and spires, created as the San Andreas Fault dragged along the country's west coast. For the most spectacular scenery in the park and the best shot at spotting an endangered California condor in the wild, jump onto the 5.3-mile Condor Gulch to High Peaks Loop, which ascends steep Civilian Conservation Corps-carved steps into the heart of the pinnacles formations.
50. Visit Tall Trees Grove in Redwood National Park
You'll need to secure an advance reservation (it's free) to hike to this secluded grove of redwoods in California that contains several of the tallest trees on planet Earth, but, trust me, it's worth it. The 4.5-mile (round trip) pathway switchbacks down through a dense forest full of mushrooms and colorful lichens before plopping visitors in the middle of a truly spellbinding grove of sempervirens.
51. Climb Longs Peak in Rocky Mountain National Park
The exposed, class three Keyhole Route up Longs Peak is not recommended for beginners or those who aren't comfortable at altitude, but given Colorado's obsession with 14ers (that's Centennial State jargon for any peak over 14,000 feet), I'd be remiss if I didn't list it. If you're not a fan of heights and sheer drop-offs, you can still enjoy incredible vistas of Longs Peak on a day hike to Chasm Lake and its magnificent alpine cirque.
52. Hike up Wasson Peak in Saguaro National Park
There's a little something for everyone on this southern Arizona hike. Beginning on the King Canyon Trail (keep your eyes peeled for petroglyphs up the wash), ascend a gently sloping desert path that eventually carves its way through a "forest" of giant, Seussian saguaro cacti. At the top, hikers can gaze out at top-down panoramic views of the Tucson basin before heading down via the High Norris Trail for an 8-mile round-trip.
53. Backpack to Redwood Meadow Grove in Sequoia National Park
One of the most magical sights in Sequoia, its namesake, wooly-barked trees, can often feel plagued by auto tourists in summer months in California. Not so at Redwood Meadow, which is one of the most remote old-growth sequoia groves accessible by trail. Experience the park the way turn-of-the-century visitors would have on this strenuous 13-mile (each way) trek that, at its turnaround point, allows hearty hikers to camp under a secluded canopy of ancient conifers.
54. Drive Skyline Drive in Shenandoah National Park
Beginning at the northern end of the famous Blue Ridge Parkway, Shenandoah's Skyline Drive winds through Virginia's wooded Blue Ridge Mountains for 105 blissful miles. This scenic byway hits peak-gorgeousness in fall, when leaves begin to turn carmine and marigold. Pull over at dozens of well-placed NPS viewpoints and stretch your legs on a short hike to moody Dark Hollow Falls.
55. Spot Wildlife in Theodore Roosevelt National Park
It's often said that Theodore Roosevelt's love of nature truly took root during his time in the rugged, rabbitbrush-topped badlands of North Dakota, so much so that the area has since been preserved as a national park. On the South Unit's paved, 48-mile scenic loop, modern day visitors have the opportunity to spot loads of wandering wildlife, like yipping prairie dogs, clever coyotes, grazing elk, and ice age-era bison. Take a short stroll along the Little Missouri River on the Wind Canyon Trail if you're keen to explore further.
56. Scuba Dive in Virgin Islands National Park
Make the most of your journey to this surprisingly far-flung tropical park and spend some serious time under the waves. Low Key Watersports is the only PADI five-star IDC dive shop on the island of St. John, 60 percent of which is designated as parklands. Each day, they offer two-tank morning and afternoon dives that explore creepy shipwrecks, psychedelic coral reefs, and a myriad of sea life (think peaceful turtles and striped butterfly fish).
57. Captain a Houseboat in Voyageurs National Park
I did not think that I would have as much fun driving around a huge, floating cabin on northern Minnesota's Lake Kabetogama as I did in 2020, but something about the trail-free wooded wilds of the boundary waters grabbed my soul by the reins. For three days, I motored around this pine-bordered freshwater expanse in a one-bedroom houseboat, complete with a waterslide, camping on private islands near the Canadian border and listening to loon calls as the sun sank.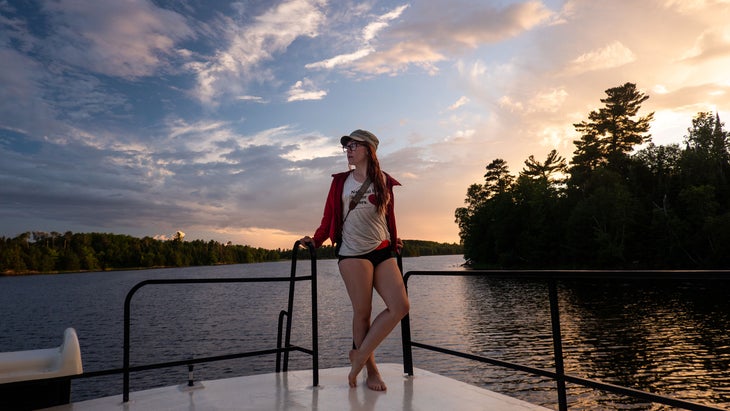 58. Hike the Alkali Flat Trail in White Sands National Park
Though New Mexico's White Sands is a smaller national park with only 145,762 acres and nine miles of hiking paths, hiking the five-mile Alkali Flat Trail will bring you right into the heart of the action. As the longest trail in the park, it's often the least-crowded of the bunch, allowing walkers to take their time and marvel at the otherworldly serenity of the largest gypsum dunefield in the world. Stick around after the hike for a completely Rothko-esque sunset show.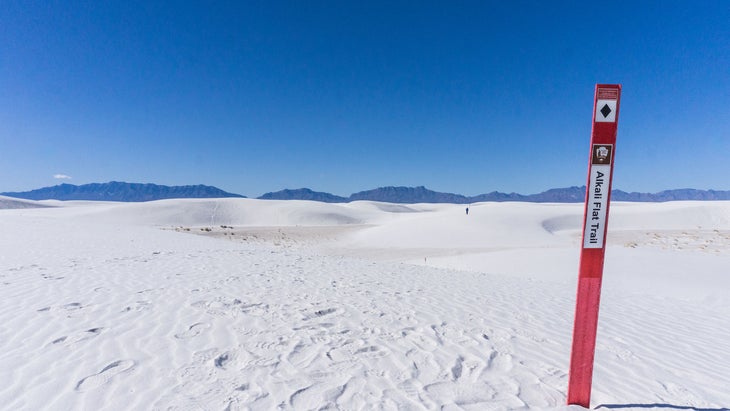 59. Take a Wild Cave Tour in Wind Cave National Park
Though this South Dakota park has been plagued with elevator troubles in recent years (check its current status before heading out), Wind Cave is a bastion of some of the last remaining mixed grass prairie in the country, and well worth a visit. Apart from rolling hills populated by fuzzy bison and prairie dogs, visitors won't want to miss a chance to explore the less-developed reaches of the caverns on this four-hour Wild Cave Tour.  During it, a ranger will provide a safe introduction to caving as participants climb, squeeze, and crawl through a variety of passageways, all while wearing a headlamp and experiencing the true natural darkness of the cave.
60. Ice Climb the Root Glacier in Wrangell-St. Elias National Park
When I spoke to a backcountry guide in the small gateway town of McCarthy this summer, I was surprised to learn that the vast majority of travelers to Alaska's Wrangell-St. Elias forego the day-long ice climbing tour in favor of a mellower glacier walk. In my opinion, that's a grave mistake, because donning a set of ice axes and crampons to ascend a near-vertical glacial wall is as exciting as it is educational. Beef up your biceps (and get in a pretty hefty glacier hike) on this adventurous guided trip that explores the Root Glacier from the hamlet of Kennicott.
61. Geyser Gaze in Yellowstone National Park
Very few national parks have hydrothermal features, and fewer still have an expansive network of accessible boardwalks from which to delight in them. Yellowstone, located primarily on Wyoming, is home to over half the world's geysers, and meandering through its various thermal basins is a must-do adventure inside the park. Avid hikers might want to escape the crowds on a 5.6-mile day hike to Imperial Geyser, as I did on my parks journey, while families won't want to miss the easily-accessed Upper Geyser Basin (go early for primo parking).
62. Hike Half Dome in Yosemite National Park
It's always a crapshoot to see who actually nabs a Half Dome permit each year, but for the lucky few thousand who do each summer, it's the adventure of the lifetime. This 14 to 16-mile trek in California is incredibly strenuous and not for the faint of heart, rising 4,800 feet above the valley floor to a slick granite dome etched with bolted metal cables, for the final climb. Because of its challenging nature, overnighting at Little Yosemite Valley (extra backpacking permit required) is highly recommended to properly acclimatize and soak up the views of soaring granite.
63. Ride Horses in Zion National Park
Cowboy culture still goes hard in Utah, and at Zion, travelers can don their favorite boots and go for a one- or three-hour long horseback ride that showcases some of the most excellent vermillion cliffs the park has to offer (like Three Patriarchs and the Beehives). The trip returns along the riparian stretches of the Virgin River, near centrally-located Zion National Park Lodge.
Emily Pennington has been to all 63 national parks in the U.S. and wrote a column about each one for Outside. She started off on her 63 Parks adventure in her van just as COVID was hitting and managed to continue traveling safely to each park. Then she wrote a book about her quest called Feral.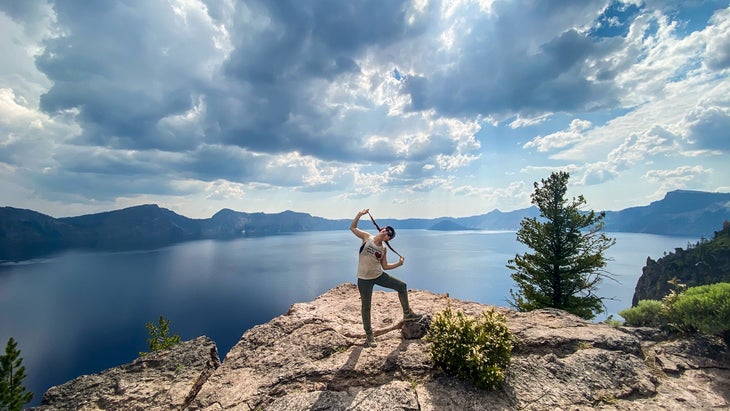 Lead Photo: Courtesy Emily Pennington
Trending on Outside Online