The Best National Parks for Northern Lights Hunting
As the sun transitions to "solar maximum" in the next three years, it is prime time to spot the aurora borealis—even in the lower 48 states. Here's where, when, and how to catch the show in our national parks.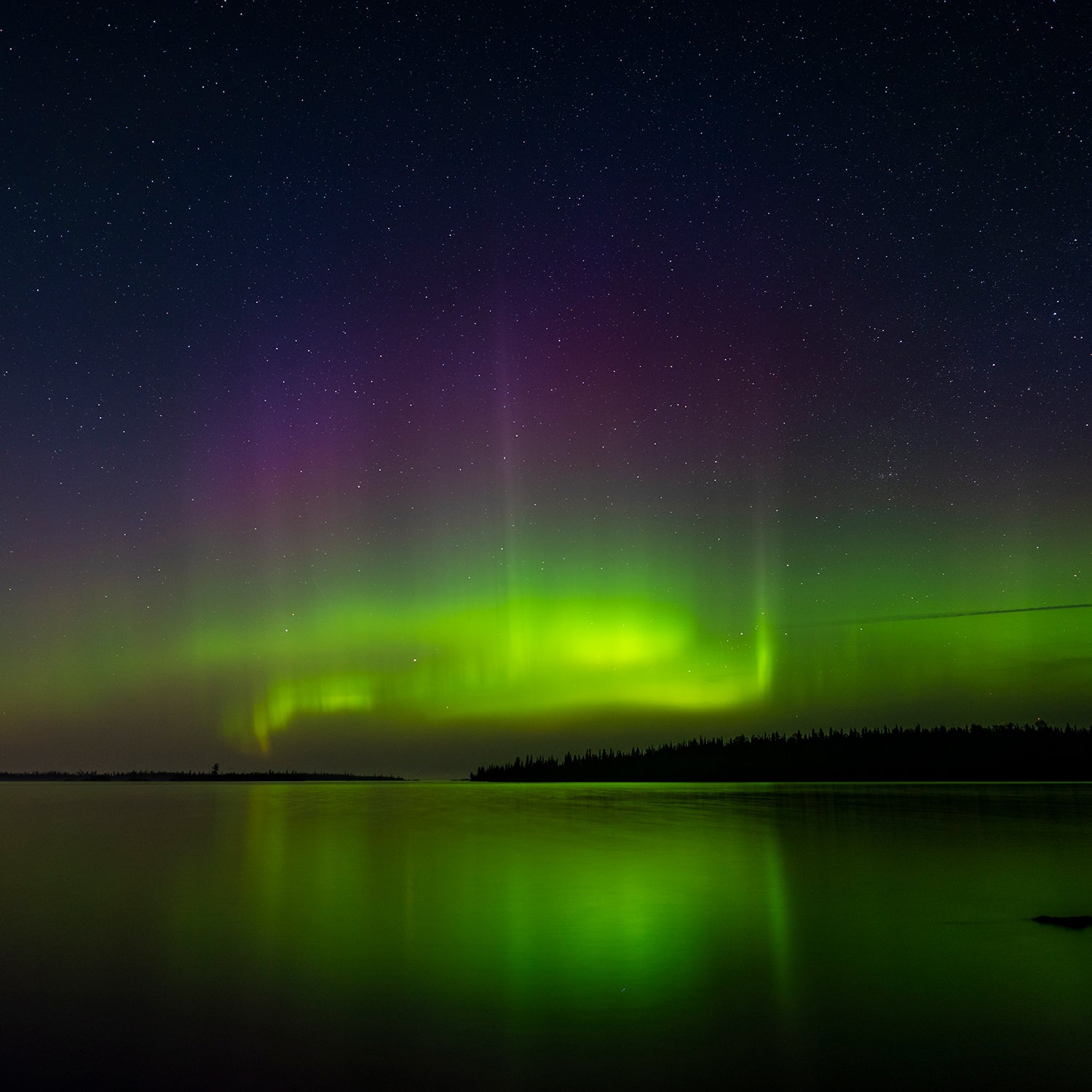 Heading out the door? Read this article on the new Outside+ app available now on iOS devices for members! Download the app.
Expecting yet another sea of dark skies, I unzipped my tent door—but this time, the scene looked different. My heart rate quickened. Wait, is that a green glow?
It was May 2021. My husband, Frank, and I were camped on the north shore of Isle Royale National Park, in the middle of Lake Superior. We'd taken a hellacious four-hour detour from our intended route up and over the rock-strewn island's spine to get here. It was a gamble. Catching the northern lights in the lower 48 states is tricky: it requires near-perfect conditions, an unobstructed view to the north, minimal clouds, and an active aurora.
An avid northern-lights chaser—I have now hunted them (sometimes successfully, sometimes not) in Michigan, Wisconsin, Minnesota, and the Arctic Circle—I had already been nerding out on solar activity for three years when we visited Isle Royale. Yet with no cell service to monitor my northern-lights apps, I didn't know whether we might get skunked … or see something.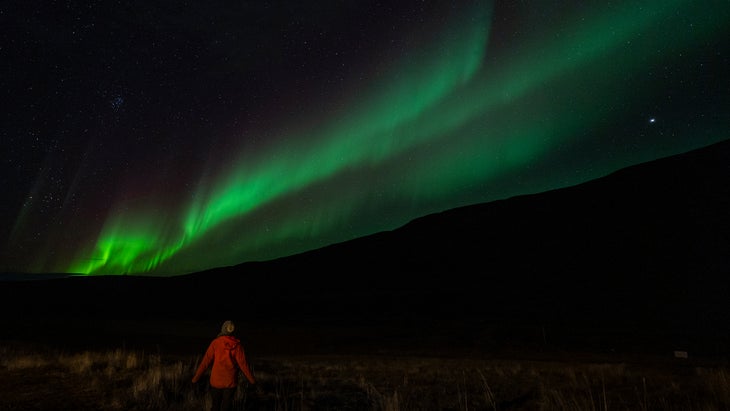 I knew it was possible: I'd witnessed the lights on a road trip in the Upper Peninsula the previous summer, but the bright-green swirls had been largely obscured by cloud patches. That night on the remote Isle Royale, I crossed my fingers and waited.
The northern lights, predominantly associated with the northern latitudes, are beams of green, violet, and even red lights caused when charged particles from the sun interact with our atmosphere. Few night sights thrill national-park travelers like spotting the aurora borealis; scroll the hundreds of comments on the Park Service's latest awe-inspiring aurora Instagram post from Denali for proof.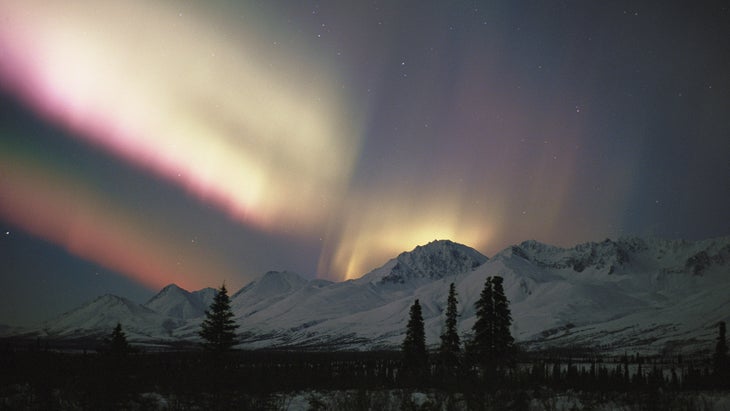 But you don't have to catch a flight to Iceland or Greenland, or brave the winter cold in Alaska, to experience that bright-green glow. You can see it in the national parks of the contiguous U.S. as well.
Better yet, your chances of seeing the lights are increasing. The sun travels through 11-year cycles of activity. During the stretch known as solar minimum, which last hit in late 2019, northern-lights activity wanes. Right now we're marching toward what is known as solar maximum in 2025, with every year improving as we move into peak aurora activity.
To spot auroras, you'll need luck, an understanding of the phenomenon, and some planning legwork. That includes finding an aurora-hunting spot with minimal obstructions to the northern horizon (where those green ribbons dance); a strong geomagnetic storm—the stronger the storm (measured via the Kp index of Kp 0 to Kp 9), the likelier the auroras; and clear skies or minimal clouds.
The lights you'll witness in the lower 48 may look a bit more muted than those in Iceland because you're viewing them from farther away—that's why they often appear closer to the horizon. But down in the U.S. northern-border states, there is a perk: You can hunt auroras in every season, as, unlike Alaska, this stretch of the U.S. experiences nighttime darkness all year. And the quest is getting easier and easier thanks to the powerful new solar cycle.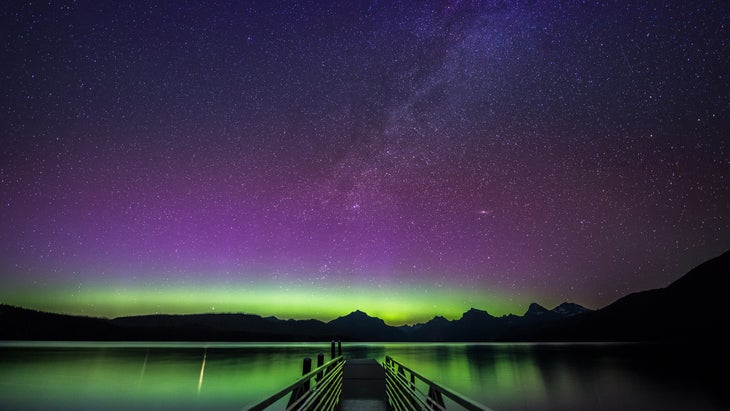 We're already enjoying a boom—as evidenced by 2022's news report upon news report (upon news report) of lower-48 shows to watch for, the giddy dialogue in the increasingly popular U.S. aurora-hunting Facebook groups, and my own increasing views.
Take that night on Isle Royale. After waking up every half hour to check the skies from my tent, I finally saw the lime hue—and scrambled from my sleeping bag, parked myself on a lakeside boulder, stabilized my camera, and watched the lights dance for three hours amid a symphony of loon howls. I caught those lights once more from Saint Ignace on our drive home from the Isle Royale ferry—and then more than half a dozen times on a three-week trip through Iceland and Greenland this past fall.
Ready to play those increasing aurora odds? Here are seven of the best national parks in which to chase the northern lights, including tips on when, where, and how to see them.
1.   Acadia National Park, Maine
Acadia's craggy shores and spruce-forested trails feel otherworldly under a green glow. This far-flung getaway offers the perfect aurora recipe: dark skies, open horizons, and a northern locale that often sees auroras between Kp 4 or Kp 5. Even without the lights, Acadia nights deliver pristine Milky Way and constellation viewing.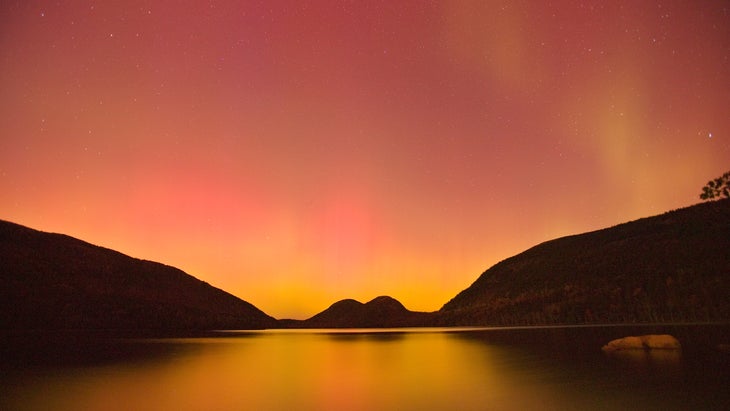 You have a few options here. The southern end of Jordan Pond provides a clear, largely unobstructed view to the north; when winter conditions are right, daytime visitors can even ice skate or ice fish here. From spring through fall, drive up Cadillac Summit, the island's tallest peak, for vistas that on clear days stretch as far as Mount Katahdin. This bird's-eye view is ideal for spotting the lights, but note: vehicle reservations are required. Booking a hotel with unobstructed north-facing views makes aurora hunting a breeze. Try waterfront digs like Baycliff or Emery's Cottages on the Shore in Bar Harbor.
2.   Glacier National Park, Montana
When northern lights are forecast, aurora hunters flock to Glacier National Park. This northern-border state boasts some of the region's darkest skies, due in large part to a cross-border dark-sky partnership between Glacier and Canada's Waterton Lakes National Park, which have collaborated to minimize light pollution and protect their shared dark skies. Now, the parks make up the International Dark Sky Association's first transboundary dark-sky park. This means Glacier's north horizon has little, if any, light pollution. You will need a minimum of a Kp 4 to see the lights here.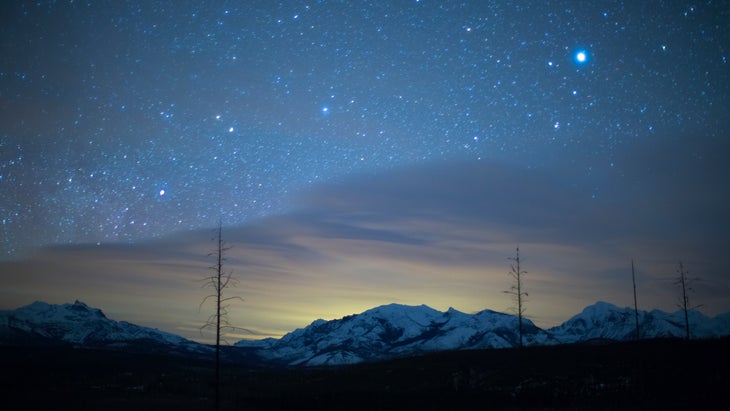 Let's heed some advice from the Montana landscape photographer Christina Adele. After a particularly vibrant northern-lights show this fall, she took to Instagram to share her two favorite scouting spots: the North Fork in the park's northwest end and Lake McDonald, the park's largest lake. For the latter, the Village Inn at Apgar and Apgar Campground, both located on the southern end of Lake McDonald, are two great options for aurora-hunting overnights.
3.   Voyageurs National Park, Minnesota
Northern Minnesota's Voyageurs National Park has all the makings of an ideal scoping site: dark skies, certified by the International Dark Sky Association (IDA) in 2020; clear horizons, with four large lakes and 26 smaller lakes; and one of the farthest-north locales in the lower 48. Even better, local experts estimate you can see auroras here up to 200 times per year; they're often visible with a Kp 4 or higher.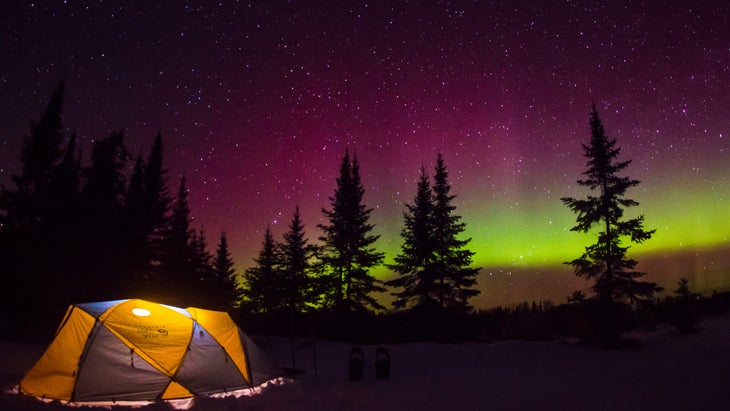 The park is also part of a movement to elevate Indigenous astronomy, including the local Ojibwe star knowledge, via resource sharing and in-person experiences. Read the Ojibwe artist and astronomy expert Carl Gawboy's book Talking Sky before your trip, and see chapter nine on auroras to understand how Indigenous communities have long interpreted those eye-popping lights.
The NPS recommends Rainy Lake Visitor Center, Ash River Visitor Center, Voyageurs Forest Overlook Parking Lot, and Woodenfrog Beach for viewing. You can also book a stay at the aptly named Northern Lights Resort, on the southern shore of the park's Lake Kabetogama, which has cabins and lofts available year-round.
4.   Theodore Roosevelt National Park, North Dakota
Lakes aren't the only option for horizon views. The vast, open prairies across Theodore Roosevelt National Park are perfect for lower-48 aurora hunters. So, too, is the park's northern-border geography. A Kp 5 here is ideal, but if you're here during a Kp 4 storm, it's worth heading out.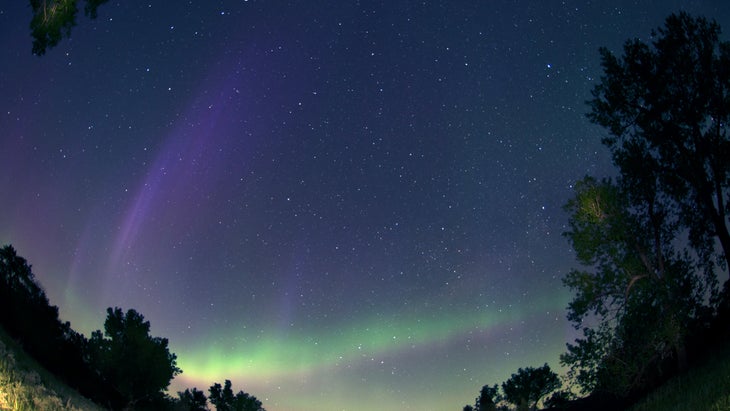 Theodore Roosevelt park is open 24 hours a day; virtually any stop-off with open views to the north horizon is fair game. The NPS recommends Oxbow Overlook, with panoramas of the park's unearthly badlands, to admire the skies. The hill-perched Spirit of the Badlands hotel is an optimal northern-lights-hunting basecamp. It provides quick park access and elevated vistas, including a deck with views to the north.
5.   Isle Royale National Park, Michigan
After that dazzling show in May 2021, Isle Royale remains my favorite national park for aurora hunting. Its far-flung locale in Lake Superior promises inky skies, but does make access tricky. This island park is only reachable by boat or seaplane from Michigan's Upper Peninsula or northern Minnesota; the park's limited-run season is April through October. As for solar storm intensity, a Kp 4 is ideal.
Given Isle Royale's dense forests and high center ridge, the north Lake Superior shore is the best spot for wide, open views north. If you're arriving through the Rock Harbor Visitor Center, try Lane Cove campground, where I caught the display. Starting at the island's Windigo Visitor Center? Head to Huginnin Cove Campground, another north-shore overnight site on the waterfront.
6.   North Cascades National Park, Washington
Given the towering mountains and thick forests, northern Washington's North Cascades National Park is a tricky spot for aurora hunting, but low light pollution and a position on the northern border make sightings possible. When the Kp is high—think Kp 5 or up—and the clouds clear, you're in for quite a Cascade mountain treat.
The Ross Lake Overlook off North Cascades Highway, open 24 hours, is a proven spot for northern-lights views. Access to the viewpoint closes in the winter, according to the Washington State Department of Transportation website, but Diablo Lake, just west of Ross Lake Overlook, is another strong option, and remains open year-round.
7.   Denali National Park, Alaska
Unlike the contiguous U.S. parks, Denali National Park experiences light displays during even small solar storms of Kp 1, Kp 2, or Kp 3, but there is one big limitation: darkness, or the lack of it. You won't see northern lights here from late spring through August because of the midnight sun (when the light continues well past typical sundown time). That leaves Denali's off-season—fall, winter, and early spring—for aurora hunting. While you can see auroras in all Alaska national parks, we chose Denali for this list because it's the most reachable in winter, particularly for independent travelers.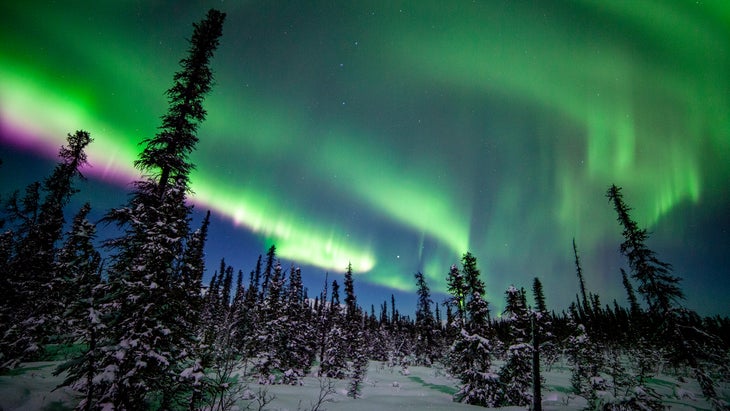 You can enjoy a quintessentially Alaskan northern-lights-hunting trip on an overnight dog-sledding tour with Denali Dog Sled. The Alaska-based team has access to several huts throughout the park. That means dog-sledding by day and backcountry-lights chasing by night. Alternatively, join a three-hour night-sky tour with a local guide in the Denali area. The park is open 24 hours, so you can try aurora hunting on your own—but the dramatic weather, with temperatures down to -40 F, and the park's minimal winter resources and accessibility require serious preparation. Stop by the Winter Visitor Center at mile 1.4 on the park road to speak with a ranger if you have any questions while planning.
Note to readers: the Denali Park Road is closed for repairs after milepost 43 (the halfway mark); construction is anticipated to last until 2024, according to the NPS. During warm-weather seasons, this closure restricts access to the park's backcountry, although it won't have much effect on winter travelers, as the park closes the road after milepost three every winter. Follow NPS alerts for construction and detour updates.
How to Be a Conscious Traveler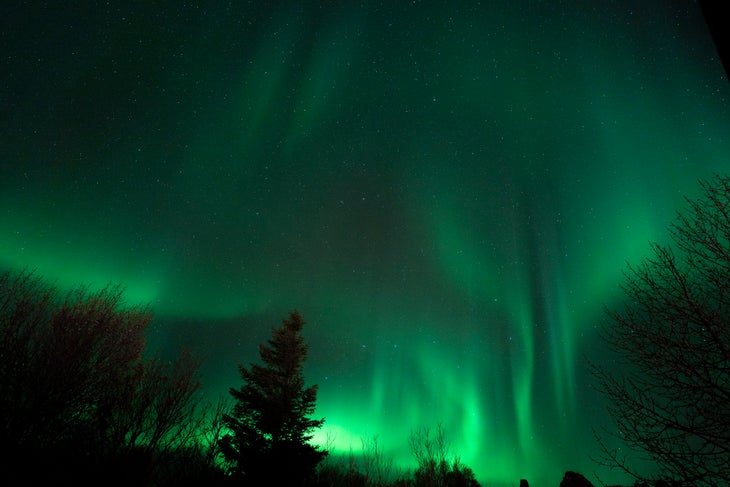 Please adhere to Leave No Trace and responsible national-park travel principles, including but not limited to: be prepared for the conditions, watch for and steer clear of wildlife, stay on trails, never trespass, and never set up your aurora-hunting post in the middle of a road or parking lot.
Stephanie Vermillion is a travel and astro-tourism journalist and photographer who's chased auroras from Iceland, Norway, and Greenland to Minnesota, Michigan, and New England. Her most recent excursion was a three-week lights-hunting trip through Greenland and Iceland this fall—with not one but seven nights beneath those green swirls.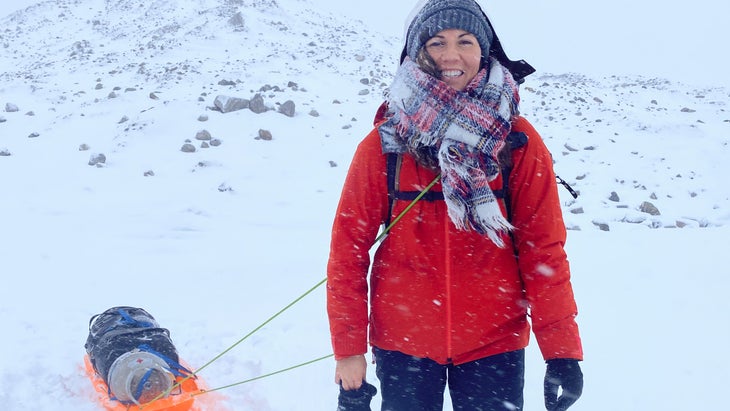 Lead Photo: Stephanie Vermillion