63 Parks Traveler
Let Summer Live on with a Visit to Biscayne National Park
Snorkel and paddle among quizzical lobsters, baby sharks, green turtles, and more at Biscayne, home to a massive coral-reef system off the coast of Miami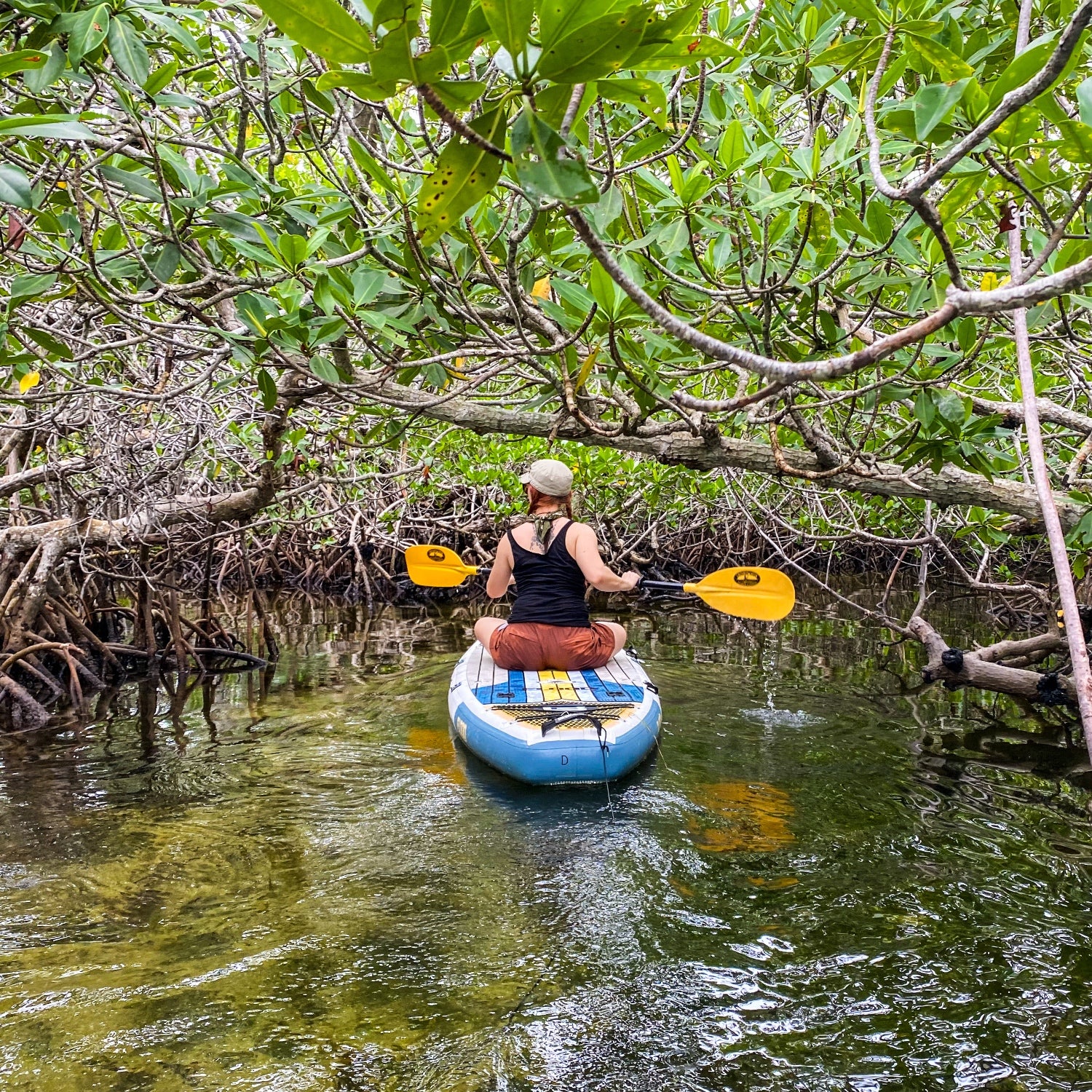 Emily Pennington
Heading out the door? Read this article on the new Outside+ app available now on iOS devices for members! Download the app.
63 Parks Traveler started with a simple goal: to visit every U.S. national park. Avid backpacker and public-lands nerd Emily Pennington saved up, built out a tiny van to travel and live in, and hit the road, practicing COVID-19 best safety protocols along the way. The parks as we know them are rapidly changing, and she wanted to see them before it's too late. Biscayne is her 55th park visit.
---
Tropical Storm Eta was closing in on southern Florida by the time I made it to Biscayne in November of 2020. A child of the Gulf Coast and no stranger to hurricanes, I gritted my teeth and laughed at my misfortune, emailing my guide, Jeremy, at the Biscayne National Park Institute to make sure we were still a go. We were.
Amid warring wind gusts and choppy surf, the two of us set off by boat from the Dante Fascell Visitor Center into the open water of Florida's Biscayne Bay. "This here's the longest stretch of beach in southeast Florida that still has its natural mangrove trees," shouted Jeremy over the buzz of the motor. "It's usually a great place to spot manatees, but the water's pretty nuts today."
I listened intently, fixing my gaze on the horizon and our first destination, Jones Lagoon. The boat sputtered as we came to a stop at the center of a maze of mangroves, their submerged roots like the bark-covered arms of some great octopus. Jeremy plopped a pair of stand-up paddleboards into the water of the cove.
This forest of trees between ocean and island provided a safe refuge for pelagic creatures, while the rest of the bay was getting pummeled by high winds. Small sharks wiggled below as I dipped the paddle into the water, my eyes hungry to learn what interesting animals chose this place for a home. At one point, Jeremy thrust the length of his arm into the shallows and pulled up a translucent, many-tendrilled jellyfish for me to hold. Its skin felt slimy and delicate against my palms, like a plastic bag filled with cool milk.
Next up was a stop for snorkeling. We gunned the engine toward a different stand of shoreline trees, and I ventured into the water alone, making Darth Vader noises into my mouthpiece as I kicked my way parallel to the roots of mangroves extending from Elliott Key, one of the park's most visited islets. A school of tiny, bright yellow fish darted away in fear, and when I stayed as still as I could muster, bobbing up and down in the swell, a pod of enormous lobsters emerged and stared at me for what felt like hours. It sent shivers down my spine.
With the weather worsening and time running out, my guide steered our vessel toward the ornamental lighthouse at Boca Chita Key, a relic from early industrialist Mark Honeywell's days of lavish parties there. "The affairs got so wild that, one year, a guest brought his pet elephant aboard his ship!" exclaimed Jeremy.
It was strange to explore this water-based national park on a day of deliriously dreadful weather. I felt like I'd missed out on so much—its historic shipwrecks, colorful coral reefs, manatee sightings—and yet, as we parted ways with the keys and took off for the mainland, I couldn't help but feel that there was something true and raw and magical about experiencing a national park when a storm is afoot.
Staring ahead at the visitor center as its parade of mangroves grew ever closer, I realized I'd gotten what I'd come for: a park that was weird, wet, and wonderful.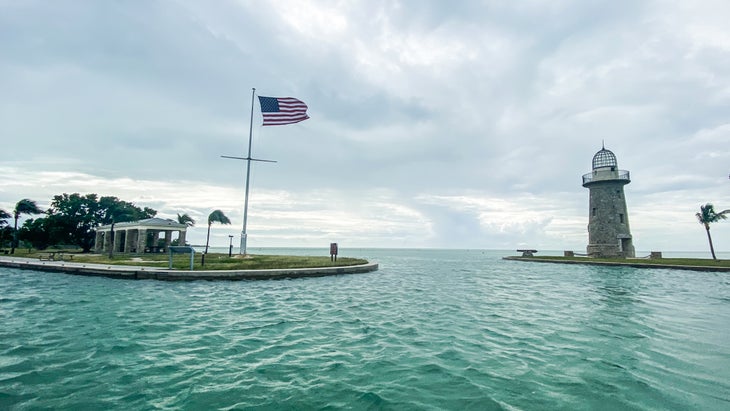 63 Parks Traveler Biscayne Info
Size: 172,971 acres
Location: Southeastern Florida, off the coast of Miami
Created In: 1968 (national monument), 1980 (national park)
Best For: Boating, snorkeling, diving, paddling, island camping, wildlife viewing
When to Go: August through early October is considered peak Atlantic hurricane season, which means there's a decent chance your summer or fall trip could be derailed by a nasty storm. December (64 to 76 degrees) through April (68 to 79 degrees) are the safest, coolest, and driest months for a visit.
Where to Stay: The National Park Service operates two campgrounds within Biscayne's boundaries, one on Boca Chita Key and the other on Elliott Key. While Elliott Key's sites provide more amenities (like cold showers and potable water), the immaculate ocean views and quirky annals of Boca Chita make it well worth an excursion.
Mini Adventure: Go on a day trip with the Biscayne National Park Institute. Whether you fancy stand-up paddleboarding, sailing, snorkeling, birding, or learning about historic buildings, this nonprofit's diverse array of tours offer a little something for everyone.
Mega Adventure: Dive the Florida Reef, one of the largest in the world. Miami-based companies like Grove Scuba offer half- and full-day trips (for certified divers) around the bay to marvel at colorful sponges, tropical fish, and underwater cathedrals.
Lead Photo: Emily Pennington
Trending on Outside Online