63 Parks Traveler
Seeking Swamp Mystique? Look No Further than Congaree National Park.
You don't have to know much about paddling to wend the dark waterways of Congaree, in South Carolina. But persistence and a good sense of humor will help you along.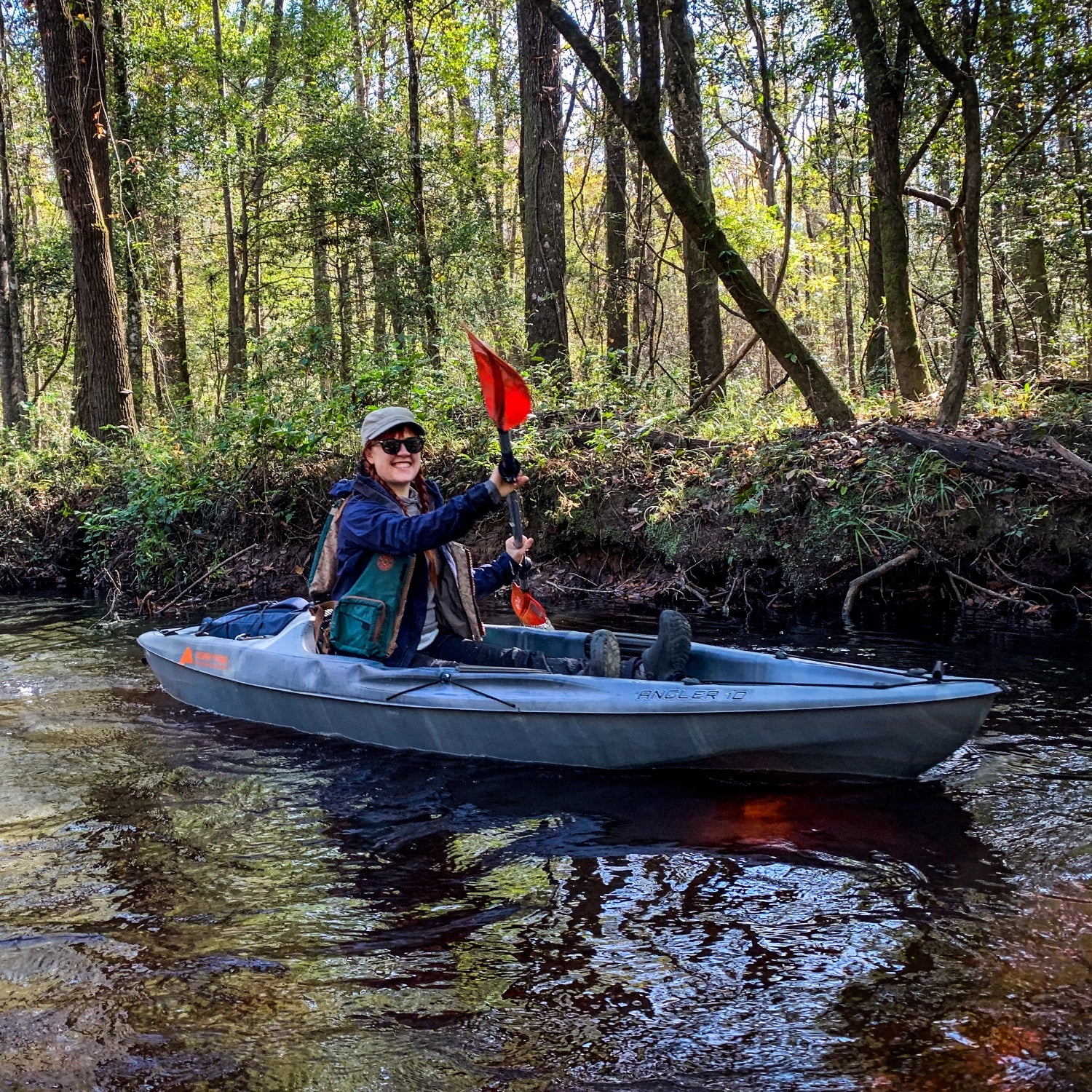 Heading out the door? Read this article on the new Outside+ app available now on iOS devices for members! Download the app.
63 Parks Traveler started with a simple goal: to visit every U.S. national park. Avid backpacker and public-lands nerd Emily Pennington saved up, built out a tiny van to travel and live in, and hit the road, practicing COVID-19 best safety protocols along the way. The parks as we know them are rapidly changing, and she wanted to see them before it's too late. Congaree is her 53rd park visit.
---
Life on the road can be grueling. After nearly two weeks of nonstop solitude, driving from Maine to South Carolina, I was having a case of the vanlife doldrums. In an effort to spare myself more loneliness, I made a plan to meet up with Nick Noland and kayak across Congaree National Park.
Nick and I met virtually in 2019; I interviewed him about his harrowing survival story for Outside, and when he heard that I'd be passing through his neck of the woods, he reached out. "I think a buddy of mine has got a couple of cheap kayaks from Walmart if you want to spend a day paddling around the backcountry," he texted me.
How could I refuse? We met at the parking area closest to Bannister Bridge, near the northwest corner of the park (which is some 15 miles southeast of Columbia), then shuttled a car to the Cedar Creek take-out point, six miles away. After dragging the plastic boats across a narrow gravel loading ramp, I plopped my butt into the molded gray seat and, tottering slightly, awkwardly pushed off.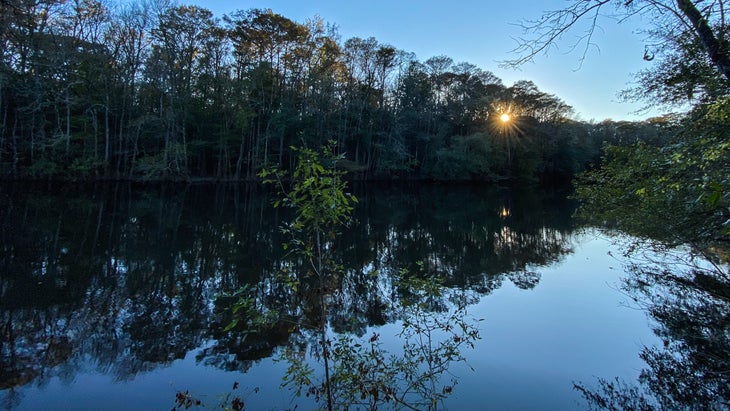 I would like to pause here to mention that I am not a skilled kayaker. Before embarking on my national-parks journey, I'd set foot on a boat maybe three times in my life, and I have zero knowledge of how to navigate complex waterways without a strong cell signal. Congaree, I quickly noted with apprehension, was a dark, swampy maze. Thousands of furry, moss-cloaked bald cypress knees loomed from the murky water like bathing goblins ready to pounce. Such environs made the area ideal as a refuge for those not wanting to be found, and these lands were once inhabited by bootleggers and small villages of enslaved people who managed to escape.
Historic hideouts aside, the park is home to the largest remaining tract of old-growth bottomland hardwood forest. Because a floodplain is a terribly inefficient place to log for timber, Congaree has preserved some of the biggest trees on the East Coast and now boasts six national champions within its borders.
Not five minutes after setting off on our all-day paddling adventure, I got stuck on a tree root hidden beneath the inky-black creek water. Nick, who was managing his boat with relative grace, floated a few feet away from me, laughing hysterically as I inched my butt backwards and forwards in a desperate attempt to propel myself over the hump. In the end, I plunged my hand into the tea-colored current and wrenched myself free.
The day went on like this for hours: Nick splashing me with the bright red tip of his paddle as I drifted face-first into a spiderweb, me bottoming out and using tree branches to lurch my kayak away from a shallow curve. My cheeks hurt from smiling too much.
One of the singularly best things about being outdoors is how, even when everything feels terribly, irredeemably messed up, you can still laugh yourself silly and end on a high note. That's the power of shared suffering—the ability to transmute discomfort into joy.
Sometimes a harebrained idea can be a recipe for disaster, but sometimes, if you're lucky, it's just what the doctor ordered.
63 Parks Traveler Congaree Info
Size: 26,276 acres
Location: Central South Carolina, a 30-minute drive from Columbia
Created In: 1974 (natural landmark), 2003 (national park)
Best For: Easy hiking, paddling, forest bathing, and front- and backcountry camping
When to Go: Congaree is a shoulder-season park; the most moderate temperatures are enjoyed in spring (43 to 83 degrees) and fall (42 to 85 degrees), and winter (34 to 60 degrees) tends to be mild and a great time to escape crowds. Summer (67 to 100-plus degrees) can be unbearably hot and humid.
Where to Stay: There are two National Park Service campgrounds inside Congaree, and both are tents-only. Longleaf is located a short walk from a gravel parking lot and provides visitors with vault toilets, picnic tables, and fire rings. Bluff is more secluded, located a mile's hike from parking, and does not have its own restrooms.
Mini Adventure: Hike the park's accessible, 2.4-mile boardwalk loop. This easy, family-friendly path takes visitors right into the heart of the Congaree floodplain, with interpretive signs (and a self-guided tour brochure) detailing the area's rich history and plant life. Kick back on one of the many benches to take a few deep breaths and soak up the forest's timeless wisdom.
Mega Adventure: Paddle the length of Cedar Creek. At six miles from put-in to take-out, Cedar Creek is a great daylong adventure for kayakers and canoers of any experience level. Haven't got your own creek-worthy vessel? No problem; the park offers ranger-led canoe tours, and several local guiding services are also authorized to take visitors onto the storied creek.
Lead Photo: Emily Pennington