The Ultimate Guide to Haleakala National Park, Maui, Hawaii
In a park whose heart is a volcano, see ancient obsidian lava flows layered with red and orange cinder cones. Explore green gulches, bamboo forests, warm lagoons. Hike, run, bike, stargaze, soak up sunsets. Hey, you might even fly.
Heading out the door? Read this article on the new Outside+ app available now on iOS devices for members! Download the app.
Crazy though it may sound, my coldest memory ever is from Maui. Yes, the island's shores are gloriously sunny and warm, but temperatures drop as you ascend the slopes of Haleakala, an active volcano currently in a non-eruptive state whose name means "house of the sun." Haleakala has become synonymous with sunrise, and like many visitors, I was originally drawn to seeing the dawn up there, nearly 20 years ago. I rallied a crew of friends to set out at 2 a.m. for the winding 50-minute drive from the town of Haiku up to Haleakala National Park. As we entered the park gates, the weather changed from mild into something reminiscent of a Scottish mizzle. By the time our car reached the 9,800-foot lookout, just past 3 a.m., we were bundled in fleeces and blankets and pouring thermoses of hot tea.
We stood out on the viewpoint eagerly awaiting the first hues of golden light to peek past the crater's edge. Crater is a misnomer—the massive valley was carved by water erosion, not a volcanic explosion. In the dark, it looks like a vast black hole, but sunlight reveals swirls of obsidian lava flows layered with red, orange, and green cinder cones. I zipped up my fleece and snickered when I saw other visitors bundling up in hats, gloves, and even snow pants, as if a blizzard were coming. Five minutes later I regretted laughing when the clouds rolled in to dump a bone-chilling hail on us. My teeth chattered and my fingers went numb, but we stuck it out for another two hours only to realize the sun had already risen behind the thick wall of clouds. We'd been skunked. Despite my failed first visit, I went back a few months later to score my first sunrise (the weather was dry this round) and have returned many times since, for everything else the park offers.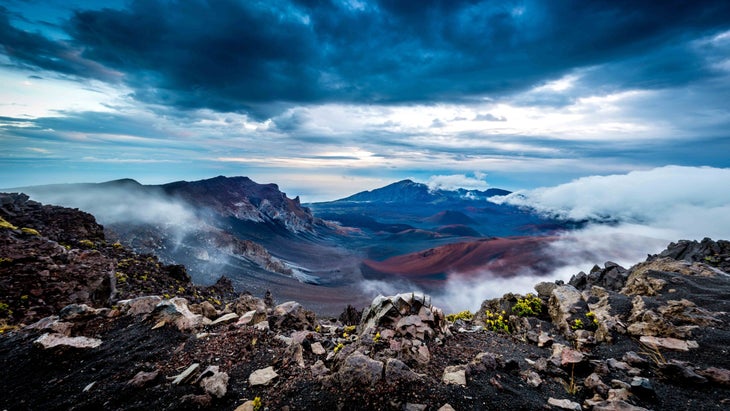 When people tell you to anticipate all weather in Haleakala National Park, they mean it. Your preparedness can be the difference between a miserable and magical experience. And to avoid disappointment, don't plan a trip solely around sunrise. Yes, watching those first rays burst through sherbet-hued clouds is a somewhat spiritual experience. But now I always line up an adventure or great meal afterward, be it a hike or trail run in the park or an indulgent breakfast just outside of the gate, to justify the drive.
Haleakala commands attention. Occupying nearly half of the sky, the volcano feels omnipresent. You see it through the airplane window when you approach the island, from your car while driving, out in the lineup surfing. The more time you spend on Maui, the more you feel its pull. Haleakala beckons to be explored but also understood, present and past. According to Hawaiian legend, the demigod Maui stood on the volcano's summit and lassoed the sun from its journey across the sky, slowing it down to increase the growing season.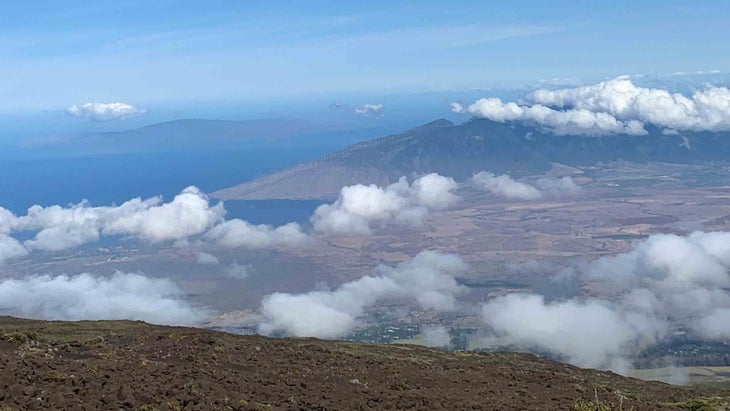 With stunning hiking trails, dramatic waterfalls, spectacular stargazing, and bucket-list bird watching, you'll want to tick off more than the summit. Most people don't realize the park is divided into two completely distinct districts, each with its own entrance separated by miles of dense forest. A visit to Maui feels incomplete without spending time exploring both sides.The lunar-like Summit District, which contains the dormant volcano, comprises a massive valley (what most incorrectly call a crater) carved by water and landslides and dotted with rust-hued puʻu (cinder cones). It's a geological wonder and home to rare species like the extraterrestrial-looking silversword, a plant you'll only find here, and endangered endemic birds such as the ʻakohekohe, or crested honeycreeper. On the island's East side, the Kipahulu or Coastal District, is trapped-in-time Maui, with its verdant gulches, bamboo forests, and cascading waterfalls. 
What You Need to Know Before Traveling to Haleakala National Park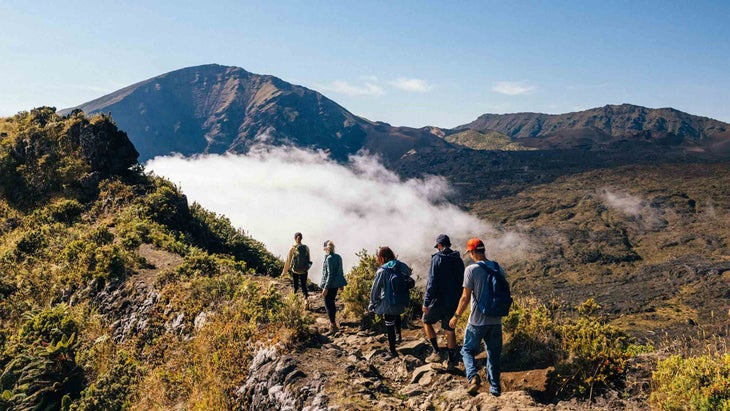 Figure Out Your Logistics
Most people don't realize the park is divided into two distinct districts, each with a separate entrance separated by miles of dense forest. The lunar-like Summit District, which contains the dormant volcano, comprises a massive valley (what most incorrectly call a crater) carved by water and landslides and dotted with rust-hued puʻu, or cinder cones. It's a geological wonder and home to rare species like the extraterrestrial-looking silversword, a plant you'll only find here, and endangered endemic birds such as the ʻakohekohe, or crested honeycreeper. On the island's East side, the Kipahulu or Coastal District, is trapped-in-time Maui, with its verdant gulches, bamboo forests, and cascading waterfalls. To spend time in both districts is to truly get to know and appreciate the diversity of Maui.
To go from one district to the other, you need to exit out of the park and drive around the island to the other entrance.
Stop in at one of the park's three visitors' centers (all wheelchair accessible; more accessibility info here), particularly the one on the edge of the crater, to learn about Haleakala's native lore and mythology, as well as its native birds and 850-plus species of plants—more than 300 of which are found nowhere else in the world.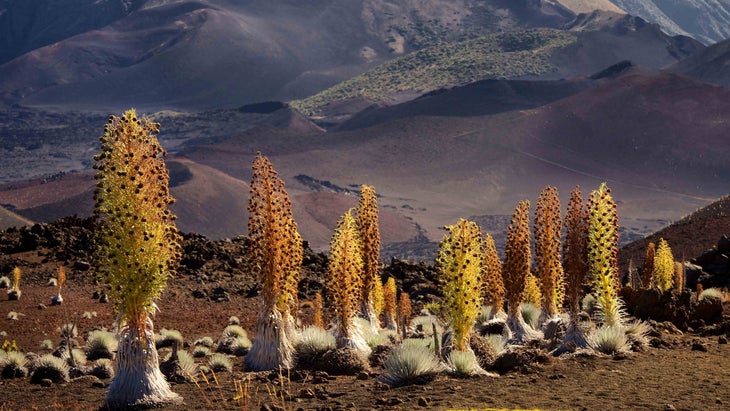 Make a Reservation to Watch Sunrise
One of Maui's bucket-list activities, sunrise viewing was drawing such large crowds that the park now requires advance reservations, which often sell outs. Reservations cost $1 per vehicle and can be made online up to 60 days ahead. A portion of reservations for any given day is also set aside and released 48 hours in advance. Yes, people do arrive when the park opens at 3 a.m., to score a prime spot in one of four viewing locations.
Prepare For All Weather
If you think you don't need a jacket in Hawaii, think again. It may be sunny and 80 degrees by the beach, but the temperature drops about three degrees for every 1,000 feet of elevation gain. Year-round summit temps range between sub-freezing to highs of 65 degrees, and windchill and overcast conditions often make it feel colder. The weather is also completely unpredictable. The park's crater cam offers a live feed of conditions, but they can change quickly. I've started many hikes and runs on the Halemau'u Trail, which descends to the crater floor, in blazing heat only to have clouds roll in minutes later: the temperature dropped and low clouds drenched me in rain. The high elevation means intense solar rays, so pack sun protection (sunscreen, hat, shades).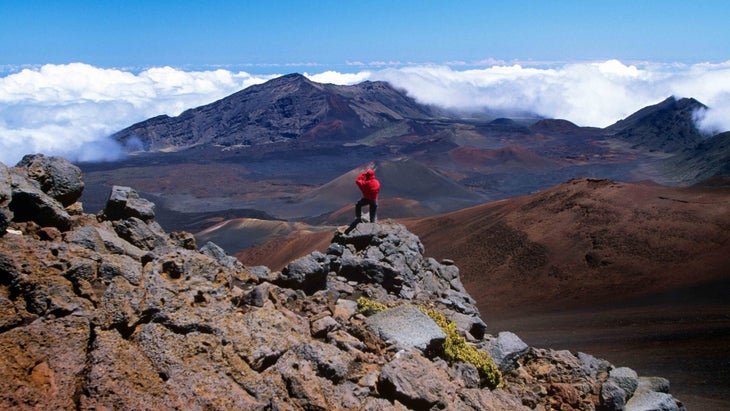 Fuel Up in Advance
Pack enough food for the day, because there is no food for sale within the park, and the only drinking water available is at the visitor centers, so make sure your water bottles are full. There are no gas stations inside of the park, either. The last chance for gas on the way to the Summit District is the town of Pukalani, 18 miles before you reach the park. For the Kipahulu District, the last chance for gas along the Hana Highway is the town of Paʻia, 45 miles before the destination. Electric-car users take note: the park has no charging stations, and most electric vehicles with a full charge have been unable to make it to the summit of Haleakala. See driving information here.  
How to Get to Haleakala National Park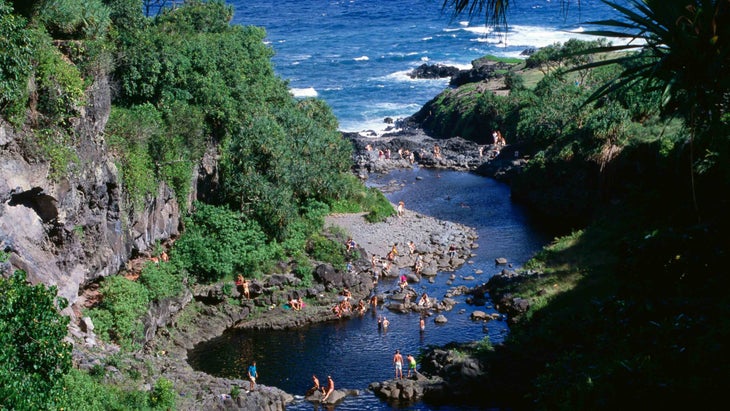 The more remote Kipahulu District of Haleakala National Park can be accessed by driving 12 miles past the town of Hāna, on the famous Hāna Highway that circumscribes the northeast coast of the island of Maui. The 64-mile infamously narrow and curvy Road to Hana begins in the North Shore surf town of Paʻia and can be jammed with traffic, so leave early and build in time to stop for banana bread—stands are ubiquitous. I personally like the loaves from Aunt Sandy's in Ke'Anae because they're served warm. To reach the Summit District entrance, it takes between 50 and 90 minutes from Maui's main tourist areas, like Lahaina and Wailea, via the Haleakala Highway.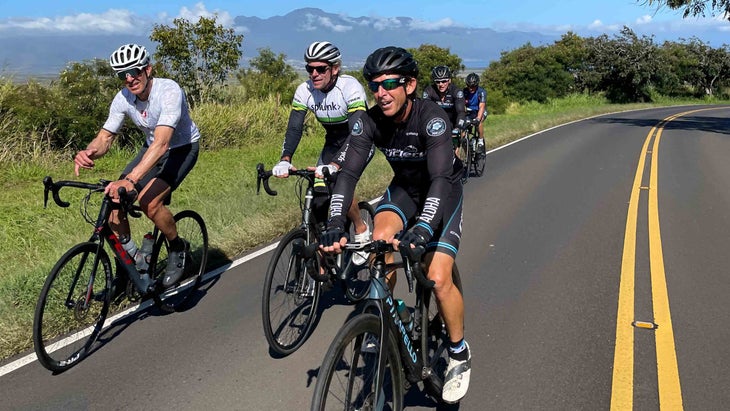 If you love a grind, you can cycle to Haleakala's summit via what Strava has deemed "the world's longest paved climb." From Paʻia, the road climbs 10,000 feet over 36 miles and reaches gradients of 18 percent. The ascent typically takes six to eight hours. Maui Cyclery rents road bikes ($65 a day) and hosts weekly guided rides ($250) with a support vehicle leaving from its shop in Pāʻia and concluding at the park entrance at 6,500 feet.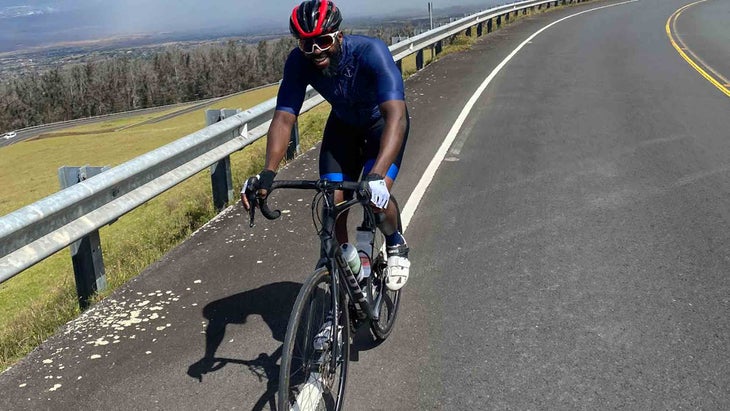 There's no shame in requesting a ride back down to town. You'll be exhausted at the top, and when the weather is wet and bone chilling, I've found my frozen hands barely able to squeeze the brakes on the steep descent. If you're super hardcore, you can break from the group and continue to the top for Strava bragging rights.
The Best Time of Year to Visit Haleakala National Park
Winter and summer are typically the busiest seasons on the island, and a trip to Haleakala National Park is on most visitors' agendas. However, if you visit during off-peak hours (anytime other than sunrise and sunset), with the exception of the summit the park rarely feels crowded. I always recommend late fall, when temperatures range between 50 to 60 degrees—perfect for hiking. You're also more likely then to spot the circular rainbow at Rainbow Bridge, a viewpoint along the Halemau'u Trail. This natural occurrence, known as the Brocken Spectre, takes place in just three places in the world—on Maui and in Germany and Scotland. On Maui, it only shows up in the late fall to early spring because of the direction the sun rises in the sky.
Where to Stay In and Near Haleakala National Park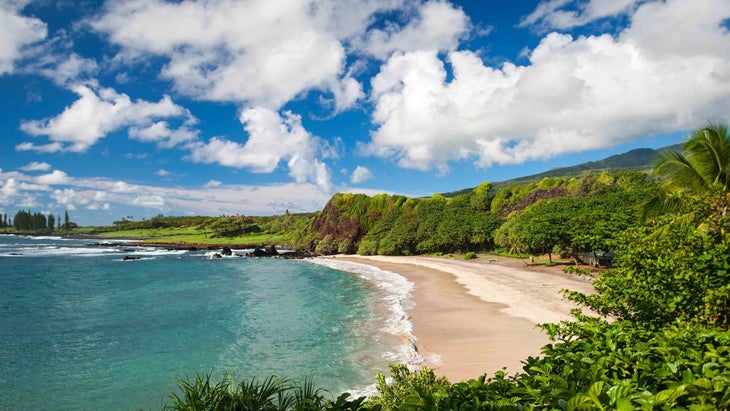 Campgrounds
The campground in Kipahulu has a dreamy perch on ocean cliffs so you wake up to the sound of crashing waves and the smell of salty ocean air. Located a short distance from the visitor center, the grounds have 20 sites—15 for car camping and five walk-ins. Reservations are required ($8 per night with a three-night max stay). Sites have picnic tables, charcoal grills, and pit toilets, and drinking water can be collected at a filling station outside of the visitor-center restrooms. If you need basic supplies, two general stores are a 10-mile drive away. The campground's proximity to some of the area's main natural attractions, including 'Ohe'o Gulch, which is a 10-minute walk, makes it a perfect base.
Less than a five-minute drive from the Summit District entrance, Hosmer Grove is the only wheelchair-accessible campground in the park, reached via a paved path. The campground is set at nearly 7,000 feet in a cloud belt, so again be prepared for the elements. If you have the right gear, the misty mornings in the forest are straight out of a storybook, and a mellow, self-guided approximate half-mile nature loop through eucalyptus and cedar stands begins right from camp. Six designated sites have picnic tables, grills, and access to potable water, and there are pit toilets in the parking lot. Reservations required ($5 per night, three-night cap). Also be aware that just because you're already in the park doesn't mean you can drive to the summit for sunrise. You'll still need a sunrise reservation.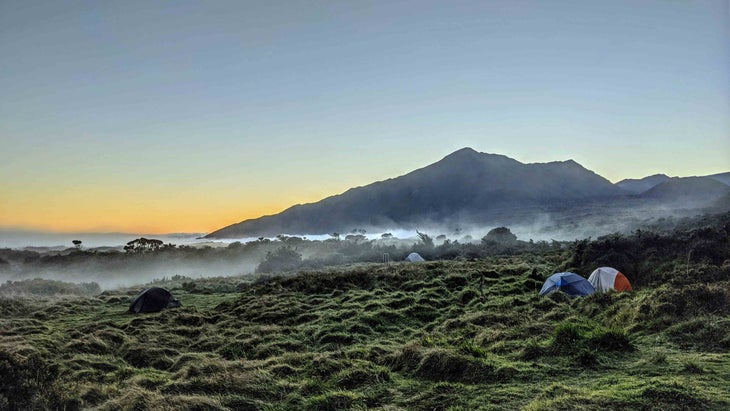 There are two primitive wilderness campsites within the park, both of which require reservations ($8 to $9 per night, maximum of three nights). The easiest to access, Holua, is 3.7 miles one way down the Halemau'u Trail. The other is the often rainy, 9.3-mile one-way hike to the Paliku campsites via the Keoneheʻeheʻe Trail. You will need to be a strong and fit hiker with backcountry experience to attempt that one.
You don't need to be a mathematician to guess there is only a small probability of scoring an overnight in one of three 12-person wilderness cabins in a park that welcomed 853,000 visitors in 2021. Reservations book up six months in advance ($75 a night). But sleeping under a glittery star-filled sky is worth the constant effort to score a spot, as well as the strenuous hike in—a minimum 3.7-mile effort.
Hotels
The only hotel on Maui's east side, the historic Hana-Maui Resort, was recently taken over by Hyatt and is a convenient and cushy base for exploring the Kipahulu District (from $409). All 74 rooms have lanais (verandas), and it's worth splurging for an ocean view. The resort has two huge pools; a fantastic, albeit pricey, spa; free hatha-based yoga classes; and mostly complimentary cultural activities, like spear throwing and lei making. The complimentary cruiser bikes are my favorite way to reach Hamoa Beach, a slightly hilly 3.3-mile ride from the hotel. Two on-site restaurants can feel redundant and expensive after a few nights. Rooms have mini fridges, so I buy breakfast basics and snacks in Paia, where prices are lower and choices more extensive. Food trucks dominate Hana's limited dining options and only stay open for lunch; all are walking or biking distance from the hotel (most park across from the hotel's Hana Ranch Restaurant). In the past, I've requested a microwave in my room so I can reheat food for dinner, and the hotel has accommodated.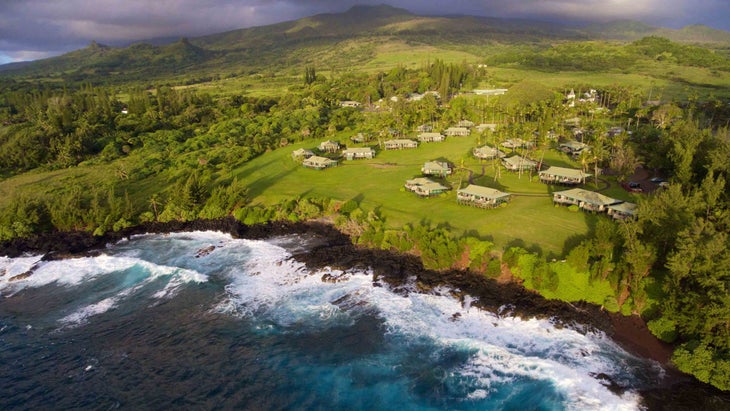 Just a 30-minute drive from the Summit District entrance, five cabin-like cottages at Kula Lodge & Restaurant have ocean views, and all are surrounded by gardens (from $310).  This is an amenity-rich lodge for exploring the park and upcountry region. For something more remote and romantic, and a similar distance from the park, book a few nights at Malu Manu, a one-bedroom log cabin set at 4,250 feet with a wood-burning fireplace—yes, you'll need it at this elevation—and what in my opinion is Maui's best sunset bicoastal view. A bit further away from the park, yet closer to the shops and restaurants of Paʻia, is Lumeria, a 24-room retreat in Haiku with a holistic spa, saline pool, and gorgeous landscaped grounds featuring a meditation garden, Buddha statues, and views of the West Maui Mountains (from $449).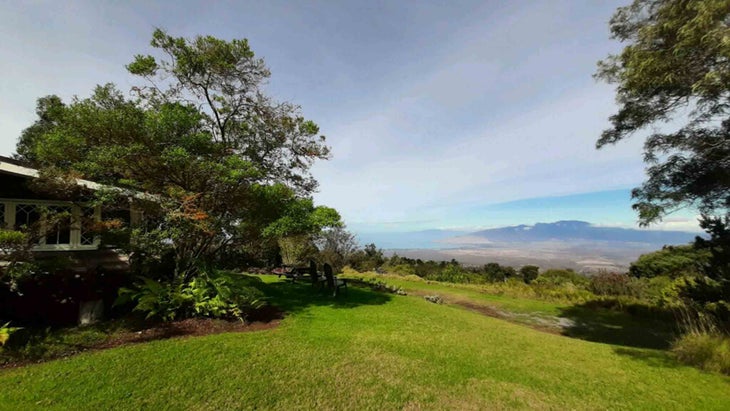 What to Do in Haleakala National Park
Hiking
This is a hiking paradise, with over 30 miles of trails for all fitness levels. If you're looking for more than a workout and awesome photos, I highly recommend booking a hike with a local operator like Humble Tours. Knowledgeable guides pack in three hikes over seven hours and will school you in all kinds of subjects, from endangered species, like the fiery red ʻiʻiwi bird and nene (Hawaiian goose), to geology trivia about the dormant volcano. Fun fact: standing 28,000 feet above the sea floor, it's the third-tallest mountain on Earth.
Hosmer Grove is a low-effort hike that delivers big rewards. Parking for the trailhead is just a quarter mile from the Summit District entrance, and the half-mile loop is lined with aromatic pine, eucalyptus, and pine forest. It is home to the native Hawaiian honeycreeper, found nowhere else on earth.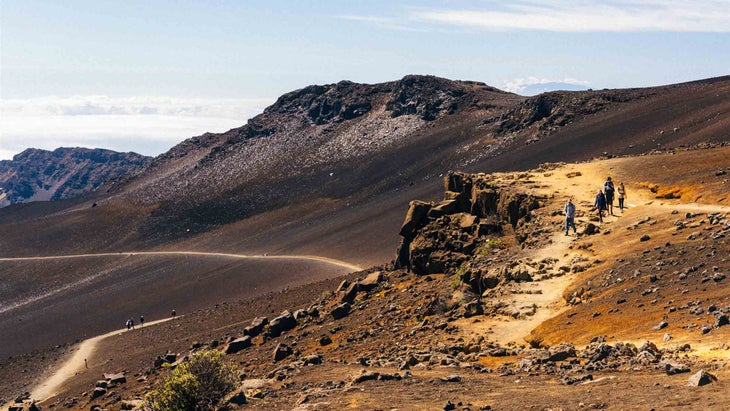 The Halemau'u Trailhead sits at 8,000 feet and is named after the rare Hawaiian fern species found here. This path requires steady footing and stamina, as it descends 1,400 feet over two miles of switchbacks, and the climb back out at altitude can be challenging. If you're feeling fatigued early on, it's smarter to stop half-way down just past the first viewpoint to Rainbow Bridge. Go early for the best chance of seeing the famed rainbow halo that forms just below the bridge as the clouds come up the valley to your left. If you continue on the steep ridge to the crater floor (proven by scientists to be the quietest place on earth), you'll reach Hōlua, on the park's three wilderness cabins. Just keep remembering that you'll have to trek back out and up.
Keonoehe'ehe'e Trailhead or Sliding Sands is my favorite hike for its otherworldly landscapes of technicolor lava and always-changing light. If you want to do the full 11.2 miles you have two options. You can make it an out-and-back and descend 5.6 miles straight down into the Martian-like floor of the crater (or however far you choose). Be warned: the hike back up is a calf-burner. You can also combine it with the Halemau'u Trail for an 11.2-mile point-to-point trail across the crater floor. You'll just need to arrange for someone to pick you up, as the park doesn't offer shuttles.
Hikes in the Kīpahulu District offer completely different scenery. The four-mile round-trip Pipiwai Trail is a quintessential Hawaii hike, winding through bamboo forests and with multiple views of waterfalls. Download the NPS App to take a self-guided tour of the Kuloa Point Trail so you can learn about plants brought by Polynesian voyagers and observe hale (houses) built by early people, en route to the stunning ʻOheʻo Gulch.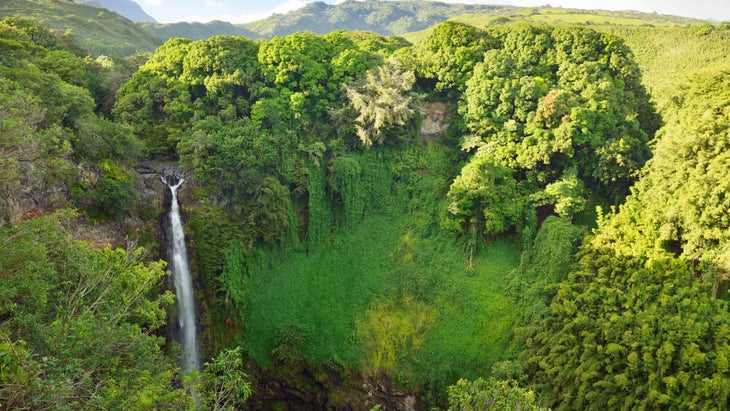 Sunrise + Sunset
When I'm on Maui, I typically watch the sunrise while catching waves at my favorite surf spot. But I've rarely regretted skipping a dawn patrol session to glimpse the first golden rays spill across the crater's summit. Scoring a reservation can feel like playing the lottery, but persistence pays off. There are four viewing locations in the park. The Pu`u Ula is the highest at 10,023 feet and often fills up first. The Leleiwi Overlook is accessed via a 10-minute hike from its parking lot. I like to arrive early and head here first for my pick of viewing options. Despite the hype of the summit, I think the best sunrise position is just below at Haleakala Visitor Center. If you can't score a reservation for a DIY visit, book a sunrise tour through the local operator Haleakala Eco Tours.
Locals consider sunset even more colorful than sunrise. You don't need a reservation and it can be bookended with a hike in the park and stargazing. The sunset view is great from nearly anywhere in the park, but if you're set on a summit vista, park in the lot below the summit. The uphill walk to the top is just 10 minutes and lets you avoid the inevitable Summit lot traffic jam once the sun goes down.
Stargazing
The high altitude and minimal light pollution at the summit often makes it look like someone tossed a sequined scarf across the night sky. The stars dazzle, the Milky Way shines, and meteor showers dance above. Simply staring and taking it all in is wondrous, but if you're a nerd like me and want more context, book a tour with Maui Stargazing. Five-hour tours begin at sunset. As the sky darkens, your guide uses a super-strength Dobsonian telescope to zero in on planets, nebulae, star clusters, and even other galaxies.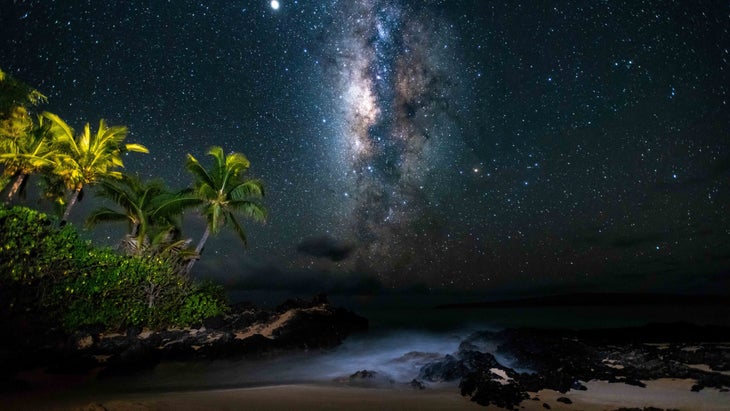 The Best Places to Eat and Drink Around Haleakala National Park
While the park itself doesn't offer any type of food services, there are a handful of fantastic, farm-fresh restaurants and markets upcountry. If you plan to pack a lunch, Hosmer Grove, in the Summit District, has a covered picnic area with grills. On Saturdays, I love to hit the Upcountry Farmers Market in Pukalani ahead of a hike in the park. You'll find every imaginable fruit (lilikoi, mango, pineapple), hand-crafted kombucha, and prepared foods, like red pumpkin Thai curry and empanadas. Maui Bees, a working farm specializing in honey with a bountiful stand and coffee bar, sells produce as well as homemade foods, including peanut butter-energy bars (sweetened with honey, of course), Ayurvedic balance bowls with mung beans and kale, and hand pies. It's worth planning ahead and booking a reservation to attend one of Maui Bees' weekly farm dinners. The communal event kicks off with a farm tour at 4 p.m., followed by a six-course meal featuring inventive dishes like rhubarb banana curry with ono and kabocha squash. The farm's high perch offers bicoastal views of neighboring islands including Koho'olawe and Lana'i, and the West Maui mountains, and dessert is timed to sunset.
Located outside of the park on the slopes of Haleakala, Kula Bistro is a casual local spot with Italian trattoria vibes. Breakfast hits include mahi eggs Benedict and loco moco, a hearty Hawaiian staple of eggs, a beef patty, and steamed rice smothered in a rich gravy. Lunch and dinner menus offer a little of everything, from Caesar salads and turkey and avocado paninis to Bolognese and chicken parm. Kula Lodge & Restaurant has a beautiful garden terrace. The signature goat cheese and caramelized onion quiche is my go-to post-sunrise breakfast. At lunch, I like to order healthy and get the grilled fish sandwich (usually ono) with a harvest salad, so I can justify a slice of lilikoi pie for dessert. Next door, Kula Marketplace is stocked with locally made crafts, like hand-thrown pottery, honey and jams made from island bees and fruits, and quick grab-and-go drinks and snacks.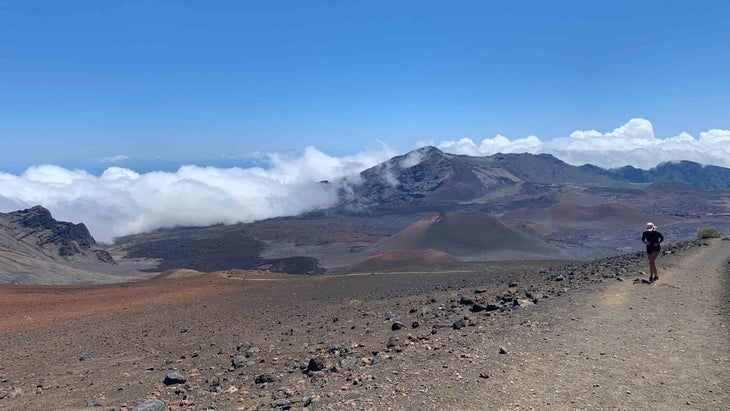 After a big effort in the park, treat yourself with a Neapolitan-style pizza and beer from the newcomer restaurant Marlow. The chef, Jeff Scheer, does everything from scratch, from milling whole wheat berries for the sourdough crust to hand-stretching the mozzarella and growing the toppings. You can eat in the Scandi-minimalist dining room, or Scheer's menu is also available next door at Mahalo Aleworks, and the tap room regularly hosts live music. My perfect pairing: the Idaho Hazy IPA and Arrabbiata pie topped with shaved Parmesan, garlic, and Calabrian chili.
If You Have Time for a Detour
If you're planning on visiting the Kipahulu District, consider spending a night or two in the town of Hāna to truly sense Maui's slower pace. Day trip from Hāna to nearby Waiʻanapanapa State Park, a photo favorite for its black-sand beach and blowholes, and hit up some of the area's fantastic food trucks, which serve everything from mahi mahi tacos to BBQ ribs. You'll want to arrive early at Thai Food by Pranee, as the fresh-catch curry specials often sell out before noon. The upcountry town of Makawao provides a glimpse of Maui's paniolo (cowboy) past and boasts some of the island's best indie boutiques, such as Holoholo Surf and the Monarch Collective, and beloved bake shop, Maui Cookie Lady. It's also home to the 2,093-acre Makawao Forest Reserve, my go-to spot for trail runs and mountain biking.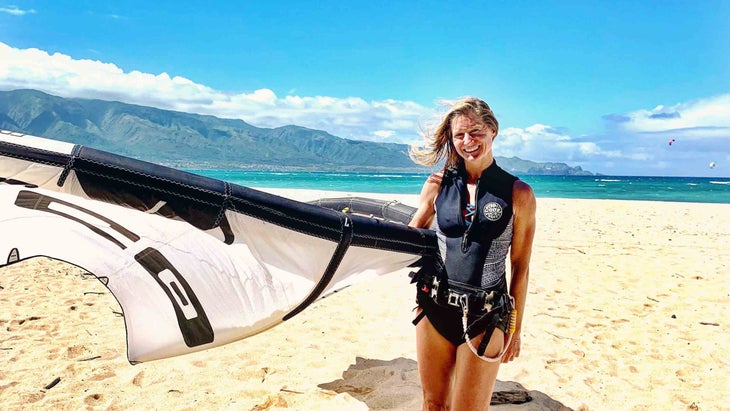 If you're into wind sports, tack on a few days on Maui's North Shore. Ho'okipa beach is the windsurfing and wing-foil mecca, drawing talent from around the world. HST Windsurfing & Kitesurfing School, Maui's oldest and largest water sports school, offers lessons for windsurfing, kiting, stand-up paddling, and wing-foiling. And when it comes to one-on-one kitesurf instruction, Brett Sheerin, owner of Maui True North, is worth booking in advance. If you've already mastered the basics and came to play, you can rent gear at Adventure Sports Maui. The nearby artsy town of Paʻia is packed with funky shops, like Mick's House of Fleetwood, an eclectic boutique opened by, and namesake of, the music legend; surf shops; and locally loved healthy food spots like Choice Health Bar and the natural grocer Mana Foods.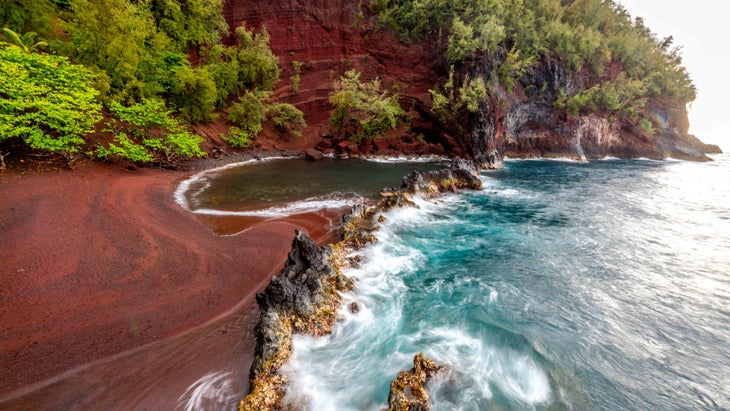 Maui boasts some of Hawaii's most spectacular beaches, and its resort enclaves hug most of them. On the island's southwest side, Wailea is known for its designer shops and beachfront resorts, including Four Seasons Resort Maui at Wailea, where the hit series White Lotus is filmed. It's also near my favorite beach, Makena State Park, or Big Beach. This wide, 1.5-mile swath of sand rarely feels crowded and has a serious beach break for surfing. Continue south of Wailea and you run into La Perouse Bay, an awesome snorkel spot. Rental packages at Snorkel Bob in Wailea Village include fins, goggles, and even a fish I.D. card. The parking lot at La Perouse is also the start of Hoapili or the King's Trail, an ancient footpath created by King Pi'ilani that once stretched around the entire island of Maui. If you're interested in the history, book a guided photography tour with Daniel Sullivan, a local photographer who authored a book on the historic highway.
On the west side, the surf is up in summer. You can hole up in a five-star resort at the exclusive Kapalua and Ka'anapali, or book a hotel in the bustling harbor town of Lahaina. Lahaina is close to my go-to longboard spots including Thousand Peaks and Breakwall, and I always get post-surf brioche malasadas at the star chef Leann Wong's brunch spot, Papa'aina.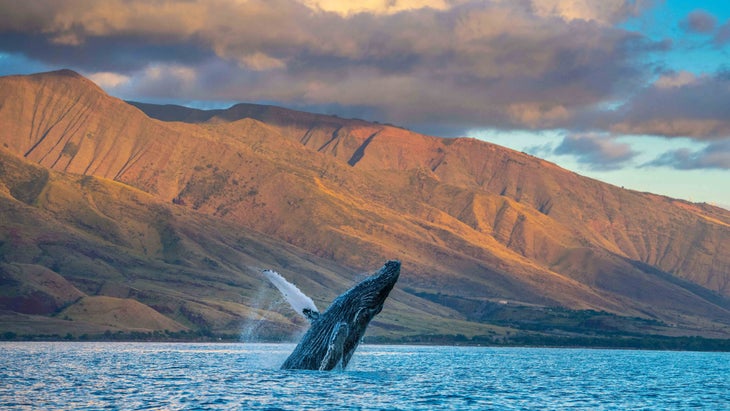 In the winter, most whale-watch tours leave from the Lahaina harbor. Maui's warm waters welcome so many migrating humpbacks that you're nearly guaranteed to see some serious tail-splashing. Ultimate Whale Watch uses small rafting vessels capped at 18 passengers, and a portion of each ticket sale goes back to whale research. If you want a more lounge-y experience aboard a catamaran that includes snacks and cocktails, book with Sail Maui.
How to be a Conscious Visitor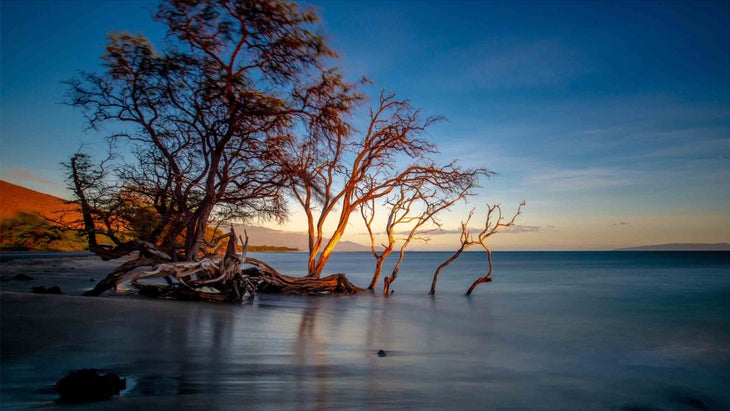 Ever since Covid-19 restrictions were lifted, Maui has been overwhelmed by tourists. Island life runs at a slower pace than the mainland. Be patient and respectful. Roads to and within the park are winding, and the views can be spectacular. Locals and others on the road will appreciate it if you pull over in designated pull-outs to take photos or, if you're driving slowly, allow other vehicles to pass. While driving in the Summit District, be extra careful of wildlife, such as nēnē (Hawaiian goose), on the roadways. When hiking, stay on the trails. They've been designed to protect visitors from cliffs and rockfall danger, and to protect cultural sites and native species. Please never take anything, whether lava rocks or silversword plants, out of the park. If you're booking a tour, consider first inquiring how the operator gives back to the region. Humble Tours, for example, donates a portion of its profits to a local non-profit that supports conservation internships for Maui's youth. And if you're lucky enough to have a local share a secret spot, be it a beach or surf break, please keep it a secret by skipping the social media posts and geotags.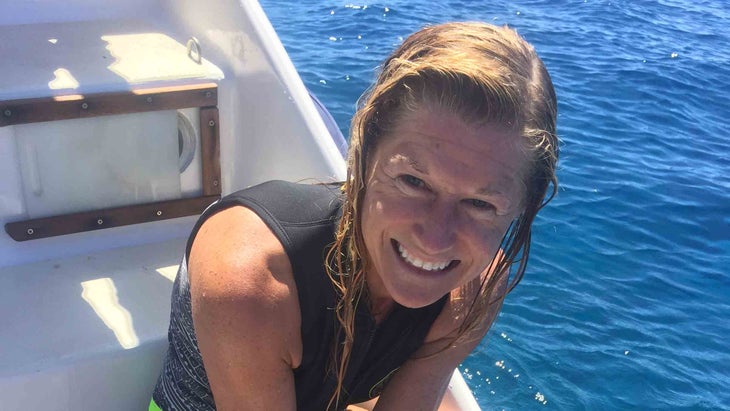 Lead Photo: Ed Freeman/Getty