The Ultimate Volcanoes National Park Travel Guide
A trip to the largest of Hawaii Island's five national and historic parks is a step back in time, a place where two active volcanoes have long altered the landscape. From 1983 to 2018, lava poured into the Pacific Ocean, as it pounded and shaped the craggy shoreline. Today, endangered birds and rare orchids fill the rainforest and grasslands, geological wonders dot the terrain, and sacred cultural sites speak to the park's mythic roots.
Heading out the door? Read this article on the new Outside+ app available now on iOS devices for members! Download the app.
It doesn't matter where I am in Hawaii Volcanoes National Park—standing at the Kilauea Iki overlook, which has views of a mile-long crater, peering into steam vents along the edge of Kilauea Crater, holding my breath at the sulphur banks along the Haakulamanu Trail—the inner geologist in me stirs.
I've been visiting this national park for decades, and every time it's different. I've walked along newly formed ledges at night, the black igneous rock crunching under my hiking boots, to watch 2,000-degree molten lava tumble into the ocean. I've pulled over on the side of the 18.8-mile Chain of Craters Road, lain on the hood of my rental car, and gawked at a night sky blanketed in stars. I've witnessed lava fountaining in the distance, reminding me of this park's mystic roots—this is the sacred home of the fire goddess Pele, whose unpredictable nature is the force the shapes the land.
Located on the southeastern side of the island, the mammoth 333,308-acre national park is ever changing, due, in large part, to Kilauea, one of the island's two active shield volcanoes that, up until 2018, had been continuously emitting lava from Puu Oo, a volcanic cone in Kilauea's eastern rift zone, since 1983. Kilauea has experienced destructive eruptions throughout the decades, like Kalapana in the late eighties and Kapoho in 1960. But in May 2018, an unprecedented event in both scale and strength forced the longest shutdown in the park's history—134 days—as lava and earthquakes took out trails, park buildings, roads, and water systems; destroyed more than 700 homes in the nearby Puna district; and consumed beloved Kapoho Bay, a favorite spot for snorkeling and swimming. And although the volcanoes' volatility is a danger, it is also a source of life.
This national park is dynamic and diverse. It stretches from sea level to the summit of 13,679-foot Mauna Loa, the largest volcano in the world, and boasts rugged coastlines, lava fields, lush rainforests, sacred cultural sites, barren desert landscapes, and alpine tundra. There are plenty of places where you can still be alone, despite the more than 1.5 million visitors who flock to the park every year.
What You Need to Know Before You Go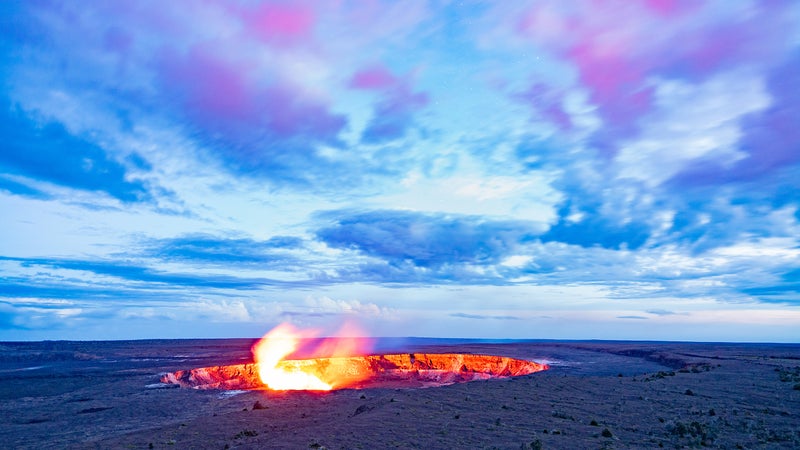 Kilauea is not erupting—at least not right now. This is the most asked question by visitors, and for good reason. The park recently experienced one of the longest continuous eruptions ever recorded, and for those 35 years, people could witness the marvels of volcanism up close—hiking to vents where steam rose from groundwater hitting hot volcanic rock, flying over active lava flows in helicopters, even taking boat tours to watch molten lava seep into the ocean. "We had the most accessible place to see lava in the world," says Ben Hayes, the park's chief of interpretation and education. "It's become an expectation. People ask, ʻWhere's the lava?' and our answer is, 'It's all around you.' We still have amazing things to see and experience." That said, experts believe Kilauea will likely erupt again soon. "Hawaiian Volcano Observatory scientists tell us magma is again moving back to the summit, but no one knows when it will erupt again. There will be signs—earthquakes and elevated levels of volcanic gas—but for now we just don't know," says park spokesperson Jessica Ferracane.
It will be colder and wetter than you think. Located on the island's southeastern side and partly made up of rainforest, the park can get more than 200 inches of rain in a year. (The islands average 17 inches of rain annually.) When Hurricane Lane struck Hawaii Island in August 2018, it was the second-wettest cyclone on record in the U.S., dumping three feet of rain in two days within the park alone. And with an elevation of 4,000 feet above sea level, temperatures here are substantially lower than at an oceanfront resort. Lows are in the forties and highs are in the sixties, regardless of the time of year. "We get a lot of rain. That's just the Hawaii-volcano experience," Hayes says. "You need to be prepared. Layers and rainjackets."
Avoid Tuesdays. This is the day when Pride of America, a cruise ship that sails around Hawaii, docks in the eastern town of Hilo and lets out hundreds of passengers who head straight to the national park for the day. Park staff call it "Turn Left Tuesday," because they encourage visitors to turn left after entering the park to avoid the Kilauea Visitor Center and head to the coast along Chain of Craters Road first, as crowds will typically hit sights like the Kilauea Iki Trail that leads up to the volcano and Nahuku (a.k.a. the Thurston Lava Tube), both located near the visitor center, before venturing to the coast in the afternoon.
Parts of the park are still closed. In May 2018, the summit area of the park was severely impacted by thousands of earthquakes, which caused rockfalls and damaged buildings, roads, and trails. The park reopened in September 2018, and most of its most popular spots, including the recent reopening of Nahuku, are up and running, but a handful of sites remain closed, including the overlook at the Holei Sea Arch, parts of Crater Rim Drive, and Iliahi Trail, a 1.2-mile rainforest loop hike. Jaggar Museum, which is precariously perched at the edge of Halemaumau Crater, is permanently closed as a result of the crater's collapse, which went from a depth of 280 to 1,600 feet. A short section of Crater Rim Drive, near the museum, is still closed because the adjoining overlook and parking lot were swallowed up by the crater. The closure of certain areas has also reduced the number of parking spaces in the park—finding an open spot midday can be tough, so plan to arrive early at popular sites.
How to Get There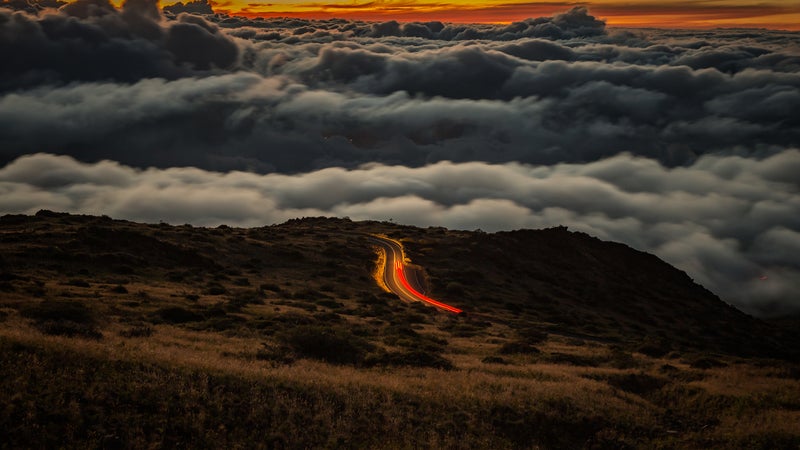 The nearest airport to Hawaii Volcanoes National Park is Hilo International, about 30 miles to the northeast. It's an easy, direct drive along Route 11 (Hawaii Belt Road) to the park's entrance. Along the way you'll pass through the sleepy towns of Kurtistown and Mountain View, where you can stop by the family-run Hilo Coffee Mill for a cup of locally grown brew. If you're coming from the western Kona Coast, the drive will take around two hours, a lot of it through desolate lava fields. If you are coming from this direction, though, you can make a pit stop at Ka Lae, also known as South Point, the southernmost point of the 50 states. Looking directly south, out at the Pacific, the nearest landmass is Antarctica. Seriously.
When Is the Best Time to Visit Hawaii Volcanoes National Park?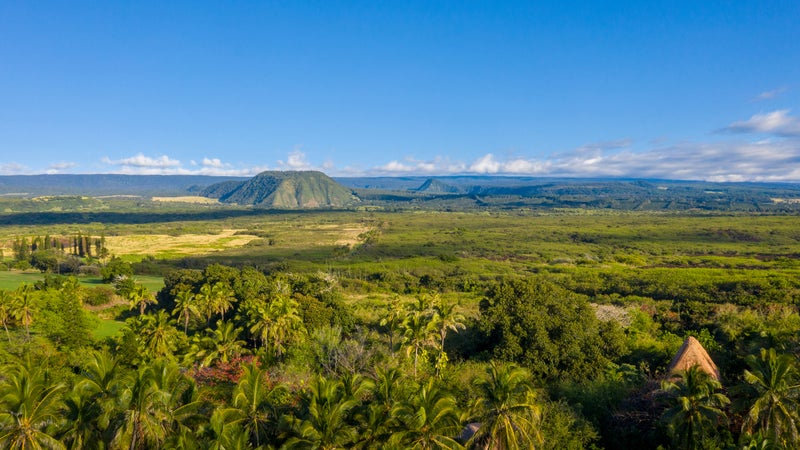 This is Hawaii, so the weather doesn't vary much month to month, with temperatures averaging between 66 to 85 degrees throughout the year. It does snow on Hawaii Island in the winter months—at the summits of Mauna Loa and Mauna Kea—but that likely won't affect your visit. Unlike other U.S. national parks that see an influx of visitors during certain seasons, Hawaii Volcanoes National Park is busy year-round, thanks to the island's sublime weather and moderate climate.
Winter
There are really only two seasons in Hawaii: wet and dry. November to March is the rainy season, with higher precipitation on the north and east shores. The weather during these months can often be mercurial: one day it's blazing hot, another you might wish you'd packed a parka. Winter is a peak season for travel in Hawaii, though, with mainland visitors escaping to the islands from colder climes. It's also the time when monster surf hits north-facing shores, luring expert wave riders and curious spectators. And thousands of North Pacific humpback whales make their annual migration from Alaska to Hawaii's warmer waters during these months to mate and give birth. This spectacle boosts the number of cruise ships docking on Hawaii Island, and, according to Hayes, these passengers are likely to visit the national park.
Spring
The weather tends to stay cool and wet during the start of spring, making it a good time to visit, as the peak season tapers off and typically busy spots in the park aren't as crowded. You'll likely find better rates at nearby hotels, too. The park does get a surge of visitors during spring break; around the weekend of the annual Merrie Monarch Festival, a weeklong hula competition in Hilo, in April; and during Golden Week, a stretch of Japanese holidays that run from late April through early May, which brings an influx of Japanese visitors to the islands.
Summer and Fall 
June and July are exceptionally busy at the park, with families on vacation and gorgeous warm weather luring folks outdoors. Due to its altitude, the area around Kilauea tends to be about 15 degrees cooler than along the coast, which averages 85 degrees, making for great hiking and camping weather. But June through November is also hurricane season in the islands, when tropical storms can bring torrential rain and whipping winds. To avoid the crowds, plan to arrive at the park by sunup, hitting the more popular trails early. Other pathways in the park, like the easy 1.2-mile Kipukapuaulu Trail, which cuts through an old koa and ohia forest, are often uncrowded, even during summer and fall months. And if you really want to get away, head to the park's Kahuku Unit on the southerly slopes of Mauna Loa, about an hour drive southwest from the Kilauea Visitor Center. This 116,000-acre former ranchland was acquired by the park in 2003 and is open to the public five days a week. Hike to the top of a cinder cone, walk along a historic ranch road to see tree molds and lava flows from 1868, or bike through scenic pastures for some of the best panoramic views of the area. You can also book ranger-guided hikes.
Where to Stay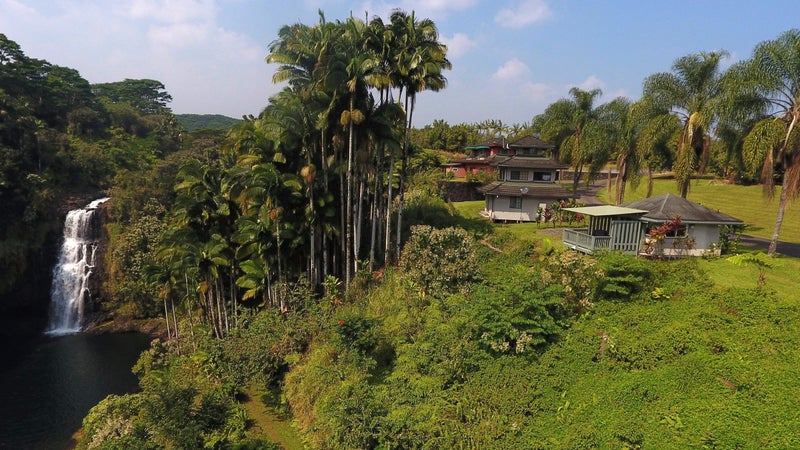 In the Park
Volcano House (from $220), the only hotel in the park, is perched on the rim of the Kilauea caldera, with a view of Halemaumau Crater. Originally built in 1846, this historic retreat has since been restored and has 33 guest rooms and ten cabins. It also houses a popular restaurant, the Rim, with live music every night. You can walk to the Kilauea Visitor Center from here. If you're an active-duty or retired member of the military or a Department of Defense employee or sponsor, you can stay at Kilauea Military Camp, which occupies 50 acres in the park. Once a working military post, the camp converted its 90 cottages and apartments into vacation lodgings, with a fitness center, café, general store, and bowling alley available to guests (from $72).
The park also features two drive-in campgrounds: Namakanipaio and Kulanaokuaiki. Both operate on a first-come, first served basis. Namakanipaio, operated by Volcano House, has 16 campsites (from $50) surrounded by fragrant eucalyptus and native ohia trees, with restrooms, running water, picnic tables, and barbecue pits. It's located at 4,000 feet elevation, so nighttime temperatures can dip into the low thirties. Kulanaokuaiki, meanwhile, sits at an elevation of 3,200 feet and offers eight campsites (from $15). You can also hike and camp in the backcountry (register online or in person, and pay a $10 permit fee per trip) and find yourself completely immersed in the park at one of eight campsites. Halape, on the southern coast of the park, is one of the more popular backcountry sites and can be accessed via the 11.3-mile Puna Coast Trail, 8.5-mile Keauhou Trail, or the 8-mile Hilina Pali Trail. The site sits on a small, secluded sandy beach dotted with coconut trees.
Beyond the Park
Just outside the park's main entrance, right off Mamalohoa Highway (Hawaii Belt Road), is the quaint town of Volcano—called Volcano Village—where you'll find a variety of lodgings, from the rooms and cottage at the rustic Kilauea Lodge (from $145) to the more upscale Volcano Rainforest Retreat, where you should book the Sanctuary Cottage, a 200-square-foot hexagonal space with floor-to-ceiling windows and an outdoor bath hidden amid the foliage (from $230). There are even more options in Hilo, about 30 miles northeast of the park. The Inn at Kulaniapia Falls, just a few miles from downtown Hilo, sprawls over 42 lush acres on a cliff overlooking a 120-foot waterfall—the state's largest privately accessible waterfall (which means no crowds)—with several Asian-inspired, off-the-grid cabins (from $99). The Grand Naniloa Hotel Hilo, a DoubleTree by Hilton, sits on Hilo Bay with 388 guest rooms, 19 suites, and a nine-hole golf course (from $175).
What to Do While You're There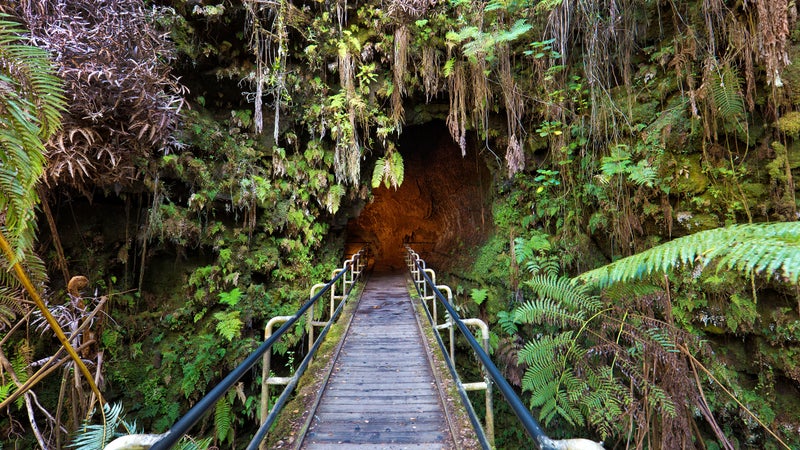 Hiking
With more than 150 miles of trails, Hawaii Volcanoes National Park is best explored on foot. Hikes range in difficulty from easy walks and half-day treks to challenging expeditions through the park's wild backcountry. One of the most popular options—and my personal favorite—is the four-mile Kilauea Iki Trail, which reopened in its entirety in September (it was damaged by earthquakes during the 2018 Kilauea eruption). The terrain varies, starting in a forest of native ohia trees and endemic hapuu (Hawaiian tree ferns) and ending with a walk across the massive Kilauea Iki Crater, which was a seething lava lake spewing lava fountains of up to 1,900 feet and now looks like the surface of another planet.
For an easier trek, check out the one-mile stroll along the paved Devastation Trail, which meanders through a stark landscape buried by falling cinder from the lava fountains of the 1959 Kilauea Iki eruption. More experienced hikers—and those looking for some solitude—can tackle the backcountry Maunaiki Trail, which traverses the harsh Kau Desert for two miles to the barren summit of 3,034-foot Maunaiki and offers sweeping views of the park. You can continue beyond the summit for another seven miles to Hilina Pali Road, past craggy cinder cones and fissures and across fields of broken, jagged lava. There's no water and very little shade, so, as with all hikes, bring sufficient water and sun protection.
Biking
There aren't many places in the world where you can cycle through lava fields. Rent a bike from Big Island Bike Tours and ride along the 8.8-mile Chain of Craters Road to the coast, stopping at the Puu Loa petroglyphs, the largest petroglyph field in Hawaii—there are more than 23,000 images—and a sacred cultural site dated between 1200 and 1450 A.D. Or book a guided excursion with Bike Volcano, which has several options, including a full-day, 15-mile tour of the park from Kilauea Crater down Chain of Craters Road to the ocean.
Bird-Watching
Hawaii is a great destination for bird-watching, primarily because of its collection of unique and rare species, many of which are found nowhere else in the world. More than one-third of all U.S. birds protected by the Endangered Species Act reside here. Endemic birds such as the iiwi (scarlet honeycreeper), amakihi (Hawaiian honeycreeper), elepaio (monarch flycatcher), nene (Hawaiian goose), and io (Hawaiian hawk) can all be spotted at the park. The most accessible place to seek out Hawaii's endemic forest birds is on the Kipukapualulu Trail, a 1.2-mile loop through pristine native forestland in an area referred to as "bird park." Grab your binoculars and go in the morning when these small birds are most active. Better yet, book a tour with Hawaii Forest and Trail (from $209), which hosts excellent bird-watching outings. And since the American Birding Association finally included Hawaii as part of its ABA Area in 2016, serious birders can now count the island's avian species on their life lists.
The Best Places to Eat and Drink Around Hawaii Volcanoes National Park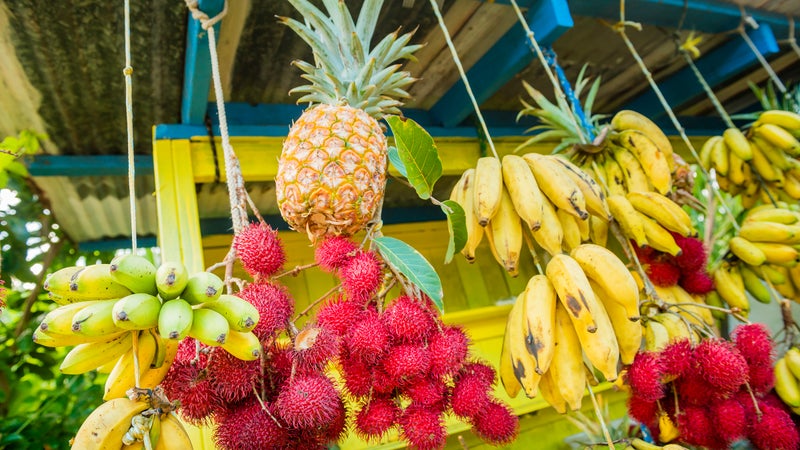 With two million visitors to the park every year—and only one on-site restaurant located at the Volcano House hotel—it's no wonder eateries and food trucks have popped up in Volcano Village, the small town just outside the park. A favorite is Ohelo Café, a casual spot that serves locally caught fish, shrimp from Keahole, on the westernmost point of the island, and killer baby-back ribs with a house-made Fuji-apple barbecue sauce. Its specialty, though, is wood-fired pizzas, best paired with the local beers on draft. For authentic Thai food, check out Tuk-Tuk Food Wagon, found at nearby Akatsuka Orchid Gardens, about a five-minute drive from the park. Portions are big, and prices are great. For something to bring into the park, Eagle's Lighthouse Café, next door to Ohelo Café, serves sizable deli sandwiches, hearty soups, salads, and baked goods.
If You Have Time for a Detour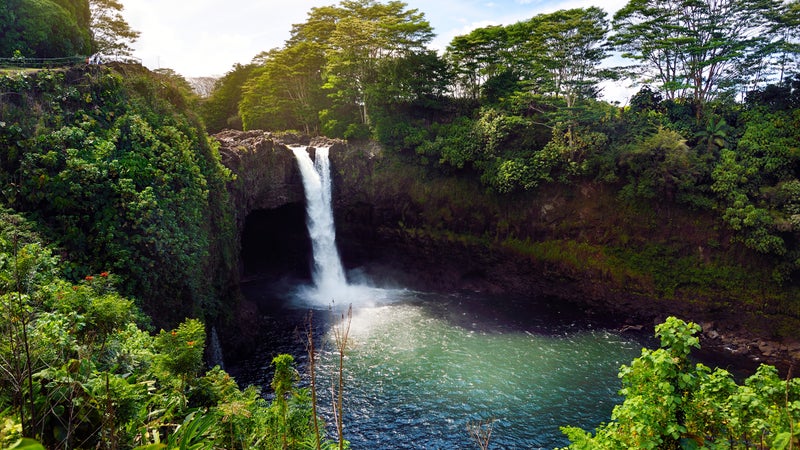 Spend some time in Hilo, on Hawaii Island's east coast. Here you can visit the lively Hilo Farmers Market; I recommend Wednesdays and Saturdays, when the daily market swells to more than 200 vendors selling everything from seasonal fruits to Hawaiian-grown coffee. For poke, a dish made with cubed raw fish, visit the no-frills Suisan Fish Market, an iconic fish auction and market right on Hilo Bay. Locals hit up Two Ladies Kitchen for its speciality: strawberry mochi—a large strawberry encased in pillowy-soft, sweet Japanese rice cake. You need to order ahead for these treats, but you can also just pop in and grab a variety of other mochi filled with sweet adzuki (Japanese red-bean paste), peanut butter, or chocolate brownies. (Cash only, FYI.)
Right in town, you'll find Rainbow Falls, named for the rainbows that show there in the early morning. And if you didn't do enough hiking at Hawaii Volcanoes National Park, head to Akaka Falls State Park, about 11 miles north of Hilo. A short half-mile hike wanders through a lush rainforest before reaching the first waterfall, the 100-foot Kahuna Falls. Just around the bend is the star attraction: 442-foot Akaka Falls, which cascades into a stream-eroded gorge.
How to Be Conscious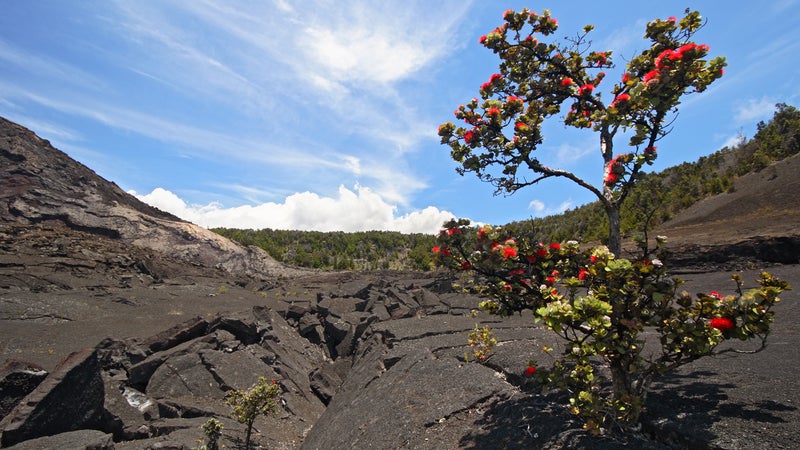 Due to the volcanic nature of the park, it's especially important to only use open and marked trails, as cliffs, cracks, and steam vents are scattered throughout. It's also important to leave rocks alone. Park staff often use ahu (stacked rocks) to mark trails. This is not an invitation to do the same. It's culturally insensitive, not to mention disorienting to hikers. And taking lava rocks is believed to bring bad luck; hundreds of people return them to the park every year.
Hawaii was the first state in the U.S. to ban plastic bags, so you'll need to bring your own reusable totes or expect to pay for paper bags at shops and stores. Plastic goods are next—the state is gearing up for a massive ban on single-use plastics, to include disposable plates, utensils, and straws, starting in 2021. It has also banned the sale of sunscreen containing reef-harming chemicals, a law that will go into effect in 2021.
Lead Photo: Eachat/iStock