63 Parks Traveler
It's Time to Plan Your Summer Visit to Indiana Dunes
Indiana Dunes National Park is an adventure gem for urban midwesterners all year long, but particularly in summer, when Lake Michigan almost appears tropical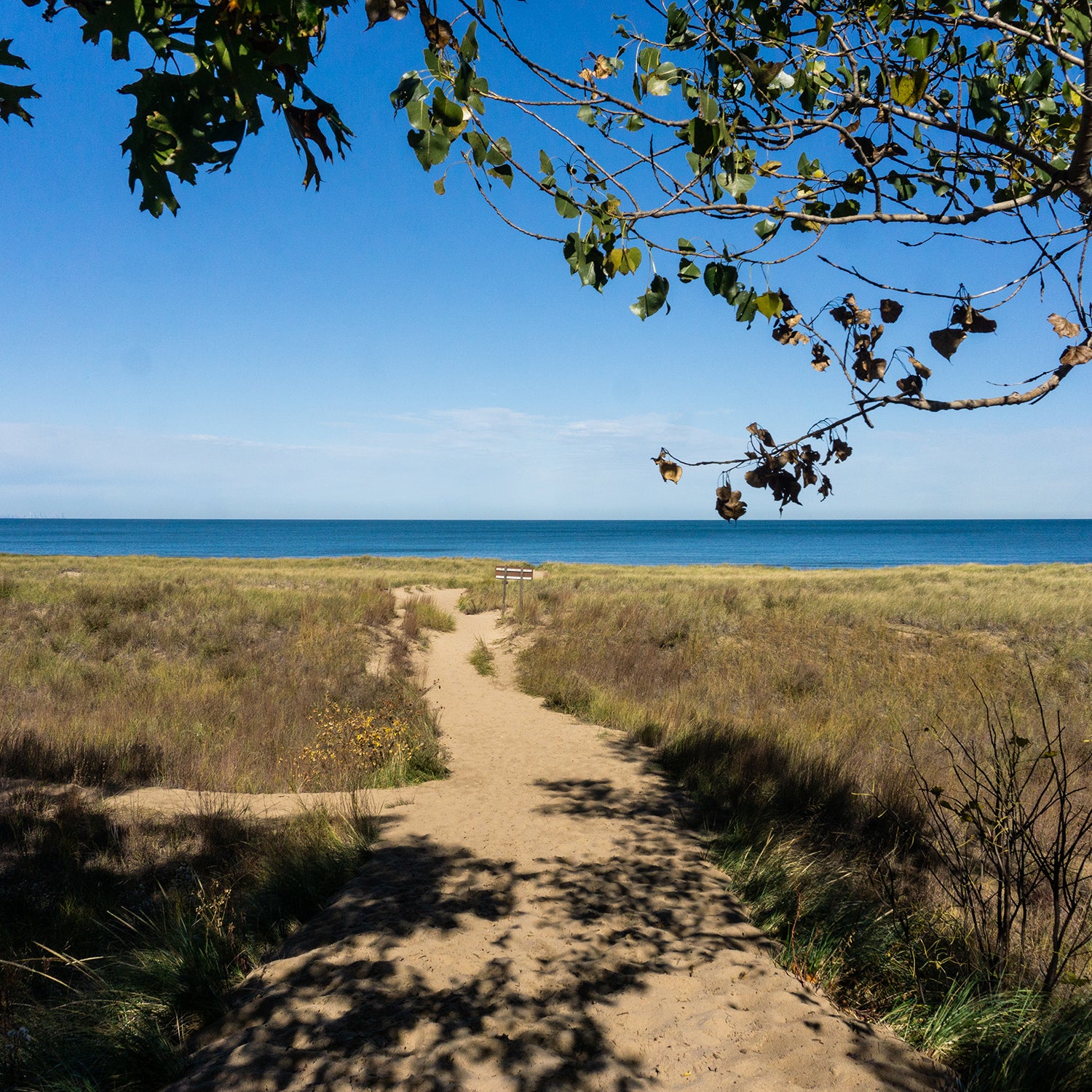 Emily Pennington
Heading out the door? Read this article on the new Outside+ app available now on iOS devices for members! Download the app.
63 Parks Traveler started with a simple goal: to visit every U.S. national park. Avid backpacker and public-lands nerd Emily Pennington saved up, built out a tiny van to travel and live in, and hit the road, practicing COVID-19 best safety protocols along the way. The parks as we know them are rapidly changing, and she wanted to see them before it's too late. Indiana Dunes is her 47th park visit.
---
With its cerulean blue waves and immense 15-mile shoreline, the southern edge of Lake Michigan, home to Indiana Dunes National Park, might appear tropical at first glance. But don't let appearances fool you. That water is cold, even in summer, when you'll find kayakers paddling through the chilly freshwater and families lounging on sandy beaches along the lake.
When I arrived at the park in mid-October, the changing of the seasons was already in full swing, a fierce autumn wind throwing my hair around and numbing my fingertips. The temperate forest was bursting with flamboyant, fiery colors, littering the dunes with a confetti of red, orange, and golden leaves. The water wasn't any warmer.
The dunes themselves, like much of northern Indiana, are mostly covered in brushy woodlands and lakeside grasses. Hiking up and down the nearly 200-foot-tall hills of sand can feel a lot more like a shady slog than an extravagantly view-filled jaunt in a national park.
Though a walk in this park might not have the granite domes of Yosemite or the rust-hued rocks of Zion, there's a quieter, more intricate ecosystem at play. One full of biodiverse marshlands, a variety of small mammals, and over 350 species of birds (making it one of the top five parks for birding). Historically, the Potawatomi and Miami peoples lived near the dunes through the late 1600s, after which French traders moved in.
More recently, industry has threatened the protection of these lands. Henry Cowles, a botanist from the University of Chicago, published an article about the area's ecology, trying to have it designated as a national park as early as 1916. As World War I raged on, development became more of a priority than preservation, and the largest of the dunes, Hoosier Slide, was carted away to make glass fruit jars.
Unfortunately, economic advancement has often been prioritized, and the park is bordered by a power plant and a steel mill. Both were planned and opened before Indiana Dunes became a national lakeshore in 1966 and before the area received national park status in 2019.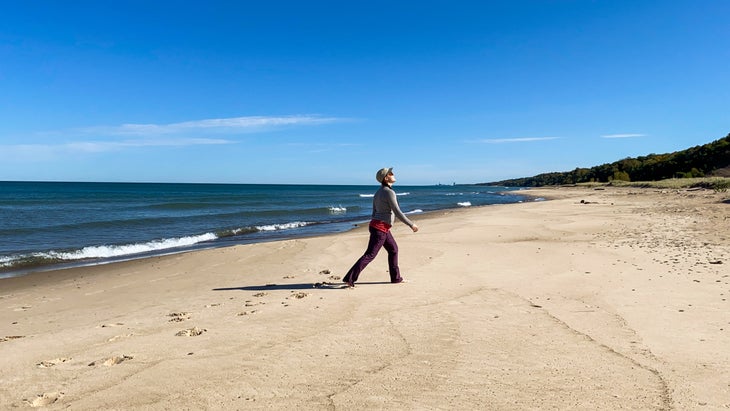 I wandered up the five-mile Cowles Bog Trail, past marshes whispering with insects and down to the lake itself. As I hiked, I tried to view the park through a magnifying lens, imagining how the various plants and fungi worked together to create a unique and diverse ecosystem not found elsewhere. Unseen birds warbled in the high branches, and my heartbeat raced as I climbed the steep, unforgiving sand.
When I got to Lake Michigan, afternoon sunshine warmed my face, and several couples with dogs were playing in the water. A smoke stack loomed large to my left like the towering city of Oz. I took off my shoes, curled my toes into sand, and dipped my feet in the icy freshwater.
The park left me feeling conflicted. Crestfallen that industry has affected a place of such simple beauty and grateful that people who cared had managed to save what they could.
63 Parks Traveler Indiana Dunes Info
Size: 15,349 acres
Location: Northwestern Indiana, 40 miles from Chicago
Created In: 1966 (national lakeshore), 2019 (national park)
Best For: Short hikes, birding, fishing, kayaking
When to Go: If you're interested in water play, summer (59 to 82 degrees) is the prime season. Spring (31 to 69 degrees) and fall (35 to 75 degrees) are also mild. Lake Michigan is famous for its storms in winter, when the park's temperatures typically hover at 20 to 38 degrees.
Where to Stay: The national park operates a campground a short drive from the lakeshore called Dunewood, while the adjacent state park has a separate campground nearby. I stayed at Dunewood and appreciated its quiet, shady lanes, clean bathrooms, and hot showers.
Mini Adventure: Hike the Cowles Bog Trail. At 4.7 miles, it's one of the longest in the park, and also one of the most ecologically diverse. Saunter through dappled sunlight in the forest searching for rare birds in unique marshlands, and, finally, get spit out onto the park's namesake grassy dunes that line the shore of Lake Michigan.
Mega Adventure: Tack on a visit to adjoining Indiana Dunes State Park. Not only is the park pet-friendly, but some of the best beaches and dune access lies just inside its borders. Play in Lake Michigan, paddle the area's many waterways, or convince your friends to tackle the 3 Dune Challenge, a leg burn-inducing 1.5-mile loop with 552 feet of vertical gain on steep sand.
Lead Photo: Emily Pennington
Trending on Outside Online