63 Parks Traveler
Virgin Islands National Park Is Often Forgotten. It Shouldn't Be.
Whether you're seeking soft sandy beaches, hiking, or snorkeling and other water sports, this stunning park on the Caribbean island of St. John should be on your visit list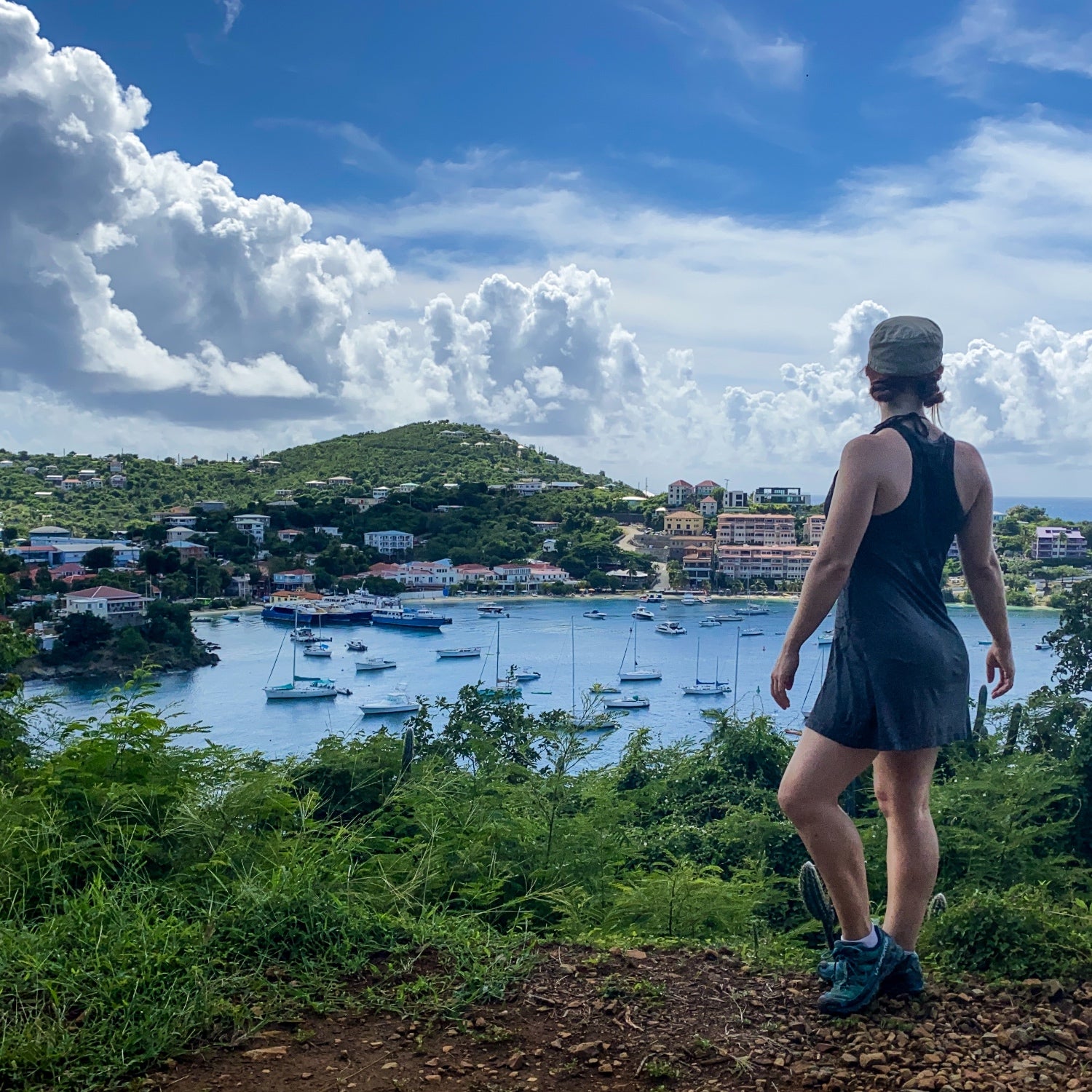 Emily Pennington
Heading out the door? Read this article on the new Outside+ app available now on iOS devices for members! Download the app.
63 Parks Traveler started with a simple goal: to visit every U.S. national park. Avid backpacker and public-lands nerd Emily Pennington saved up, built out a tiny van to travel and live in, and hit the road, practicing COVID-19 best safety protocols along the way. The parks as we know them are rapidly changing, and she wanted to see them before it's too late. Virgin Islands National Park is her 56th park visit.
---
After navigating the bustling Miami airport, sweating in a KN95 mask for a packed three-hour flight, swerving through the traffic of St. Thomas in a taxi, and zipping across the seas on a breezy 20-minute ferry ride, I arrived on St. John, exhausted and dizzy from a year of near constant travel.
The Caribbean island is home to one of the country's rare tropical national parks, Virgin Islands. Once part of the Danish West Indies and a hub for cotton and sugar plantations, most of the land on St. John was donated to the U.S. government by Laurance Rockefeller in 1954, with the express interest that it be preserved in perpetuity as a park. It has been a popular destination for Americans ever since but was severely affected by Hurricanes Irma and Maria in 2017, leaving many lodging options shuttered, not to mention locals homeless. However, the Virgin Islands have bounced back considerably, and I was excited to see St. John firsthand, as soon as I pushed through the mental fog that had set in from a lack of sleep and my disorientation at having arrived in yet another new place.
Sensing that this park would be my last chance at anything resembling a respite before a mad dash to see the final seven parks on my quest to visit them all, I allowed myself to touch down slowly with a sunset sail around Cruz Bay. Instantly befriending the bartender, who wasted no time in serving me a locally brewed Island Summer Ale, I milled about the boat and watched the sun sink and the clouds light up in a hundred shades of honey and pink.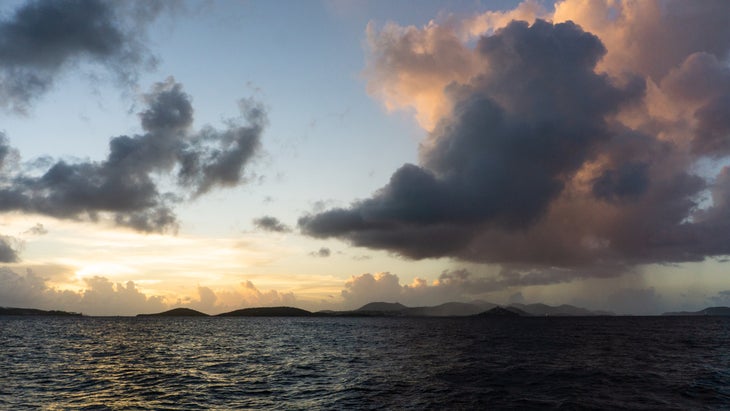 Ever the Type A traveler, I decided to challenge myself to unwind and go with the flow on my three-day visit to the Virgin Islands, a far cry from the maxed-out calendar of dates, deadlines, and park destinations I'd subjected myself to over the past year. On day two, I woke up and lounged in my twin-size hostel bed for over an hour before lazily making a bowl of granola, heading outside into the humid air, and sauntering up a random trail near the National Park Service visitor center. I passed cacti and West Indian locust trees as I ascended to a spectacular view of Cruz Bay, freckled with tourist boats. Moments later, a sign marked a turnoff for Salomon Beach and, with nothing on my agenda, I hung a left and continued down a path rutted with gnarled roots, nearly tripping over a hermit crab as I neared the beach.
It looked like one of those cheesy postcards you'd buy on vacation to make your friends back home jealous—a thin strip of sugar-soft, white sand framed by sea grape—but in my travel delirium, this beach seemed a perfect opportunity to check my desire to constantly do more, to instead simply bask in the sunshine and salt water. I laid out my towel and pulled out my Kindle.
I've never been a beach person, but something about the metronomic whooshing of the waves lulled me into a state of bliss, and I passed the entire day reading and plunging into the ocean to cool off. My planning-addicted mind began to loosen its grip, thanks to my surroundings, and time began to dilate wildly.
Have I been out here an hour? I wondered. Five? Hands on a clock didn't seem to matter much at the moment. Sure, I had a snorkeling trip the next morning, but that was for future Emily to worry about. Right now all I had to do was breathe and enjoy.
It was a mental shift I would carry with me for the remainder of the trip, soul food in the best possible way.
63 Parks Traveler Virgin Islands Info
Size: 15,052 acres
Location: St. John, U.S. Virgin Islands
Created In: 1956 (national park)
Best For: Snorkeling, scuba diving, boating, fishing, hiking, relaxing on the beach
When to Go: Winter (66 to 79 degrees) and spring (67 to 83 degrees) are the driest months and considered high tourist season for this park. Summer (72 to 86 degrees) and fall (69 to 85 degrees) bring fewer crowds and more affordable lodging, due to the Atlantic hurricane season, when more frequent and severe storms hit the region that can result in torrential rain, flooding, heavy winds, and canceled flights, not to mention damage to coral reefs in extreme cases.
Where to Stay: I enjoyed a private, hostel-style twin room in town at The Inn at Tamarind Court, just a short walk from the Cruz Bay ferry dock. It had clean bathrooms, a mini fridge for groceries, and, best of all, afforded easy access to everything in that central area. If you're jonesing for a more rustic experience, Cinnamon Bay Beach and Campground offers tent and glamping sites inside the national park.
Where to Eat: Greengo's, full of funky street-art vibes (courtesy of artist Lalo Cota), serves up delicious Sonoran-style Mexican food, with a few epic options for vegetarians. The restaurant is committed to helping reduce single-use plastic, and all take-out orders are served in recycled, biodegradable materials.
Mini Adventure: Hike to Salomon and Honeymoon Bays. Picturesque and chock-full of the silky white sand visitors expect in the Caribbean, their beaches are worth exploring, and this 2.5-mile hike to both is a mellow way to spend an afternoon. At Salomon, you'll get a chance to explore and revel in a bit of solitude, while Honeymoon features more creature comforts, like hammocks, a tiny bar, and live music.
Mega Adventure: Go for an all-day snorkeling trip. Cruz Bay Watersports offers a plethora of different options, from five-hour trips with a floating lunch stop to half-day swims in secluded coves. I opted for the daylong Lime Out Snorkel trip on my visit and tripped out on the colorful coral reefs, sea turtles, and my first-ever restaurant-boat experience.
Lead Photo: Emily Pennington
Trending on Outside Online