New Mexico's White Sands Is Officially a National Park
The country's largest dune field has been a national monument since 1933, but now it's our 62nd national park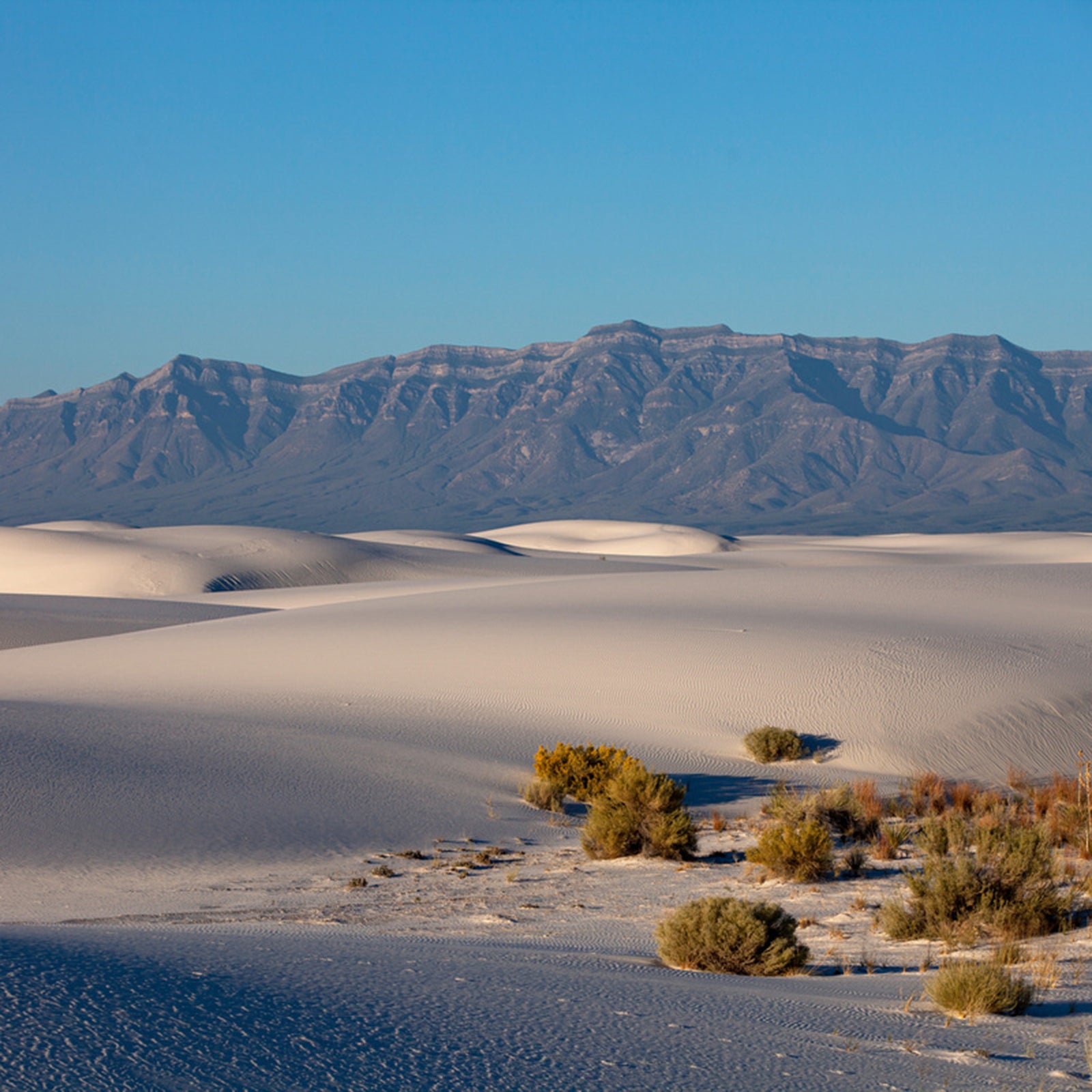 Heading out the door? Read this article on the new Outside+ app available now on iOS devices for members! Download the app.
After half a decade of legislative holdups, New Mexico's White Sands National Monument has officially been designated a national park.
Located 220 miles south of Albuquerque, White Sands is the largest gypsum dune field in the world and is so expansive that it can be seen from space. It was established as a national monument in 1933, and since its inception has attracted more visitors than any other National Parks Service site in New Mexico, according to a statement from the office of U.S. Senator Martin Heinrich. "This is a pretty prestigious recognition of White Sands, one of New Mexico's most remarkable natural wonders," said Heinrich, who introduced the bill to Congress with U.S. Representative Xochitl Torres Small in March 2019. 
Starting this spring, visitors to the 275-square-mile stretch of rolling dunes will now be able to hike and camp in its backcountry, sled down sandy hills, and stargaze—without the interruptions of missile tests. The designation was included in the National Defense Authorization Act (the 2020 defense spending bill), which was passed through the U.S. Senate on December 17 and signed into law yesterday by President Trump. The reason it's a provision in Congress's defense bill is because the former monument shares land with the White Sands Missile Range (WSMR), a U.S. military weapons testing area and the site of the first atomic bomb detonation. 
Since the 1970s, the U.S. Army has been trying to secure land within the national monument's boundaries in order to more easily access its missile testing site. The new legislation gives the military 2,826 acres of land within the monument's former boundaries to allow for this access. In exchange, the National Parks Service has been granted 5,766 acres of formerly Army-owned land on the eastern side of the park. Not only does this mean that White Sands will expand by 2,030 acres, but visitors will no longer have to plan around the Range's weapon testing drills. Previously, on a random day or two of the week, the monument would close to visitors as a safety protocol.
The new designation will also have positive impacts on the surrounding community: a 2018 study found that turning monuments to national parks could increase visitation by 21 percent (about 100,000 more visitors) in the first five years and result in a $7.5 million increase in the local economy, mainly due to increased visibility. According to the legislation, all funding for the current monument will be directly transferred to the national park. Additional funding is dependent on an increase in the park's visitors, which would help White Sands compete for NPS resources. "It's always easier to get my colleagues, whether it's in the appropriations process or or any other competitive process, to focus on something that people know the value of," Heinrich said. "You know, there is no stronger brand in the world than America's national parks."
Those who've visited White Sands won't be surprised by its new status, while others who are less familiar are in for a real treat. Beyond the surreal beauty of its endless dunes, the park is full of wildlife and has a long cultural history, including evidence of hunter gatherers going back 10,000 years.
Lead Photo: Wufei Yu