The Ultimate Zion National Park Travel Guide
Of Utah's five national parks, Zion stands out for its geological wonders, a place where water and sand meet to form arguably the most dramatic landscape in the country. Here's our primer on how to see it all, from big hits like Zion Canyon and the Narrows to the gems many visitors overlook.
Heading out the door? Read this article on the new Outside+ app available now on iOS devices for members! Download the app.
The first time I road-tripped from Los Angeles to Zion National Park, I remember thinking that the Virgin River Gorge, which cuts a deep slash across Arizona's northwest corner, was something like a certain literary wardrobe: You entered on one side via the quiet Nevada desert, then emerged a handful of twists later into the magical expanse of Utah, which practically vibrated with otherworldly sights. But the journey was nothing compared to the destination—Zion brims with bucket-list backdrops, from its intoxicating blend of brilliant colors to its serpentine canyons and sheer cliffs, that since my very first visit have never failed to leave me awestruck.
One ingredient in that Zion special sauce is that the Colorado Plateau, Great Basin, and Mojave Desert all converge here to create a landscape of geologic wonders. The resulting peaks, mesas, hoodoos, and canyons have been sculpted for millennia by a multitude of forces, including wind and ice, volcanic activity and seismic uplift, and perhaps most of all, the thunderous flow of the Virgin River. In fact, the park's main draw, Zion Canyon, which acts like the desert analogue to Yosemite Valley—albeit one crafted of vibrant Navajo sandstone—grows deeper and wider each year thanks to this powerful waterway.
It's not hard to understand why Mormon settlers felt a spiritual connection to the land when they arrived in the mid-19th century, or why their influence resulted in a handful of English-language place names in the park that are heavy on religious references: Towers of the Virgins, Tabernacle Dome, the Three Patriarchs (Abraham, Isaac, Jacob). But the park's human (and spiritual) history goes back much further, first to the Ancestral Puebloans and then to the Southern Paiute people who've been stewards of this land since it was known as Oawingwa—"a place where the stream flows."
So while Zion National Park—which was originally designated as Mukuntuweap National Monument in 1909, named for a Paiute word that loosely translates to "straight canyon"—celebrates its centennial this year, know that this is an ancient place. And chances are, no matter how much time you spend here, the same forces that have stirred other people's souls for thousands of years will make a beeline straight for your own.
What You Need to Know Before Visiting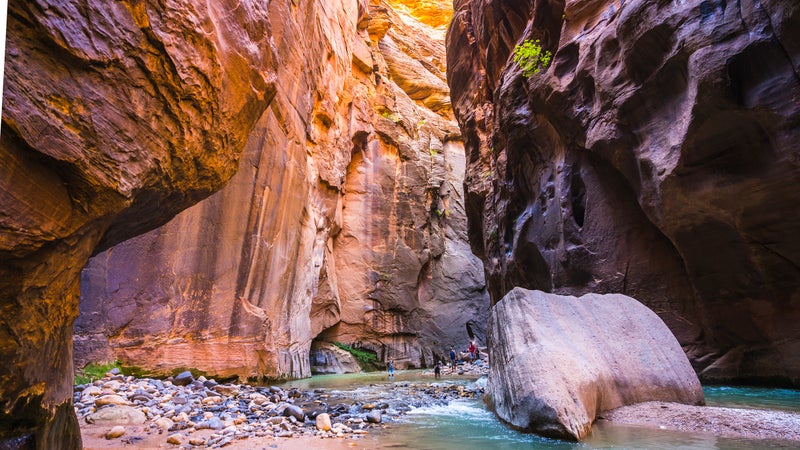 Water rules everything around you. Those same forces that shaped Zion's canyons and cliffs are still hard at work. Staying on top of the weather forecast is crucial for not only enjoying your visit but ensuring that you stay safe. Even a light rain is enough to make slickrock—basically, smoothed sandstone—live up to its name; tread lightly, and avoid trails and routes with steep drop-offs (like the famous Angels Landing) when rain or ice is present. Also avoid canyoneering or hiking in narrow canyons when a threat of rain exists; flash-flood danger is real. Check the weather for the immediate area where you'll be traveling and also at the canyon's source point. The National Weather Service's flash-flood-potential rating is a great resource. Make tracks to higher ground if you encounter any of these signs of a possible flash flood: the sight or sound of an approaching storm, sudden debris flows, water becoming murky, loud noise upcanyon, rising water levels, or increasing current strength.
There's more to the park than Zion Canyon. Sure, the canyon features some of the most iconic scenery and nearly all of the park's services, but considering it's a tiny drop in a 148,000-acre bucket, you're missing out if you don't venture further afield. It's worth the 45-minute drive from the main entrance to reach the park's northwest corner and Kolob Canyons, a series of parallel fissures guarded by tall sandstone fins that glow a fiery red during sunset. Park at the Kolob Canyon Viewpoint, and hike the trail that climbs above it for a front-row panorama (and a little more solitude). Crowds also thin out in the park's East Rim area, located—you guessed it—east of Zion Canyon and adjacent to the east entrance. Here, State Route 9 (SR-9) is called the Zion–Mount Carmel Highway, and it's such a beautiful drive that I once cruised it every single day during a trip—and still wish I'd spent more time out there. The sandstone here lacks oxidized iron, which makes it much whiter than in the main canyon; a prime example of both the color and the wild weathering process that shapes these formations is the cross-hatched Checkerboard Mesa towering near the east entrance.
You can get around without a car. The park has a shuttle system to address auto congestion in Zion Canyon. While you can still drive into the canyon (and along SR-9 as it bends toward the east entrance), you will find very limited parking options south of Canyon Junction. Zion Canyon Scenic Drive, the park's main thoroughfare, is restricted to shuttles and hotel guests from roughly mid-March through October, along with November weekends and the Thanksgiving, Christmas, New Year's, and Presidents' Day holidays. During this time, you can catch two free shuttles, one that makes several stops in the town of Springdale, just outside the main entrance, and another that runs the length of Zion Canyon. Long lines form for the latter during summer months and busy weekends; practice patience—and maybe bring a good book.
How to Get There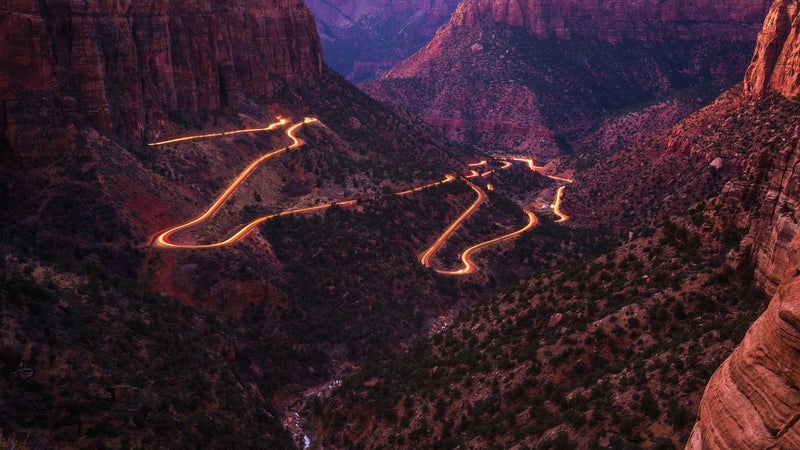 Zion National Park is located in the southwest corner of Utah, about an hour east of Saint George, a midsize city stuffed with all the conveniences you won't find the closer you get to Zion. It's possible to fly into the regional Saint George Airport, an hour's drive west of the park's south entrance in tourist-friendly Springdale. But most folks opt for a flight into the more budget-friendly Las Vegas McCarran International, just under three hours west of the park's main entrance. Zion's east entrance occupies a lonely but beautiful stretch of SR-9. The Kolob Canyons Visitor Center is 40 miles northwest of Zion Canyon, just a few wheel turns from bustling Interstate 15.
What's the Best Time of Year to Visit Zion?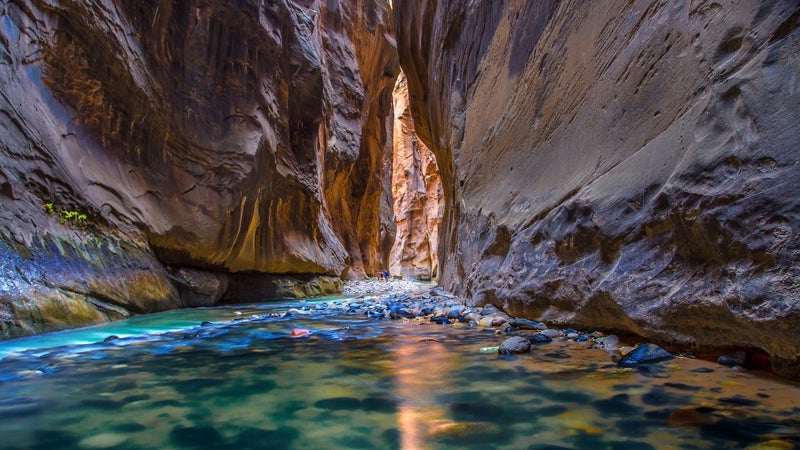 Winter
December through February marks the park's low season, when crowds thin out due to colder temperatures that range from 50 to 30 degrees (including subfreezing nights) and frequent precipitation—but the brave souls who persevere are rewarded with the high-contrast splendor of stark white snow decorating bright red cliffs. While some of the park's high-elevation roads (including Kolob Canyons Road and part of Kolob Terrace Road) close once snowfall accumulates, Zion Canyon is still open for business.
Spring
Visitors return once spring arrives in March, when temperatures are around 40 to 60 degrees. Every week the temperature ticks steadily upward, leading to snowmelt that feeds an array of wildflowers that usually begin sprouting in April. That same rapid thaw also means a high flow rate for the Virgin River. For safety reasons, the popular Narrows area of the canyon is typically off-limits to hikers in spring.
Summer
By June, the mercury tips toward triple digits, where it will hover most afternoons throughout the summer. This makes it a perfect time to visit the park's upper elevations along the Kolob Canyons and Kolob Terrace areas, and to hike the Narrows, which is typically much cooler than the rest of Zion Canyon. But stay vigilant—monsoon season begins in mid-July and runs through mid-September, which means that a perfectly sunny morning can easily give way to a stormy afternoon and flash-flood warnings.
Fall
September offers one last hurrah for heat seekers (between 60 and 90 degrees) before the temperature begins to dip by ten degrees come October. The upside is that cooler weather brings colorful foliage as canyon cottonwoods and aspens erupt in bright yellow displays. By November, the leaves have all but disappeared, replaced by a shimmering layer of frost that develops overnight. This is a wonderful, less crowded time to enjoy the park, as long as you arrive armed with an assortment of layers.
Where to Stay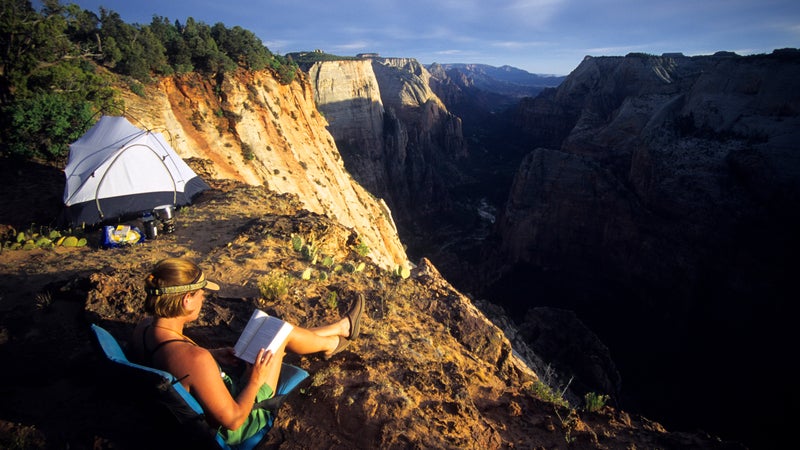 Outside Inc.'s National Park Trips offers a free
Zion Trip Planner
filled with a complete itinerary, beautiful photography, a park map, and everything else you need to plan your dream vacation.
Camping
There are two large campgrounds in Zion Canyon—the South Campground (from $20), with 117 sites, of which three are wheelchair accessible, and 190-site Watchman Campground (from $20), which has seven accessible sites and six for groups. Both are located on either side of the visitor center near the main entrance. While South Campground is closed November through February, Watchman is open year-round and offers a little more seclusion for campers, since it's tucked further back from the main road. It's also just a short walk from here to restaurants, shops, and groceries in Springdale. I took full advantage of this fact by planting myself at any number of local establishments with a book and an adult beverage each night during an exceptionally cold fall camping trip. If you don't mind snoozing just outside the park, the private Zion Canyon Campground and RV Resort (from $49 for a tent; $59 for an RV) is open March through November and offers amenities like a swimming pool and showers.
Hotels
Zion Lodge is the park's sole lodging option, and a night in one of its 76 Craftsman-meets-southwestern-style rooms, six suites, or 40 cabins is hard to come by (from $217). Plan to reserve one a year in advance, especially if you're going to visit during peak season or around a holiday. You'll see more options in Springdale, including both chain and boutique hotels, bed-and-breakfasts, and private vacation rentals, although it's very rare to find anything under $100 in town. Drive a half-hour west to the tiny burgs of Hurricane and La Verkin for more affordable digs. Near the east entrance, Zion Mountain Ranch (from $179) and Zion Ponderosa Ranch Resort (tents from $30) both feature an assortment of cabins and lodges that straddle the line between rustic and upscale; the latter also offers campsites and Instagram-worthy glamping options.
What to Do While You're There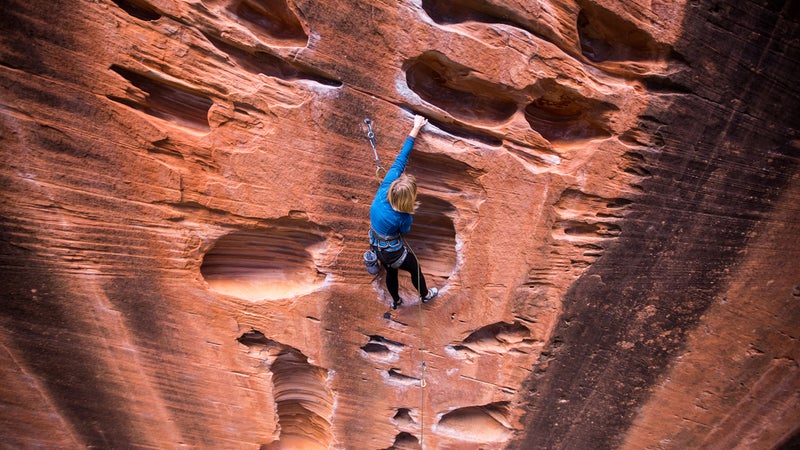 Hiking
I'd be remiss not to recommend the iconic Angels Landing, a 5.4-mile round-trip that spends its last half-mile snaking up a precipitous sandstone fin outfitted with chains to hold onto (and sometimes bottlenecked by terrified hikers). For those who wish to skip the adrenaline rush, Observation Point offers a less heady alternative, with excellent views downcanyon; it's an eight-mile round-trip, accessed via the East Rim Trail from Weeping Rock (which is currently closed due to rockfall).
Of course, most Zion visitors can't ignore the siren call of the Virgin River Narrows. This iconic slot canyon can be accessed on both ends. The classic route involves a 16-mile descent (with wading and swimming but no technical maneuvers required) from Chamberlain's Ranch, a private property located outside the park's boundaries; top-down hikers also have the option to camp along the way at several designated sites. Many casual hikers, outfitted with sturdy shoes, trekking poles, and wet- or drysuits, depending on conditions, wander in for a look at the end of the paved 1.1-mile Riverside Walk that begins at the gorgeous Temple of Sinawava.
Elsewhere in Zion Canyon, choose from several routes that access Emerald Pools, a cliffside oasis complete with waterfalls and hanging gardens. While the Lower Emerald Pool Trail is currently closed for repairs, you can access the area via the easy, short Kayenta Trail out of the Grotto, a picnic area along Zion Scenic Drive. Further afield, park on the east side of the mile-long Zion–Mount Carmel Highway to access the Canyon Overlook Trail, just a half-mile each way but big on views and especially beautiful during sunset. And be sure to save time for the Kolob Canyons segment of the park; the five-mile round-trip along the Taylor Creek Trail is especially nice on a hot day, with plenty of shade and creek hopping to cool you off en route to a pair of historic cabins and an even bigger payoff beyond—the impressive Double Arch Alcove.
Backpacking
Sure, you can day-hike or even backpack sections of the La Verkin Creek, Hop Valley, Wildcat Canyon, West Rim, and East Rim Trails, but why not link them all together for a grand adventure traversing the park on the 48-mile Trans-Zion Trek? You'll need to snag a wilderness permit and reserve campsites if you'll be bedding down along the La Verkin Creek, Hop Valley, or West Rim segments.
Climbing
While bouldering is scant, big-wall climbers will find plenty of stoke on Zion Canyon's sheer sandstone cliffs, especially when temperatures mellow out in the fall and spring. Permits are required for routes that require a bivy. Avoid climbing when the rock is wet, keep an eye out for any route closures (birds like to bed down in sinker cracks), and leave the power drills at home.
Canyoneering
While the Narrows is often touted as a beginner's canyoneering experience, be sure you're well practiced in rappelling, downclimbing, and rope work—or travel with someone who has these skills locked—before descending any canyon. Also check the weather religiously to avoid becoming trapped in a flash-flood situation, especially in slot canyons where it's impossible to reach high ground.
The 9.5-mile Left Fork route—more commonly known as "the Subway"—resembles a brightly colored, oblong tunnel and is one of the most popular canyoneering routes in the park, beginning at the Wildcat Canyon Trailhead on Kolob Terrace Road. Widely considered an actual beginner's canyoneering experience, with fewer technical features than some other routes, the 11-mile trip down Orderville Canyon begins at its namesake trailhead just outside the park's east boundary and deposits travelers into the Narrows. Experienced canyoneers can enjoy the five-mile romp down Mystery Canyon, which begins at the East Mesa Trailhead near Zion Ponderosa Ranch and ends in the Narrows after a 120-foot rappel over Mystery Falls.
All canyoneering trips require a permit (typically reserved up to three months in advance), and due to their popularity, both Mystery Canyon and the Left Fork require application through a lottery system during the high season (April through October). Those with more flexible schedules can toss their names in up to a week in advance for what's called the last-minute drawing; any remaining permit slots are allocated for walk-ups. There's also a frequent-flier program of sorts for repeat visitors called the Zion Express Membership, which allows for an expedited process when it comes time to convert your reservation to an actual permit. Zion Adventures also offers a variety of guided trips based on experience level (from $129).
Kayaking
It's possible to kayak the Virgin River when the flow rate is high enough, usually in the spring months, though you'll need a wilderness permit, advanced whitewater skills, and the willingness to go it alone, as there are no outfitters who operate in the area. Rapids range from Class I to II near the Temple of Sinawava and become gnarlier the closer you paddle toward the visitor center.
Horseback Riding
Equestrians can access most established trails in the park, with the exception of those that originate in Zion Canyon. The Sand Bench Trail, which makes a soft meander beneath the iconic Court of the Patriarchs formations, is the only exception. If you are horseless but dreaming of a trot, book a trip with Canyon Trail Rides (from $45 for an hour).
The Best Places to Eat and Drink Around Zion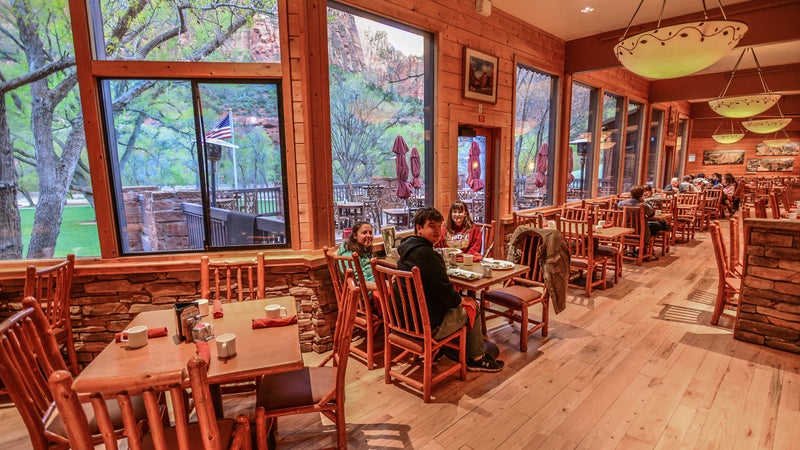 The park's sole grub hub is Zion Lodge, which features the casual Castle Dome Café (open April through October) and a sit-down restaurant, Red Rock Grill, which I can personally attest is an excellent alternative for Thanksgiving dinner if your friend, say, bails on your holiday camping trip at the last minute.
Otherwise, the nearest food options (apart from the locally sourced ingredients and lumberjack-chic vibes at Zion Mountain Ranch's Cordwood restaurant) are located just next door in Springdale. For breakfast, the caffeine and eats at Deep Creek Coffee Company are excellent (the quinoa-based Southwest Bowl is pure bliss), but I'm just as happy to tuck into a plate heaped with huevos rancheros at Oscar's Café across the street. I typically pack a lunch to go, but Café Soleil, right near the park entrance, slings tasty wraps and sammies, including lots of gluten-free options. When the dinner bell rings, make like a local and head to the Bit and Spur Restaurant and Saloon, which has eclectic fare—like smoked hen mole and sweet potato tamales—that belies its boozy name, or dig into inspired southwestern cuisine at the colorful Whiptail Grill, housed in a decommissioned service station.
If You Have Time for a Detour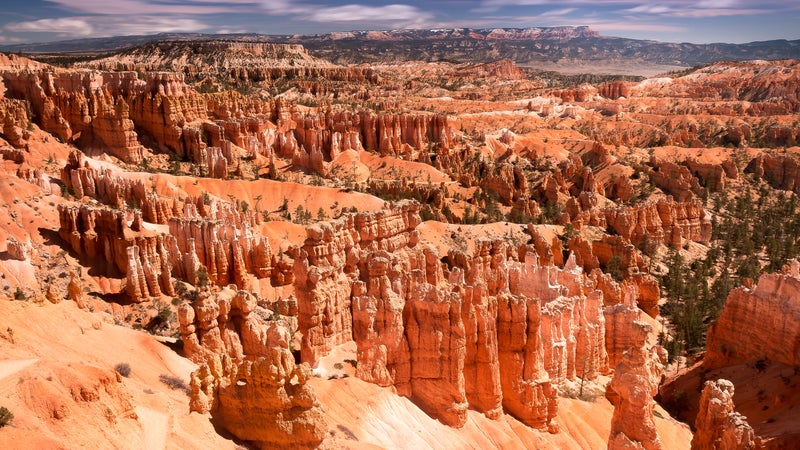 The Greater Zion area, as it's sometimes called, is the kind of place you could explore and enjoy for a lifetime, but if you only have a few extra days, consider carving out time to visit other public lands located nearby. Top of the list for most people is Bryce Canyon National Park, a sister park located about two hours northeast of Zion's main entrance. Like Zion and the Grand Canyon, Bryce is part of the Grand Staircase, a massive geologic region defined by its colorful layers of sedimentary rock; but unlike the other parks, Bryce is absolutely brimming with hoodoos, fantastic towers caused by erosion. For a different view of the Grand Staircase, head north two hours from Zion to Cedar Breaks National Monument, with a three-mile-long striated amphitheater as its centerpiece.
Southern Utah is famed for its world-class mountain biking, but in Zion, bikes are restricted to the Pa'rus Trail (which is also one of the most accessible paths in the park) and paved roads. Just outside the park, however, incredible singletrack and slickrock playgrounds await. Hurricane Rim and Gooseberry Mesa, located near the town of Hurricane, are two of the most popular nearby mountain-bike areas, with a mixture of highly technical, moderate, and chill trails. The Santa Clara and Green Valley areas west of Saint George also offer a mix of desert rides. Check in with the folks at Zion Cycles in Springdale for recommendations and rentals.
How to Be Conscious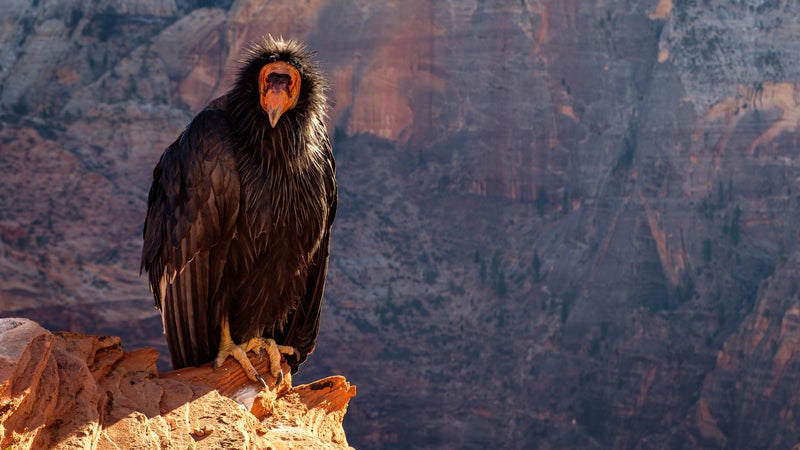 While you won't find them on the well-trodden paths in the main canyon, cryptobiotic soils exist in many areas of the backcountry. These living organisms, which help stabilize the soil and nurture plant life, can take hundreds of years to form, so stick to durable surfaces like slickrock when traveling off-trail.
It's required that all travelers in the Narrows carry their solid waste out using a portable "toilet kit," or WAG bag, which theoretically helps neutralize odors while keeping your deposits contained. This helps prevent contamination in waterways and fragile ecosystems. While it's not required for other canyons, the practice is highly recommended as a form of good stewardship.
Zion Canyon is home to peregrine falcons and, as of recently, a pair of California condors who chose to start a family on the vertiginous cliffs below Angels Landing. Climbing is currently restricted in their nesting area, and various other park locations (including Cable Mountain, Court of the Patriarchs, and the Great White Throne) are frequently closed to climbers to allow the falcons to nest in peace.
Corrections: (10/13/2021) The original version of this story stated that there is no sport climbing in Zion National Park. The story has been updated to reflect there are, in fact, sport routes in the park. Outside regrets the error. Lead Photo: Wikimedia Commons