Indefinitely Wild
Why the Emotional Support Dog Ban Is Good for Everyone
The Department of Transportation has finally reclassified emotional support animals as pets. Here's how that will affect your ability to fly with your dog next year.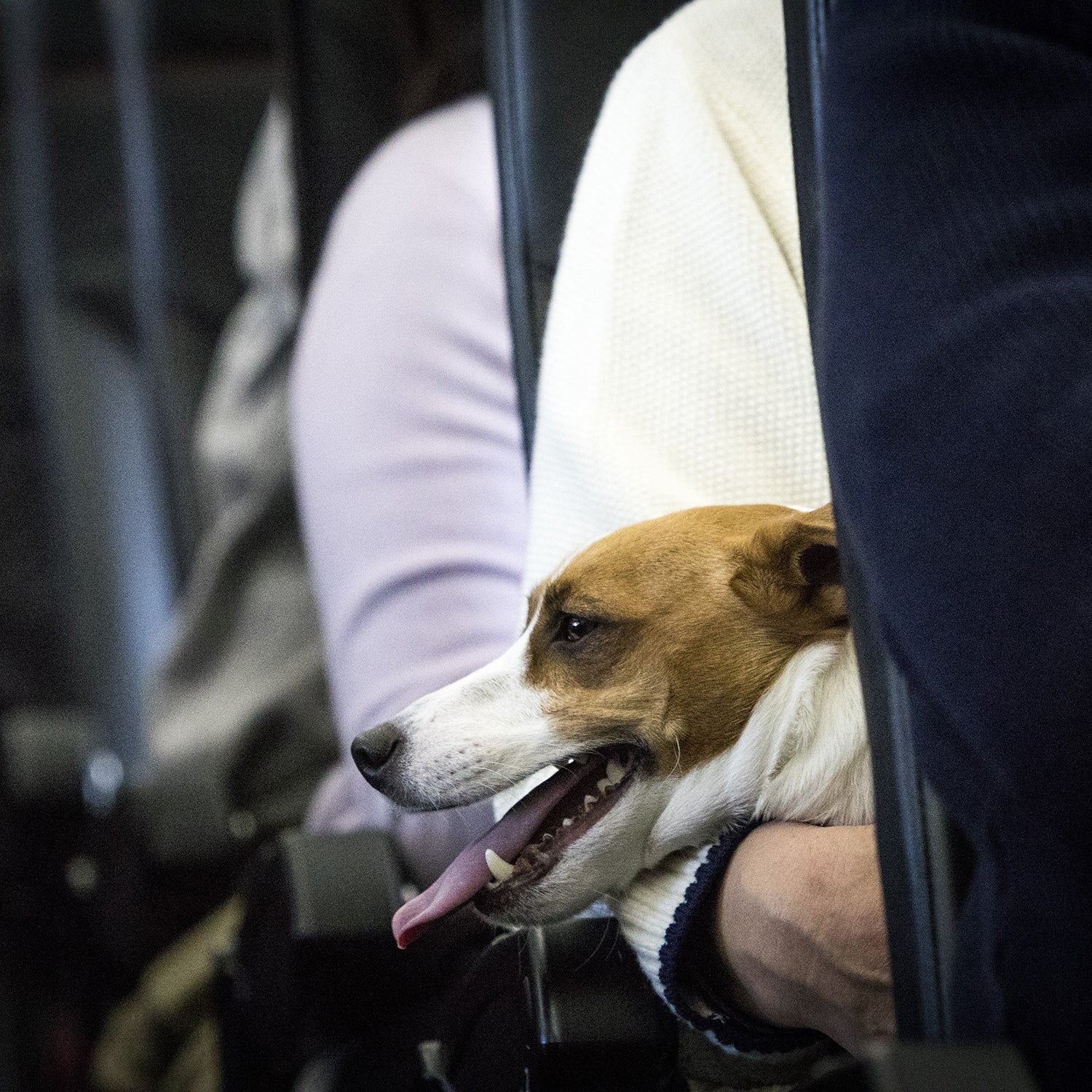 Heading out the door? Read this article on the new Outside+ app available now on iOS devices for members! Download the app.
Last week the U.S. Department of Transportation (DOT) published new rules for flying with service animals. It has reclassified emotional support animals as pets, created new regulations around the definition of a true service animal, and established new forms and procedures that disabled people will need to follow.
These updates to the Air Carrier Access Act (ACAA) enable a long-awaited solution to an explosion in the number of selfish people bringing fake service animals onto flights. The ACAA is written to prioritize access for the disabled while flying, but regulations designed to make things easy for the disabled also blurred the lines between emotional support and service animals, creating a loophole that made it possible to bring your pet along with nothing but a promise that it benefitted your mental health. No categorical total for the number of fake service dogs being brought onto commericial flights exists, but in recent years individual airlines have reported that they carried hundreds of thousands of animals in their cabins annually, a figure that more than doubled each year before 2020. No longer.
Here's how all of that will change the way we fly.
Emotional Support Animals
The single biggest achievement of these new rules is the redefinition of emotional support animals. Where the DOT—through the ACAA—previously classified ESAs as service animals, it now classifies them as pets and requires that airlines make no special accommodation for them. These new rules go into effect on January 4, 2021.
Anyone who wants to fly with ESAs will now need to follow the pet policies of individual airlines, which typically place limits on the size and species of pets that passengers can bring inside the cabin and require people to house those pets in a carrier for the duration of the trip. Larger animals may need to be shipped as cargo. (And note that the ongoing COVID-19 pandemic has caused some airlines to suspend pet cargo services.) Flying with a pet typically involves a substantial fee.
This amendment to the ACAA will have larger ramifications: the ACAA is one of three laws that govern access for service and emotional support animals in this country. The Americans with Disabilities Act (ADA) mandates access for service animals in public places, but it bars emotional support animals from that access. The Fair Housing Act mandates that both service and emotional support animals be allowed in rental and government housing. Emotional support animals no longer enjoy any special access outside of housing.
Service Dogs
When the DOT proposed these rule changes in March, there was concern from disabled-person advocacy groups that the new regulations could increase the burden disabled people face when they travel. While the ADA is painstaking in its mandates to avoid potential burdens, the ACAA has historically struggled to find the right balance. But this time, the DOT listened to public comments on the proposed rules and has amended them to bring the law as much in line with the ADA as possible.
Disabled people with service animals will experience minimal changes in how they travel, aside from seeing fewer numbers of ESAs on planes. And this is a good thing.
"The misrepresentation of untrained or behaviorally inappropriate animals as service animals undermines both the rights of legitimate service dog handlers to access as well as the public perception of service dogs," said Paul Mundell, executive director of the American Service Dog Access Coalition, in a statement. "The DOT rules will make this mischaracterization more difficult and will improve the air travel experience not just for service dog handlers, but for all passengers and crew members."
The ACAA now defines a service animal as "a dog that is individually trained to do work or perform tasks for the benefit of a person with a disability." Psychiatric service dogs are included in that definition.
That's identical wording to the ADA, with one small exception: miniature horses. The DOT did consider maintaining access for those, but in consultation with airlines, it found that the number of requests to accommodate miniature horses on flights was "exceptionally small," so it opted to allow airlines to choose to accommodate those if possible, without mandating that they do so. The same goes for capuchin monkeys, which may need to be crated if a handler wishes to bring one along as a service animal in the cabin of a flight.
Airlines are expressly prevented from discriminating against service dogs based on breed or appearance.
The other part of the proposed rule that came up in public comments was the mandated service-dog forms that a handler would need to submit 48 hours before a flight. These included forms attesting to an animal's behavior and its ability to either avoid relieving itself for the duration of the flight or to do so in a sanitary manner. Also proposed was a certificate of health that would need to be completed by a veterinarian and renewed each year.
Commenters worried that the need to visit a vet to complete the health form would constitute a financial burden, that the overlapping nature of the three forms was confusing, and that the 48-hour preflight deadline could compromise a disabled person's ability to travel in the event of an emergency. In response, the DOT condensed all that paperwork to the two forms you see below, which can be filled out by the service dog's handler without the need for a vet visit. They include personal assurances of behavior and good health, rather than formal evidence of such. Airlines may still require proof of a rabies vaccination, as is required for the interstate transportation of any dog. The 48-hour deadline was also struck for flight bookings made in less time. In those cases, travelers will be able to present their forms at the gate or request them to be printed off there and filled out before boarding their flight.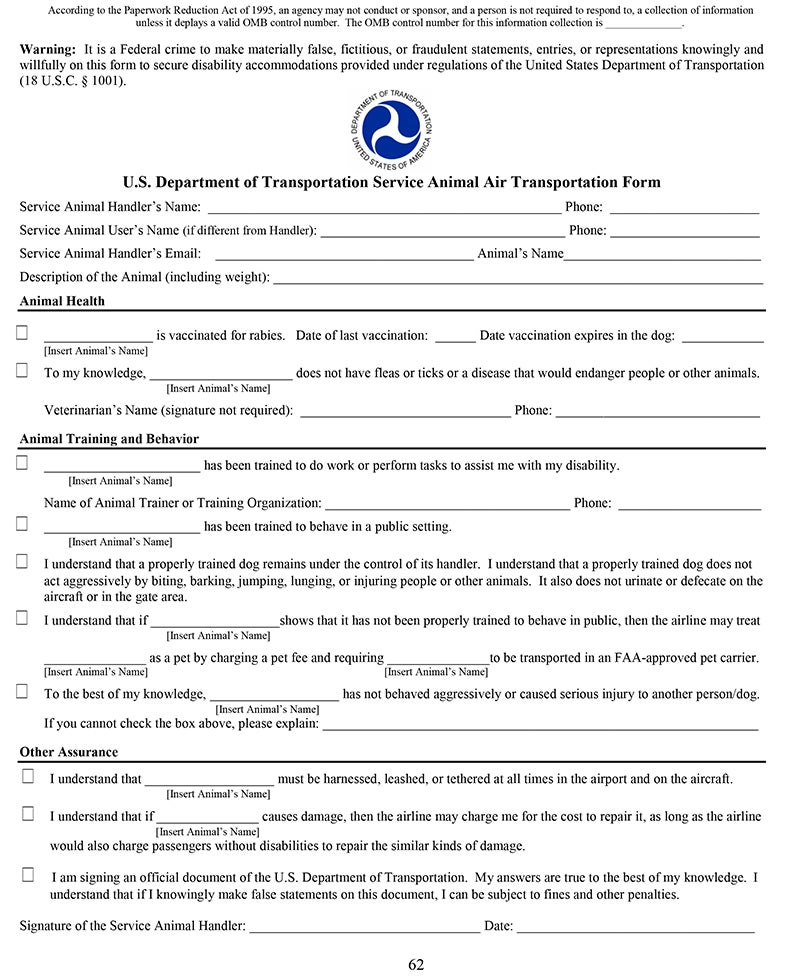 The procedures around paperwork submission, and the ways in which that might alter how a disabled person using a service dog would check in for a flight, were other concerns. Adding an additional hour to the two hours before departure that airlines ask passengers to check in was proposed but struck down. Now a service-dog handler will be able to check in online or at a kiosk, just like any other passenger, with the same time requirements.
So all that adds up to a more streamlined process. If a service-dog handler books a flight more than 48 hours in advance, they'll simply need to complete these two forms at that time. If they book a flight with less notice, they can hand them in or fill them out at the gate. That's it. Some of this had been policy at individual airlines previously, but when these changes come into effect on January 4, they'll be a universal process across all domestic flights.
There is one controversial change: the ACAA will now mandate access only for service dogs that fit into the foot space of their handler, which may preclude some very large dogs. Individual airlines can still choose to allow larger dogs if they wish. The new rules also mandate access for only up to two dogs per handler, but, again, an airline can choose to allow more if it so wishes.
Airline employees remain free to determine if a service dog's behavior constitutes a risk to staff or passengers, and they can either check the animals as cargo or deny them access as a result. All service dogs will need to be leashed.
The Rest of Us
Selfish individuals began faking their dogs were service dogs on flights to circumvent pet fees and avoid checking larger pets as cargo. Doing so was incredibly easy, thanks to an industry of unscrupulous services that have popped up over the past decade selling fake emotional service animal certifications or apparel to anyone who wanted to buy them.
These changes to the ACAA artfully remove this problem without unduly burdening the disabled, but they do nothing to address the root cause: there remains no good way to fly with our pets. Airlines typically limit the size of dogs traveling as pets in the cabin to 25 pounds, and checking larger dogs as cargo is a notoriously risky endeavor.
As I argued at length back in 2018, all dogs are emotional support animals. Sixty million American households own pet dogs. During 2017 alone, a single airline—Delta—says it flew 250,000 emotional support and service animals in its cabins. But it's estimated there are fewer than 200,000 real service dogs in the entire country.
As the huge numbers of fake service dogs on flights have demonstrated, there are a lot of dog owners who want to travel with their pets without checking them as cargo. That represents an enormous business opportunity—and one that's suddenly going to feel more urgent when the ESA ban goes into effect in January.
There's a potential win here for everyone. With COVID-19 vaccines predicted to reach the general population across 2021, demand for travel is going to return at the same time people realize that they can no longer scam their pets onto planes. An airline desperate for revenue could do worse than to find a way to cater to dog lovers. I'm really looking forward to flying again, and I know I'd love to find a better way to safely bring my three dogs along when I do.
Lead Photo: Anadolu Agency/Getty