Sponsor Content: COLORADO TOURISM
How to Safely Explore Colorado's Backcountry This Year
From skiing and snowboarding to snowshoeing and snowmobiling, here's what you need to know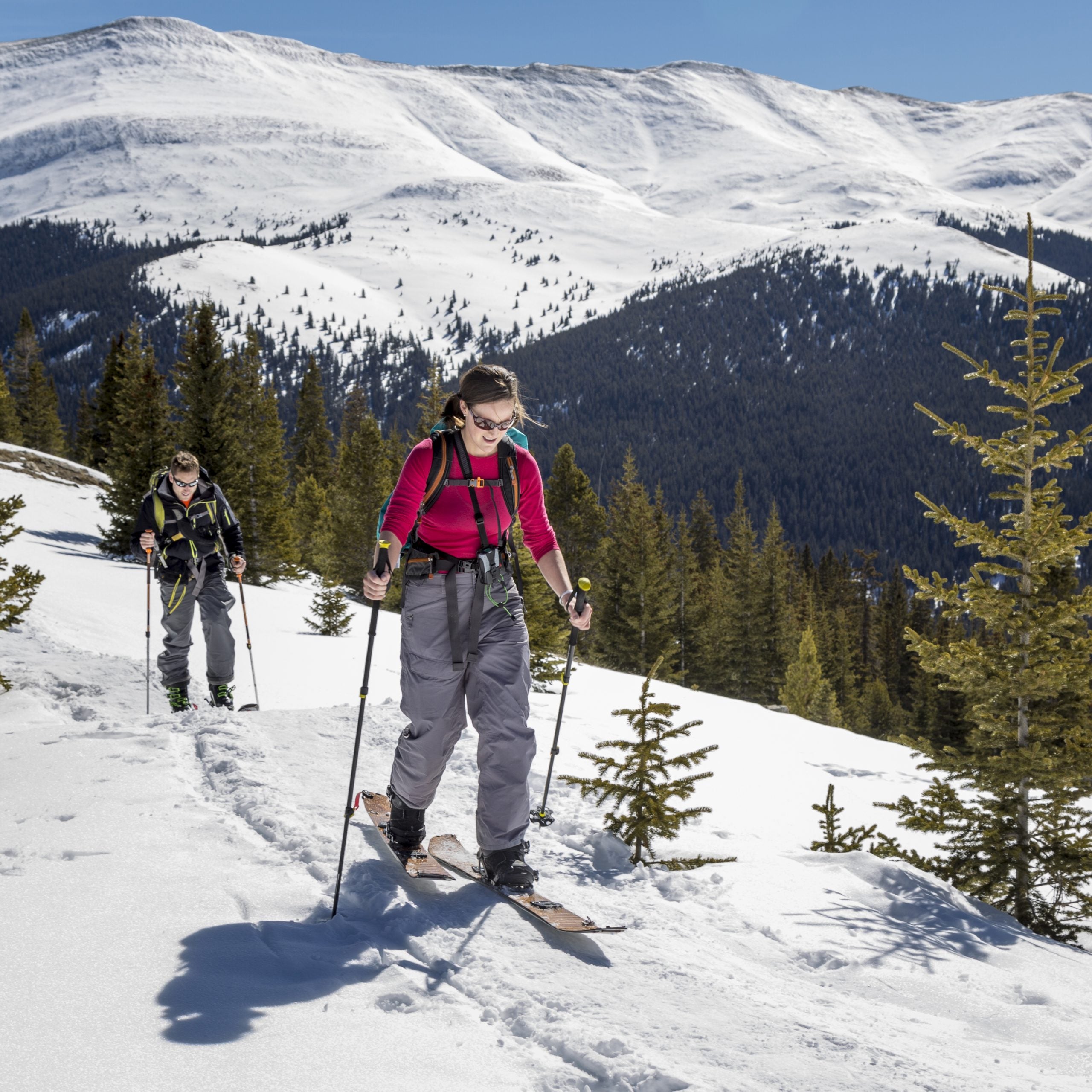 Quarantining has us all craving outdoor adventure. Not surprisingly, Colorado's backcountry has seen record numbers of winter enthusiasts, from skiers and snowboarders to snowshoers and snowmobilers. Which is awesome—nothing satisfies like challenging ourselves outside. In winter, Colorado's towering peaks and sweeping vistas sparkle with extra allure…but also extra risk, as staying safe takes more awareness and preparation, especially if you plan on venturing into mountainous terrain. We talked to a few experts to help you find out what you need to know.
Backcountry Safety Pledge
It's as simple as knowing before you go, recreating responsibly, and caring for the places you explore. Easy, right? Sign your name and lead by example.
Take a Tour: Snowshoeing and Ski Touring
Any trail that's enticing in summer is doubly so in winter. In places like Rocky Mountain National Park, snowdrifts ripple over meadows, and creeks burble between shelves of ice. Best of all, summer's crowds have trooped back home, leaving plenty of room to roam on snowshoes or cross-country skis. 
That solitude means you are on your own in an emergency, though, says Russell Hunter, co-owner of the guide service Colorado Mountain School, "so be sure to let people know where you are going and what time you'll be back, and be ready to survive a night out." That means packing extra layers and provisions as well as a headlamp, "because darkness drops early in winter."
When out for a mellow ski or snowshoe tour, most people don't think about avalanches, but they can happen anywhere big mountains are covered in snow. Taking an avalanche education course like those his company offers is the best advice, says Hunter, but at a minimum, raise your awareness by reading the Colorado Avalanche Information Center's forecasts, available for the state's ten separate mountain regions. In a pinch, he says, "stay away from slopes that feel steep, and if you stick to relatively flat ground in the woods, you should be safe."
Earn Your Turns: Alpine Touring
Like baking your own sourdough, earning your own backcountry ski and snowboard turns is undeniably satisfying. And from easily accessible terrain passes like Loveland, Vail, or Berthoud to the literally hundreds of well-established backcountry zones across the state, Colorado has countless places to seek out solitude and untracked powder. If you're looking to sample some of it, all of the advice above still applies but with one key difference: if your goal is to skin up something and make downhill turns, avalanche education is absolutely mandatory. It's not enough to have proper avalanche safety gear (beacon, probe, and shovel); you also need to know how to use it. Most important, you need fundamental avalanche awareness and backcountry travel skills.
A great place to build skills is at Bluebird Backcountry, an alpine touring resort that opened last year near Steamboat. For the price of a day pass ($50), you'll get access to 1,200 acres of ski-patrolled, avalanche-controlled slopes ranging from mild to wild. In addition to ski and splitboard rentals, Bluebird offers avy education courses as well as intro to ski touring clinics. "People should know the basics of how to get around in the backcountry before they take an avy course," says co-founder Erik Lambert. "That way, on course, they can focus on decision making and snow science—not wrestling with climbing skins."
Full Throttle: Snowmobiling
Prefer to get deep into the backcountry on a fast sled? Colorado has great places to do so. But, says Jon Miller, who teaches avalanche education for snowmobilers at AIARE (American Institute for Avalanche Research and Education) and is the founder of the Backcountry United Foundation, don't do it alone. "Every minute on the throttle is an hour on foot," says Miller. "Make sure there's someone who can help dig you out if stuck, or ride you home in case of a mechanical." Add two-way radios to your kit. "It's easy to get separated quickly out there in thick trees or blowing snow." 
And as with backcountry skiing, avalanche awareness is a must, even in destinations like Rabbit Ears Pass and Grand Mesa, where well-groomed trail systems will largely keep you out of danger. Lastly, says Miller, have group consensus on how much you want to tangle with avalanche terrain—sound advice for any winter backcountry travel, but doubly important on fast-moving snow machines. "Talk about it before you get to the trailhead, because once you are sitting on your machines, you'll get that eager override and people will be charging everywhere."
---
Colorado is a year-round travel destination offering unparalleled adventure and recreational pursuits, a rich cultural heritage, flavorful cuisine and 28 renowned ski resort areas. Colorado is located in the Rocky Mountain region of the U.S. featuring unparalleled adventure, recreational pursuits & cultural experiences #ColoradoLive