Massive Wildfire Threatens to Destroy Nevada's Largest Joshua Tree
The York Fire has swept across thousands of acres of the Mojave Desert, torching Joshua trees and other delicate desert vegetation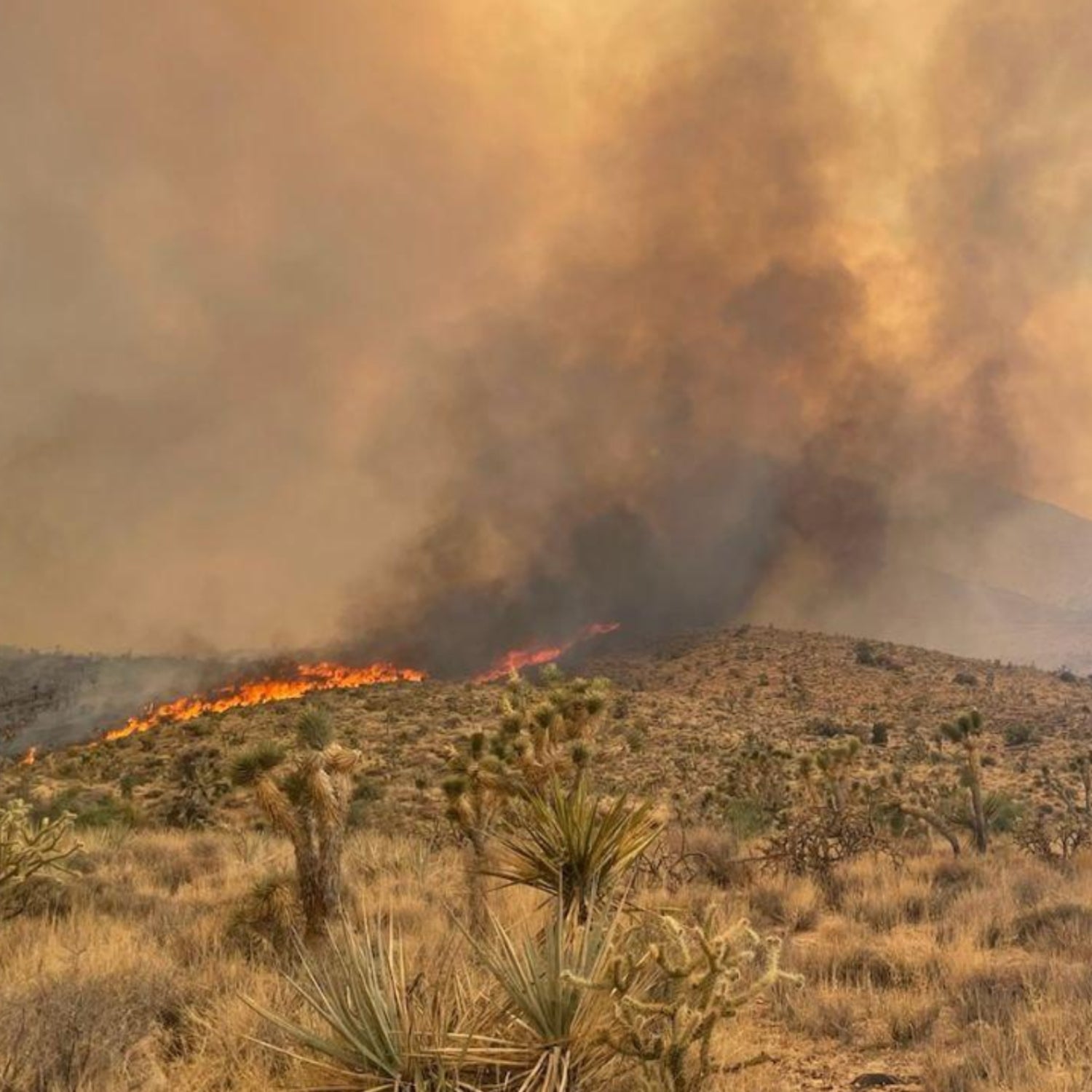 National Wildfire Coordinating Group
Heading out the door? Read this article on the new Outside+ app available now on iOS devices for members! Download the app.
California's largest wildfire this year spread to Nevada over the weekend, scorching Joshua trees in the Mojave Desert and sending smoke into the Las Vegas Valley.
The blaze, called the York Fire, started on Friday, July 28, in a remote section of the New York Mountains within the Mojave National Preserve. Two days after it began, the fire crossed the state line into Nevada. It's burned more than 80,000 acres and was 23 percent contained as of Tuesday, August 1.
Since the fire has stayed in remote areas, authorities have not ordered any evacuations.   No injuries or deaths have been reported. The cause of the fire has not yet been determined.
Firefighters are reportedly battling "fire whirls," which are "spinning, moving column[s] of ascending air rising from a vortex and carrying aloft smoke, debris, and flames," according to the National Weather Service. The phenomenon occurs when high winds combine with intense heat.
"This weather is extremely dangerous for firefighters battling the fires," the National Wildfire Coordinating Group says. "Fire whirls can change direction suddenly, making them unpredictable."
The extent of the ecological damage wrought by the York Fire is still under investigation. But the blaze has already ravaged groves of Joshua tree, juniper, and pinyon pine, a park ranger at Mojave National Preserve told the Los Angeles Times.
Nevada's largest Joshua tree is among those at risk, news station KLAS reports. Thought to be one of the largest Joshua trees in the world, it measures 87 inches in circumference and stands 24 feet tall.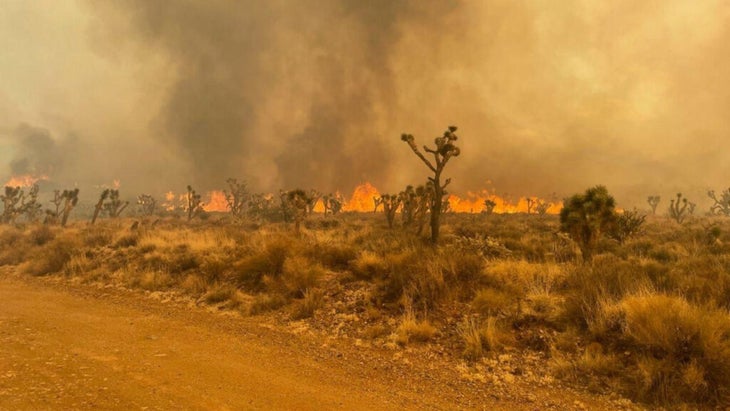 The York Fire has also moved into the newly designated Avi Kwa Ame National Monument, a 506,814-acre area in southern Nevada. The land, which is sacred to the Mojave, Chemehuevi, and some Southern Paiute people, received federal protection in March following decades of advocacy by the Fort Mojave Indian Tribe.
While wildfire risk tends to be lower in deserts, the proliferation of the York Fire is consistent with this year's weather patterns, UCLA climate scientist Daniel Swain said on Twitter.
"Given an exceptionally wet winter and cool spring, larger fires in sparsely vegetated areas that are typically 'fuel limited' should be expected due to the extra vegetation growth such conditions foster," Swain said, adding that an increase in invasive cheatgrass has added more flammable brush.
The York Fire comes as volunteers are still trying to replant Joshua tree groves lost to the 2020 Dome Fire, which burned more than 40,000 acres in the Mojave Desert. As many as 1.3 million Joshua trees were lost to that wildfire, which was sparked by a lightning strike.
The Southwest's unusually wet winter has made for a relatively quiet wildfire season. But rising temperatures across the region have increased fire danger. Late last month, a wildfire in Tonto National Forest forced around 160 residents in Arizona's Maricopa County to evacuate their homes, according to CNN.
More than 110 million Americans were under heat advisories this past weekend.
Isabella Rosario is an Associate Editor at Outside. She is based in southeast Iowa.
Lead Photo: National Wildfire Coordinating Group
Trending on Outside Online