Out-Sized Hospitality
The Bahamas' Out Islands offer a warm welcome and a quick island fix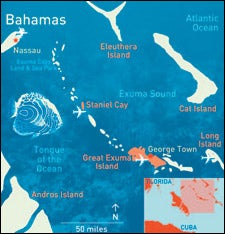 Heading out the door? Read this article on the new Outside+ app available now on iOS devices for members! Download the app.
"TAKE A PLATE, MIKE!"
Bahamas' Out Islands

"Mike, c'mon, take a plate!"
Yikes. I'm really not hungry, but the whole house of energetic islanders is rising to a chorus of motherly insistence. It's two in the morning, and apparently the living-room dance party is over. Time for chicken stew. No refusals allowed.
Oh, well. As I've done dutifully since I stepped off a small, chartered plane onto Staniel Cay's lone runway some 36 hours ago, I smile and obey my hosts. Once again, they're right: The stew is salty and loaded with protein—the perfect hangover antidote. Local wisdom wins out—no surprise there. What is surprising, however, is how easy it was to reach this remote outpost and how quickly I've begun feeling a bit like a local myself.
Staniel Cay, which sits in the central stretch of the Bahamas' sparsely populated Exuma island chain, is less than two miles long and home to some 80 permanent residents. Thanks to the Staniel Cay Yacht Club, it's also an ideal getaway for adventure travelers with only a long weekend to spare. Less than two hours after boarding your flight in Florida, you'll be an honorary islander.
My initiation began where I assume they all do: at the bar. My first evening, over about four hours and a half-dozen Kaliks—the sweet, Corona-like brew of the Bahamas—I talked currents and knots with yachties in harbor for the night, toasted to good weather with visitors from nearby islands, and learned a convoluted handshake from a local fisherman with plump, sweaty fingers. And when I realized that one more drink would ruin the next day, I stumbled past the small pool and into my bright-yellow, octagonal cottage, one of nine simple guesthouses clustered (thankfully) about 300 feet from the bar.
In a single day during my visit to Staniel Cay, I swam with two lemon sharks (OK, so I got out as soon as I saw them) in the nearby 176-square-mile Exuma Cays Land and Sea Park, snorkeled through a limestone cave system featured in the 1965 James Bond film Thunderball, and barefooted it across a tidal flat to gather a dozen conchs that a yacht-club chef later mixed with island peppers to create a raw, spicy salad.
With so much to do, Staniel works for a quick island hit. But if you have time to spare, you'll want to explore more of the Bahamas. An hour-and-a-half chartered boat taxi will get you south to Great Exuma and the region's capital city, George Town, where you can hook up with a number of outfitters for other Exuma adventures, like a private boat to a remote beach for a packed-to-order picnic lunch.
Or do what I did: Book a 20-minute charter flight south to Long Island and go bonefishing with James "Docky" Smith. Offering trips in his immaculate shallow-water skiff, Smith leads the whispering hunt through the mangrove-lined tidal flats with military efficiency. Best of all for saltwater fly-fishing newbies, he's a patient yet firm teacher—my own Mr. Miyagi with a bamboo rod. I may not have caught anything—an approaching storm scattered our prey—but I can now cast without shame.
I can also return to the Bahamas knowing I'll be warmly welcomed. I learned this on Staniel Cay the night of the chicken stew. Leaving the party, another traveler and I stopped to thank our young host; we were surprised, we admitted to him, to be invited. He just smiled. "Of course, man," he replied. "You know, we're all cut from the same rope."
Access & Resources

The Exumas and Long Island are "Out Islands"—they're not Nassau or Grand Bahama, which get 83 percent of all Bahamas visitors. Getting to the Staniel Cay Yacht Club (guest cottages from $148; 242-355-2024, www.stanielcay.com) requires a charter flight. It's $225 per person each way from Fort Lauderdale, Florida, or $400 round-trip if you stay at the club. Alternatively, fly to George Town and hire a 2M Charter Service private boat taxi for the 90-minute ride (from $750 round-trip for up to six people; 242-357-0346). Booking a Boston Whaler for snorkeling trips to Exuma Cays Land and Sea Park costs $65 and up for a half-day.
Fly to Long Island from Fort Lauderdale (via Nassau) for about $300 round-trip on Bahamasair (800-222-4262, www.bahamasair.com). The island's best coastline is at the stunning Cape Santa Maria Beach Resort (oceanfront bungalows from $325; 800-663-7090, www.capesantamaria.com). The Stella Maris Resort Club (doubles from $175; three-bedroom house with private pool from $630; 800-426-0466, www.stellamarisresort.com) offers 24 hotel rooms, but their bungalows are more comfortable.
James "Docky" Smith's operation ($300 for a half-day of bonefishing, $400 for a full day; www.bonafidebonefishing.com) is just a short drive from either resort.