The Outside Explorer's Guide to the Brave New World of Trip Planning
Don't let the info revolution leave you dazed and confused. Here's how to boot up the best of the new and classic travel media so you can filter, focus, and get out the door.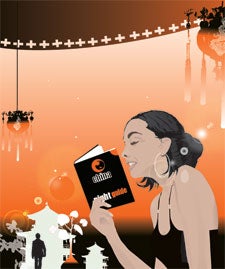 Heading out the door? Read this article on the new Outside+ app available now on iOS devices for members! Download the app.
Take Off by Amy Marr
Sure, you can buy a ticket to almost anywhere in the world with just a click or two. But getting the best deal requires more than just a laptop; you need a strategy. No single site brings up the lowest fares every time, so do a thorough search and assess your options before you buy. You can cover the bases quickly by checking at least one of the online travel-agent sites (Expedia, Orbitz, and Travelocity), along with one or two travel search engines and a bargain-shopping site. Finally, check the airlines' own Web sites; buying direct often yields a frequent-flier bonus and 24-hour risk-free cancellation policy.
The Big Three // Online Travel Agents
The titans of Web travel offer direct booking (with service charges of up to $6 per ticket) on many, but not all, airlines and can bundle airfare with hotel and car-rental reservations. Each has its strengths.
EXPEDIA boasts a range of impressive planning tools, from maps and weather forecasts to activity arrangements (you can sign up for a day of shark diving or skiing when you pick your flight).
ORBITZ offers the broadest selection of fares (and searches the most car-rental agencies) with side-by-side flight comparisons, plus travel-delay updates sent right to your cell phone or PDA.
TRAVELOCITY includes taxes and fees in its price lists—no surprises at checkout—and is tops for customer service, with agents available by phone 24/7 for booking (or assisting travelers mid-trip).
Go Trolling // Scanning the Web
These search engines check more than 100 sites (select airlines, ticket consolidators, and travel agencies) then redirect you for your final purchase: Kayak.com features user-friendly graphics and a helpful search option for "open-jaw" travel (fly into one city, out of another). Mobissimo.com excels at international travel, though it sometimes lists fares only, meaning more clicking for specifics (like times and number of stops). SideStep.com looks for deals from 585 airlines (including discounters like JetBlue, whose fares can't be found on the big three sites).
Run for the Money// Last-Minute Deals
www.Travelzoo.com's editors cherry-pick global airfare bargains and send out weekly-update e-mails every Wednesday. Try www.Site59.com for North American and European package deals, bookable two weeks to three hours before departure. www.Skyauction.com lets you bid on unsold travel inventory, including airfare, package vacations, and cruises worldwide.
Get It in Writing
Required Reading
"I take Graham Greene's THE QUIET AMERICAN everywhere. Whether I'm in Yemen or Saigon or Havana, it's an almost infallible guide to the perils of foreign wisdom, the resilience of native cultures, and the way we fall in love with places precisely because we can't understand or even handle them."—Pico Iyer, Travel Writer
Travel Resources

Illustration by 500gls
Travel Resources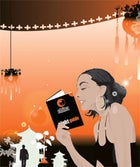 Illustration by 500gls
Get It in Writing by Kimberly Lisagor
With 78 percent of U.S. travelers now using the Internet to plan their trips, you might assume guidebooks are on the wane. You'd be wrong. Sixty-eight percent of American travelers still turn to guidebooks for travel advice. "You can read your guidebook in the bathroom or on a train or on a ferry on the Congo River," notes Simone Andrus, whose Seattle travel store Wide World Books & Maps has seen guidebook sales rise by 10 percent since 2004. When shopping for a guide, check the copyright page (you want something that's been updated more recently than, say, the tax code) and find one that focuses as narrowly as possible on your destination. Look for a personality that matches yours—but let go of any decade-old stereotypes. Books from Lonely Planet, Rough Guides, and Moon are still designed for adventurous travelers but now cater to those who'd rather not rough it at bedtime or mealtime. And guides from Fodor's and Frommer's have hipped up to appeal to a younger crowd, with colorful maps and graphics, plus advice on a broader range of attractions, from classic to quirky. Most important, remember that every guidebook is just that—a guide. Use it for context, consult it for planning, and know when to put it away. The best discoveries are those you make on your own.
Moving Words // Where Guidebooks Are Going
With Internet competition hot on their heels, guidebook publishers are constantly tweaking format—and focus—to keep up with travelers' needs. Here are the trends to watch. Scratch a Niche: Look for guides that cover themes, not specific regions, including The Traveling Marathoner (Fodor's, $28), Hip Hotels Atlas (Thames & Hudson, $50), and the new Take a Hike series (Moon Outdoors, $17). Undersize It: Mini-guides are hot. Perfect for quick trips, they zoom in on a destination, with fewer pages and a smaller, more packable size. We like Insight Pocket Guides ($13–$14), 96-page books covering key sights, with handy foldout maps. Get Wired: DK's new eguides ($15), covering cities like San Francisco, Chicago, and Barcelona, come with passwords for access to exclusive online information, including hotel and restaurant updates. Radio-Free Planet: To increase their online presence, travel publishers are venturing into Internet radio. Check out the new podcasts—free travel-related reports narrated by expert globe-trotters—at www.roughguides.com, www.lonelyplanet.com, and www.ricksteves.com. Go Deep: With the basics readily available online, guidebooks are amping up their historical and cultural information. Fodor's Compass American Guides ($21–$22) specialize in putting travel in context, with detailed maps and color photos. Best of All: Top-ten lists and "best of" roundups, intended as shortcuts to the ultimate travel experiences, are also big this year. See Lonely Planet's Bluelist ($20), a guide to the travel trends of 2006, with 40 best-of categories like "most remote" and "best train trips," and National Geographic's The 10 Best of Everything: An Ultimate Guide for Travelers ($20).
Fact
71% of all vacations are planned less than three months in advance—and 35% are planned less than a month before departure.
Source: The Travel Industry Association of America
Travel Resources

Illustration by 500gls
Travelin' Fool Q&A with Ian Wright
As the uninhibited host of the cult-favorite series Globe Trekker, now in its fourth season on PBS, Londoner Ian Wright, 40, is the wacky archetype among an emerging breed of TV travel personalities who'd rather skip the reservations and take adventures as they come. (See also the Travel Channel's Stranded with Cash Peters and the hosts of Lonely Planet's Six Degrees, making its U.S. premiere in April.) Anthony Cerretani quizzed Wright about tuning in before you head out.
OUTSIDE: Why watch a program like Globe Trekker?
WRIGHT: It stirs you up, gives you a little buzz. You think, I'd love to go there. And it's more real than reading a book, because it's instant and it's in front of you.
What makes a good travel show?
It has to be entertaining. People like to watch me because they're like, "He has no idea what he's doing; he's in shit here," and that's exciting.
How has Globe Trekker become such a hit?
There's just that casualness about it. It's ordinary people traveling, so it feels accessible. Although some say, "I just love watching it, sitting on me ass on the sofa, 'cause that looks like a nightmare." Fair enough.
Yet you want to help them get over the fear.
The show makes travel less intimidating—there's less of a mystique. When you're in a place, you just get on with it because it takes you over anyway. We're trying to capture that spontaneity.
And those authentic experiences transfer well to television?
It's as close as you can get to the real thing. People think it's just me with a camera and I'm just shooting myself. They're gutted when they find out there's five of us in the crew.
Any downsides to your job?
I've done about 50 travel programs and have no friends left because they can't handle any more bloody stories. They're like, "Please shut up."
Speak Easy // Beyond Phrase Books by Kate Siber
We know—you meant to brush up on your Thai, but that departure date snuck up on you. Get Random House's Living Language In-Flight CDs ($14; www.random-house.com) for hourlong quickie courses in any of 22 languages, from Arabic to Swahili. For swift—and inconspicuous—access to key phrases once you're in country, try LingvoSoft's Talking Travel Dictionary 2006 ($50; www.lingvosoft.com). Compatible with Windows-based PDAs, it translates 11 languages onscreen, and seven of those (including German, French, Spanish, Italian, and Russian) into speech. iLingo ($40–$50; www.talkingpanda.com) is a similar product for iPods. Now où est l'aéroport again?
Blogsploitation
Travel Resources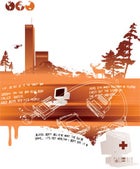 Illustration by 500gls
Blogsploitation by Michael Behar
Thanks, or no thanks, to blogs, everyone is suddenly a travel writer. The kinds of tales once shared among friends ("the cioppino went down easy but unfortunately came back up even easier") are suddenly public domain. Too many wannabe Brysons can be annoying, but the upshot is that you get a chance to learn painlessly, drawing on the lessons of those who've bravely (or foolishly) gone before. As a research tool, blogs are revolutionary. For travel outfitters with zero control over the candid reviews, they can be terrifying. "A lot of companies are scared out of their minds," says Sean Keener, cofounder of the travel-blog hub BootsnAll.com. "But the smart ones are responding to what people are writing with an improved product." Here are a few tips to better your blog time. » Browse a little, search a lot: Use sites' search tools to find pairings of, say, "Mongolia" and "fly-fishing guide," and try meta search engines like Google's Blog Search (blogsearch.google.com) or Technorati Blog Finder (www.technorati.com/blogs) to sift through thousands of sites simultaneously. » Get backup: Blogs aren't fact-checked—don't rely on a single source claiming that a renowned trekking guide serves only rice and ketchup for dinner. » And know your blogger: One traveler's dreamy bungalow is another's mosquito-infested shack. Seek out profile pages for personal tidbits and travel experiences.
Get Your Clicks

1. blogs.bootsnall.com
Some 800 independent travelers with blogs organized by region.
2. www.gadling.com
Browse 4,300 adventure blogs by topic and activity.
3. www.travelpod.com
See before you go: Hundreds of bloggers offer photos and videos.
4. www.escapeblog.com
Slogan excerpt: ". . . making sure you don't piss off the locals is where the excitement begins."
5. www.gridskipper.com
Travel tips for savvy (iPod subway maps) and daring (best fried chicken feet in L.A.) urbanites.
What's Out There
"In this day and age there are no new surf breaks in Bali, but I know for example that places like Jasri in East Bali do sometimes get surf, with not too many other people around."
—BaliBlog.com, "Surfing in Bali: The Modern Age"
"Magic mushrooms + Thai girl that turns out to be a post-op lady boy who then goes crazy on the mushrooms!!! Worst night of my life."
—BootsnAll.com, "Brett's Travel Blog of Thailand, Cambodia, Vietnam, China, and the USA"
Talk to Me // Online Discussion Groups
Like blogs, Web forums offer unfiltered reports from the field. And because forums allow you to join running conversations or create new threads, they're better than blogs for specific info ("Who makes the best mango lassi in Kathmandu?"). All operate with the conviction that the best source of advice is your fellow traveler. Here are three of the best. Thorntree.lonelyplanet.com: A frenetic mind meld of some 290,000 adventurers. www.fodors.com: 100,000 sophisticated travelers swap know-how in a brilliantly organized forum. www.igougo.com: More than 350,000 members share destination reviews, trip journals, and photos.—A. M.
Rest Assured
Travel Resources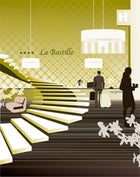 Illustration by 500gls
Travel Resources

Illustration by 500gls
Rest Assured by Amy Marr
Don't be fooled by spectacular photos, lists of luxurious amenities, or star-based rating systems. To find a hotel that lives up to its Web site's promises, you have to do your homework. "Be willing to dig around and collect opinions from different sources," says Susan Stellin, New York Times travel reporter and author of How to Travel Practically Anywhere ($16, Houghton Mifflin), which hits stores in April. Start by collecting ideas from guidebooks, magazines, and Web sites you trust. ("Don't overlook local tourism-bureau sites," notes Stellin, "which can list a far greater range of options.") Then vet your picks by checking out unbiased reviews and opinions on blogs and in discussion groups (see "Blogsploitation"): Does "no frills" really mean "no air conditioning"? When you're ready to book, shop around for rates and read the fine print about taxes (are they included?) and cancellation and change policies. Sometimes a hotel's home site can yield both the best rate and the most flexible agreement.
Special Agents // When to Go Pro
Once the lone purveyors of computerized price comparisons and snazzy brochures, travel agents have suffered in the dot-com era. It hasn't helped that in recent years the major airlines have slashed commissions from at least 10 percent to zero, forcing agencies to charge per-ticket fees that now average $27. Nearly a third of the U.S. travel agents operating in 2000 have since fallen off the map. But the survivors are far from obsolete—especially for adventure travelers. "How do you know you're getting a decent trekking guide if you find him on the Web?" asks Andrew Haffenden, owner of Nature Travel Specialists, a Helena, Alabama–based agency that focuses on active explorations in Australia, Asia, and South America. Agents like Haffenden cater to travelers who want what the Internet can't offer: expertise (many now specialize in a particular destination or type of travel—say, surf vacations or Amazon adventures), efficiency (a good agent can find online deals a lot faster than you can), and a live human voice (particularly handy when a trip doesn't go as planned). Experts can even save you money, says Haffenden, who books intra-Australia airfares on low-price domestic carriers that aren't on the major online sites. "That's what we add: the value of knowing the destination and knowing what's there." —K. L.
Suite Spots // Where to Look for Lodging
www.Quikbook.com offers bargain-priced distressed inventory (industryspeak for "unsold rooms") at more than 1,000 independent boutique hotels worldwide. www.Placestostay.com features 16,000 hotels in 160 countries and claims to offer up to 70 percent savings, plus 24/7 customer service via phone or e-mail. www.Tablethotels.com presents a well-edited selection of high-end boutique hotels with architectural personality and impeccable service, all with best-price guarantees. www.Bedandbreakfast.com's user-friendly database dishes out beta on 22,000 inns worldwide, with hot deals that change every Wednesday. www.FiveStarAlliance.com represents 1,000-plus luxury hotels handpicked by the editors, with good insider tips (like which rooms offer the best views), exclusive offers, and a satisfaction-guaranteed pledge. www.Travelintelligence.com lists 3,500 hotels, each reviewed by one of the site's stable of 120 independent travel writers.
Taming the Grid
Soviet Intel
"To navigate in remote regions of countries like Uganda and Tibet, I use Cold War–era Russian topos, which have tons more detail than available American equivalents. You can get them online at
www.omnimap.com
or
www.cartographic.com
for about $50 to $150 per sheet. Of course, the names are in Cyrillic, so take along English maps, too, for cross-referencing."
—Mark Jenkins, Outside Reconnaissance Agent
Travel Resources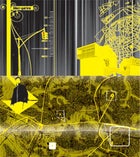 Illustration by 500gls
Taming the Grid by Jason Stevenson
Bad news for trees: The digital revolution has not killed the paper map. It remains the ideal format for large-scale overviews and has the advantage of being immune to computer crashes and fading batteries. Yet digital cartography is radically improving travel navigation by inspiring new breeds of printable maps and onscreen atlases that can be tailored to match your itinerary. The only drawback? Now there's no excuse for getting lost.
The Whole Word in Your Hand
With GPS receivers in some cell phones and PDAs, you might never ask for directions again. Spot software ($19, www.skylab-mobilesystems.com), for all Java-enabled devices, passes your coordinates to a Web map to pinpoint your position onscreen. MapQuest Find Me ($4/month, findme.mapquest.com), for Blackberry and Motorola iDen phones, adds icons for services like ATMs. Both systems require cell and sat signals.
Street Wiser When Google publicly released the source code behind its popular online street maps last June, it set off a cartographic stampede. Hordes of grassroots geeks began producing digital atlases annotated with icons linked to location-specific information. The resulting mash-ups present a striking way to interpret data through the lens of geography. Spend a few minutes exploring a local mash-up displaying recent crimes, or pubs offering $2 beers, and long-held habits might instantly change. For travelers, mash-ups provide a treasure trove of planning beta. You can now quickly plan a road trip to U.S. hot springs (www.acme.com/jef/hotsprings), confirm that your hotel is right on the beach (www.mapsofhotels.com), and find a triathlon almost anywhere (www.trimapper.com). The best hub for mash-ups is the independent Google Maps Mania (www.gmapsmania.com).
Custom Contouring Say so long to the pesky USGS quadrant system, which often meant ordering multiple topographic maps to get coverage for even short outings. Select REI and EMS stores, plus a number of travel shops, are now outfitted with specialized software that can zoom in on any area in the U.S.—and printers that can churn out waterproof, high-resolution topos of select spots in the size and scale you need (about $10 per 11-by-17-inch sheet). Exploring a large area over a long period? Buy a National Geographic TOPO! CD set ($100 per state/region; www.ngmapstore.com), which offers home printing at a range of scales and the ability to upload waypoints to a GPS. Add the expansion pack ($20) for onscreen 3-D and animated fly-throughs.