The Top 10 Desert Getaways
Your favorite trails—for biking, hiking, and running—all turn to puddles and mud around the same time every year. The rain is coming down and, in some places, the winter thaw is just releasing its grip. Turn to these 10 spots, where excess water is never a problem, to get away.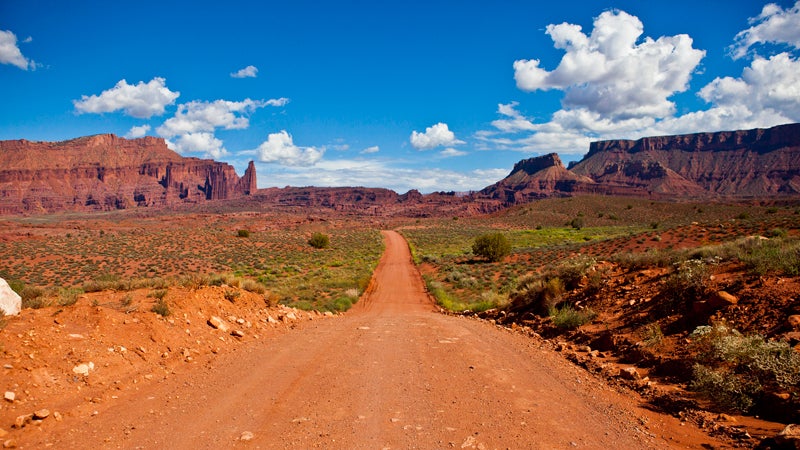 Anthony Quintano/Flickr(Photo)
Heading out the door? Read this article on the new Outside+ app available now on iOS devices for members! Download the app.
There's no better way to escape the mess of mud season than by making a beeline for the desert. From the cholla-studded mountain bike trails of New Mexico to the shifting sand dunes of Namibia, these oases offer big sky, vertical rock playgrounds, wildlife, and miles of hiking, running, and mountain biking trails. All 10 come with sun-powered Vitamin D.
---
10. Sossus Dune Lodge, Namibia
An African adventure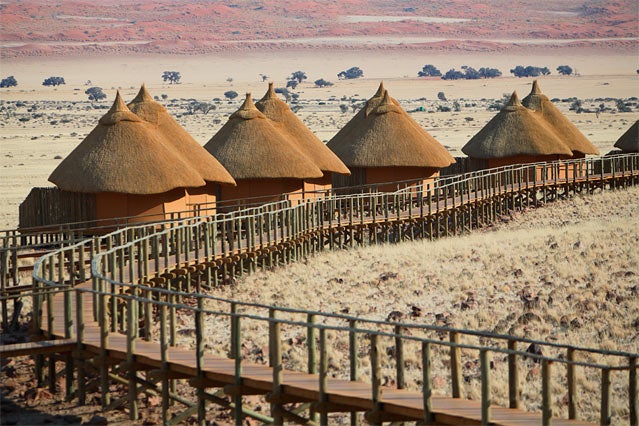 Namibia is one of those rare conservation success stories where wildlife recovery is on the rise, 42 percent of the land (which includes 26 parks and reserves) is under conservation management, and the country's entire 1,000-mile coastline is protected. The southern African country also claims the Namib, the world's oldest desert, which is home to the world's second-highest sand dunes that top out at nearly 1,000 feet.
Get a floor-to-ceiling view of those iconic shifting formations from one of 23 chalets or two honeymoon suites at Sossus Dune Lodge (doubles from $280 per night). On the eastern edge of Namib-Naukluft Park near the iconic Sossusvlei dunes, the lodge is a magnet for photographers and who want to seek the most sublime sunrise or sunset in Southern Africa or, possibly, the world. The wildlife viewing isn't bad either. Hartmann's mountain zebra, kudu, gemsbok, klipspringer, duiker, steenbok, leopard, baboon, black-backed jackal, bat-eared fox, African wild cat, caracal and aardwolf all live here.
---
9. Salar de Uyuni, Bolivia
If the expansive flat isn't salty enough for you, the hotel will be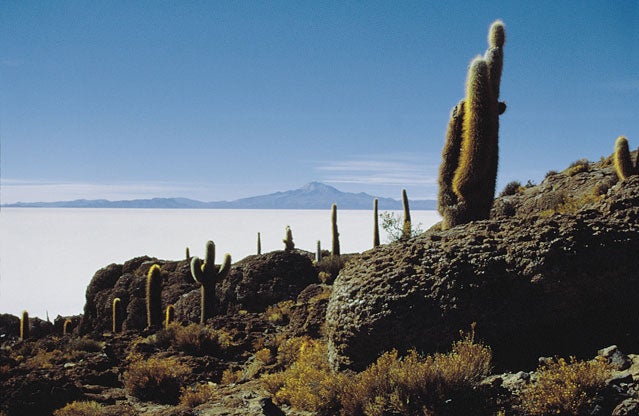 This 4,086-mile expanse, the world's largest salt flat, holds an estimated 10 billion tons of salt. It's also where 50 to 70 percent of the world's lithium reserves originate—a good reason to see the Salar de Uyuni now, before the world's cell-phone and electronics manufacturers gobble it up.
The appeal of this place is the play of light on these wide-open spaces: Sitting at almost 12,000 feet above sea level on the Altiplano of southern Bolivia, the Salar de Uyuni is almost entirely devoid of wildlife and vegetation, save for three species of pink flamingos (who get their coloring from the pink algae and crustaceans they ingest), a rare hummingbird species, and an occasional Andean goose.
In the middle of all this desolate white sits the Isla de Pescadores, a bizarre, fish-shaped island dotted with cacti. The real bragging rights for the visit will be the nights you spend at the salt hotel, where the walls, bar and tables are built of salt—just don't lick the walls. There's even a saltwater pool out back. Adventure Life offers an eight-day "Backroads Bolivia" tour that includes two nights in the Salar de Uyuni ($1,825).
---
8. Atacama Desert, Chile
See why the Atacama is Earth's most Martian landscape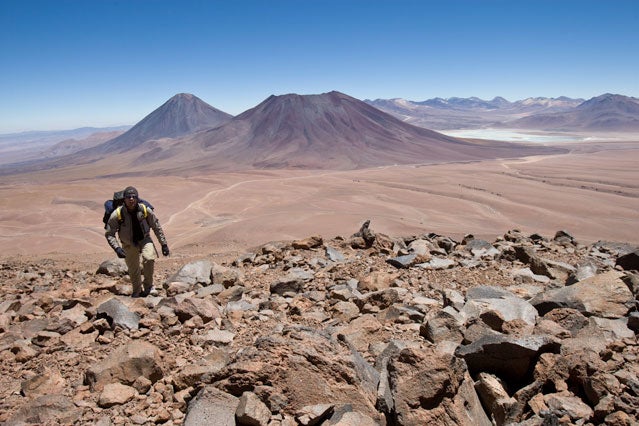 South America isn't exactly a weekend road-trip, but southern-hemisphere fall in the world's driest desert is spectacular—temperatures hover around 78 degrees Fahrenheit from April to June during the day, and at night the skies are so clear that the Milky Way is in view with the naked eye. (It's much more enhanced, however, when viewed through the world's largest telescope, which is located nearby.)
The hub of this 40,600-square-mile desert, famously referred to as the most Martian landscape on Earth, is the 10,000-year-old village of San Pedro de Atacama. It sits within view of a string of volcanoes, the highest of which, Lincancabur, tops out at 19,423 feet.
Stay at Tierra Atacama Hotel & Spa, a sleek, eco-friendly boutique hotel that blends into the landscape and was built by the Purcells, the same family that started the famously intimate Ski Portillo resort. From here, set out in any direction—mountain bike from the hotel toward the Salt Mountain Range; four-wheel to the El Tatio geothermal geysers at 14,000 feet; visit the village of Machuca, where the roofs are made of cactus and the local delicacy is grilled llama; or take a day trip to the salt flats and Chaxa Lagoon to photograph pink flamingos. Double occupancy rates start at $1,050 for a two-night stay, which includes all meals (and drinks); daily activities; full use of all the hotel facilities, including gardens, pools, saunas and Jacuzzi; and airport transfers to and from Calama.
---
7. Tanque Verde Ranch, Arizona
Go west, young man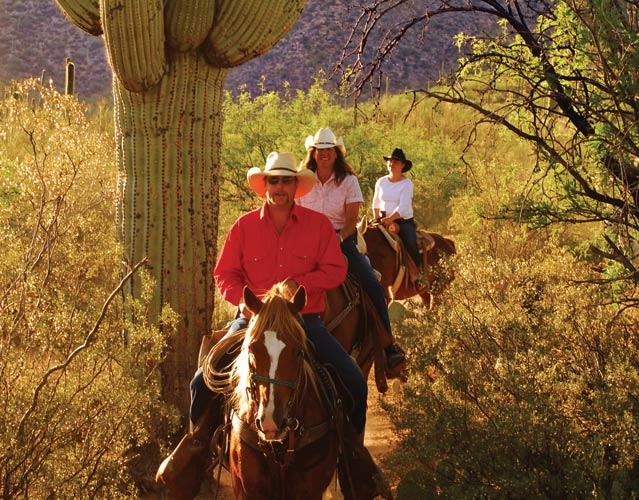 Cowboys, this one's for you: Just east of Tucson, at the base of the Rincon Mountains near Saguaro National Park sits a 60,000-acre ranch stocked with 180 horses. From basic horseback riding to lope checks to team penning, beginning to advanced riders can take a lesson and then trot or gallop off into the sunset. There's even a three-hour horse whisperer-like program called "Harmony With Horses" taught by a champion rider and equine therapists, where participants learn how to tap into their horse's behaviors by using subtle movements and commands.
For the non-horseback riders, 600 acres of singletrack mountain biking trails snake through the property, daily guided hikes cover miles of trails, and there's a 1.5-acre lake stocked with bluegill and largemouth bass. On the other hand, the chaise lounges at the outdoor pool are pretty comfortable, too. Doubles, with breakfast included from $189.
---
6. Joshua Tree National Park, California
Learn the ropes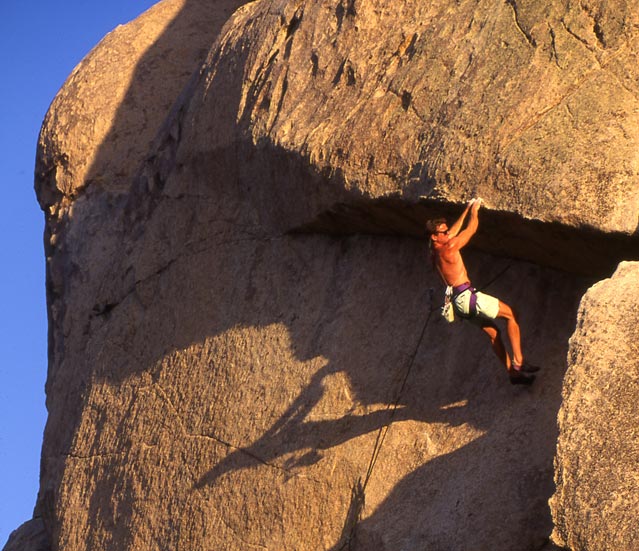 "Typically people think of desert as vast emptiness, but in Joshua Tree you can climb rock anywhere from five seconds off the road to a few hours in," says Mark Bowling. He should know. The owner and director of Joshua Tree Rock Climbing School and AMGA-certified guide has been exploring and teaching rock climbing in Joshua Tree since 1988. Beginners will want to sign up for his one- or two-day Basic Rock Climbing courses, which start with the fundamentals—how to put on a harness— and end with a 100-foot climb. If students want to take it further, they can add on a two-day Intermediate course ($150 per day).
Beyond the climbing, what's so magical about this place? According to Bowling, it's the Suessian blob-like boulders and Joshua trees. "The trees contrast with the light at that magic hour just before sunset and after sunrise," he says. "The color changes and the landscape pops out at you." Reserve a campsite at Indian Creek or Black Rock campgrounds ($15 per night; 800-365-2267) and be sure to BYO water—there's none available in the park.
---
5. Death Valley National Park, California
Where the temperature has hit 200 degrees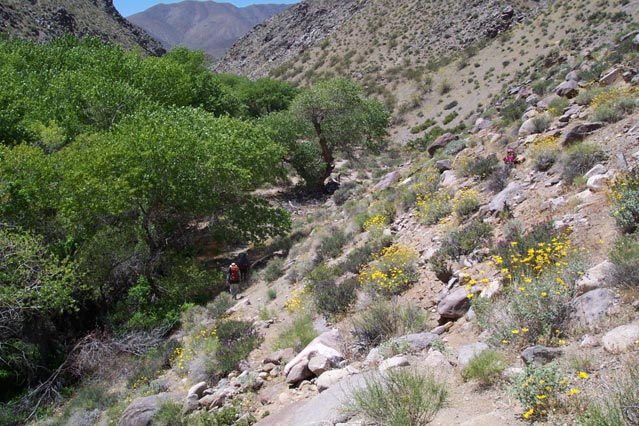 The first step is to wrap your head around the facts: This National Park sits 282 feet below sea level; is surrounded by steep, precipitous mountain ranges; and has average daily temperatures that range from 90 degrees in April to 109 degrees in June. (On July 15, 1972, the highest ground temperature at Furnace Creek hit 201 degrees Fahrenheit.) It's also a wilderness park with no roads and very few developed trails, so get your bearings by buying a copy of Michel Digonett's Hiking in Death Valley before you leave home.
Ease into your trip by spending the first night at The Inn at Furnace Creek (doubles from $340 per night). The next morning, pick up your free backcountry permit at the Furnace Creek Visitor Center then launch a hiking expedition from Cottonwood to Marble Canyon, a 26- to 32-mile backcountry loop (with no signs or cairns) that takes you through deep, narrow canyons and has an elevation gain of 3,500 feet. The three- to five-day loop is one of the most popular in the park, but with water only available at Cottonwood and Deadhorse Canyon and a very high percentage (roughly 50 percent) of hikers who veer off track at some point along this route, a few human sightings may be welcome. Whatever you do, don't come unprepared.
---
4. Villa Santa Cruz, Todos Santos, Baja California
Not your average Mexican retreat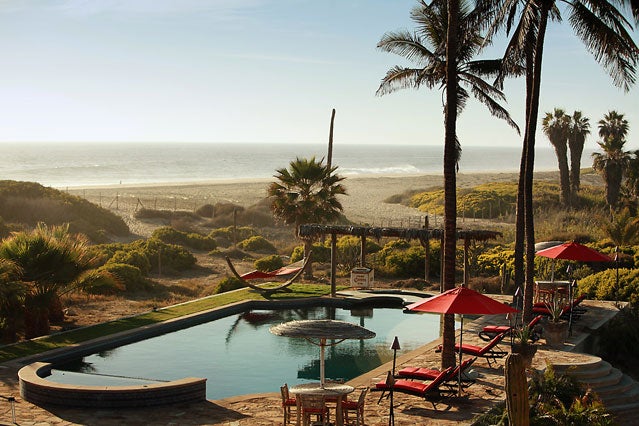 This beautiful adobe hacienda with a soft orange patina sits on 20 acres of secluded beachfront property. The four-suite casa, which was built in 2006 but was designed to appear as if it had been there for hundreds of years, is powered almost entirely by solar electricity, the clean linens are line-dried in the desert breeze, and all meals are made with produce grown in the on-site vegetable garden. Out the front door and just a five-minute walk down the beach surfers can head to La Pastora, with its giant breaks and minimal crowds. Later in the season—from November to April—guests can watch the migrating humpbacks from the rooftop terrace. Any time of year guests can arrange for yoga classes, visit the farmers' market, taste local wines at La Bodega de Todos Santos, and arrange for an in-house massage. Doubles start at $195 per night. To find out what else is on tap in Baja, visit baja.com.
---
3. Moab, Utah
Escape to the red rocks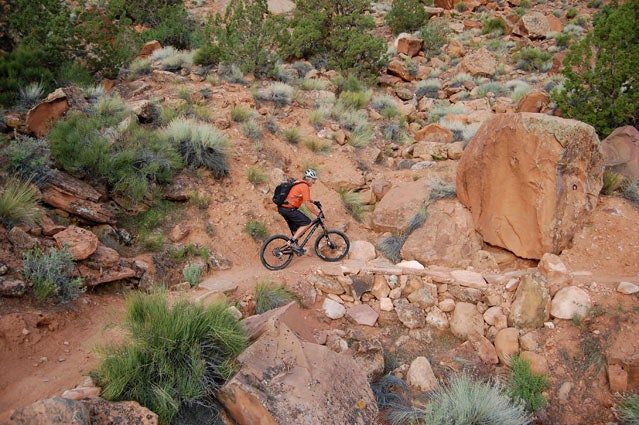 "Moab is a very different place now than it was a few years ago," says Scott Escott, He should know. As the trails coordinator for Grand County Trail Mix, a local non-profit organization that works closely with the BLM to design and build new mountain bike trails, Escott and his crew have already built more than 40 of the 150 miles of trails the BLM has approved in its resource management plan. One of the new additions, Pipe Dream, is a ten-mile trail accessible from town that follows the southwest ridgeline of the Moab Valley. Good news for advanced intermediate riders: Unlike the storied slickrock of Poison Spider, most of the new trails are less technical. Added bonus: There's also the new North Moab Recreation Areas Alternative Transportation System, a paved bike path that allows for unmotorized access to all the public lands—like Arches National Park—north of Moab.
For details, visit discovermoab.com. For bike rentals, shuttles, and maps, check in with Poison Spider Bicycles. Camp in town at the tent-only, walk-in Up The Creek Campground (doubles, $30 per site). For a roof over your head, a kitchen to cook a hearty post-ride meal, and a place that welcomes dogs, book A Moab House (from $125 per night) right in town.
---
2. Ojo Caliente, New Mexico
Get pampered in the Land of Enchantment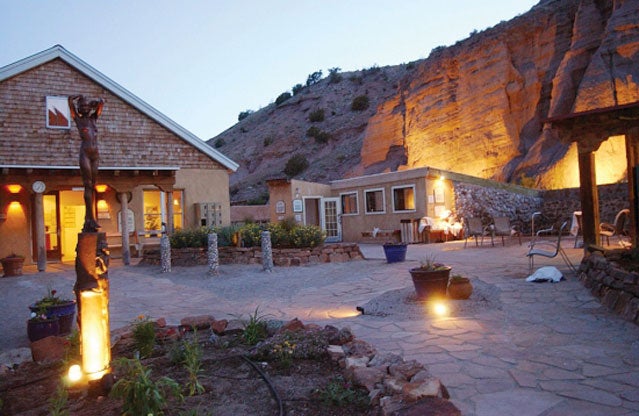 A layer of snow might fall here through the end of April, but this town's sulfur-free, geothermal mineral waters flow from a subterranean volcanic aquifer that can heat up to 109 degrees—and that should keep you plenty warm. Sitting roughly halfway between Taos and Santa Fe on U.S. 285, Ojo Caliente has been a spa oasis ever since the ancestors of today's Native American Tewa tribes built pueblos surrounding the hot springs in the 15th century. Today there's still a private soaking area for tribal leaders, but the public pools—Lithia, Iron, Soda, and Arsenic—are yours for the soaking, and they've been upgraded with a new ozone and UV light filtration system to keep them clean and chlorine-free.
Also new within the last few years are 12 miles of mesa-top hiking and mountain biking trails, a wine bar, three private soaking pools with outdoor fireplaces, four spacious new massage therapy rooms, and beautifully updated cottages and suites. Don't worry, the centuries-old charm hasn't worn off. The all-inclusive three-night, four-day Ojo Escape starts at $899 per person.
---
1. Sedona, Arizona
The ultimate desert paradise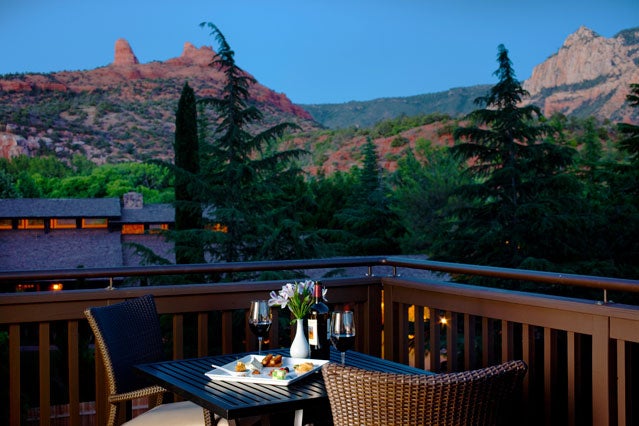 This red rock wonderland 30 miles south of Flagstaff used to be the primary domain of Vortex seekers. But in the past few years Sedona has increasingly attracted serious athletes for its network of 100-plus hiking, running, and mountain bike trails. Take a sunrise six-mile run on the Big Loop-Llama Trail-Bell Rock ring around Courthouse Rock or a mountain bike ride on the 12-mile Slim Shady-Templeton-Baldwin loop. Follow either with a sunset six-mile round-trip hike to the saddle of Cathedral Rock from the North Bell Rock parking lot and you'll be an instant convert.  Rest assured that you've ticked off roughly five percent of what's out there.
At the end of the day vegans can go nuts with the 100-percent natural vegetarian menu at Chocolate Tree and its fully loaded case of—what else—chocolate made from raw Ecuadorian cacao. For a romantic splurge, make a reservation in advance to dine creekside at L'Auberge de Sedona. While you're at it, book one of the creekside cottages, where you can rinse off the red dirt in an outdoor cedar shower, then build a fire inside ($450 per night).
Lead Photo: Anthony Quintano/Flickr
Trending on Outside Online