Weekend Escapes Under $500
Now you have no excuse not to get out and explore this summer.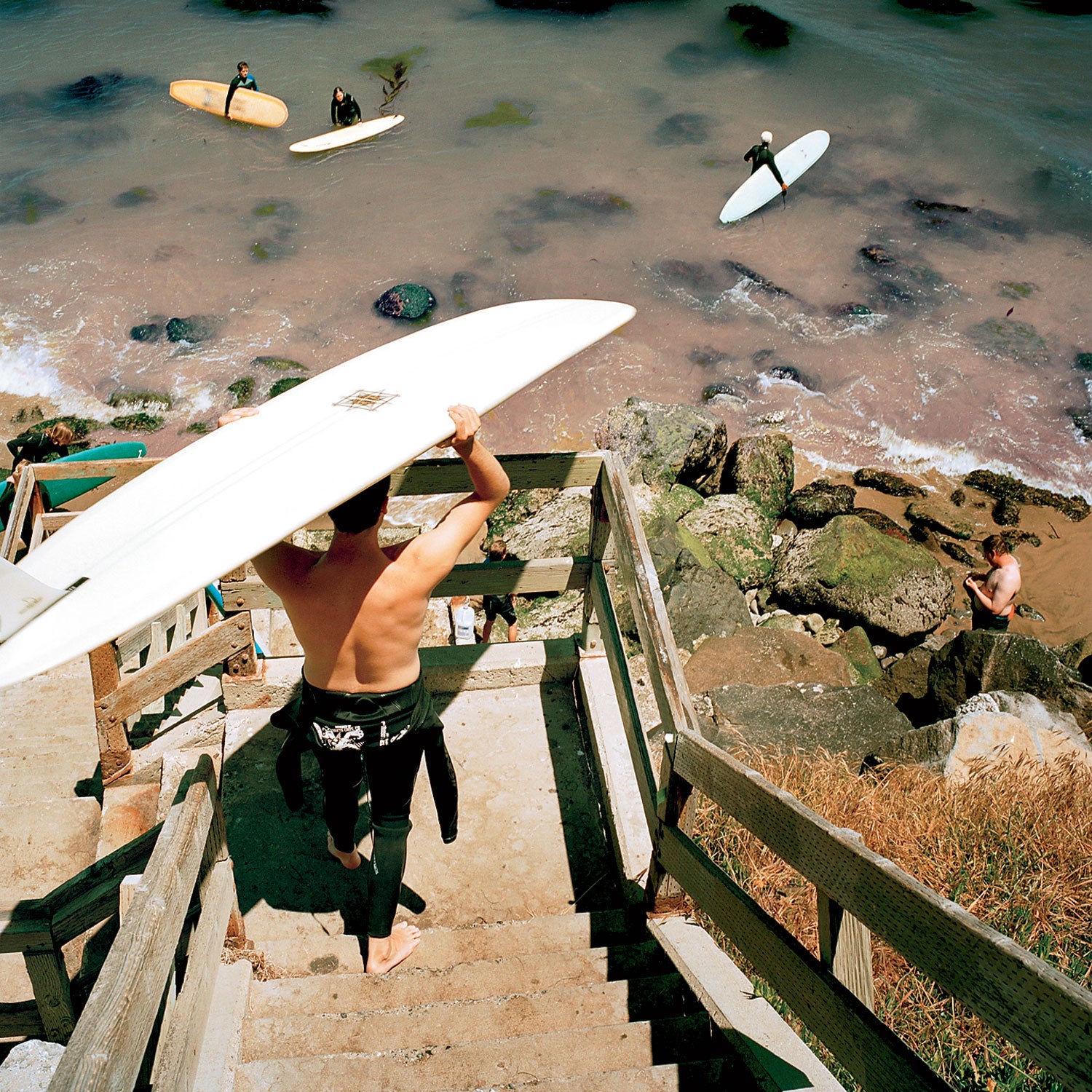 Brown Cannon III(Photo)
Heading out the door? Read this article on the new Outside+ app available now on iOS devices for members! Download the app.
Summer is not negotiable, especially when you can still afford to spend a long weekend running a river, climbing a mountain, or learning to sail. We crafted 15 DIY getaways, all for less than $500.* These are offers you can't refuse.
* Airfare, gas, incidental gambling expenses, and famous travel partners not included
Riviera Roulette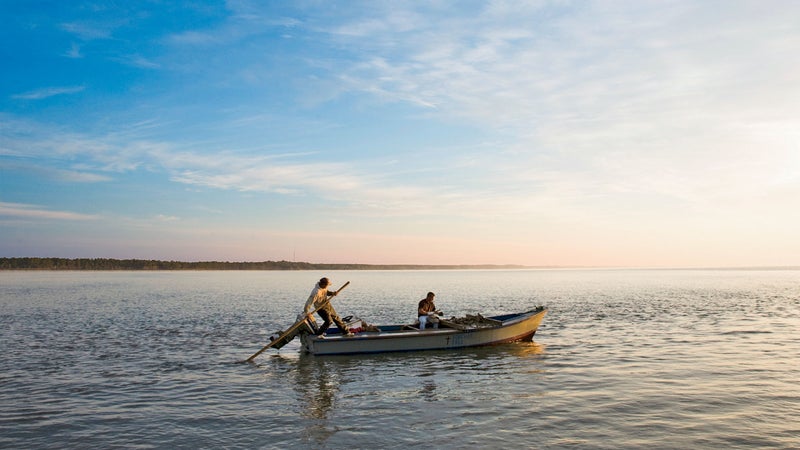 Betting the Farm on the Gulf Coast
In local vernacular, the 400-mile stretch of barrier islands and antebellum traditions between New Orleans and Tallahassee is affectionately referred to as the Redneck Riviera. The name alone made me think $500 would easily sustain a three-day road trip—my only goals were to consume as much shellfish as possible and catch a few redfish. Plus my buddy Mace, a Tallahassee native, has a black belt in budget travel.
Now, 36 hours and 320 miles in, I'm contemplating calling Outside HQ to ask for more bread. The ugly budgeting started where so many trips go wrong—on Bourbon Street, where we downed four sazeracs and consumed two dozen oysters. Then there were the ten pounds of crawfish in Ocean Springs, Mississippi, and a night of bushwhackers at the legendary Flora-Bama bar, near Pensacola. Even some good fortune at a Biloxi, Mississippi, roulette table—one bet on black and we walked out $20 richer—didn't bail us out.
"We're screwed," I say over bad doughnuts and worse coffee in Panama City.
"Well then," Mace says. "Time to go fishing." So we do.
A friend, Breck, has agreed to meet us on St. George Island for some redfishing. The 28-mile-long barrier island was sliced in half in the fifties by the Army Corps of Engineers, and the Cut, as the locals call the channel in between, is full of barnacled jetty rocks and teeming with big, ugly redfish. With Breck piloting his 17-foot Montauk, Mace pulls in two keepers; me, nothing. I head to nearby Eastpoint to buy a cooler full of salty Apalachicola Bay oysters, and that night, camping at St. George Island State Park, we eat ourselves sick.
The next morning, Mace catches fish. Breck catches fish. I catch the bottom. On the penultimate pass, Mace hooks a 30-incher and hands me the rod. Rather than punch him, I reel it up in silence. On our final drift, I feel a tug and yank my rod up; it bends in half. Twenty minutes later, a 37-inch bull red rolls to the surface and we pull it aboard for pictures—bragging rights for the year. When we arrive in Tallahassee that night, I realize we've somehow come in under budget, so we blow the remaining money on cheap beer to use as bartering chips for grilled oysters at a cookout we find. Fishing is good like that. Especially when your buddy owns the boat.
Expense Report: Three-day car rental: $232. Miscellaneous calories from boiled peanuts, shellfish, and cocktails: $83. One night at the Passport Inn (850-769-2101), in Panama City: $69. Campsite: $20. Fishing licenses: $34. Bait: $11. Total, with boat-owning buddy: $449. If you don't have a boat, rent a $60 kayak on St. George Island (sgislandjourneys.com) and paddle on the mainland side of the island to the far end of the Cut, where you can fish from shore. Avoid going in the red by betting on black (+$20). Total: $449
-Ryan Krogh
Go Crusoe
Channel Islands National Park, California
Where else can you snorkel and dive in starfish-rich kelp forests within spitting distance of both Santa Barbara and Los Angeles? Your starting block: Ventura, home to Island Packers' ferry launch. Your destination: Santa Cruz, the largest and wildest of the islands—76 percent is Nature Conservancy–owned. Bring snorkeling or dive gear (or rent at Ventura's Peace Dive Boat), set up camp at Scorpion Landing, on the island's eastern tip, pull on your fins, and drift to nearby Little Scorpion Cove, a complex of kelp forests plied by sea lions. Next morning: Repeat the snorkeling part.
Expense Report: Ferry (islandpackers.com): $128 round-trip for two. Campsite (reserve at recreation.gov): $30 for two nights. Camp food (bagels, avocado, cheese): $15. Two-day gear rental for two (805-650-3483): $160 (snorkel) or $300 (scuba). Mahi-mahi dinner at Ventura's Spinnaker Seafood Broiler (805-658-6200): $45. A night at Ventura's Bella Maggiore (800-523-8479): $110. Total: $488 (with snorkel)
Super Soaker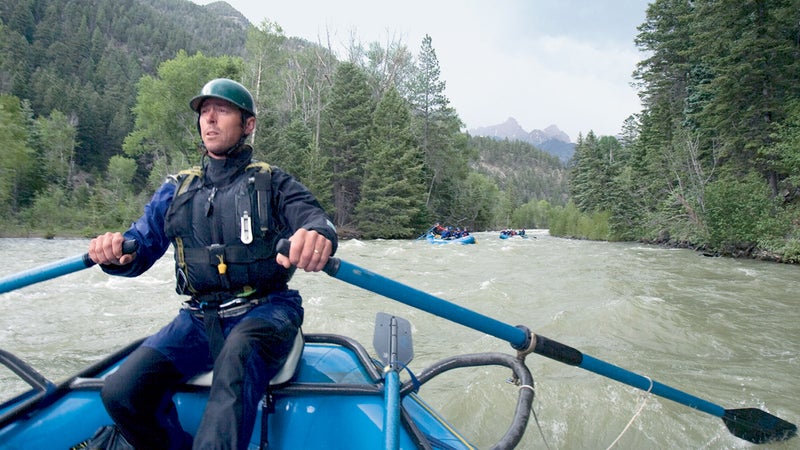 A jaunt through the meanest whitewater in Colorado
Even though I know we're probably not going to run it, my heart rate still skitters when we land our rafts above No Name Rapid, the most infamous Class V stretch of water on the trip. It's mid-June, and the Upper Animas is raging. A rockslide has changed the configuration of No Name, and it looks sticky. If there's a spot where the river is going to live up to its Spanish moniker, Rio de las Animas Perdidas ("River of Lost Souls"), this is it. We walk around.
Not that the rest of the river is that much mellower. This 28-mile stretch of the Upper Animas is one of the longest commercially run Class IV–V trips in the country. In other words, if like me you've been on other raft trips and wished the rapids were either bigger, longer, or both, you'll love it. Toward the end of what's known as Jerry's rapid, a two-mile stretch of nonstop Class IV water, I'm cackling uncontrollably. Whitman would be proud.
As ripping as the whitewater is, it's just one part of this two-day trip's appeal. Starting at 9,100 feet in the funky old mining town of Silverton, the Animas bisects the largest wilderness area in Colorado (the Weminuche) and cuts through the Needle Mountains, some of the toothiest in the state. Then there's the train. Silver and gold miners began prospecting in this rugged valley in the late 19th century, and the most impressive fruit of their labor, a coal-and-steam-powered locomotive, still ferries tourists along the narrow-gauge tracks between Silverton and Durango. The effect is surreal: If you think the sound of whitewater is loud, wait until the train blasts its horn a few feet from the river. At the take-out, you've got a choice: Hike an hour and a half to the pickup spot or, for an extra 79 bucks, hop aboard. I suggest the train, as it's the only way to get a glimpse of Rockwood Gorge. The rapids you just descended were fierce, sure, but they're nothing compared with the view to the bottom of this steep-walled canyon. Besides, once you're on board, there's beer.
Expense Report: Two-day trip with Mountain Waters (May 15–August 15; durangorafting.com): $375. Train shuttle from Tacoma to Durango: $79. Beer: $8. Total: $462 
-Sam Moulton
Southern Trawl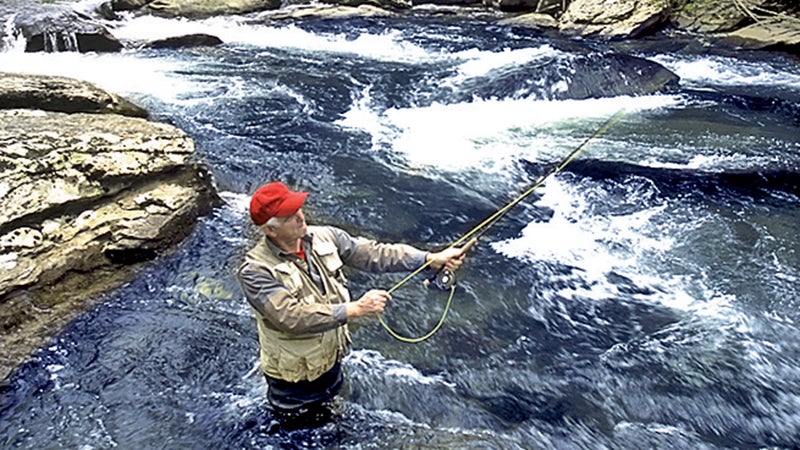 Tellico River, Tennessee
At around 55 miles, the Tellico is one of the longest free-flowing trout streams east of the Rockies, and a good angler can pull 20 trout per day from its deep runs. Your access key: a guided trip with Reliance-based Southeastern Anglers. Book two nights at Donley Cabin, a rustic Civil War–era draft-dodger hideaway in Cherokee National Forest: no electricity, just a table, chairs, and whiskey. Meet your guide 30 minutes away in Tellico Plains, then drive five miles into the river basin, where you'll flick dry flies into tributaries teeming with eager 12-inchers.
Expense Report: Guided day trip for two (southeasternanglers.com): $350. Two nights in the cabin (reserve through National Recreation Reservation Service, 877-444-6777): $70. Gentleman Jack: $24. Cabin groceries for two: $25. Two-pound burgers at Prospectors restaurant, in Tellico Plains (423-253-6887): free if you can eat them in 20 minutes. Total: $469
Off the Beach
Having It Both Ways in Santa Cruz
Geographically, small towns don't get prettier than Santa Cruz: Redwood-covered mountains stand in the background, and world-class waves break out front. Demographically, they don't get weirder, with crunchy college kids, territorial pro surfers, and Silicon Valley execs all vying for their own overpriced plot of paradise. Santa Cruz isn't so much a melting pot as it is a pouch of heavily spiced trail mix, and with a few well-spent shekels it's easy to taste the best parts.
On a Friday afternoon this spring I set off with my friend Brian to drive south from San Francisco to Big Basin Redwoods State Park, ground zero for the patchouli crowd. Following an eight-mile creekside hike, we arrived at our campground just after dark. Our Ambien was rehydrated chili mac and Bushmills. Our only neighbors: a stand of towering old-growth redwoods.
The next day I met my girlfriend, Jane, in Santa Cruz's sister town, Capitola. My fiscal restraint in the trees allowed us to check in to the Inn at Depot Hill, a dapper 12-room joint a few blocks from the beach. We could smell the Pacific from our outdoor hot tub.
Here's the other thing about Santa Cruz: The food is Alice Waters good, but it comes with the sort of complimentary entertainment you won't find in Berkeley. Our dinner spot, Caffe Lucio, was named after its owner, a dead ringer for Albert Einstein—if Einstein wore a HALF MAN HALF HORSE T-shirt and glad-handed patrons like Bill Clinton at a cheerleader convention. A 50 Cent/Bee Gees mash-up boomed, and a strobe light illuminated the restaurant. In the open kitchen, one of the cooks prepared excellent crab cannelloni wearing a lucha libre mask.
Afterwards, I was tempted by a big night out with the bro-brahs at the Catalyst bar, but the prospect of the next day's surf reined me in. The morning rewarded me with fun, empty two-foot waves at La Selva Beach, 15 minutes south of Capitola. As I bobbed in the ocean, calculating how little each of these waves actually cost me, I realized that I should do this more often.
Expense Report: Campground (bigba­sin.org): $10. Dehydrated chili mac: $15. Bushmills: $23. Night at Inn at Depot Hill (inn­at­depothill.com): $285. Dinner at Caffe Lucio (caffelucio.com): $108. Breakfast at Harbor Cafe (harborcafesantacruz.com): $33. Ride on the Giant Dipper roller coaster at the boardwalk (beachboardwalk.com): $9 for two. Burritos with the best salsa in town at De la Hacienda (831-427-2200): $15. Total: $498
-Thayer Walker
The Long Paddle
Johnson, Vermont
Canoeing through Vermont affords you Long Trail views without the backpack sweat. Plus you can pack a cooler. Rent a boat at Burlington's Canoe Imports and drive 45 minutes north to the put-in at Ithiel Falls, on the Lamoille River. Then slow-boat it for eight miles, ogling Mount Mansfield, chatting with the artists on the shore, and stopping for a visit with the dreadlocks-and-NASCAR crowd at the riverside Long Trail Tavern. Crash in Jeffersonville at the Smugglers Notch Inn, within walking distance of the river. Day two involves eight more miles of paddling to the take-out at Fairfax Dam. (Hint: You can take two cars for your shuttle, but hitchhiking is encouraged here.)
Expense Report: Canoe rental (canoeimports.com): $90. Case of Pabst Blue Ribbon in cans: $20. One night at Smuggler's Notch Inn (smuggsinn.com): $90. Risotto and wine for two at Stella Notte, in Jeffersonville (802-644-8884): $60. Breakfast at 158 Main, in Jeffersonville (158main.com): $20. Local Rosie's beef jerky, for the water: $20. Total: $300
Silence and Singletrack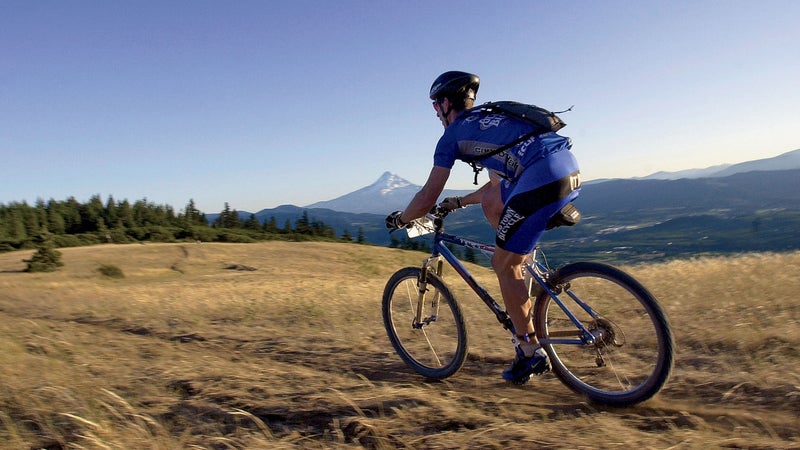 Mount Hood National Forest, Oregon
Bike-mad Portland isn't just prime cyclocross and road-riding territory. Beyond the city limits, killer singletrack abounds. Tops on our list? Mount Hood, the sprawling, 11,249-foot sleeping volcano just an hour outside town. Circumnavigate the big guy on a four-day hut-to-hut trip starting in Hood River. Days are spent covering up to 40 miles of singletrack and logging roads in the million-acre Mount Hood National Forest and gawking at the views of Hood, Adams, St. Helens, and, on a clear day, Rainier. Your digs, courtesy of the Cascade Huts system, are rustic cabins in the forest. The huts are stocked with pasta, plus sleeping pads and bags (tip: bring a liner). By the time you reach Hood River again, you'll be ready for some smooth road riding—and a burger and beer at the Full Sail Pub.
Expense Report: Huts (cascadehuts.com): $300, including food. A dozen Clif Bars: $15. Two Crater Lake burgers and four amber ales (fullsailbrewing.com): $40. Total: $355
Border Songs
Ramsey Canyon, Arizona
Ninety minutes southeast of Tucson, and only ten miles from the Mexican border, Ramsey Canyon is a 380-acre high-desert oasis run by the Nature Conservancy. At 5,500 feet in the Huachuca Mountains, this "sky island" is the only U.S. habitat for several species of Mexican hummingbirds, including the metallic-green berylline. Come in July or August, when the monsoons roll in every afternoon, to see the birds dive-bombing the sycamores and piñons. Get an early check-in at the stately, hacienda-style Casa de San Pedro B&B, six miles from the preserve, and hike or mountain-bike along the San Pedro River before driving 15 miles east to artsy Bisbee for decidedly nonlocal lobster ravioli at Café Roka.
Expense Report: Two nights at Casa de San Pedro(bedandbirds.com): $320. Mountain-bike rentals for two (sunnspokes.com): $40 per day. Two takeout lunches from Buzz Breads, in Sierra Vista (520-459-0010): $18. Dinner for two at Café Roka, with bottle of Klinker Brick zinfandel (caferoka.com): $90. Total: $468
Rocky Mountain Recession Special
Vail, Colorado
You probably know Vail as a sprawling ski resort with a surplus of fur. But in summer the town transforms into an affordable multi­sport epicenter, thanks to steep off-season discounts in glitzy hotels. Take the Mountain Haus, which hacks its prices from $415 to $176. On Saturday, ride the gondola up Vail Mountain to charge on 50 miles of singletrack (bring your own bike). Catch the 10 A.M. gondola to beat afternoon thunderstorms. When the rains come, gorge on a 14-inch "Recession Buster" sub at La Bottega. The next day, downshift and stroll the farmers' market. Highlight: the $7 brat at the Alpenrose Too restaurant's stand.
Expense Report: Two nights at the Mountain Haus (mountainhaus.com): $352. Two breakfast sandwiches at Loaded Joe's Coffeehouse (970-479-2883): $12. Two gondola passes: $50. Two Recession Buster subs (labottegavail.com): $20. Two brats (970-476-8899): $14. Total: $448
Coast Clearer
Outer Banks, North Carolina
These 175 miles of coastal sandbar islands can be spendy and busy. But there's a way to avoid crowds and still get into some of the East Coast's best surf. Go south from Pea Island to the one-gas-station town of Frisco and book a cabin at Frisco Woods campground. Rent a shortboard at Natural Art Surf Shop, five miles north, and head toward the Historic Cape Hatteras Lighthouse—the tallest in the country. Work up a sweat climbing 248 stairs for endless Atlantic views. Then, as the tide rolls in, paddle out to consistent four-footers. Day two: Hike through 970-acre Buxton Woods Coastal Reserve, two miles from Frisco. Afterwards, head to Hatteras, grab a barstool at Dirty Dick's Crabhouse, and get into some steamed hardshell crab (dirtydickscrabs.com—yes, that's the Web site).
Expense Report: Two nights at a cabin (252-995-5208): $162. Board and wetsuit rentals for two (252-995-5682): $30. Two shrimp baskets and two flounder sandwiches at the Hatterasman (thehatterasman.com): $35. Lighthouse tour for two: $14. Crab dinner for two: $65. Total: $306
Take the Over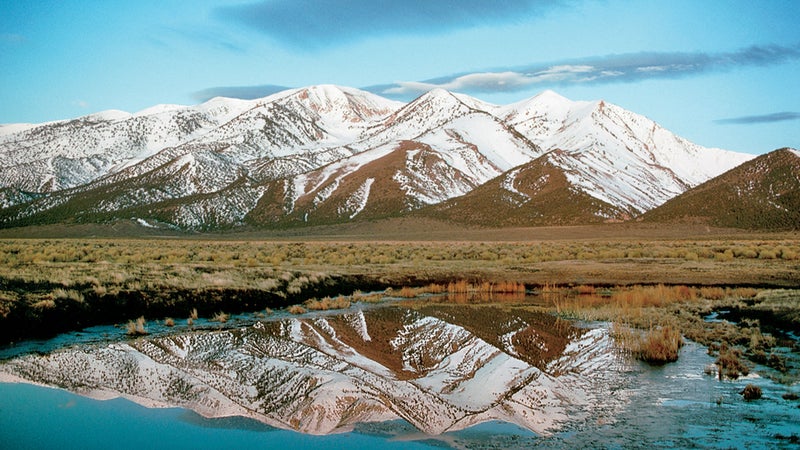 Ruby Mountains, Nevada
Nevada's true wild side does not involve legal brothels or Area 51. Head some five hours northeast of Reno into the Ruby Mountains and you'll see. Shoot for a three-day, 40-mile through-hike on the Ruby Crest Trail. Leave the car at Roads End, in Lamoille Canyon, and hike south toward the granite peaks. Don't bother getting a permit; so few people visit, they're not required. Which means you'll want to stop for trail info at the Ruby Mountains Ranger District (775-752-3357). Hire a shuttle from Coach America Elko to get back to your car later on. Night one: Crash anywhere. Night two: Stay at the granite-rimmed Overland Lake. Tip: Bring a coat—nights get chilly at 9,450 feet—and pack a four-piece fly rod: Brook trout populate four lakes you'll pass. Another tip: Break up the shuttle ride back with smoked ribs at the Pine Lodge, in Lamoille.
Expense Report: Woolly buggers from the Elko Fly Shop (775-738-3950) and two three-day fishing licenses from C-A-L Ranch Shop, in Elko (775-753-7000): $45. Alpine Aire camp food (alpineaire.com): $32 for four dinners—try the beef rotini. Speyburn Scotch: $30. Shuttle (775-777-9309): $220. Two rib dinners (775-753-6363): $40. One night in Deeth's Tent Mountain Guest Ranch (tentmountainguest­ranch.com): $105. Total: $472
Blame It on the Rain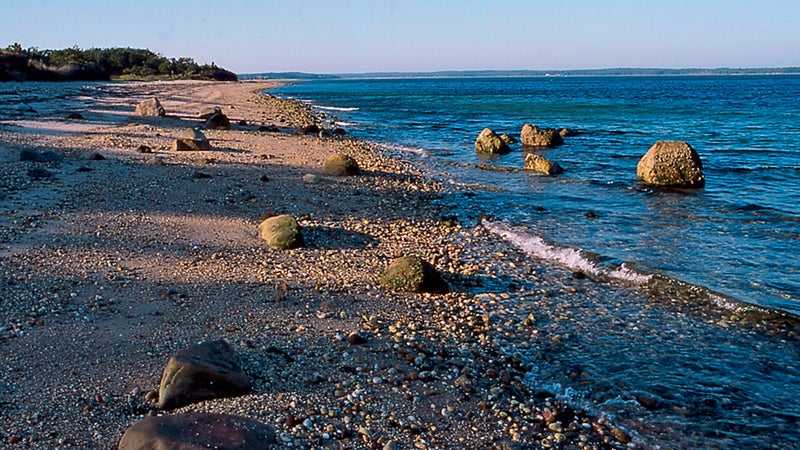 Fear and expectations on Shelter Island
"I'm going to bring you down to the pregnancy level," my wife, Leslie, told me, turning off NPR as we idled in Long Island traffic. I had no idea what she meant, but it didn't sound good. Nor did the forecast: rain, rain, rain. So we'd be spending our last pre-baby adventure holed up inside. Reading. Sigh. Two months later, we'd be Mommy and Daddy. How would we escape then?
At least the trip would be cheap, thanks mostly to the Chequit Inn, which has simple rooms for as little as $90. Plus there was the ferry, the only way to get to Shelter Island and a way to leave behind the sort of people who think, What if something happens at 4 A.M. and I need to go home?
We'd packed our usuals. Me: bike, kayaking gear. Her: books, camera. Saturday began cloudy but dry, with Leslie reading in bed and me pedaling a 25-mile loop. There were real hills (which I didn't expect), holy-crap seaside homes (which I did), osprey nests, and a maze of creeks, ponds, and bays. I got lost and had to crank back to make the free continental breakfast.
At 11 A.M., Leslie dropped me off to meet Jay Damuck, the fifty-something owner of Shelter Island Kayaks, and took her belly and camera to Bootleggers Beach, where she befriended a pair of swans. Damuck unfolded a map of the amoeba-shaped island and pointed out the best of many protected coves. We launched in Coecles Harbor, where Damuck helped establish a water trail. "It stays empty all summer long," he promised as we cruised along the undeveloped shores of the 2,100-acre Mashomack Preserve.
Over lobster that night, Leslie clicked me through her photos of the mirrored water as I tried to will away the impending rain. One more ride would be so nice.
The storm hit at 3 A.M. and we slept in and I woke up ready to do nothing. But instead we drove to a beach to stare into the teeth of the wind and, later, walked into Mashomack, where the frogs cheered the downpour. We had our best meal of the weekend at Mark It with G, a cozy place that specializes in macaroons.
So the expecting was the hard part. You can do a lot in the rain.
Expense Report: Round-trip ferry (northferry.com): $22. First-night steamers at the Dory (doryrestaurant.com): $47. Two nights at the Chequit (shelterisland­inns.com/chequit): $210. Rentals from Shelter Island Kayaks (kayaksi.com): $60. Takeout lunch somewhere: $25. Lobster dinner at Two Ed's (631-749-0261): $59. Lunch at Mark It with G (markitwithg.com), plus sweets to go: $52. Total: $475
Climbing the Cheese
Devil's Lake State Park, Wisconsin
Centered around an ancient glacier-scoured valley, this 10,000-acre park lies roughly 3.5 hours from both Minneapolis and Chicago, which means crowds in summer. But most activity revolves around the 360-acre lake, leaving some of the Midwest's best bouldering and trad climbing free for the taking. Skip the east bluff of the lake, which attracts the most climbers, and hike half a mile up the West Bluff Trail from the park headquarters. The wall below is home to more than a dozen 5.4-plus routes, the most challenging area being Prospect Point Rampart, a 100-foot quartzite cliff. Top roping is the norm, so it's perfect for all abilities, and the Chicago Mountaineering Club, which has an outpost in the park during the summer, offers free group climbs (cmcwebsite.org).
Expense Report: Two nights at the Thunder Valley Bed and Breakfast, in nearby Wisconsin Dells (thundervalleyinn.com): $200. Parking in Devil's Lake State Park: $20 for two days. Two BLT sandwiches at Café 106, in Baraboo (javacafebaraboo.com): $14. Two burgers and two beers at Baraboo's Monk's Bar and Grill (monksbarandgrill.com): $20. Two pasta dinners at the High Rock Café, in Wisconsin Dells (highrockcafe.com): $30. Total: $284
Fly Away
Pine Bush, New York
The Hudson Valley is a hang-gliding mecca, attracting practitioners from Brazil to Turkey. It's also the perfect place for solo immersion therapy (gliding is a lonely sport). Learn the ropes with Fly High Hang Gliding, in Pine Bush. You'll spend two days turning 20 feet above a training hill and planning a future flight from 1,000-foot launch points in the Catskills. Post-class, get a pilot's discount at the Catskill Mountain House, 30 miles away in Napanoch.
Expense Report: Two-day lesson: $300 (flyhighhg.com). Night at the Catskill Mountain House (catskillmountainhouse.com): $120. Sole dinner at the White Wolf, in Napanoch (845-647-4200): $25. Two turkey subs at Peter's Market, in Napanoch (845-647-6990): $12. Total: $457
Lead Photo: Brown Cannon III