You're Grounded
But you don't have to be. Navigate the increasingly unfriendly skies with our layover-free guide to all things air travel—starting with the most pressing question of all.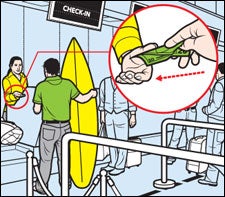 Heading out the door? Read this article on the new Outside+ app available now on iOS devices for members! Download the app.
Why is flying so miserable?
Easy Air Travel

Easy Air Travel

Easy Air Travel

Easy Air Travel

Easy Air Travel
Easy Air Travel

Everyone knows that the glamorous days when flying was a part of your vacation have vanished but the reasons for this sad state of affairs are surprisingly complicated. The quick version goes like this: The Federal Aviation Administration (FAA) has done a spectacularly poor job of managing our air-traffic-control (ATC) system, causing record-setting delays. Meanwhile, you can blame your wooden food and cramped knees on the penny-pinching airlines. Not a good-enough answer? We didn't think so, either. So we put together these 20 burning questions and then asked the experts.
What are pilots not telling you?
Surprising secrets from Captain Joe Burns, 46, a Denver-based United pilot
1. Psst you can keep your cell on. Any one cell phone is not going to do anything to the aircraft. The problem is when you have a bunch together. We have such a wide variety of frequencies from VOR navigation [VHF Omnidirectional Range] to GPS. We want to minimize the chance of any interference.
2. The air's not so bad. We have HEPA filters on the aircraft. People worry about catching colds on airplanes. But that's probably the purest air people breathe in their lives.
3. They do take naps. You're supposed to be at the controls for no more than eight hours at a time, and our international aircraft have bunkhouses up front.
as told to Michael Behar
How do I score the best seat?
Tips from Matt Daimler, founder of SeatGuru.com, which tracks seats on some 275 planes
1. HAVE A PLAN.
"Stick to the traditional strategy of picking exit rows," says Daimler. If you can't score the exit, stay away from engines (noise) and sit near the front, preferably in the bulkhead (the seats behind cabin separators, which generally offer NBA-friendly legroom). If you're first off, you're the first to arrive at customs, baggage claim, or the taxi line.
2. CHECK IN ONLINE.
"Most exit rows and bulkheads are held back until the day of the flight," says Daimler. "If you check in online as early as theairline allows, they treat it like you're standing at the counter, and you have access to the best seats hours before the lines form."
3. DON'T BE FOOLED.
Beware exit-row seats that don't recline. Typically, these are the seats with their backs to the exit row. If there are twoexit rows available back to back, book the rear one. Chances are, you'll end up with a fully reclining exit-row seat with lots of legroom like, for instance, seats 16A through 16F on all United 757 jets. You also want to avoid the windowless "window" seats, which are usually found just in front of the wing. Before you book your seat, vet it with SeatGuru.com; the site will probably tell you what you're plopping yourself into.
Tim Sohn
How can I beat the frequent-flier Nazis?
Sound advice from Randy Petersen, founder of the frequent-flier magazine InsideFlyer (insideflyer.com) and proud owner of 12 million miles
1. NEVER USE MILES for any ticket you can buy for less than $200.
2. EARN WITHOUT FLYING. Sixty percent of all miles are not earned by flying. For example, American's AAdvantage program will let you earn points by eating at thousands of restaurants (up to five miles per dollar), joining Netflix (1,500-mile bonus), or giving to the National Parks Foundation (ten miles per dollar for donations exceeding $100).
3. DON'T WASTE POINTS on a domestic first-class upgrade.
4. DON'T LET YOUR MILES DIE. In some programs, dormant accounts will wipe out miles. Fortunately, a little shopping with a retail partner like Home Depot will usually keep the account active.
Tim Sohn
What happened to the air-taxi revolution?
It's still five years away, at best. The notion of hopping into your personal flying SUV for a weekend trip got a lot of buzz starting in 2005, when NASA sponsored a personal-aircraft-design competition. But the prices of such planes remain prohibitively high, and with the economy slowing down, demand for these "very light jets" has flagged. New Mexico based Eclipse Aviation, which began delivering six-passenger jets last year for $1.6 million a pop, has struggled to stay afloat. But on-demand air travel is taking wings elsewhere. In the past year, several regional carriers, like DayJet and BlueSky Taxi, have begun offering personalized service for short-haul trips like Tampa to Boca and Chicago to St. Louis. You name the time and book a seat on a private flight, paying by either the hour (about $500) or the mile (about $3). For more information, visit atxa.com .
Claire Martin
How can I ace security?
1. PACK WITH CARE. Your electronics should sit cleanly in one layer in your bag. "A tangle of wires can get you a bag check," says Transportation Security Administration spokesman Christopher White. Store valuables in your carry-on, so they don't sit exposed on the conveyor belt.
2. CHECK YOUR METAL. Detectors are set off by an aggregate amount of metal, so a quarter in your pocket isn't going to put you in the beep zone, but a western snap shirt combined with enough foil gum wrappers could.
3. MANAGE YOUR BINS. Put your coat and shoes in the first bin. Use the last bin for your laptop so it's closest to you when you pass through the metal detector.
4. OR SKIP THE LINE with Clear, a new members-only, security-line-hopping pass. You go through a security check when you apply for the pass, pay $128 per year, then breeze through exclusive security lanes at airports like JFK and Denver(flyclear.com).
Tim Sohn
How should I book my ticket?
1. BUY IN ADVANCE. The first rule of travel still stands. Worried that you'll get screwed by last-minute fare drops? Many airlines, like US Airways and United, have a guaranteed-airfare rule, which entitles you to a travel voucher if a lower fare becomes available.
2. Fly between 9 A.M. AND 3 P.M. "Security lines are shortest in the middle of the day, when business travelers are at work," says Ann Davis, spokeswoman for the Transportation Security Administration. And Saturday is the slowest air-travel day of the week.
3. GO DIRECT. In case you haven't noticed, missed connections are becoming more common. If you have to connect, make sure you have at least a two-hour layover.
4. FLY ON CHRISTMAS OR THANKSGIVING. "The actual holiday is the one day during the peak season when it's going to be easier," says Todd Curtis, founder of the air-travel-statistics Web site AirSafe.com and a former safety analyst at Boeing.
5. USE SMALL AIRPORTS. Flights leave less frequently, but the security lines are shorter and delays are less likely.
Rachel Bertsche
What are the safest and most dangerous jets in the air today?
1. BOEING 777
Airlines like Continental, Delta, and United have flown this long-haul jet on more than three and a half million flights with no fatal crashes. An advanced wing design allows the 777 to fly higher than other jets, and the plane's landing gear the largest ever incorporated into a commercial aircraft gives it greater stability and maneuverability on runways and taxi areas.
2. AIRBUS A340
The Airbus's four engines (versus the standard two) allow it to fly extended routes with little risk of engine failure. Commercial pilots have used the jet since 2003 with no fatal crashes. The A340's only major nonfatal close call occurred in 2005, when an Air France flight from Paris to Toronto landed during a thunderstorm, careered off the runway, and burst into flames.
3. FOKKER F28
A short-range, Dutch-engineered jet flown by small foreign airlines, the Fokker has been involved in 21 fatal crashes since 1972. These dinosaurs were built starting in 1964, and at last count 160 were still in service. U.S. carriers don't fly them, but if you're on a chartered flight in Indonesia, Nigeria, or Peru where an out-of-control Fokker killed 42 passengers in 2003 look out.
4. TUPOLEV TU-154
Flown in Iran, China, and Russia, the Soviet-built TU-154 is a medium-range jet that's averaged more than one fatal event per year since 1990. The most recent spill occurred in August 2006, when a Tupolev flown by the Russian airline Pulkovo crashed while en route to St. Petersburg, killing all 160 passengers. NATO's code name for the Tupolev: "Careless."
C.M.
How do you beat fear of flying?
For the 30 million Americans who live with aerophobia, boarding a plane is like walking the plank. I know. I've asked strangers to hold my hand at 20,000 feet, and I've caused flight delays by bolting for the door before takeoff.
Here's what didn't fix my problem:
REVIEWING THE STATISTICS. I don't care if flying is about 20 times safer than driving. Phobias are irrational fears, remember?
ANXIETY MEDS LIKE ATIVAN. I still begged to get off the plane; I just slurred my words as I did it.
EMDR (eye-movement desensitization and reprocessing). The concept: My brain would reprocess my fears if I talked about them while a therapist zigzagged his fingers in front of my eyes. The reality: What do you think?
And here's what did:
HYPNOTHERAPY. I relaxed in a La-Z-Boy while surrounded by New Age music, flashing lights, and the voice of a therapist saying happy things about flying. Three sessions later don't ask me how I was ready to fly.
DIANNA DELLING
What happened to "free flight"?
Free flight the notion that commercial pilots should pick their own routes to save fuel and shorten travel times has been dying a slow death at the hands of the FAA, overseers of air-traffic control. The idea, first brought before Congress in 1994, is enchantingly simple: Pilots would fly the routes of their choosing and change those routes when necessary to avoid other planes. "Today, I have all the navigation capability I need to fly the way I want, anywhere I want," says R. Michael Baiada, 58, a captain for United Airlines. But pilots have to do the bidding of ATC, and the low-tech system corrals aircraft into indirect, congested routes. Michael Boyd, an aviation consultant who's testified before Congress on the subject of free flight, says ATC uses just 3 percent of available U.S. airspace. And because ATC's technology is so out of date, controllers separate planes at great distances imagine the traffic jam that would ensue if cars on an interstate had to stay 100 yards apart. Boyd estimates that free flight could be implemented for less than $5 billion and be operational within three years. The system would free up more controllers to monitor takeoffs and landings, which would ease the congestion at major airports. But don't expect to see freeflight soon. Instead, the FAA is hard at work on its NextGen system, a $15 billion technology update that should be ready sometime around 2025.
M.B.
What happened to glamorous flight attendants?
Nothing. They're all beautiful, especially when they're beaming down at you from the booze cart. But we know what you mean. In the U.S., safety and practicality not to mention fair hiring practices have ushered out the days when airlines shamelessly sold sex appeal and designers like Ralph Lauren put together outfits for TWA. That's probably a good thing. But some foreign airlines continue to care about style. Malaysia-based AirAsia's flight attendants sport fitted uniforms, while Singapore Airlines continues to market its glamorous "Singapore Girls." And, says Brian Finke, a photographer who spent two years working on his book Flight Attendants, Icelandair wins points because "the flight attendants still wear hats."
C.M.
Which is the least reliable airport in the country?
Newark Liberty, which is smaller than JFK and LaGuardia airports but absorbs runover from New York's two major hubs, suffered the most delayed arrivals in the U.S. last year (39% of all flights). Newark's average arrival delay (71.7 minutes) also ranked dead last among the country's 32 major airports.
Which is the most reliable airport in the country?
Salt Lake City wins the gold star with the fewest delayed departures (15% of all flights) and arrivals (19%) of any major airport, as well as the second-fewest cancellations (0.7% of all flights). Metropolitan Oakland had the shortest delays last year, averaging 41.8 minutes on departure and 45 minutes on arrival.
R.B.
SOURCE: Bureau of Transportation Statistics, January December 2007
What should I be flying?
Believe it or not, there are some airlines out there that allow you to live large in the skies. Here are the best seats available today. AMY MARR
1. JETBLUE'S COACH
The first 11 rows in JetBlue's Airbus A230 fleet feature 36 inches of legroom about five inches more than the average coach seat. LCD screens with free DirectTV make even long delays bearable. jetblue.com
2. VIRGIN AMERICA'S COACH
Each leather seat comes with a touch screen that doubles as an on-demand menu and satellite-equipped entertainment center; a virtual chat function allows you to hit on fellow passengers from rows away. virginamerica.com
3. SOUTH AFRICAN AIRWAYS' BUSINESS CLASS
The business-class seats on all of South African Airways' Airbus A340 aircraft recline to full flat-bed position (unlike the angled "lie-flat" seats you find on Air France). flysaa.com
4. VIRGIN ATLANTIC'S UPPER CLASS
Virgin Atlantic's first-class flat-bed is two-faced: The sitting side is covered in soft leather, while the sleeping side is constructed of firm, sleep-ready foam. virginatlantic.com
5. SINGAPORE AIRLINES' SUITES
The private rooms aboard Singapore's new Airbus A380 jets come with entertainment systems, beds cloaked in Givenchy linens, and chilled Dom Perignon. singaporeair.com
6. QATAR AIRWAYS' FIRST-CLASS LOUNGE
Plot your next corporate merger over a ten-course meal on Qatar Airways' Airbus A340-600. Caviar and lobster are highlights. Daily service to Berlin started in February. qatarairways.com
What can I do if my flight is delayed or canceled?
Most airlines will let you wait out delays indefinitely, without showing you any love, a snack, or payback. Two exceptions are United and JetBlue. United offers discount-travel vouchers to passengers stuck on the tarmac for more than four hours. After JetBlue canceled 1,000 flights in February 2007, the airline devised a compensation system: For delays up to two hours, you'll get a $25 flight voucher. After six hours you'll be given a voucher worth the value of your round-trip fare, so long as the delay wasn't weather-related. As far as cancellations go, fighting for the gate agent's attention will get you zilch, because mostairlines now use computerized rebooking systems. Your best bet? Learn to spot warning signs a deplaning crew for instance and call customer service, quickly. C.M.
How can I protect my toys?
Lately, airlines have been getting stingy about checking gear dinging you $85 each way, for example, to fly your surfboard from San Diego to Oahu. Here's how to beat the system.
SHIP: Texas-based Sports Express (sportsexpress.com) ships door-to-door, handles bikes of all sizes and surfboards under 7'3″, and guarantees on-time arrival in 21 countries.
HIDE: If you do check gear, use a nondescript coffin bag. If the ticket agent asks what's inside, avoid using red-flag words like "board" most airlines charge extra for surfboards even if they don't exceed the industry-standard 50-pound weight limit.
BRIBE: A workaround: Check curbside and tip well. A properly rewarded skycap $20 should do will usually wave your stuff through.
M.B.
Who's to blame for the record delays?
Look no further than the air-traffic-control tower we're headed for scary times if something isn't done to fix the frightfully understaffed ATC system. Bob Stalker, 50, retired last year after working as a controller for 25 years. His most recent post was at Denver TRACON, which guides 120 flights per hour into Denver International. "They should have 63 controllers at Denver Approach," says Stalker. "By the end of 2007, they were down to 37." When ATC is short-staffed, Stalker explains, controllers will simply stop planes from landing, causing massive delays on the tarmac. Trace the problem to 1981, when Ronald Reagan fired more than 11,000 striking controllers. The FAA rounded up replacements, and today many of those controllers are hitting retirement age (mandatory at 56). To make matters worse, the FAA has cut incoming controllers' pay. "We have a 15-year low in the number ofcertified controllers," says Alex Caldwell, a spokeswoman for the National Air Traffic Controllers Association. What happens next is anyone's guess. The FAA is clueless, and cash-strapped airlines aren't about to start dropping flights. "Within the next year, the delays are going to get so bad you won't believe it," says Stalker.
M.B.