The 35-Piece Ultimate Survival Kit
Prepare yourself for the worst with the smartest survival tools around.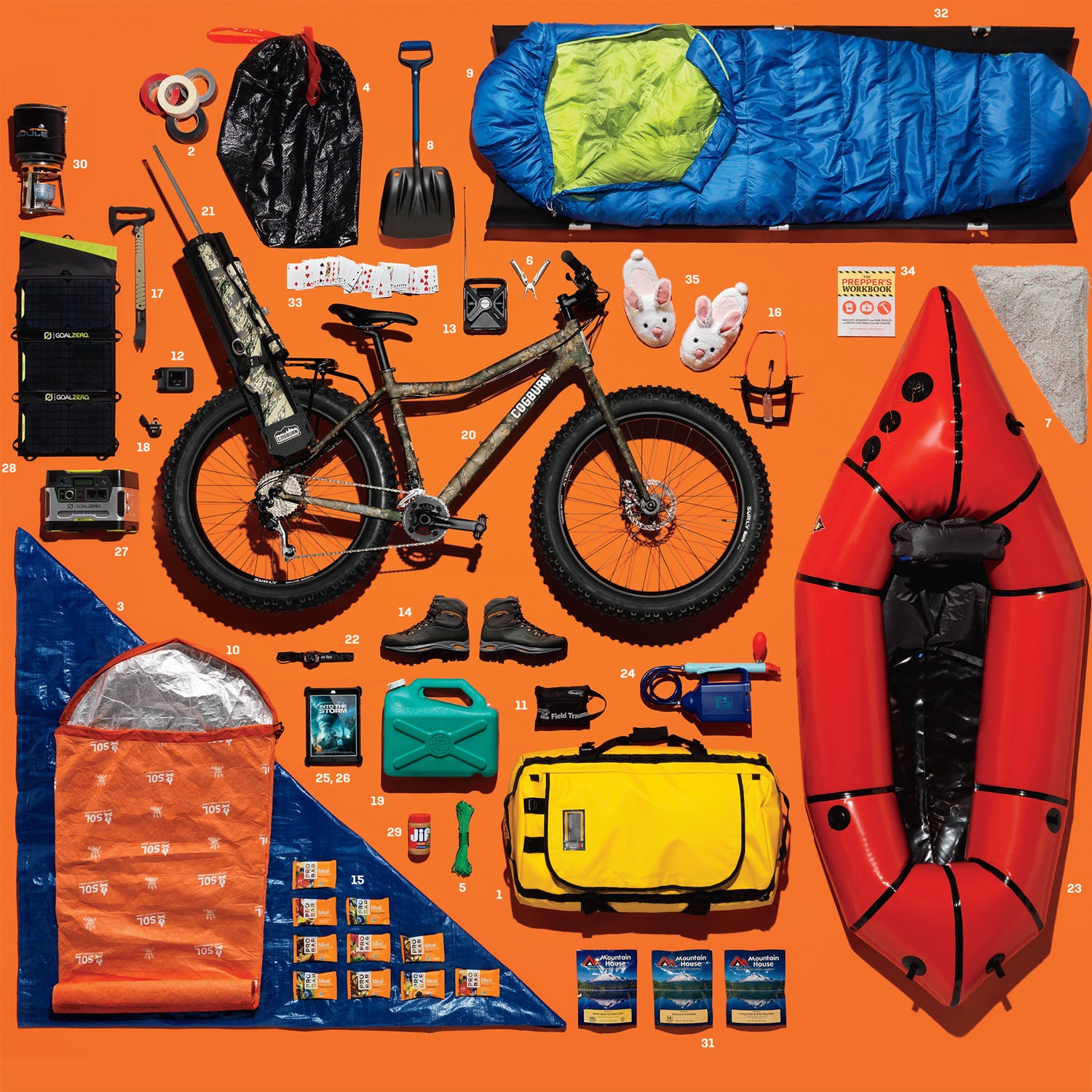 Jim Golden
Heading out the door? Read this article on the new Outside+ app available now on iOS devices for members! Download the app.
What's the price of safety? $9,340! Whether you're bugging out, sheltering in place, or just stocking up your bunker, these tools will help you ride out any emergency in style.
1. Pack the bomb-proof North Face Base Camp XL duffel with food, cash, batteries, and warm clothes, and stash it in your trunk. $170 
2. Duct tape. Seal doors and windows in the event of a chemical spill, or safely remove glass shards from broken windows. $5 
3. Outdoor Products 9.5-by-12-foot tarp. Use it as a shelter, a rain trap, and even a makeshift raft. $60
4. Trash bags. Stuff them with leaves to make a warm blanket. $8 for 25 
5. Strong synthetic rope. $7 for 50 feet of three-millimeter cord 
6. A multitool like the Leatherman Charge TTi is ideal for small repairs. $170
7. Kitty litter. Portable traction anywhere. $12 for 26 pounds
8. Black Diamond's Evac 7 shovel is light and compact but tough enough for heavy snow. $80 
9. The Sierra Designs Zissou 23 sleeping bag dries quickly and compresses into a 15-inch stuffsack. $230 
10. Stave off rain and cold with the Survive Outdoors Longer Escape Lite bivy sack. $40
11. The supercompact Adventure Medical Kits Tactical Field Trauma pack has all you need to stabilize fractures and dress wounds. $48
12. The Iridium Go gives you Wi-Fi and sat service anywhere on the planet. $875 (plus monthly subscription fee) 
13. For NOAA alerts, use solar energy (or the hand crank) to power the Etón FRX5 Weather Alert radio. A USB port charges your tablet or phone, and an integrated flashlight doubles as an emergency beacon. $130 
14. Keep a pair of lightweight hiking boots, like La Sportiva's Omega GTX, in your car. $240
15. Probars are among the very few nutrient-dense organic meal-replacement options that don't taste like rope. $36 for 12 
16. Fiber-optic sights and a 225-yard range make the Trumark FSX-2000 slingshot a handy deterrent and hunting tool. $25 
17. With its steel ax head, hammer, and pry bar, Gerber's Downrange tomahawk will bust down doors or cut firewood. $285
18. The Delta Stormproof lighter has a flame that can withstand 80-mile-per-hour winds. $60
19. Water. A three-gallon jug is another car essential. $14
20. If you have to evac by bike, Cogburn's CB4 fat bike has 3.8-inch-wide tires for all types of terrain and a rack-mounted scabbard for stashing a bow, rifle, or fishing rod. $1,899 (bike) and $130 (scabbard)
21. Even if civilization doesn't crumble, you might run out of food. A rifle like Kimber's Mountain Ascent .30-06 weighs just five pounds but is powerful enough for big game. $2,040
22. Princeton Tec's Apex rechargeable headlamp flashes a 275-lumen beam up to 390 feet. $149
23. Navigate your flooded neighborhood with the Alpacka pack raft, which deflates into a five-pound pouch. $783
24. The LifeStraw Family water purifier filters 12 liters an hour through hollow-fiber technology and is good for 18,000 liters. $76
25 and 26. Synced up to the Iridium Go (#12), an iPad Air is your portal to the functioning world. $500. Protect it from zombies and volcanic ash with the Otterbox Defender Series case. $100
27 and 28. Goal Zero's Yeti 400 solar generator charges your gadgets, and the foldable Nomad panels deliver 20 watts of power. $460 (charger) and $200 (panels)
29. Peanut butter. $12 for two 40-ounce jars
30. The ultralight and compact Jetboil Joule stove boils a quart of water in less than three minutes. $200
31. Load up on Mountain House food pouches. We like the Long Grain and Wild Rice Pilaf. $7 each
32. Sleep soundly above the mud on an über-tough, five-pound Helinox Cot One. $300
33. Sometimes the safest thing to do is stay put. $4
34. The Prepper's Workbook. The checklists for earthquakes and wildfires are helpful; the sections on defense perimeters and hand-to-hand combat are irresistible. $15
35. Because thinking like Rambo doesn't have to mean looking like him. $30