The 12-Year-Old Kayaking Champion's Big Plan
GoPro Games champion Sage Donnelly has her eyes set on the World Freestyle Championships—and from pro paddlers twice her age to diabetes, nothing is going to stand in her way.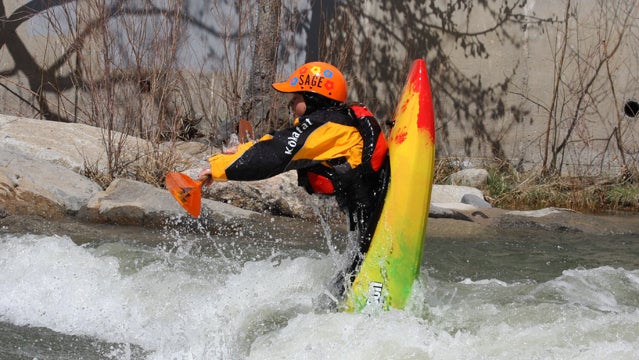 Courtesy of <a href"http://www.s(Photo)
Heading out the door? Read this article on the new Outside+ app available now on iOS devices for members! Download the app.
Sage Donnelly had a hunch she could contend at this month's GoPro Mountain Games in Vail, but she didn't know just how big she would go. The 12-year-old came into the competition with a big win in the women's open freestyle division at the Reno River Festival in May, but she was also going up against world champion playboaters like Emily Jackson and Ruth Gordon, a tough crowd to beat any day. . "I thought I had a pretty good shot if I got my ride and all my tricks," says Donnelly, who was the youngest whitewater competitor at the games.
But Donnelly dominated the freestyle rodeo on Vail's Gore Creek from the start, winning both the qualifying and semi-final rounds. With the finals winnowed to six women, she threw down some flashy aerial combos, linking tricks like the space Godzilla (a twisting loop) and the helix (an underwater 360-degree spin) to secure victory over 16-year-old Rowan Stuart, who finished second. (Twenty-two-year-old Emily Jackson—eight months pregnant with her first child!—took sixth.) "Sage's training techniques and raw talent, as well as finally bumping over the 100-pound mark and getting much stronger are all part of her success," says four-time world champion freestyle kayaker Eric Jackson. "She makes routines that she can consistently score well with and trains and implements them better than any of the senior women on tour right now—except Emily Jackson, but she's pregnant."
Donnelly, who lives and is home-schooled in Carson City, Nevada, learned to kayak when she was two, paddling tandem in her parents' boat. The next year she was diagnosed with Type 1 diabetes (not that she's let it slow her down). and competed in her first whitewater comp—the downriver slalom, at the Reno River Fest—when she was six. At seven, she earned a spot on the Jackson Kayak regional team, a kind of farm team for Team JK's pro ranks, which are stacked with a who's-who of paddlers, including Jackson founder, four-time world champ, and grandfather-to-be Eric, 19-year-old reigning world champion Dane Jackson, and expedition kayaker Ben Stookesberry. When she was ten, she won her first national championship title.
Donnelly's intense pace shows no signs of slowing down. At this writing, she was going into the finals of the FIBArk freestyle contest, on the Arkansas River in Salida, Colorado, in first place. She's eyeing the 2016 Summer Olympics, and wants to go to the World Freestyle Championships as soon as she's old enough. If Eric Jackson is right, her competitors might want to start training now: "By the time she's 15, look out."
Lead Photo: Courtesy of <a href"http://www.s