Sponsor Content: L.L.Bean
15 Family-Friendly Staycation Ideas
From backyard birding to building stick forts, here's how to enjoy the outdoors this summer without straying too far from home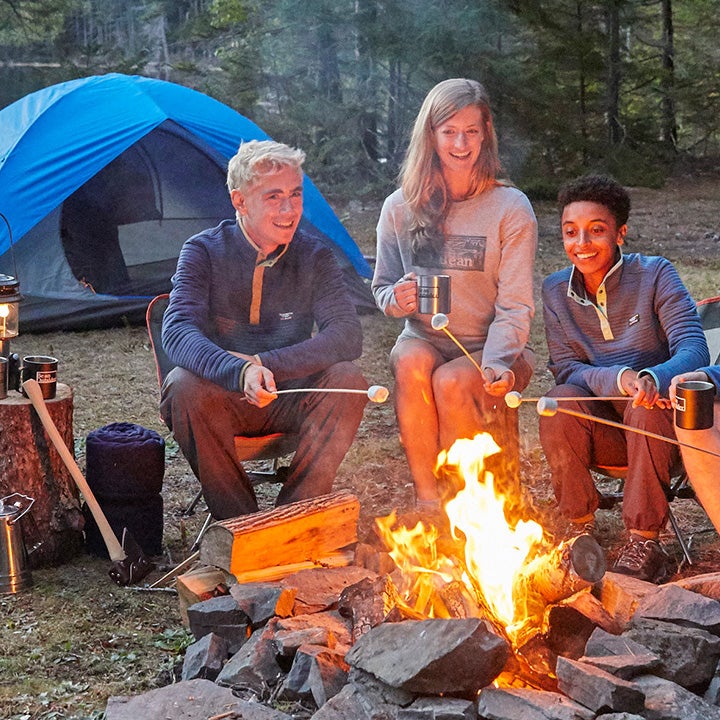 If you're like a lot of us, you're looking for adventures closer to home this summer. But while your bucket-list family vacation may have to wait, that doesn't mean there isn't plenty of outdoor fun to be had. With a little creativity and the right mindset, an afternoon at the local park or an overnight on a nearby river can be just as memorable and awesome as the most epic trek through a national park. Even better, the positive effects of that experience will still be just as good for you. If there's one thing every kind of expert agrees with, it's that immersing yourself in the natural world has significant and wide-ranging health benefits, which we all need now more than ever. Here are 15 ways you can get outside, whether you have a few hours or a few days. Use these ideas exactly or change them to fit your situation. But whatever you do, get outside as often as you can.
Activity Window: Couple of Hours
Forage for fruit: Summer is the season of ripe wild fruit—and it's all over the place. Many cities plant fruit-bearing trees like serviceberries in their parks, while wild blackberries tend to gather around streams. Falling Fruit has a user-generated map of urban harvests, as well as an app so you can take that knowledge on the go.
Meet the backyard birds: Hummingbirds, woodpeckers, owls…there are more than 10,000 species of birds and hundreds of them likely pass through your yard. Make a bird feeder from recycled materials, set up a birdbath, and spend an hour counting the different birds you can see and hear from a hammock with the help of Audubon's app.
Cook on an open fire: That backyard fire pit is for more than just roasting s'mores. Steak and eggs, roasted veggies, pan-fried trout…you can cook just about anything on an open fire. Pick one night a week to cook dinner outside on an open flame and make it an event for the whole family. And yes, s'mores should be the dessert.
Learn the constellations: Find the darkest sky close to your house (check out the International Dark Sky Association for a list of dark-sky parks), spread a blanket, and look up. The Star Tracker app uses augmented reality to guide you through the constellations—just point your phone at the sky to reveal constellations, planets, even deep-sky objects like other galaxies and star clusters.
Build a stick fort: This is a classic. Head into your backyard or your favorite local trail and let your kids construct a large tepee with branches they find lying in the woods. Use the base of a tree for structural support, layering large sticks against it and filling in the gaps with smaller sticks. Or follow the lead of L.L.Bean ambassador and gold-medal-winning cross-country skier Kikkan Randall, and simply find new places to hang up your hammock. "Being open to possibility and being creative carries you forward, and that is so important in times when you can feel stuck," says Randall, who's having fun thinking of new ways to get outside with her four-year-old son this summer.
Activity Window: Full Day
Get into letterboxing: Take your standard hike and add treasure hunting and an art project and you have letterboxing. People all over the world hide plastic boxes in the wild filled with unique stamps, then leave clues that lead to those boxes on letterboxing websites. Find the boxes hidden in and around your town and make a day out of collecting stamps in a notebook.
Hit every park in your town…on a bike: Yes, you've been to most of these parks before, but linking them together turns familiar terrain into a new adventure. Bring a Frisbee for open fields, a kite for hills, hiking boots for trails, and some fishing gear for ponds. And don't shy away from familiar haunts. "Revisiting a favorite trail or spot over and over can be really calming and centering," says L.L.Bean ambassador Madison Bowman, who drove across the country with her family last year visiting every national park in a quest she called The American Field Trip. "It can also highlight seasonal changes and help us come to know the animals, plants, and hidden wonders of a place."
Volunteer at a trail restoration day: Local trail clubs are still busy keeping trails free of brush and clear of mud. The American Hiking Society maintains a list of hiking organizations that perform trail work, and IMBA keeps a similar list for mountain-bike clubs. (Both also have great information on how to hike and bike responsibly during the pandemic.) Find the club that helps maintain your local trails and pitch in with repainting blazes, moving rocks, or beating back briars.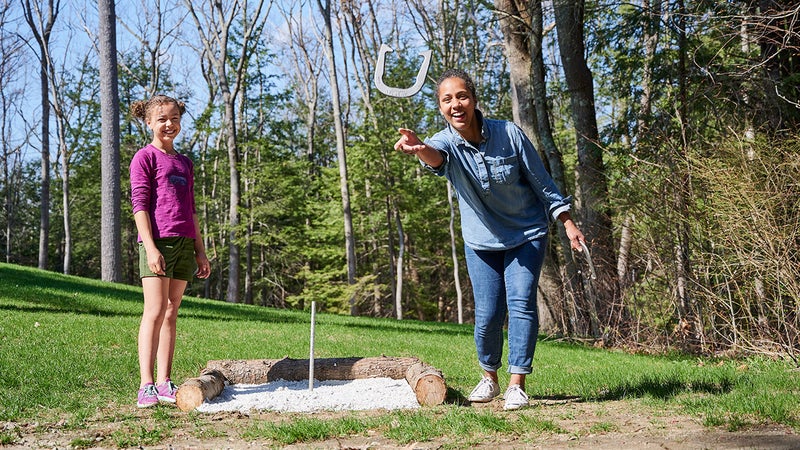 Stage lawn-game Olympics: Horseshoes, Spikeball, cornhole, bocce… Set up a variety of games across your yard, or take a few to a local park, and have the family compete for bragging rights. Don't have lawn games on hand? All you need are a couple of spoons and two eggs for a classic egg race.
Host an outdoor movie night: Rent a projector, throw up a sheet, and invite a couple of neighbors for an outdoor movie night. Keep it safe: every household brings its own snacks and chairs and places them in family clusters several feet apart. Need an idea for a movie? Check out this list of the best outdoor films for inspiration.
Activity Window: Weekend
Overnight on a local river: An overnight canoe trip is the slow, throwback adventure that could cure your COVID anxiety. The American Canoe Association keeps a list of water trails by state, many of which have camping facilities you can reserve. Find a mellow stretch, borrow a boat from a friend, and don't forget the fishing rods.
Camp really close to home: Backyard camping is wonderful, but think just beyond your fence and look for campsites close to your house. Hipcamp is a wonderful resource for private land that's open for camping reservations and often limited to one family at a time, so you don't have to worry about social distancing. This is also the summer of dispersed camping, when you can often find a legal, undeveloped campsite on public land. The Bureau of Land Management controls almost 250 million acres, most of which is open to dispersed camping.
Learn how to fish: Start fishing and you'll look at the rivers, streams, and lakes that surround your town with fresh eyes. Fishing guides can show you the ropes while minding our current health restrictions, or you can start at a local trout pond where success is almost guaranteed. Then test your new skills in the wild by casting in a lake or river near your home.
Create a state-park triathlon: Get out the atlas and find the state parks that are closest to your home. Ideally you'll find one with mountain-bike trails, another with hiking trails, and one with a lake or river you can swim or paddle. Map out your attack and spend a couple of days exploring each park by boot, bike, and boat in turn. "The variety will keep the adventure fresh," says professional mountain biker and L.L.Bean ambassador Lea Davison, who likes to spend her time off the bike hiking, paddling, and skiing. "I need to mix it up, but any day spent outside with friends and family is a great day."
Go on a local safari: What beasts lurk in your woods? There are 457 different species of mammals living in North America. Use the National Wildlife Federation's guide to your local fauna to learn what lives in your region, then spend a weekend "hunting" big and little game, like white-tailed deer and beavers, throughout your neighborhood and nearby parks. Create a list of target species and try to take pictures of the animals you see, even if they're not on the list. Pack coffee and breakfast the night before and leave your house early in the morning for your best chance at elusive animals like foxes.
---
At L.L.Bean, we design products that make it easier for families of all kinds to spend time outside together. For more than 100 years, we've recognized the benefits of getting outdoors and sharing the fresh air – because the only thing better than being outside is being outside together. #BeanOutsider
Trending on Outside Online