48 Hours in Durango
With fire and drought ravaging New Mexico, Katie Arnold and family head up to southern Colorado on a multisport adventure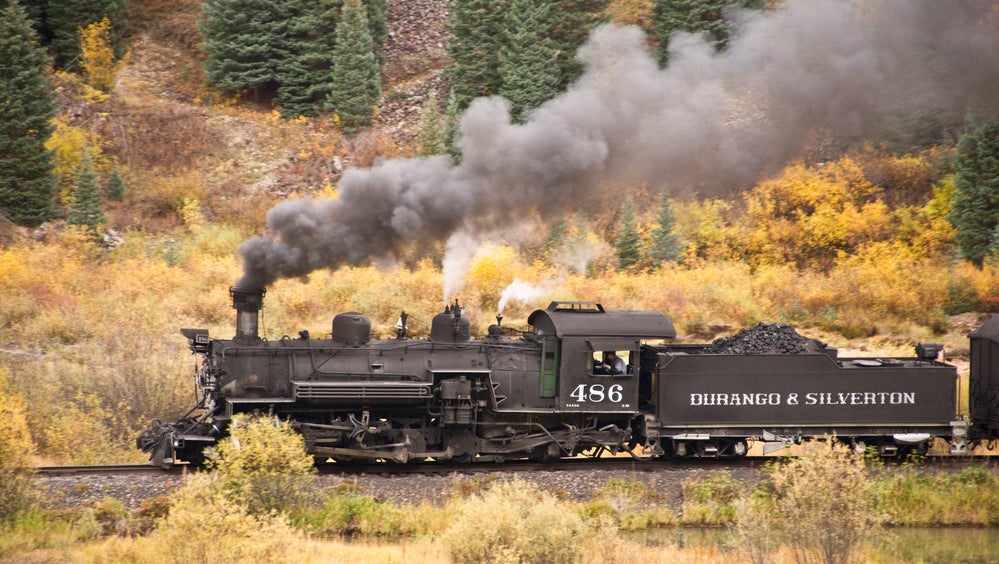 Heading out the door? Read this article on the new Outside+ app available now on iOS devices for members! Download the app.
A 48-Hour Family Adventure in Durango
It's already mid-June, that bittersweet tipping point when you realize that unless you start getting some adventures on the calendar, summer's going to whiz past in a blur. But here in Santa Fe, as in many parts of the west, we've spent the past three weeks living in a ring of fire. Forest fires are blazing in the Jemez Mountains to the west, the Pecos Valley to the east, and the Sangre de Cristo mountains to the north. It's been smoky and hot, and much of the high country in the national forest is closed indefinitely due to fire danger.
As we closed in on the solstice, we found ourselves craving high peaks, big trees, trails, and water. We needed a weekend fresh-air fix fit for the whole family, and fast, but we didn't have a lot of time to devote to planning or driving. So we pulled out the map, sent a few emails, and came up with a plan: Use Durango as our hub for 48 hours of rafting, hiking, and riding in the San Juans.
48 Hours in Durango: Beers & 'Concierge Camping'
It was nearing 9 p.m. but still light when we rolled into Durango on Friday evening and downtown was hopping. College kids spilled out of rooftop bars, and impressively fit, Teva-wearing tourists strolled along Main Street. We made straight for Old Tymer's Cafe, a classic burgers-and-beer joint for a pint with our friends, Rob and Amy Haggart, and their two kids. They've lived in Durango for the past four years and had graciously staked out a tent site for us up at Junction Creek Campground, a popular spot with stellar trail access less than five from downtown.
When we pulled into Junction Creek, we found that they'd done more than score us a permit. They'd actually camped there the night before, and had left their six-person Kelty set up and ready for us to move in. I can't stress enough the awesomeness of pulling into a campground at 10 p.m. with small, exhausted children up way past their bedtime and not having to put up a tent. No arguing over whether the ground is lumpy or flat. No fumbling for poles or pounding stakes. Rob and Amy had thoughtfully pitched the Kelty on a pine-needle-covered platform behind a screen of shrubs—the sites at Junction are roomy and spread out— and had even left a couple of camp chairs and a few pieces of wood beside the fire pit.
We unrolled sleeping pads and bags, and within 15 minutes, our daughters were snoring and we were sitting out under enormous ponderosas, with the stars peeking through, sharing a beer from the cooler and plotting our next day's adventure.
48 Hours in Durango: In-Town Whitewater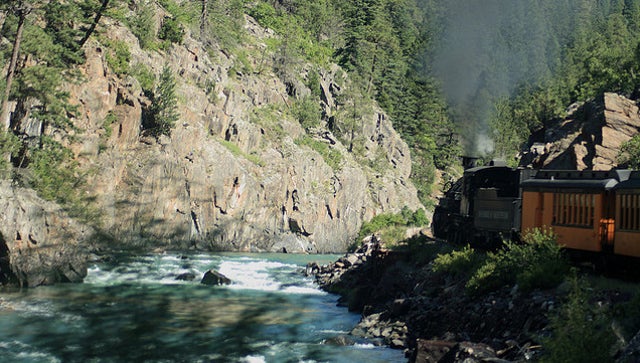 The Lower Animas flows right through the heart of Durango, and by many accounts, it is the heart of Durango. Locals SUP the flat water upstream from the 32nd Street put-in, kayak class III Smelter Rapid, and boat the entire stretch in duckies, rafts, and inner tubes.
The river would only be high enough to float a raft for a few more days before the last of the spring run-off ran out, and it seemed like everyone in Durango was on the water that morning. Rafts rigged for fly fishing, commercially outfitted trips, and family floats lined the bank. Rob and Amy brought an inflatable kayak for their son, Henry, and his friend Sammy, and Steve took the oars of Rob's raft. We launched, bobbing downstream atop clear, cold water, bouncing through splashy, Class II rapids, and pinballing off rocks that are submerged at higher flows.
Floating the Animas isn't a wilderness experience by any stretch of the imagination, but you still see things from the water that you might otherwise miss from dry land: the Durango-Silverton Narrow Gauge steam engine chugging north on its way up to Molas Pass, the gleaming glass library overlooking the rapids, a sweet sand beach perfect for pulling over and letting the kids splash and make sandcastles for hours, and the many footbridges crossing the river, linking bike paths and leafy neighborhoods to downtown. The Animas's main event, though, is Smelter Rapid, a series of sizable holes that doubles as Durango's slalom course and whitewater park. Rob casually recalled the time they flipped in Smelter with a raft full of young kids—they quickly scooped everyone up—so we pulled over above the rapid to scout it just in case.
At low water, Smelter looks like a liquid roller coaster, a series of whoop-de-doos with couple of rocks thrown in for good measure, but no big moves required. Amy volunteered to walk around it with two-year-old Maisy, and Steve took the oars and picked a nice line right through the sweet spot of the waves. Water crashed in over the bow, dousing four-year-old Pippa, ten-year-old Ainsley, and me, but the raft bobbed right through—a wild, wet ride that was over much too soon. Behind us, Rob and Henry rammed a rock and dumped the duckie. It would be the second time that day that both of them swam, but judging from the goofy smiles on their faces, they didn't much mind. The only casualty: one of Rob's flip flop.
There aren't many towns where the local Walmart doubles as a rafting takeout, but that's where we were headed, a few miles away. Below Smelter, the river got bonier, with no clear channels through the rock gardens. We bumped and bounced downstream, passing Serious Texas Bar-B-Q, with a deck overlooking the river, a trail leading up from the water, and enough room to tie a couple of rafts while you run up for lunch.
48 Hours in Durango: Camping at Molas Pass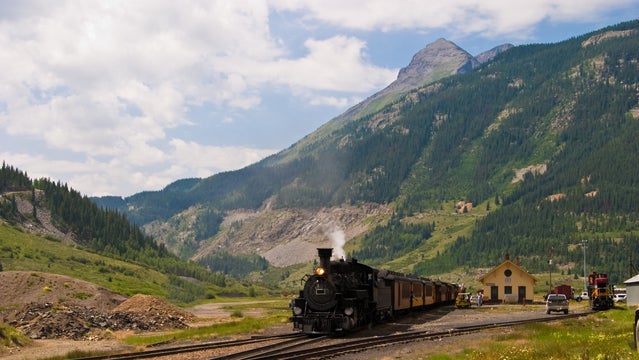 Even though it was blustery and windy and threatening to rain, we said our goodbyes and pulled out of town, heading north toward Silverton and into the San Juans.
An hour later, on Amy's recommendation, we pulled into the undeveloped campground at the top of Molas Pass. The 10 campsites were already taken, so we drove on another half mile to an unmarked turnoff. In the distance, we could see a lone tent in a high, open meadow with 360-degree alpine views. A quarter mile down the rutted track, we found a flat spot to throw down our tent, a stone fire ring, and a welcoming committee consisting of two large, curious marmots.
Before we had kids, Steve and I spent many summer weekends in Colorado climbing fourteeners and riding singletrack, returning to Santa Fe sunburnt and exhausted. But now with little ones in tow, it's gotten much harder to pull off truly epic weekend adventures. All evening, as we cooked dinner and put the girls to sleep, I looked longingly at the exposed granite ridgelines of the San Juans staring down. Skinny fingers of snow wriggled down 60-degree couloirs. Far to the east, a jeep road climbed steeply up the guts of a narrow valley.
Now, it was simply epic to sleep at 10,900 feet in a tent with two young girls on a stormy evening in mid-June. By 10 p.m., I'd already put on every layer I'd brought and was prepping for a long night. Miraculously, sleep came for all of us, and when we awoke, the sun was just heaving itself over the lip of the mountains, melting the thin skin of frost on the camp stove. It was a brilliant, cloudless morning, almost blindingly so, and it felt like the sum of all the best summer mornings we'd ever woken up in a tent in the Rockies.
48 Hours in Durango: Hiking and Splashing on the Crater Lake Trail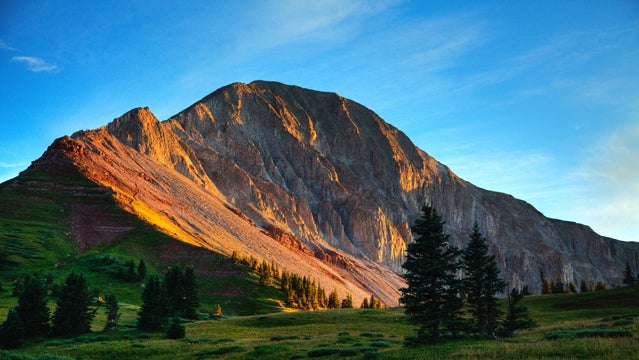 After breakfast, the girls biked the dirt road, and I chatted with our neighbor from the next campsite over, Randy. A retired postal worker from New Mexico, he had run the Hard Rock 100 on sixteen occasions, and finished every time—"almost a record," he mumbled shyly. He was hiking and running five hours a day with his two Rhodesian Ridgebacks, in pursuit of his 17th finish. Randy shared what he knew about local trails: the ribbon of jeep road in the distance climbed nearly 4,000 feet to the summit of Kendall Mountain, in just under four miles. But as much as we would have liked to have tackled Kendall that morning, it was Father's Day, and we needed a mellow family hike suited for the littlest of legs.
Just over Molas Pass, towards Durango, Andrews Lake is a glittery disk surrounded by 13,000-foot peaks; a trail snakes gradually uphill towards Crater Lake, in the Weminuche Wilderness, six miles away. Without a baby carrier, we wouldn't make it even close to that far, either, but in just over a mile we topped out on a high, open basin at the foot of 13,000-foot Mount Snowden.
A clear spring bubbled up in the meadow, and then dove again, disappearing under a large boulder. Two small mirror-image ponds flanked the trail, and we sat down in the sedge beside the spring to gawk at the view and eat cherries. Maisy promptly took her shoes and socks off and soaked her feet in the chilly water.
As we stretched out in the sun, I asked Pippa if she might want to come back here someday for her first backpacking trip, just the two of us. Maybe even later this summer. "Yeah!" she exclaimed happily, and her enthusiasm was infectious. I might not have the freedom to camp and run for three weeks straight, but I can take my daughter into a pristine alpine meadow on her first backpacking trip. This, I realized, was becoming our new normal, and it suited me fine.
It was after lunch when we got back to Durango, and as we drove along the Animas, Pippa pointed out her window and announced, "That's Captain Rob's raft!" Steve swerved and turned into a driveway, hopped out, and ran out onto a footbridge. Sure enough, there was Rob and Amy, in true Durango style, taking advantage of yet another sweet day on the river. They offered to pick us up below Smelter for the final stretch to WalMart, but we had a date with Serious Texas Bar-B-Q.
Trending on Outside Online