Arrowhead, Rattlesnake, Funnel Clouds: Summer's Gifts to Children
We find more joy in our kids' pleasures than our own, especially when it's joy about a surprise present from the big, wild world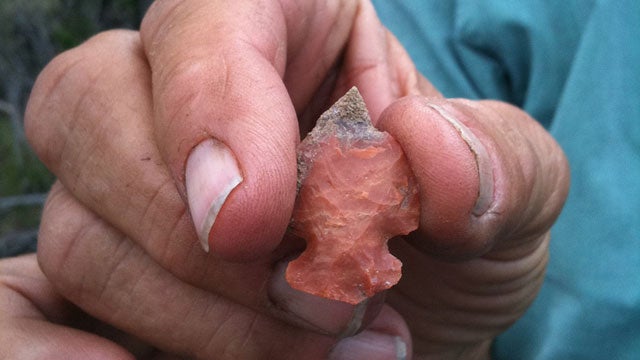 Heading out the door? Read this article on the new Outside+ app available now on iOS devices for members! Download the app.
There is one person on Planet Earth who could find an arrowhead and not cause me to feel a small, venal echo of envy that dates to my boyhood. Or there might be two people, counting my wife Sue.
 
For her part, Sue might turn greenish if the find were mine. Both of us have issues about arrowheads. We grew up roaming the woods in areas where people regularly picked the damn things up and were dying to find our own. We looked and looked, found nothing, and were irked.      
 
Just lately we had a laugh about our arrowheadlessness. Sue agreed that she could be completely happy about only one other person finding an arrowhead. That would be our daughter Ellie, who had just sent a letter from camp that told how she just found one. It came off the bottom of a lake in the Adirondacks, in a handful of moldable clay that she brought up to play with on shore. The letter was downright giddy and had a hand-drawn picture of her flaked stone deltoid, which, she has on good authority, is 200 to 400 years old.
Hallelujah, the family curse is lifted. But that is not why the news lit up Sue and me the way it did. I declared our girl's find to be a treasure and instant heirloom. Sue said we should have it mounted and hang it.
 
"This is perfect," I said and sighed, "I feel like it's all just worth it." I meant worth the money for camp, and the prep that helped her become a gung-ho camper, with standout swimming and helpfulness that her counselor praised in a note. I meant, too, everything that got from her an egg to a 10-year-old mucking around in a lake in sight of big woods and for-real wildness, exactly where she could pick up a gift from the past when people belonged to that place as we do not. And she gets why her little piece of stone is precious.
Parenthood makes us fall for our kids to a point that's embarrassing even around other parents. Their joys can bring us more joy than our own, especially when it's joy at a surprise gift from the world.
This summer's arrowhead caps a year amazingly rich in gifts for our daughter. She came home from her fourth grade campout crowing about an encounter with an Eastern Diamondback – five feet long! – that she and another girl named Ellie surprised on a trail. She said she kept her distance and watched the snake coil and rattle. Though she missed seeing the pair of black bears that hung out in yards up our street in June, bears had been good to her last summer with a dramatic appearance at ballet camp and a mama and cubs at day camp.
Late last summer she also saw her first funnel clouds, a major score because she's been a longtime devotee of tornados, who used to watch downloaded storm porn videos by the hour and begged us to take her on a storm-chaser vacation. That sighting, while we pulled into the airport at Cleveland, Ohio, also brought me a new humility. While she yelled "Look, look!" I went into dad blah-blah about how it's easy to imagine funnels in raggedy clouds. But the things, forming one after the other, were for-real. (Technically speaking those weren't full-on tornados but waterspouts out on Lake Erie. But hey wet twister is a twister and a big deal.)
At the end of November, snorkeling at Molokini, she got a look at some small reef sharks, another major first because she was a shark freak before getting into violent weather. Indeed, she insisted on a shark-themed party for her fourth birthday.
The kid is lucky, but also out where the lucky stuff happens with eyes wide open. In the past year she saw rainbows, a moray fighting an octopus, a snapping turtle attacking a duckling, a doe suckling a fawn. The biggest deal in the world was the one she just witnessed. And she wants more, more, more. We want that too.
Much as it reposed on the lake bottom since who knows when, the arrowhead now is lost to sight in her amazingly junked-up bedroom. Says Ellie, who refuses to mount a search: "If you look for it, you'll never find it."