The Art of Raising Young Ultrarunners
The parents of two young ultrarunners share the highs and lows of running with young rippers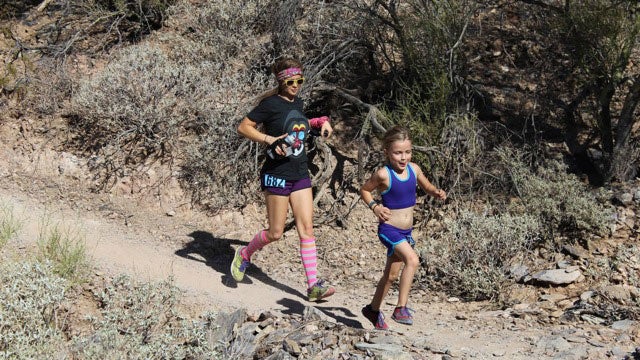 Heading out the door? Read this article on the new Outside+ app available now on iOS devices for members! Download the app.
Imagine you're running a 50k trail race when you hear voices behind you, turn around, and see that you're being passed….by an eight-year-old. That's what happened to a couple dozen ultrarunners at the Siskiyou Out and Back in Oregon (SOB), in late July, when third-grader Teagan Redden completed her first 50k, accompanied by her dad, Seth, and her 10-year-old brother, Tajh.

Teagan and Tajh training in Silverton, Colorado

Teagan at Beyond the Limits, California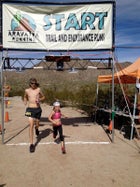 Seth Redden runs with Teagan
Long distance trail running is the norm for the brother-sister pair from Phoenix, who grew up watching their parents run and have been racing ultras—and raising a stir in the ultra world and on message boards—since they were eight and seven, respectively. "Our three-and-a-half year old will tell you she's going running 50 miles," says their mom, Sabrina Redden. "There's nothing less for them. Running 50 miles just isn't crazy to them. They've grown up around us so it's normal."
As adventure families go, the Reddens—seven self-proclaimed "vegan, adventuring, ultrarunning people choosing to live in a big white van"—have a pretty wild pedigree. Seth and Sabrina got married while skydiving, had three kids in their early 20s, and then adopted two more. They later divorced, but this summer they spent five weeks rambling around the West with their brood (ages 2 to 10), living out of their van, climbing big peaks, and training on the trails.
Though both Tajh and Teagan finished well under the cut off at the SOB, (Teagan in 7:22:19 and Tajh in 8:05:13)—impressive times for any age—not everybody is lauding the wisdom of little bodies logging long miles. "We've been ripped apart on the message boards," admits Seth, "but running is what our bodies are meant to do. There are risks to everything."
A week after they finished their epic road trip and rolled back into Scottsdale for the start of another school year, all seven of them got on the speaker phone to share their story about starting young and the controversy it's ignited.
Sabrina: We started running together when I was pregnant with Tayer [now six]. I was training for the Disneyland Half Marathon and continued training through my pregnancy. I was nursing Teagan at the time. It was a jumpstart into running. We got into ultrarunning a couple of years later. Seth started dabbling in it. It's been a slow evolution.
Seth: I started doing trail runs near my house and, after a while, I found a community of ultrarunners.
Sabrina: One day I saw a mother picking up a child in my son's kindergarten class. She was sweaty and looked like she'd just been running. I asked her, 'Do you run?' and she played it down. 'Sort of.' Turns out she's a pretty big deal in the Phoenix ultrarunning scene. Now she's my best friend. I don't race a lot. I just want to be able to run with friends. It's kind of funny. Our kids go to a private school where there are a lot of rich parents. We show up all salty after our runs. We're the dirty ones.
 Sabrina: Tajh did a triathlon when he was six. That's when it all started. It was fun, whatever, but we knew it wasn't our scene. Parents screaming at their kids, $1,000 bikes. We're friends with the people at Aravaipa Running [a local race organizer], so when he was eight, we suggested that he try a 24-hour race [Across the Years]. It was going to be the longest race I'd ever done, and I wanted someone to run with me. Seth was injured and on crutches. I thought it'd be a fun mother-son thing to do.
Our kids are vegan, so we told Tajh, if you run, there are these aid stations and you get these really cool treats. As soon as he heard that, Tajh was in. At some point in the race, I hit a wall. But I had to dig deep. I couldn't whine. I had an eight-year-old feeling the exact same things as me, because it was both of our first times running an ultra, and I had to move past it. We had no preconceived notion of how Tajh would do. He ended up running 33 miles. We put him to bed at some point. What we learned is that an eight-year-old can, without much training and some playing, run an ultra in 24 hours.
Last summer when Teagan was seven, she wanted to jump into the Silverton 6/12/24 race. We made sure she had an adult with her all the time on the one-mile course. She spent 12 hours jumping up and down trying to get people to run with her. The loop had 250 feet of gain and loss. She ended up doing 20 miles. We hadn't run with her before. We had no expectations. We were kind of startled by the fact that a seven-year-old could 20 miles on a difficult loop at elevation. Their first set distance race with a cut-off was the SOB 50K, in Ashland. Seth ran with them.
Seth: Like any ultra, they're running most of the time, but they also walk. I kept them together on the way out, but they separated at the turn around. It wasn't Tajh's day. I ferried back and forth between them. There were high points and low points, when they were smiling and happy, and then when they were crying. It reminds me of anytime I run. But we don't ever put them in jeopardy. If they don't feel well or don't want to run, we'll drop.
Sabrina: They have both been to the doctor for regular check ups and sports physicals for school and check out 100 percent healthy. We even had blood work done just to prove that a vegan diet for kids keeps them super healthy. Their doctor is aware they run and hasn't discouraged it most likely because they are both the perfect picture of health.
Seth: I studied biomechanics at Arizona State. The body is meant to run long distances. It's what the human body is designed for. Kids in Africa, they walk 30 miles a day. That's just what they do. The Masai in Kenya grow up to be six foot six. Our sport is a little bit obscure. There aren't a lot of studies, but I've read them all. Sure, when they're running on trails, they can fall and hurt themselves. But kids break ankles playing soccer or basketball. Our kids' feet will sometimes hurt after a race, but they haven't had sore joints.
Sabrina: Our parenting is abnormal as it is. We're hippies. We want our kids to be free. We already do weird stuff. As long as running's their passion, we think it's a good thing. In our society it's so foreign to let your feet take you anywhere. Just because we live where we can drive everywhere and have such convenience doesn't mean we choose to live that kind of life.
Seth: We've been ripped apart on the message boards, but running is what our bodies are meant to do. There are risks to everything.
Sabrina: We make sure they're prepared for every race they do. We don't use an adult training plan for them—that's too much. But the SOB 50K was a big race. So all summer we hiked 14,000-foot peaks. That gave them time on their feet at altitude. That's the most important thing. Teagan wants to run the Javelina 100K in the end of October. She will need to do some long runs and get a lot of time on her feet, up and down some mountains. But even then, we keep it fun and casual. We stop to look for animals and eat snacks. What gets Tajh going during a race is looking for elk pellets and finding bones. Teagan wants to set records and outdo her brother and be the youngest runner.
Seth: We did a training run in Oregon on the John Wayne Trail. It was probably 18 miles, but we stopped and picked blackberries along the way. Their training isn't really serious. It's almost like sneaking vegetables into your kid's food.
Sabrina: They race their friends all the time—that's their speed work. That's what kids do on the playground. They get a lot of miles in without knowing it. But Teagan is going for goals, and so the 100K is going to be a little more serious.
Seth: We're going to need to pace Teagan. You don't have to race every single race, not that it's even possible. We're going to have to filter what's OK to run. The course [at Javalina 100] is six loops. She'll never be more than a couple miles from an exit point.
Sabrina: We try to keep it so we have full control. My biggest fear, like any mother's, is not being able to help my kids.
Seth: During the race, the reactions from other runners are almost exclusively, 'You go girl," or 'Go get em, big guy!' People love to run with them. In every single picture of Teagan running, she's smiling ear to ear, and Tajh is carrying some contraption he's built during the race. But then you have the message boards. That's where you get the naysayers. When people can hide behind their computers, things tend to get a little more vitriolic. We have a friend whose daughter does gymnastics five hours a day. My initial reaction was that's too much. But then I realized that it comes down to what's normal for you, what's your community. You can't force anyone to run anything. There's no amount of carrot or stick that will make my kids run unless they want to.
Sabrina: It's the people who haven't shared a mile with them who say it can't be healthy. It's all about keeping it fun and enjoying it enough yourself. You have to want to do it. You have to be willing to make it a game, not work. You have to be willing to be flexible, to stop or turn around when it's time. You have to become a comedian and a dancer because sometimes when they're running, the kids just want a show. You hear the most amazing things from your kids out on the trails. Once your children are comfortable and having fun, they'll open up to you. It's an amazing way to bond with them. Everyone runs for a different reason, and each of my children have found what they need from running. Tajh wants to be in nature. Teagan has that inner passion. Tayer can run faster than both of them, but he'll go 200 yards and then he'll stop and cry. He likes the speed. There's no way you can force anybody to run. In that way, they embody the true spirit of ultrarunners—that freedom.
Tajh: I love the animals most. At the Blu [Beyond Limits Ultra] 24-hour race, it's a one mile loop around a farm. At some point on every loop you see turkeys, pigs, goats, horses, cows. In one race, I jumped over a scorpion. On another 18-mile training run, I was hurting badly. Then I saw a snake and that boosted my spirits.
Teagan: I like trails better than roads. Roads make me hurt. I ran my 50K in 7:22. When I get tired, people pushing me to do it keeps me going. They say I'm doing well and that makes me happy.
Follow the Redden family adventures at www.sevenwildandfree.com, www.thoseultrakids.com, blog.buffusa.com/category/brand-ambassadors/the-redden-family.
Trending on Outside Online