Ask Masha Gordon: Moms Can Still Crush
The 42-year-old mountaineer and mother of two just claimed the women's speed record for the Explorer's Grand Slam. How did she pull it off?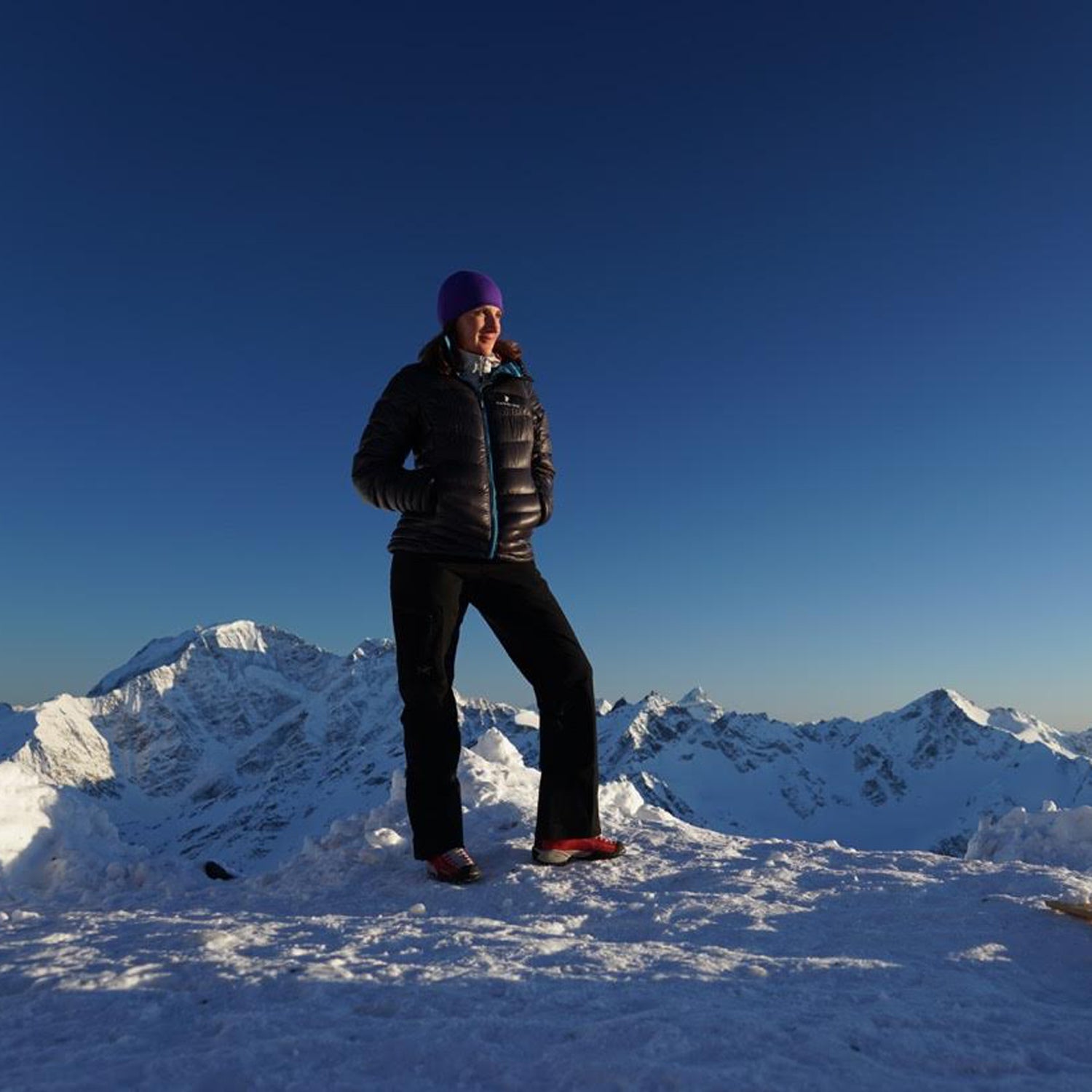 Heading out the door? Read this article on the new Outside+ app available now on iOS devices for members! Download the app.
When world records fall in alpinism, they usually go to first ascents or the youngest or oldest climbers on a particular route. In a sport where it's not uncommon to spend weeks or even months climbing a high-altitude peak, speed isn't often a priority. Especially when you're scaling not one summit but seven in a row, with a couple long-distance ski trips thrown in for good measure. 
But that's exactly what Russian mountaineer Masha Gordon, 42, did on June 11, when she broke the women's world speed record for the Explorer's Grand Slam—climbing the Seven Summits and skiing to both the North and South Poles—in seven months and 19 days. Do the math: that's roughly one mountain a month. 
Gordon started on Kilimanjaro, speeding up and down it in 24 hours. Then she flew to Antarctica and climbed Mount Vinson—at 16,050 feet, "an easy summit," Gordon says. From there she skied to the South Pole in six days, dragging a 60-pound sled and enduring -40-degree temperatures. Next was Aconcagua, which Gordon summited in three days. In March she conquered Carstensz Pyramid in Papua New Guinea. Then she skied up Mount Elbrus, a 14er in Russia and the highest peak in Europe. In April, she flew to Norway en route to the North Pole and, after a short delay, skied the 60 nautical miles to the pole on a "last degree" trip with guide Eric Larsen in six days.* On May 19, she summited Everest. Then, earlier this month, she completed Denali via the difficult Cassin Ridge. "I must have died and been reborn a few times on the route," Gordon says.
" I didn't meet a single mother at Everest Base Camp."
Gordon shaved more than a month off the previous women's record and became the third-fastest of 46 Grand Slammers and the fourth to complete the holy grail of big-mountain suffer-fests in under a year. And, it should be noted, she has two kids—her eight-year-old daughter, Freya, and six-year-old son, Theo—at home in London, plus a demanding career in high finance. I called up Gordon to learn more about how she juggled all three tasks. Here's what she told me.
OUTSIDE: How much of those seven months were you actually away?
GORDON: Probably about four and a half months total.
How did you get into mountaineering?
I grew up in the Caucasus Mountains in Russia. My dad was an alpinist, but I was not athletic. In my 20s, I started skiing and became a good off piste skier. During maternity leave with my second child I took six months off—that's a lot of time—and moved my family to Chamonix [in France]. A friend suggested going on a climb. I was very skeptical. I had always thought of climbers as incredibly strong and graceful. I couldn't do a pull-up. But if you work on technique and enjoy the sense of adventure, and if you can quiet your mind, and make yourself walk for ten-to-12 hours, you can become very good.
What inspired you to try the Grand Slam?
I've had a long career in financial services at Goldman Sachs and PIMCO, and when I turned 40 I decided I wanted a more diverse life. I had already been climbing at that point and I wanted to spend more time with my passion. 
A year and a half ago, I went on my first high-altitude expedition, on Aconcagua. As a woman, climbing takes more courage, it takes more confidence, and that helped me to be one of the better team members. It's incredibly addictive to wonder: Can I actually embark on an endurance challenge? I was never good at sports in my earlier life, but it turns out that mountains are one of the things I'm good at. 
How did your career in finance prepare you for this next challenge?
I was market athlete. If you're a fund manager, you have a daily measurable performance against the market. Mountains provide you with a process and sense of journey, but they also provide markers: climbing the peaks. Part of it was my inner desire to continue to compete. I was able to leverage the mental endurance of a career in finance into a field I was new at—mountaineering—and over time, I got better. 
Did you have any mentors?
New Zealand climber Lydia Bradey. She was the first woman to climb Everest without oxygen, in 1988. She was 26 years old and the amount of misogyny in mountaineering was huge. That was sheer force of nature, the ability to confront the prejudices. She went on to climb biggest and best peaks and always maintained incredible humility. She paved a lot of paths for women to come into the sport. I actually had the privilege to share my summit on Everest with her.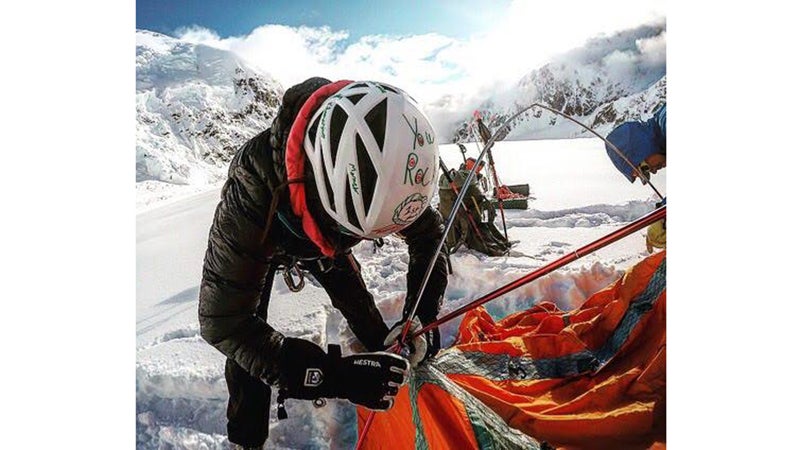 What was Everest like?
I was at Base Camp only 22 days before I reached the summit. That was very fast. I spent a lot of time at Camp 2 adjusting to higher altitude, resting and getting proper nutrition. As someone who's always very active, that was hard for me: to not do anything but force myself to eat. 
We summited May 19. It was quite traumatic. The weather forecast had changed when we were at Camp IV, with predictions for 60 mph winds. Lydia and I decided to try. I had to rely on her judgment and experience. We were extraordinarily lucky. The winds came 12 hours later than forecast. We summited on a day that was crowded. All the terrible cliches about Everest were true. Lydia was very agile and told me crank my oxygen because we were going to overtake people. On the summit, I did not feel the elation one would expect because the crowds felt really unsafe. 
You're relatively new to climbing. Were there any points when you thought you were in over your head?
On a very windy day at the South Pole, one of our team members had to be evacuated. I wondered, am I really capable of pulling a sled for the next four days? I thought, who is my enemy? My enemy is weight. 
So I went through every piece of clothing and I got rid of 15  pounds of gear [and sent them back on the plane]. Once you feel you can do it, mentally, something tips. It's all about just putting one foot in front of the other.
Let's talk about your children. Was it hard to leave home?
Of course—especially the longer journeys like the North Pole and Everest. That was two and a half months—the longest I had ever been gone—and on the hardest segment of journey. It's emotionally very lonesome, but you have to focus on the goal. You tell yourself it's finite, it's once in a lifetime, and this is your job today. 
I have a wonderful live-in nanny. Before I would call in on the sat phone to talk to my kids, I [talked to her or my husband and] tried to get context. It sounds funny, but I thought of my kids as my clients. If you get the background first, you don't have to do the small talk. You can go straight to the meaningful details, and they speak to you.
That's a great strategy! Did you feel guilty about being gone so much? 
Absolutely. And then you have people reminding you of the guilt, which makes it worse. I didn't meet a single mother at Everest Base Camp. I'm sure there were some, but no one asks the men there if they feel badly about leaving home. 
I was always a working mother. My kids grew up with me being away on business trips. When I am home, I am incredibly engaged. This year, I took my kids out of school in London and put them in Chamonix, so they could do outdoorsy things and be part of mountain life. My husband has been incredibly supportive. He was always very positive. When I went to Denali, my children taped messages in duct tape onto my equipment. Part of it is how it gets framed for kids and including them in the journey. 
What's the crossover between mothering, mountaineering, and finance? Did one make you better at the others?
Climbing partnerships are hard because people are focused on individual goals. Parenthood gives us a point of patience. You get conditioned to get along with people who may get cranky. That's a very useful skill for long expeditions. 
They're also all about assessing risk. In investment, [it's easy to] tend to dismiss negative information and that's very dangerous. In mountaineering, it's similar. There may be wind and potential for avalanche, but it's human nature to dismiss the negative. This ability to detect patterns and faulty judgments has helped me remain rational and safe, and not give in to human traps.
This is something so few people are able to accomplish, not just because of the time it takes and the physical challenge, but also because of the extreme cost.
Coming from the Soviet Union, I came from no money. But I worked hard to create an endowment for my climbs, and to afford myself a part-time career. Clearly that's an extraordinary privilege.
How have you raised your children to love adventure, too?
They know that the outdoors can be incredible physical thrill. We've never coddled them. We put them in all-day ski school when they were three years old. In the beginning, they would cry. We never reacted to that. As long as we could push them to the first threshold of skills, they would start enjoying the cold. They are both very good skiers. They're still at the age when they want to be like their parents. I hope [this life] sets values and desires for them that are not material.
Corrections:
(09/29/2023) A previous version of this story incorrectly stated that Larsen and Gordon were partners on the North Pole trip.
Trending on Outside Online