Is Avalanche Safety Different for Kids?
We asked the director of the National Avalanche Center what precautions he takes when he goes skiing with his two young daughters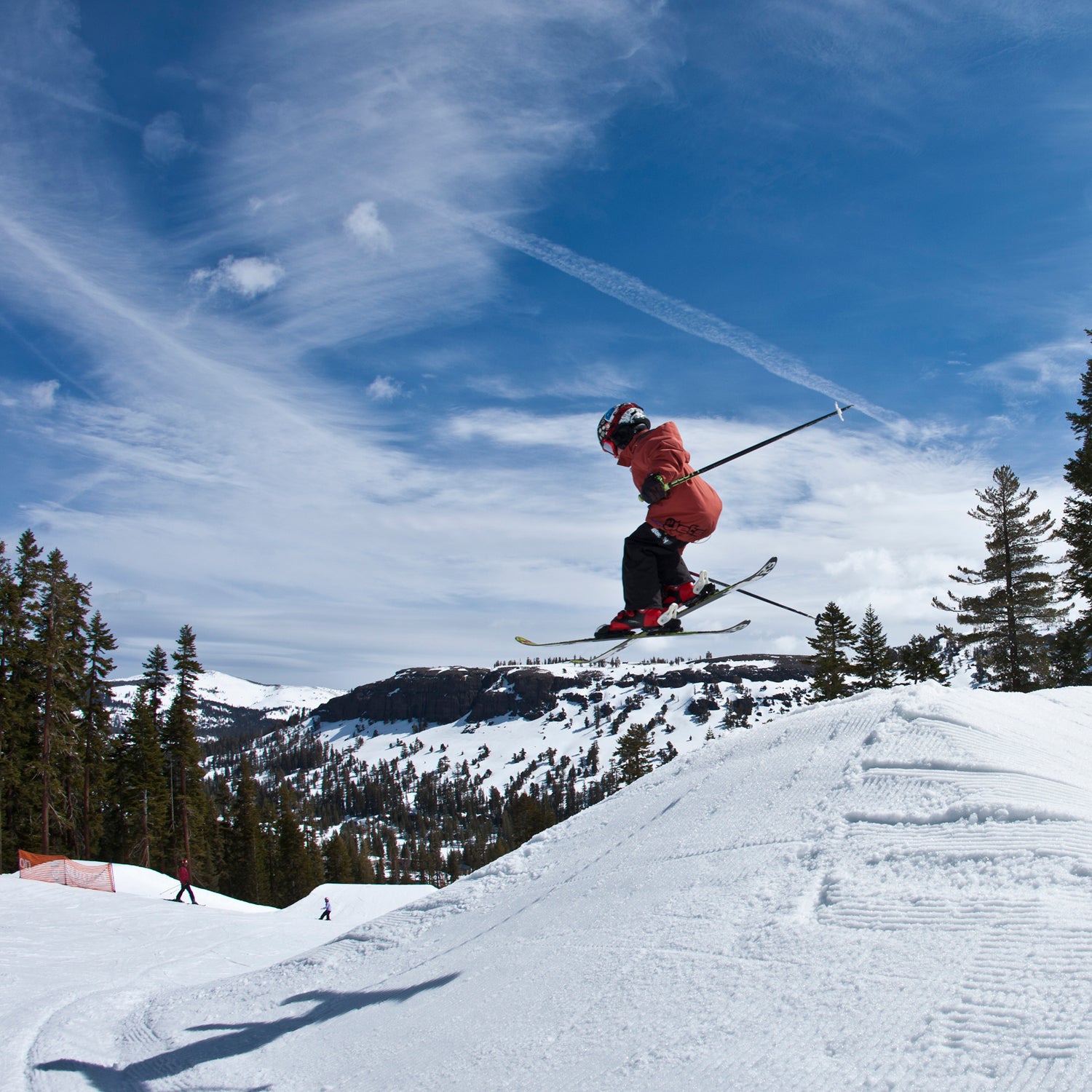 Trevor Clark/Aurora Photos(Photo)
Heading out the door? Read this article on the new Outside+ app available now on iOS devices for members! Download the app.
Just after the New Year, my husband and I skied in with our daughters and family friends to High Camp Hut, a rustic four-bedroom cabin without running water or electricity at 11,000 feet elevation in the San Juan Mountains of Colorado. This was our fourth backcountry ski trip in as many years, and we've become addicted to the silence and stillness that you only get when go off the grid for a few days. 
To get to the hut, our group skied three miles, up 1,000 feet of vertical gain, and through a snowstorm. We had three kids on nordic skis and a fourth being pulled in a sled, and the meadow surrounding the log cabin was blanketed in pristine powder. All this is to say, our pace was anything but electric. But when we arrived, it felt as though we were the first people in the world to set foot in that gorgeous alpine basin rimmed by spiky 13,000-foot peaks. 
We weren't, of course. Backcountry snow travel—whether on skis, snowshoes, or snowmobiles—has become increasingly popular in the past two decades. According to the nonprofit Snowsports Industries America (SIA), sales of alpine touring (AT) ski boots shot up by 25 percent in 2013 compared to the year before, snowshoes increased by 12 percent, and, judging from the buzz on online forums from parents trying to find kid-sized AT gear, more and more families are trying to get in on the action. Exploring the backcountry in winter is a great way to experience nature during the colder months, but the jump in participation means that more people are in the crosshairs of steep, slide-prone terrain. 
The U.S. Forest Service's National Avalanche Center reports that, in the past decade, an average of 27 people died annually in avalanches in the U.S.—and not just in the big mountains out West. New York, Maine, New Hampshire, and Vermont all have recorded fatalities. The problem is happening overseas as well. For instance, last winter more than 100 people died in avalanches in the Alps.
The risks aren't just relegated to the backcountry. In January, two French teenagers who were part of a school group skiing inbounds at a ski resort in the French Alps died in an avalanche. According to reports, the students, led by their 47-year-old teacher, traversed onto a black diamond ski run that had been closed since the start of the ski season. French investigator Jean-Yves Coquillat, who has brought a manslaughter charge against the teacher, told reporters that the group was "fully aware" that the slope was closed and that the teenagers climbed over "the usual netting with warnings in four languages."
The tragedy is a devastating reminder that traveling into avalanche terrain with young skiers can have grave consequences. "It's like anything in life that's dangerous," says Karl Birkeland, director of the National Avalanche Center and father of two daughters, ages 14 and 16. "As parents we have to educate ourselves and our children about the risks, and learn how to be safe in avalanche zones, so that our children will learn, too."  
This winter, in particular, there's little margin for error. Early season snowfall followed by a dry spell has created a persistently unstable snowpack around much of the West. As of press time, the death toll from avalanches in North America was 14.  Whether you're skiing on piste, venturing into the backcountry with your children looking for turns, or simply traveling through mountain terrain with little ones in tow, here's a primer on how to stay safe this season.  
Inbounds
Here's the good news: despite high-profile incidents like the one in France and a 2012 slide that killed a 13-year-old skier on-piste at Vail, "the risk of avalanches is so low within ski areas, compared to all the people skiing the terrain," says Birkeland, "because the ski patrol is mitigating the danger and making decisions for you." But there are still important steps to take to ensure that that children ski safely and responsibly. 
Most importantly, teach young skiers and riders to obey all trail closures. "Explain to your children that a closed sign means that run is closed because the area is dangerous," says Birkeland, "not because the ski patrollers want their own private powder day." 
Never duck a rope or enter a slope above or below a closed run. In deep snow, keep close tabs on your little kids to make sure they don't fall into tree wells—depressions of loose snow around the base of trees—or get caught in a slough, a loose layer of surface snow. Finally, consider outfitting your kids and yourself in skiwear affixed with a RECCO reflector, a small, permanent transmitting device that helps ski patrollers and rescue teams, many of which use avalanche dogs, locate avalanche victims. "This is not a substitute for avalanche beacons when you're in the backcountry," notes Birkeland, "but they definitely make sense in the unlikely event of an inbounds avalanche."
Backcountry and Sidecountry
There are lot of ways to access un-groomed terrain on skis or snowboards. You can skin into the backcountry or side-country from a trailhead or ride a chairlift from a resort and exit through a gate to ski out-of-bounds terrain adjacent to the ski area. Birkeland says you shouldn't think of them differently "because, either way, the snowpack is uncontrolled." 
Proximity to a ski resort doesn't translate to safety. If anything, Birkeland says, "the side-country is a scarier place to take kids than the backcountry because you still have that backcountry snowpack that's prone to avalanche, but you also have all these people around who could act as triggers, and that makes me nervous."
By middle school, most kids have the skills and independence to ditch their parents and ski unsupervised. This is the time to be extra vigilant: know where they plan to ski and talk to them ahead time about the seriousness of going into the backcountry. "We teach our kids not to get in a car with someone who's been drinking," says Birkeland, "but we also need to teach them not to go into avalanche terrain unless they know it's safe, and their best bet is to go with an adult who has experience in assessing risk." 
As your kids get older and start to think about going skiing with friends or without your direct supervision, make sure they carry an avalanche beacon, shovel, and probe, and help them practice learning how to use them correctly before they head out. Teach them the steps for traveling safely in the backcountry: read and understand the online avalanche forecast (available at avalanche.org), choose your partners wisely, know how to read terrain and move cautiously in avalanche terrain. Check out the stellar free educational program, Know Before You Go, for avalanche resources and this eye-opening video that's a must-watch for the entire family.
Snowshoeing and Cross-Country Skiing
Even if your little ones are too young to safely ski steep terrain, you'll still need to be avy-aware when you snowshoe or cross-country ski tour through the backcountry or haul the kiddos into mountain huts via sleds. "If you've got kids and want to stay safe, you have to avoid avalanche terrain altogether," says Birkeland. "Don't cross steep slopes or travel beneath them, and watch out for avalanche run-out zones." 
In 2003, a massive avalanche near Rogers Pass, British Columbia, barreled 850 yards down the slopes of Mount Cheops, killing seven schoolchildren who had been ski touring along the valley floor. "That was a natural release, which means they were in the wrong place at the wrong time," says Birkeland. "But in the certain conditions, you can stand on flat terrain and actually trigger a fracture in the snowpack above you." 
If you prefer holing up with your family at a backcountry hut, like we do, be sure to scout your route before you go and check with the lodge to find out whether you'll pass through or below slide-prone slopes. When it comes to traveling with kids on snowy terrain, we always err on the side of caution. The High Camp Hut and the Tenth Mountain Division's Continental Divide Hut, both in Colorado, provide safe, family-friendly access. 
Finally, it helps if all the adults in your group have the same risk tolerance; otherwise, you might wind up doing things you're not comfortable with. "My risk tolerance when I'm with my daughters is very, very low," says Birkeland. "I sure as heck don't want to have them get caught or me get caught and them have to deal with getting me out. This is very serious business."
Lead Photo: Trevor Clark/Aurora Photos
Trending on Outside Online