Beating the Back-to-School Blues
How do you capture the last sunny days of summer? With a family outing on the lake.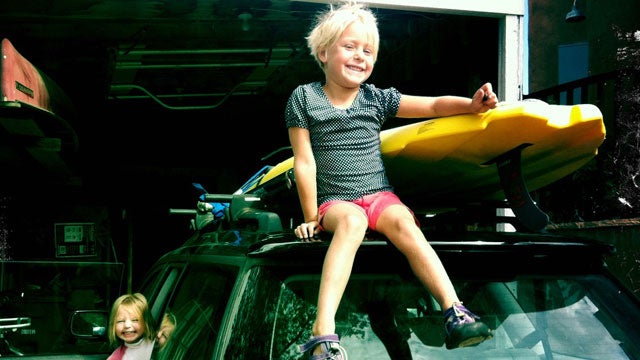 Heading out the door? Read this article on the new Outside+ app available now on iOS devices for members! Download the app.
The other day, a Wednesday in the middle of August, I played hooky from work and took my two daughters, three and five, stand-up paddleboarding on Abiquiu Lake, not far from our Santa Fe home.

The new ice cream shop

Nicole, with Lily and Beckett.
Baby on board

The warm water of Abiquiu Lake
Abiquiu is a reservoir, made from the dammed-up Rio Chama and surrounded by peachy-red sandstone cliffs that artist-in-residence Georgia O'Keefe made famous. The painted desert is stunning, but we've never given Abiquiu Lake its props, bypassing its turquoise water to raft the muddy Class II-III rapids of the Chama instead. But after spending a month on a piney lake on the Canadian Shield, we were bereft of swimming and flat water, so we borrowed a SUP from a friend, cleared our calendar, and got out of town. 
I'm self-employed, but it's still surprisingly difficult to break routine and sneak away in the middle of the work week. I could think of a dozen reasons why I should stay home, but there was one good reason to go that trumped them all: Summer was ending, and Pippa was starting kindergarten in two days. 
How had it happened? Just yesterday I'd been cross-country skiing up the forest road in the mountains above Santa Fe, Pippa just a wiggly, hiccuping weight in my belly. Then she came out, and we spent her first summer sweatily plastered together while we hiked up the foothill trails in town, Pippa swaddled and snoozing in her baby carrier on my chest.
Gradually our lives together developed a rhythm, the faint outlines of organization emerged. She slept and ate on cue. I wrote when she slept. She had a babysitter. She went to nursery school. Order crept in, our daily lives delineated by schedules and commitments, but we still lived and played outside as much as possible. 
Now we were about to surrender her to public school, fling her out into the wider world with no filter, even more structure, and a lot of indoor time. There would be alarm clocks, late bells, and attendance records. She'd be gone more than she'd be at home. Would our freewheeling family adventure life come to a screeching halt? I wanted to give her—all of us—a proper sendoff, one last summer play day before everything changed.
My husband, Steve, had to work, so it would just be the three of us, which was just fine with me. I wanted to test my adventure independence, to prove to myself that water and kids do mix, even when you're outnumbered.
The 9'9″ Imagine Surfer board I'd borrowed was made out of molded polyethylene plastic and was so heavy I couldn't lift it onto the roof of car by myself. I had no doubt it'd be sturdy enough to take both girls—combined weight, 70 pounds—out at the same time, but if one of them mutinied, we'd all have to go to shore. So when my friend Nicole and her two young children decided to join us at the last minute, I was glad for the company and figured an extra set of eyes would come in handy. 
For so many years, I'd driven right by Abiquiu on our way to someplace else, better. I was a water snob, and it was a man-made lake where none should be, lacking big trees and islands, its rocky shore stained by falling water levels. But when we arrived at Abiquiu's unmotorized boat launch, a gravel ramp and a handful of shaded picnic tables, the lake was clear and warm—probably 78—yet still refreshing, and there was no unsightly bathtub ring of grime and muck. Against a backdrop of tawny cliffs and beneath a bright cobalt sky, the water looked aqua, practically Caribbean. I was overcome by gratitude. A lake in the desert! Why had we never done this before?
Nicole and I slathered the kids in sunscreen, buckled them into their lifejackets, and carried the board to the water's edge. The boat launch sits at the tip of a narrow finger-like cove, protected on three sides from wind and waves—perfect for our maiden voyage.
I'd rented a SUP for a weekend at our lake cottage in Ontario and we've paddled friends' boards down mellow sections of the San Juan, so the girls and I weren't newbies, but it was my first time taking both out at once. The board was so stable it barely registered the extra weight of Pippa behind me and Maisy in the bow, and it cut through the water with deliberation, if not exactly speed.
We made a loop around the buoy at the mouth of the bay, then paddled back to pick up Nicole's four-year-old daughter. Nicole and I traded off on SUP and shore duty all morning, swimming with whatever kids had been left behind, until storm clouds began massing to the west, kicking up waves and eventually whitecaps and chasing us to shore to eat our lunch at a shaded picnic table. 
Water is my natural state. I grew up spending summers on a lake, sailing, rowing, canoeing, swimming. When I moved to New Mexico, I learned to whitewater kayak as a way to get my liquid fix. Before Steve and I got married, one of our first joint purchases was a Royalex canoe. After our daughter Pippa was born, we bought a raft and began to do family river trips, on the San Juan, Chama, and Rio Grande. Our carport looks more like a boathouse than a garage these days. The only thing missing from our fleet  is a SUP. 
Of all of these conveyances, I can't think of an easier, more enjoyable way to get kids out on the water for the day than by paddleboard, especially if you're going solo with little ones. SUPs don't require pumping up or lugging (even the inflatable ones can be left inflated all season); most (if not the stalwart Surfer) can be carried and lifted easily by one person, yet they're stable enough for ferrying multiple kids at once. They're simple to paddle; you don't need to know how to roll or wet exit, and they're durable and sturdy enough to run small rapids, as we've done on the San Juan River (if the board gets wobbly, simply sit or kneel).
When they get hot, kids can fling themselves off the side into the lake, man-overboard style, and they're low enough to the water that little ones can climb back without help (even in their bulky lifejackets). And by the time they're five or six, kids can paddle themselves. 
The rain blew away, but not the wind, and after lunch our little cove was choppy with whitecaps, blowing straight in from the west. Too windy to paddle, but we rallied the kids for another swim, ducking and diving in water so clear we could see a 12-inch trout gliding along a few feet below us. Swimming in the desert is a little like stumbling upon a gourmet French bistro in Buffalo, New York: such an unexpected pleasure, almost decadent. It felt so luxurious to swish around in the blue waters of a river I loved and a lake I'd never fully appreciated. 
In the late afternoon, we loaded the SUP back on the roof, and Nicole and her kids headed back to Santa Fe. The girls and I took one last dunk in the water, hoping to make it last the whole way home, and then some. It seemed terribly, unfairly shortsighted that I'd waited until the end of summer and Pippa's second-to-last free day of unstructured childhood to blow off work and enjoy a play day together at the lake. This is what summer, and childhood, is all about. In two days, she'd go off to kindergarten and be gone. 
We'd dried off by the time we reached Bode's, a general store in the small town of Abiquiu, with one of the best green chile cheeseburgers in New Mexico and a newish ice cream shack, the Frosty Cow, out back. We stopped for a couple of mint chocolate chip cones and lake beta from Terry, a recent Abiquiu transplant who moved out from San Diego and kayaks the lake every Monday in the summer. Next time paddle out to the Cañones Creek canyon, he told us, eyeing the board on my roof. It was hot and the sky had cleared, a brilliant late-summer afternoon, one of the sweetest of the season. 
Friday came, and Pippa blazed forward into her next big adventure with barely a look back. She was ecstatic. I, on the other hand, was a mess. I couldn't stop thinking about the lake. I wanted that day back, and all the days and years that had already passed while I'd been busy not paying attention, worrying about deadlines and work, running and training, anything, it seemed, but getting away on an adventure with my girls.
But I had done those things, I consoled myself. We'd skied and hiked and camped and rafted. Just not enough. Not nearly enough. I always knew the day would come when she'd go to school, but it seemed so vague and far away, and now it was here, she was five and had to answer to someone else's rules, and there was no going back. 
Of course she wasn't really gone. She was just a few blocks away, at a small, neighborhood school with its own vegetable garden and 10-foot-tall sunflowers and a small running track and a principal who already knew her name. I still had my three-year-old, Maisy, so wide-eyed and game, to be my adventure companion. And the desert was still there, too.
As though to prove it to myself, the next day, Saturday, I  loaded my friend's board, rented a second for my friend Kate, and drove north again to Abiquiu with the girls. Already we'd developed a system: take-out burgers at Bode's, swim and paddle, lunch in the shade, paddle and swim, cones at the Frosty Cow. Perfection. 
This time, Kate and I and the kids paddled into the middle of the lake, toward the canyon Terry had told us about. The children jumped off the board, bobbing and swimming and hucking themselves back into the lake's see-through depths, man overboard over and over again—free again to play all day. We cut across the glassy water to a scrubby, treeless island that seemed to consist entirely of scree and weeds. It was nothing like the piney granite islands on our lake in Canada. It was nothing like we expected. But then again, it never is. That's what makes it terrifying and beautiful. That's what makes it worth doing. That's what makes it an adventure. 
 —Katie Arnold
@raisingrippers 
Trending on Outside Online