Best Backpacking Camps for Teens Out West
That don't blow your adventure budget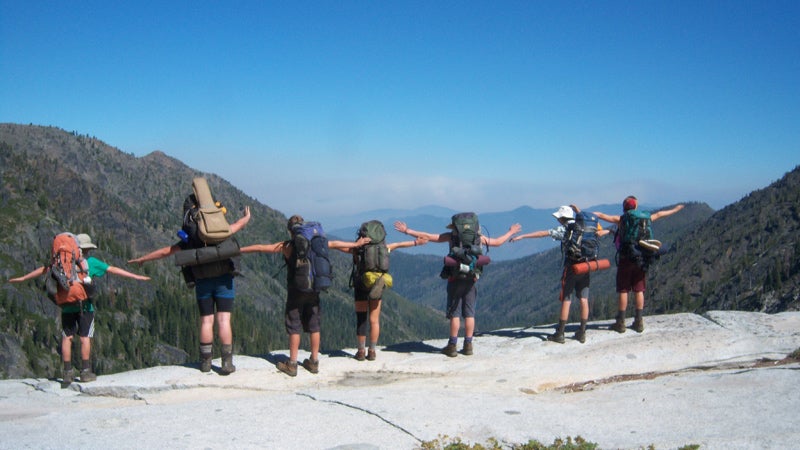 Heading out the door? Read this article on the new Outside+ app available now on iOS devices for members! Download the app.
Although there are plenty of excellent wilderness camps for kids, it can be tricky to find legit backcountry programs that last fewer than two weeks and trickier still to find camps that don't put a serious dent in your adventure fund.

Camp Unalayee in the Trinity Alps.

Camp Unalayee in the Trinity Alps.
Forego the classic sleepaway camp experience, most of which require a month's commitment, minimum. Not to mention, in many traditional camps, only a fraction of your kid's time will be spent "tripping" aka traveling extensively through the backcountry. Their schedules also tend to be padded with horseback riding, archery, and swimming—high on kids' fun meter, sure, but light on basic backpacking skills, wilderness ethics, and trail time, which are standard in most wilderness programs.
Courses and camps affiliated with non-profit research orgs, conservation groups, and YMCAs tend to be less expensive and shorter in duration than private camps. Here are a handful to consider:
Outward Bound
It's hard to argue with the grandaddy of wilderness-skills schools, which runs more than a dozen courses around the country geared for 12- and 13-year-olds. The organization's Rockies Alpine Backpacking course is ideal for busy middle-schoolers, ages 12 and 13, who want to squeeze in a week learning about wilderness travel and outdoor leadership between soccer and stunt-man camps. From Outward Bound's Colorado base camp near Leadville, Colorado, campers are schooled in basic rock climbing skills, and how to choose, pack, and use their backcountry gear before heading out onto the trail for five days. Geared for those with no previous experience, the course covers essential skills such as how to navigate, read maps, cook in the wilderness, and set up tarps.
Eight days, June to August, starting at $1195.
In California, the five-day Big Basin State Park expedition leaves from the trailhead on day one, immersing its campers in towering, redwoods and coastal valleys and teaching them basic wilderness skills, teamwork, and Leave-No-Trace (LNT) ethics.
Five days, July, $1030. 
Camp Unalayee, California
Set at 6,000 feet in the the Trinity Alps east of Eureka in northern California, Unalayee gives kids unparalleled access to peaks, high-altitude lakes, rivers, and alpine meadows in the Trinity Alps and Russian and Marble Mountain Wildernesses. Choose from a ten-day introductory session for kids ten to 13, with a three-to-four day backpacking expedition or a 15-day Hiking Tribe adventure (13 and older), 11 days of which are spent in the backcountry; hikers hoof on average about eight miles a day on portions of the Pacific Crest Trail and other area trails. Founded in 1949, Unalayee is a nonprofit committed to introducing kids from all backgrounds to wilderness exploration, and offers a generous campership, or scholarship, fund.
Ten days, June 29, $1550. 15-day programs, June and July, $1995.
Lasting Adventures, California
The Yosemite High Country makes for a wild playground on Lasting Adventure's six-day backpacking trips for youth 11 to 18. Typical routes, which vary every week, leave from the High Country and descend to the Valley floor, covering about 25 miles in total; as a bonus, campers may choose to day hike without backpacks to Yosemite icons, including Half Dome, Cloud's Rest, and El Cap. Hiking four to five hours a day, campers have time to fish alpine lakes, dunk in swimming holes, and play on natural water slides, all while learning basic backpacking skills, wilderness ethics, leadership, and LNT principles.
Six days, June to August, $700.
Siskyou Field Institute, Oregon
In the stunningly remote Klamath-Siskyou Mountains along the California-southern border, the nonprofit Siskyou Field Institute runs elementary-school day camps, middle-school wilderness skills camps, and teen backpacking trips. The latter, a three-day coed trek, introduces kids 12 to 15 to trip planning, gear management, backcountry cooking and camping, map and compass navigation, and the rich natural history of the Siskyou-Klamath bioregion.
Three days, July 15-17, $90, partial scholarships available. Five-day wilderness skills base camp (including rope course), July 21-25, $195. 
Tahoe Rim Trail Association/Tahoe Institute for Natural Science, California
Wildlife buffs will feel right at home at the Tahoe Trackers backcountry camp, a three-day intro to backpacking in the Tahoe Basin for kids 12-14. This is a base camp trip, with daily side hikes between two to five miles, so there's plenty of time learn about the area's flora and fauna, practice newfound tracking skills, and get savvy on wilderness survival, team building, trail building, and orienteering.
Three days, July 20-22, $240.
Outpost Wilderness Adventures, Colorado
Like summer camp on steroids, this expedition-based outfit specializes in skill-intensives adventures—think mountain bike racing, rock climbing, backpacking, and wilderness leadership—in the Rockies and Southwest. At the heart of the backpacking program is the seven-day coed Colorado Wilderness Course, which departs from OWA's base camp northwest of Colorado Springs and heads into the remote Lost Creek Wilderness. Don't get too excited, though: This year's trip is already full, but the Wind River Expedition and Leadership course, in northern Wyoming's untrammeled Popo Agie Wilderness in the Wind River Range, is a stellar alternative: nine days of backpacking, fishing, and mountaineering, including a non-technical ascent of 13,100-foot Wind River Peak. Geared both for beginner backcountry travelers and those with more experience, ages 13 to 17.
Nine days, July 27-August 2, $875. 
Camp Chief Ouray, Colorado
Colorado's longest-running summer camp, this YMCA camp offers both traditional sleepaway sessions on 5,100 acres at Snow Mountain Ranch, southwest of Granby, as well as multiday, multisport trips into the backcountry. The six-day Adventure Backpacking program starts with trip-planning at camp HQ before setting off on a four-day trek into the heart of Rocky Mountain National Park; the two sessions this summer are full, but you can get on a wait list. Their six-day Adventure Odyssey option combines backpacking with rock climbing and mountain biking, and on the Adventure Rafting expedition, campers learn wilderness and rafting skills during a four-day float on the Colorado River.
Ages 13 to 15, June to July; from $595.
Plus, three for the road… 
Back East, there are still a few openings in the Appalachian Mountain Club's teen wilderness adventures. Choose from five- to seven-day backpacking trips along the AT or a wilderness backpacking/canoe tripping combo course in New Hampshire and Maine's Rangeley Lakes (ages 12 to 14, from $874).
Two Minnesota YMCA camps run terrific wilderness programs: Camp Menogyn leads six-day backcountry treks on the Superior Hiking Trail or eight days in Isle Royale National Park ($795, for campers entering grades 7 to 12); and Camp Widjiwagan runs five- and eight-day BOLD and GOLD—short for boys' and girls' outdoor leadership development—canoe tripping expeditions in the Boundary Waters (ages 13 to 18; from $475.