Sponsor Content: Columbia
Boost Your Heart Rate in the Heartland
These five destinations deserve a spot on your Central U.S. bucket list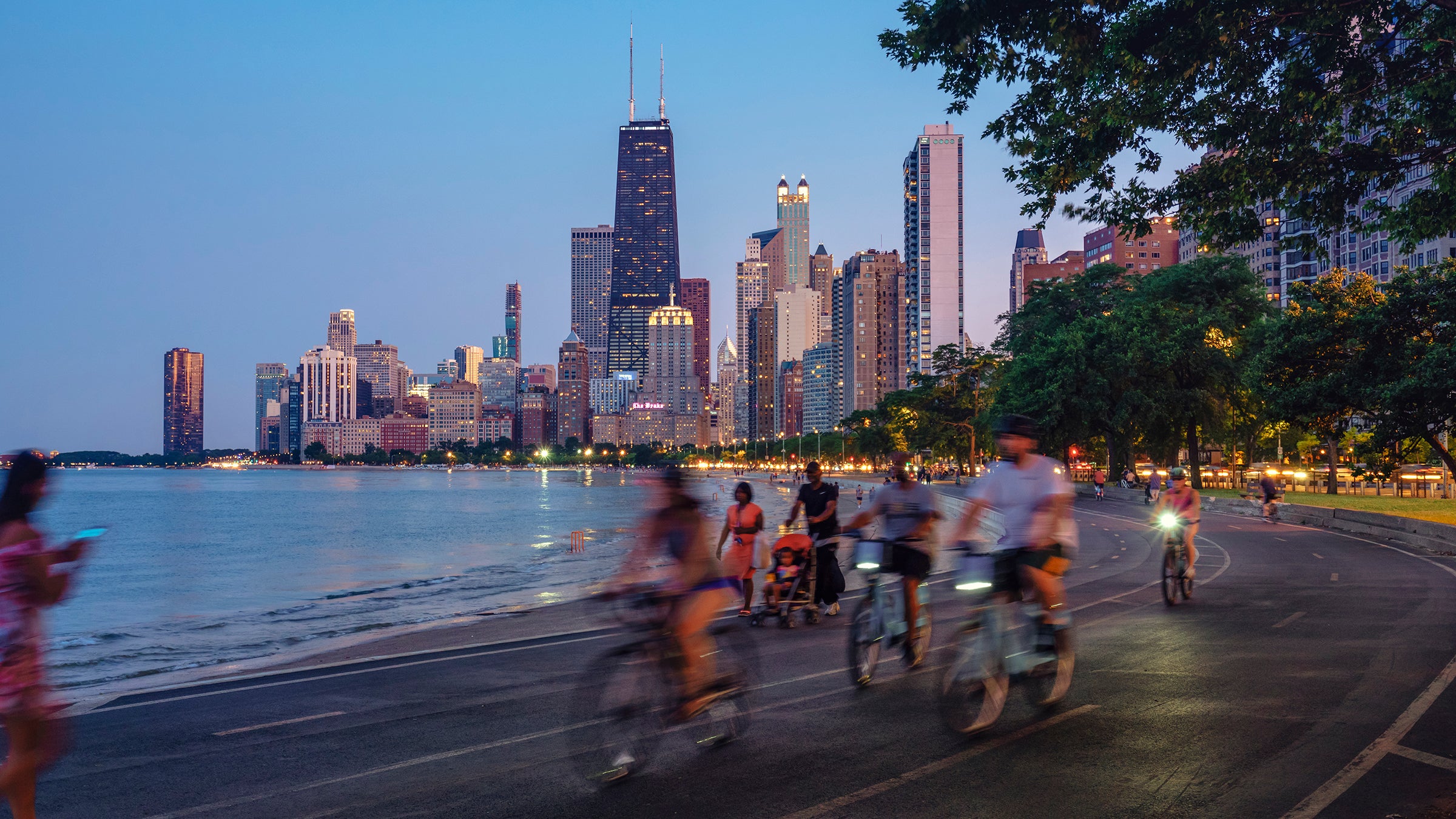 Getty Images
Whether your city touches the Rockies, drains the High Plains, or rolls into forests, if you're in the central part of the country you still have access to incredible hiking routes that will knock your cushioned quarter-socks off. The best part? Many of these trails are located close to some of the biggest cities in the region. So whether you're a city slicker or just passing through, lace up and hit a new trail. You may be surprised by what you find.
Chicago
Quick & Close: It's not a well-kept secret, for sure, but you can't go wrong with the Lakefront Trail (pictured above), truly one of the planet's great trails. The iconic 18-mile route features a constant source of wonder and motivation: a panoramic view of Lake Michigan and the city skyline. The flat, accessible route passes landmarks like Navy Pier and the Chicago Museum Campus. Plenty of water and rest-stop opportunities exist, making this trail a true choose-your-own-adventure treat.
Steep & Spicy: Looking to feel the burn? The Swallow Cliff North Stairs trail, located near Palos Park, Ill., might just have what you need. Though it's just 2.5 miles, Swallow Cliff offers a demanding workout for trail runners and hikers of all experience levels thanks to its 293 limestone steps, many put in place by the Civilian Conservation Corps in the 1930s, ascending to a now-closed toboggan run. These days, the stairs provide a rough, rewarding workout among the surrounding forest and its unique rock formations.
Light & Fast: Long, leisurely loop trails are hard to come by in this part of the world, but Darien's Waterfall Glen Forest Preserve offers just that with its scenic 9.5 miles. The mixed gravel trail wends through wooded areas, prairies, and wetlands, and features minimal elevation change. The local eye candy includes waterfalls, streams, and the lakes, along with deer, foxes, and birds—and a handy port-a-potty halfway through the route.
Houston
Light & Fast: Shady trails can be hard to come by in Houston, but the Peach Creek Trail delivers with a 7.2-mile loop that's mostly shaded by canopy. The trail features a mix of flats and steep hills, rocky terrain, several creek crossings, along with a few sandy sections. Keep your eyes peeled for roots, and consider bug spray if you're out in mosquito season.
Deep & Wild: Is everything bigger in Texas? Not quite. Yet the Lone Star Trail, located in the Sam Houston National Forest near Houston, sure impresses. The wildly varied, scenic 96-mile point-to-point provides hikers with a true backcountry trail highlighted by flat sections, steep hills, and rocky terrain. Several campsites are available for overnight stays, or you can attack the trail in sections.
Quick & Close: The shady, forested Green Ridge Trail at Memorial Park is a favorite destination for Houston mountain bikers, but hikers and trail runners will find a lot to love, too. The popular 2.9-mile loop provides modest elevation change (hey, at least it's something) along with beautiful views of Buffalo Bayou. You'll feel far removed from the big city—even though you're still in it. No car? No problem. Bus route 85 Antoine/Washington runs near the eastern edge of the park.
Minneapolis
No Time: With only a few hours or less to spare, Theodore Wirth—the largest of Minneapolis's parks—features a network of trails that span over 20 miles in total, providing hikers with a variety of options for different distances, difficulty levels, and time constraints. The terrain is a mix of paved paths and unpaved trails that wind through forests, across open fields, and along the shores of several lakes. No ride? Take Metro Transit bus 7 to get there.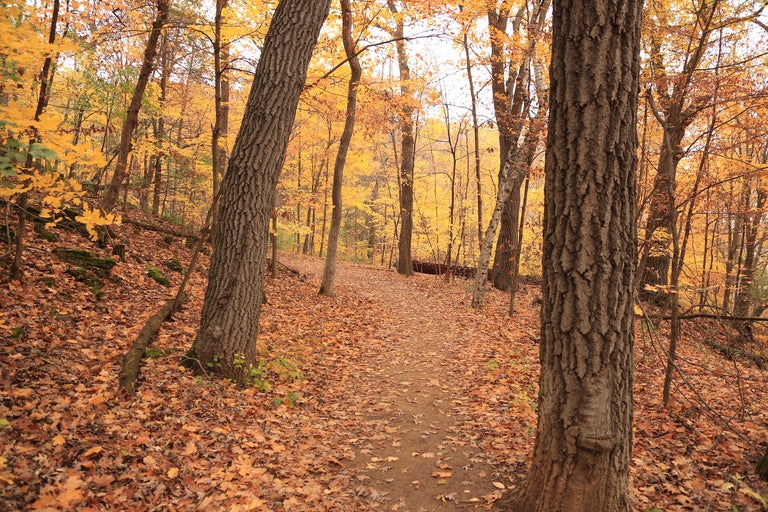 Steep & Scenic: The 7.2-mile Northern River, Trout Brook, and Prairie Loop at Afton State Park offers plenty for hikers looking to push their limits. You'll find steep inclines (relatively speaking) with rocky terrain, and scenic views of the St. Croix River Valley. While your legs feel the climb, you'll likely be distracted by the area's beauty: The trail progresses from dense forest to open prairies to riverbank vistas and back.
Wilder Miles: Located in Bloomington, a quick drive from Minneapolis proper, the Hyland Lake Park Reserve offers a proper opportunity for trail explorers to pick a route just wild enough for their fitness levels. The 18 miles of trail feature a mix of rolling hills, gradual inclines and lakeside views. Want to level up? Ascend toward the Hyland Hills Ski Area, where, as you huff and puff, you can take in views of the Twin Cities skyline.
Dallas
Light & Fast: The Greenbelt Corridor Trail at Isle du Bois Unit of Ray Roberts Lake State Park satisfies both the mind and body, with up to 20 miles of just-rugged-enough trails studded with scenes to entertain the eye. The trails wind through dense forests, open fields, and along the banks of Lake Ray Roberts, providing hikers and runners with cool viewpoints of the water and the surrounding natural beauty. You'll pass over historic bridges, see a bottomland hardwood forest, and in spring, bear witness to some sweet wildflower fields.
Steep & Spicy: If you need a big break from the city, the DORBA Trail at Cedar Hill State Park delivers. The challenging trail system can be adapted from a 4.8-mile loop to much longer options, and features steep hills, technical sections, and rocky terrain—along with epic views of the 791-acre Joe Pool lake. Be on alert for mud after rainy stretches, and keep your eyes peeled for snakes, too.
Quick & Close: A Big D classic, the White Rock Lake loop trail offers a 9.3-mile loop around White Rock Lake, a ca.-1900 reservoir. With extremely gentle grading, it's a great cruise for all fitness levels (until temperatures start peaking in summer, of course). The trail offers killer views of the water, the Dallas skyline, and restored meadows. It's a popular spot that tends to be busy on weekends, but you'll enjoy the camaraderie and a vibe that's far removed from the city.
Denver
Quick & Close: A convenient option for mellow mountain movers who want to escape the city without straying too far, the Cherry Creek Trail offers a plethora of distance options. Starting at Confluence Park, on the Platte River Trail, this path slices through the heart of Denver and rambles all the way to Cherry Creek Reservoir. Don't have time for the full 40 miles? Connect Confluence Park to Sunken Gardens Park for a manageable 4-mile route. Elevation changes are minimal and the path is paved, so while not the "wildest" trail on the list, the Cherry Creek Trail provides an ideal urban workout getaway.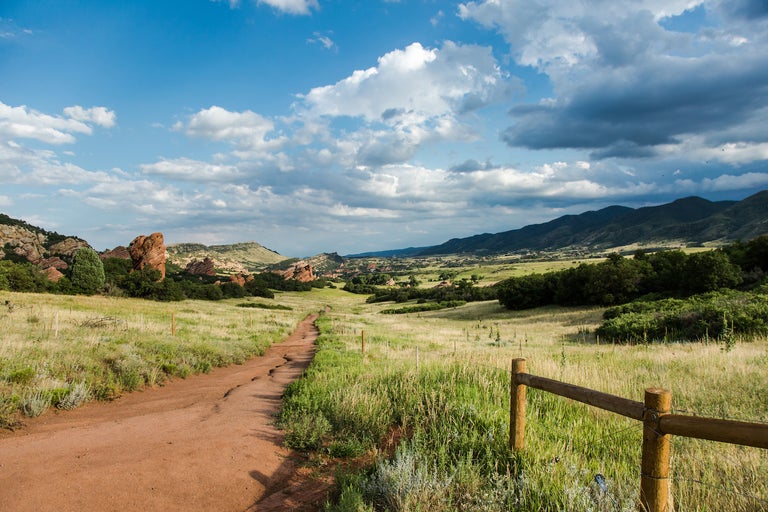 Mild Miles: With soul-buoying views of surrounding sandstone formations, including the iconic outcrops of the nearby Red Rocks Amphitheater, the South Valley Park Trail in Littleton, Colo., offers plenty of payoff if you put in the effort. The trail covers just over 3 miles, with a mix of packed dirt and gravel terrain, matching rolling hills and flat stretches for an ideal moderate workout. Don't miss it.
Steep & Spicy: While the Colorado Front Range is studded with world-class hikes, a challenge as unique as the Incline in Manitou Springs tops many lung-busting lists. Though the trail covers just under 1 mile, it gains over 2,000 feet of elevation, via a staircase with over 2,700 steps. You will feel torched as you near the top, but then you'll find a hiker's high aided by stunning views of the surrounding Pike National Forest. For a little variety, descend via the switchback-laden Barr Trail.
---
Columbia has been creating innovative apparel, footwear, accessories and equipment for outdoor enthusiasts since 1938. Columbia has become a leading global brand by channeling the company's passion for the outdoors and innovative spirit into technologies and performance products. To learn more, please visit  columbia.com.
Lead Photo: Getty Images