Lessons Learned From Summertime Adventures With A Hairless Dog
Chinese Crested dogs are speedy, high-energy, always ready for adventure, and… well… naked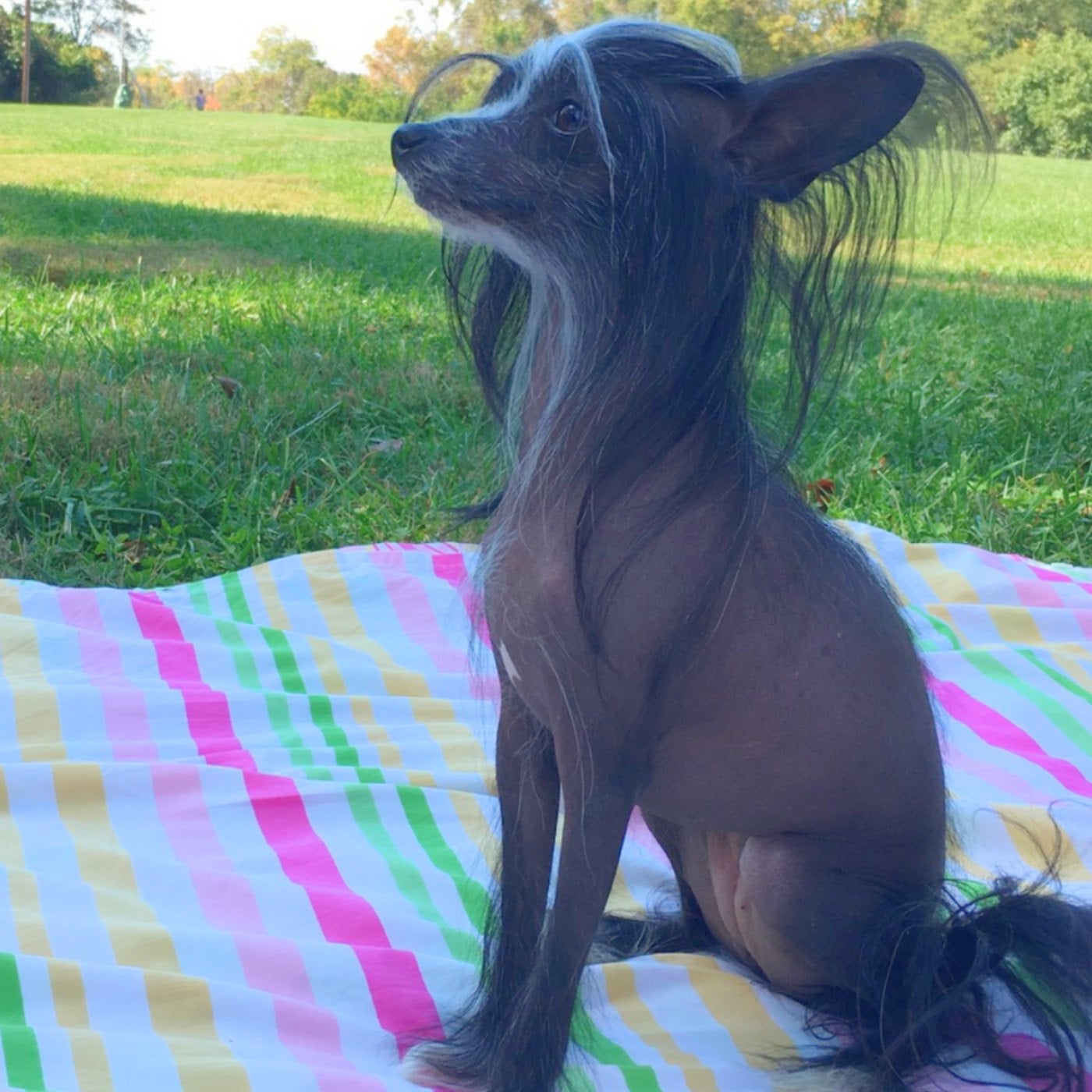 Heading out the door? Read this article on the new Outside+ app available now on iOS devices for members! Download the app.
When I was a junior in high school, I begged my mom for a puppy. I didn't know I'd have to specify I wanted a hairy puppy, but nevertheless I was stunned and overjoyed when she brought home a wriggling, quivering, adorable Chinese Crested Dog. Apparently one Crested wasn't enough, because since I've moved out of the house (leaving behind little Primrose, as she's developed a strong bond with my parents), two more have joined my pack.
Chinese Crested: The Ultimate Hairless Dog Breed
Chinese Cresteds are a small breed of hairless dog, usually weighing around 10 to 14 pounds. They're most distinguishable by their lack of hair except on their paws (like little winter boots) and long manes on their heads. They're very affectionate, personable, and playful.
Like many small dogs, they're also a bit fragile. Which means that while our family loves to adventure with Primrose, Finley, and Jackie, it requires some preparation.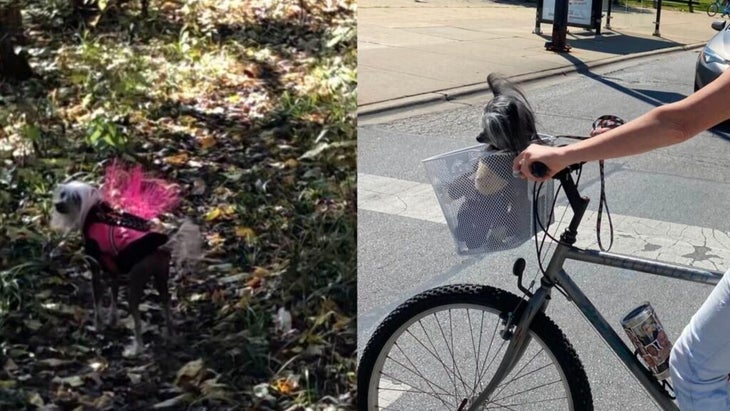 Sunscreen For Dogs
The first, and perhaps most obvious, reason is their skin. Chinese Crested skin is much like ours and can get greasy, even pimply, and sunburned. Along with regular baths, our dogs require vigilant skincare. We apply dog-specific sunscreen if they're going to be out in the sun for long hikes or walks. Human sunscreen contains ingredients, like zinc oxide and para aminobenzoic acid, that can be toxic to dogs, so we use brands like Petkin's doggy sunstick. It has an SPF of 15, is non-greasy and is small enough to slip in any backpack or pocket. We reapply generously when needed, making sure to get the susceptible spots like their ears and top of their heads. They don't mind the process of applying it, and though they initially lick their backs here and there, they quickly forget about it.
Do Dogs Sweat?
We're also mindful of keeping the dogs' skin cool by sprinkling them with water and keeping them hydrated. Chinese Cresteds, unlike other dogs, can cool down without panting because they actually sweat. So if they begin to pant, it's usually a sign they're overheated.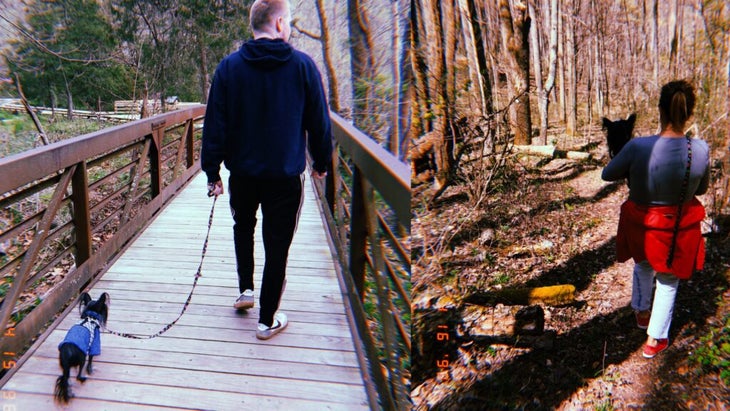 Tips For Taking Chinese Crested Dogs Outside
Our pups go with us everywhere and we keep a sharp eye on how they're feeling when adventuring. Although they have tons of energy, our smallest (Primrose) has short legs and not much stamina. Sometimes she needs a break, which means we carry her in our arms or  or carted around in a basket like the princess she is.
Watch Out For Predators
Adventuring with any small dog like a Chinese Crested also requires being aware of what's lurking in the trees and skies. Because they're so small, our dogs are vulnerable to coyote and hawk attacks. While we've never had a close encounter, my parents live in the woods and sometimes prefer to be safe than sorry if there's been a coyote sighting. Enter this fashion statement.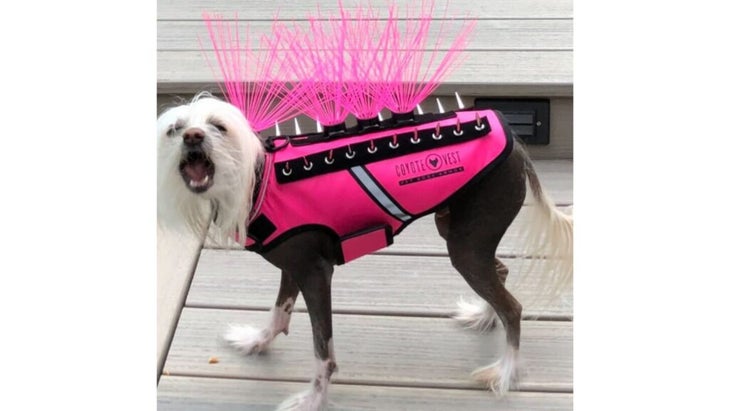 The CoyoteVest is a sort of body armor that's meant to deflect any surprise attacks. Much like a porcupine, the vest has bright nylon bristles that will not only make predators hesitate to attack, but might poke and jab if one does. Finley loves his, and doesn't particularly mind prancing around with it on.
Relish Social Time
Whether they're wearing CoyoteVests or not, one of the most unique parts of adventuring with Chinese Cresteds may be the attention they garner. It's not a typical outdoor excursion if at least one person doesn't stop us to take a photo of Finley or pet Jackie. Regular questions include, "What are they!?" and "Did you give them those haircuts?!" but the overall reaction is always pawsitive.
Lead Photo: Mallory Arnold