Coming of Age on Mount Rainier
Physical challenges help kids rise to life's challenges, as unpredictable and varied as they might be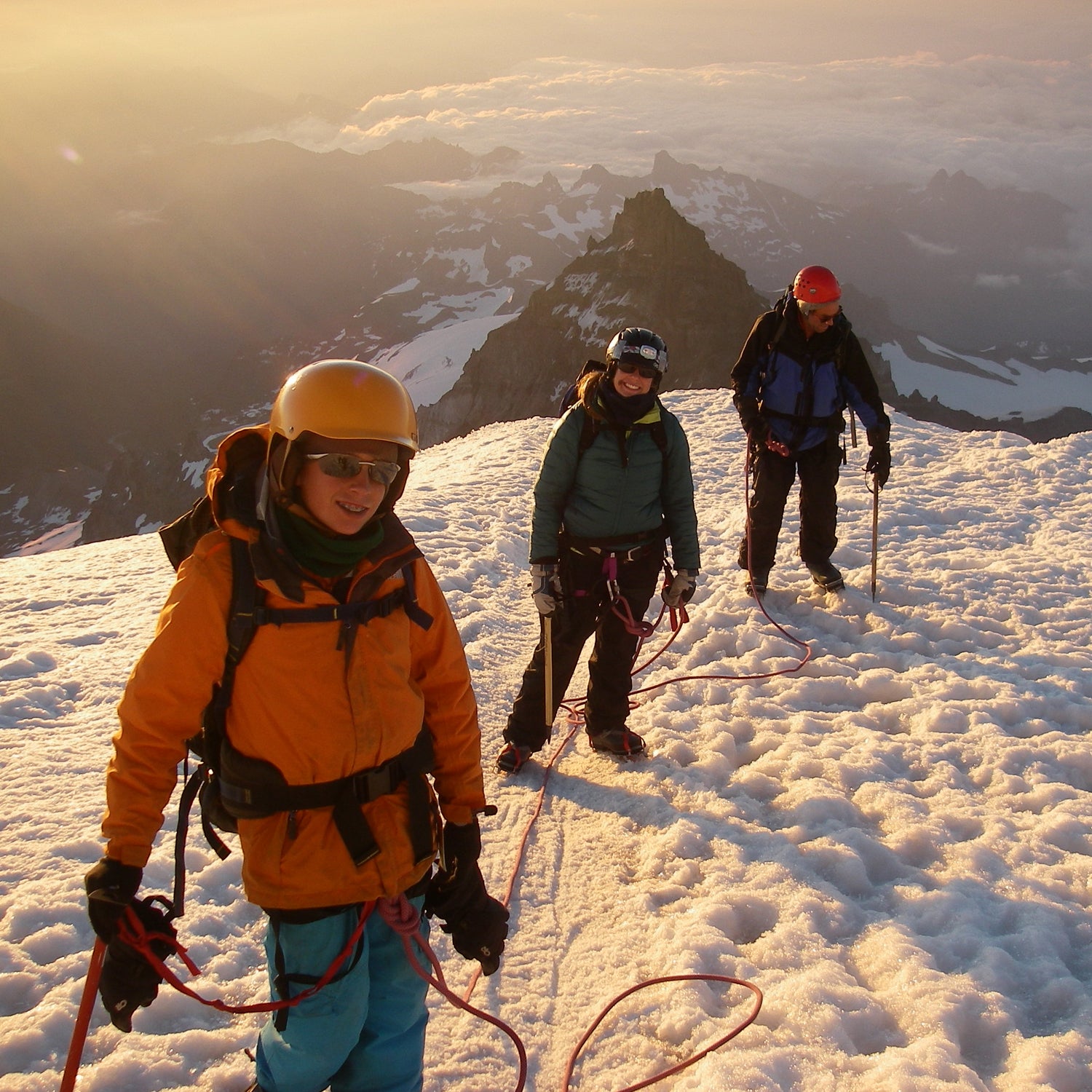 Heading out the door? Read this article on the new Outside+ app available now on iOS devices for members! Download the app.
It was an hour before dawn. We were scrambling in the dark, on hands and feet, our headlamps dimly lighting the dusty, crumbling rock in front of us; our metal crampons slipping on stone. I was second on our rope string behind our friend, an experienced Everest climber. Behind me was our 14-year-old son, Skyler; our 17-year-old daughter, Molly; and my husband, Peter. We'd made it to what is known as the Cleaver. Our Missoula neighbor, an emergency room doc and search-and-rescue team member, had grinned knowingly as we packed our car on our way to Mount Rainier. "Say hi to the Cleaver," he said forbiddingly.
I grew up looking across Puget Sound at the white hulk of Mount Rainier, that primordial volcano that stands like a king among mountains in western Washington and that just claimed six lives, racking up a total of 95 during the past 117 years. My father reached its summit at age 18, in 1929. He claimed to have done it "with a little jute and tennis shoes." But I knew his nonchalance belied the size of the feat, and that, in fact, it had meant a lot to him. It had been a sort of coming-of-age test.
One summer, Peter, standing on the deck of our Puget Sound cabin, was looking for an exciting challenge for young and active Skyler while Molly and I were off on a trip. He gazed across the water at the white hulk. "What about that?" he said. "Let's climb Mount Rainier."
Enter the risk assessment. Although Peter is not an ice and snow mountaineer or a technical rock climber, he has done lots of planning for trips into the wilderness. With approximately 11,000 people climbing Mount Rainier each year, the mountain is hardly a wilderness, at least not if you define wilderness as a place without people. But it has the unpredictability of wilderness in spades.
Luckily for us, we know several highly experienced mountaineers, including a veteran Everest climber who was willing to let us tag along. We would be climbing in July and taking the most standard route: Camp Muir to Ingraham Glacier to Disappointment Cleaver to the summit. Of course, 11 climbers died on Ingraham Glacier in 1981, so we weren't taking anything for granted.
Come July, we hucked our 50-pound packs onto our backs in the parking lot of Paradise Inn and eagerly greeted the motley crew who would be our climbing companions: a preschool teacher from England with her party-time-all-the-time childhood girlfriend; a laconic East Indian computer tech guy from Virginia, back for a second try at the summit; another Brit, jovial and grizzled, who'd been a mountaineering guide on Mount Kenya; a boy we'd known since he was born, now in his 20s, with his fiance, both avid converts to CrossFit; and some enthusiastic Seattle friends of ours with their 15-year-old son, Max, and 11-year-old daughter, Flannery. (Less excited by the prospect of a lugging a pack 9,000 feet up the side of a mountain, she would return with her mom to the parking lot after the first night.)
The plan was to camp two nights at Nisqually Glacier at 9,200 feet, where we'd acclimatize and practice self-arrests with our ice axes. Then we'd climb to Camp Muir at 10,000 feet, spend a day practicing crevasse rescues, try to sleep for a few hours, and begin the standard ascent to the 14,410-foot summit in the middle of the following night. We were being conservative, taking it slow.
Now, after all of our preparation and nights at lower elevations, the summit climb was on. It was 10 p.m., time to wake up, assuming we'd actually gone to sleep. We quietly crept out of our tent at Camp Muir and began the meticulous process of donning helmets, headlamps, and climbing harnesses and strapping on safety lines, carabiners, crampons, and ice axes. Our hands were already cold. Our eyes strained in the dark. Other hushed climbers rustled in their tents, which were lighting up like Japanese lanterns. The kids were excited. Our rope line was the first to clip in and step out onto Cowlitz Glacier. Crisp snow crunched underfoot. We looked back. Other strings, like glittering diamond necklaces, were stretching out behind us.
We reached the first ridge of rock, jutting out of the mountainside like a stiff mohawk. Crampons perfectly designed to grip snow were less than ideal on loose, volcanic rock. Dust stung our eyes. Our children, unperturbed, chatted with Max on the rope behind about the Dark Knight until our lead climber told them to be quiet and focus. We stopped so I could adjust my crampons. I took off a mitten and laid it on the rock.
"Don't ever do that!" our normally laid-back leader admonished. "It could be the difference between life and death to lose a glove." I snatched up my mitten and stuffed it into my jacket. I'd never heard him so clipped.
We slid down onto Ingraham Glacier, where the silk cocoons of tents at a distant camp were beginning to light up.
"Stop until I tell you to come," our leader said to me. "Okay, jump."
I felt a tug at my harness and jumped as far as I could across the yawning crack of a crevasse, my headlamp catching a drop into blackness, my back foot just dragging over its lip. I pulled in the slack in our rope and turned and did the same for Skyler.
"Whoa, that was huge!" he said, easily making it to the other side but clearly impressed.
Seven hours after our departure from Muir, our lungs grasping at ever-thinning wisps of air, we crawled through the dark, pulling ourselves over boulders by our hands, ice axes banging against rock, headlamps slipping. We made it to the top of the Cleaver. Another long, vertical ridge of rock, the Cleaver's sides dropped away into darkness—we'd find out just how far on the return trip in the daylight. We stopped to take a rest, drink one of our canteens of water, dig out gorp and Power Bars. Our kids were tired, cold, silent. A thin orange line of predawn light appeared in a curve on the horizon, separating the edge of our planet from space. A rumble sounded, throaty and deep. The great mountain twitched and shed its skin of rock and ice.
I'd always heard this route up Rainier was not particularly technical, just a long walk. But it was becoming clear this was the air-sucking, glute-gripping, muscle-sapping, energy-draining variety of walk. This was the variety of walk that begins to test one's determination and perseverance. While it had its share of adrenaline-pumping excitement in the beginning, by the end it just demanded grit.
In my world, there are few coming-of-age tests—no lions to kill, no isolating menstrual huts—few ways of marking the seriousness of the transition into adulthood.
When I was 12, my father suggested I swim the mile and a half from the mainland to the island in Puget Sound where we had a cabin. After calculating the tide, we set out from the island one morning to row across in our little wooden boat. Reaching the other side an hour later, I climbed out. With a wetsuit top and legs slathered in Crisco, I waded into the 60-degree water. The swim home felt long and cold, and I wondered what was lurking in the 200-foot depths. I felt small and vulnerable. But I as I stumbled out onto the beach on the other side, I was exhilarated that I had made it, and that triumph has fed into my overall confidence.
Despite the fact that many jobs no longer require physical prowess, physical confidence still plays an important part in our children's feelings that they can cope in a sometimes-threatening world. Physical confidence is one more bolster against vulnerability. Likewise, there's a place for facing a big test, physical or not. I've wished my children had something like the demands of a bar or bat mitzvah, where they'd have to prepare for a year to speak before their family's adult community. Our kids need some of these tests along the way to reassure them that they'll be able to rise to life's challenges, as unpredictable and varied as they will be.
Five hours later, in the early morning sunlight, my kids and Max stood on top of Mount Rainier. They were elated and tired, and they knew the day was not yet over. But it was good. That night, at 10:00, after a full 24 hours of nonstop climbing and descent, they stumbled through a thick fog into the Paradise parking lot. They had tackled something really big—that unpredictable, sometimes irascible king of mountains.
Now they look across the water, see the volcano's crest, and say, "We were there."