Decoding Your Dog's DNA: The Results of Our Canine Heritage Breed Test
Pick up a shelter dog and curious about what breed he or she is? In this, the second in a two-part series, Ali Carr Troxell learn about Odin and Rio for the first time.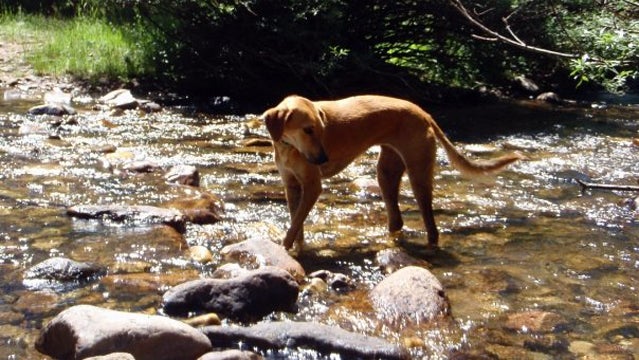 Heading out the door? Read this article on the new Outside+ app available now on iOS devices for members! Download the app.
The wait was long. Four to six weeks for lab results drags on until you nearly forget about them. Then, one day, they arrive in your mailbox and everything you've been waiting for, like the results of the Canine Heritage Breed Test, is right there in your hand, sealed. Will the word "saluki" grace Rio's Certificate of DNA Breed Analysis? And will American staffordshire terrier (a.k.a. pit bull) be printed on Odin's?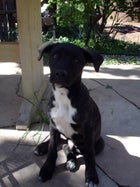 Odin, 2.

Odin, 2.
Well, as it turns out, no. No, no, and more no. Apparently, we were only right about one thing.
Within the results of a Canine Heritage Breed Test there are three groups in their analysis—primary breed, secondary breed, and "in the mix." Dogs like Rio and Odin, who are mixed breed, will only have something listed under primary if one of their parents is purebred. Primary also indicates that a dog is mainly made up of a specific breed. Unfortunately, "primary" was left blank for both of my dogs, meaning neither hailed from a purebred. Had there been something listed, I would have been able to attribute my dogs' characteristics more significantly to that certain breed.
Secondary breeds are those that "might be easily recognizable within your dog." Here's where I would guess rhodesian ridgeback for Rio because of her golden coloring, floppy ears, and large chest. The last category, "in the mix," is made up of breeds that affect a dog's composition in very small amounts, but are recognizable as markers in their DNA. Drumroll, please.
RIO:
Primary Breed: Nope.
Secondary Breed: German Shorthaired Pointer
In the Mix: Australian Shepherd (thus, the furry tail and petite stature), Rhodesian Ridgeback
ODIN:
Primary Breed: Nope.
Secondary Breed: Nope.
In the Mix: Boxer (the source of his brindled coat, white chest, and cat-like boxing moves), Collie (also possibly the culprit behind the white chest), Shetland Sheepdog (why he rounds up cattle), Pembroke Welsh Corgi
According to the breakdown of the analysis, when a dog only has breeds listed "in the mix," it is likely that only small traces of these breeds will be noticeable in the animal. Perhaps that's why Odin isn't "10 to 12 inches tall at the shoulder" like a corgi and doesn't hold down a Tina Turner-style mane like his ancestors, the collie and Shetland sheepdog, but why he does have high-perched ears, a high-pitched bark, and a high-velocity ability to wrangle cattle.
Was I surprised about Rio? Nah. She might not have the brown-and-white spots of a German shorthaired pointer, but she's got the moves to; she chases down rabbits like it's nobody's business.
In the end, it's nice to know Odin is not a pit bull (for insurance purposes) and to be able to attribute his boxing habits (I swear, they exist) to something and not the idea that he was raised by a cat before coming into our home. Besides that, we didn't learn much about our dogs that we didn't already know. They won't change because we know sort of who their grandparents were. But, it does fill that little thing inside called curiosity.
Are you surprised by my dogs' results? Would you test your dog based on my experience?
This article originally appeared on Outside K9, the former dog blog of Outside magazine, on November 9, 2009.
Trending on Outside Online