Dispatches from Summer Vacation: Running at the Lake House
Every year, Katie Arnold spends a month at her parents' cabin on an island in Ontario. Great for relaxation, but not so much for training.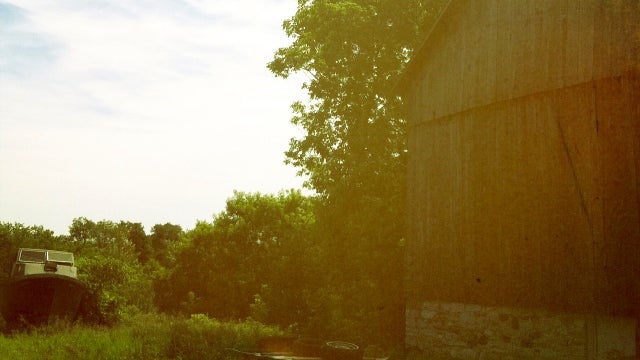 Heading out the door? Read this article on the new Outside+ app available now on iOS devices for members! Download the app.
This year, like most summers, I ditched the high desert of New Mexico to spend the month of July at my parents' island cottage on a lake in Ontario, Canada. Island life has many advantages. I go everywhere by boat and don't have to wear shoes or get in the car for weeks. I can sit and write after dinner on a screened porch overlooking the lake, to the tune of water sloshing under the dock. My kids basically live in their bathing suits.
The downside: For runners, it's harder to train here. Any workout has to start with a boat trip to the mainland, where you tie up your old tin dingy and head up the road. Your options are limited. There are hardly any trails, and a surprising amount of traffic. Mostly, you're running on flat Ontario farm roads, past hundred-year-old red brick farmhouses and defunct raspberry farms, 1970s ranchettes and derelict pickup trucks advertising free metal drop, their beds loaded down with rusting dishwashers and a tangle of other ancient, unidentifiable appliances. The roads here run parallel or perpendicular to each other, so once you've reached your halfway point, you have to concede to turning around and going back the way you came.
The biggest hazards are the bugs. Duck into the thick woods, and the deer flies start swarming, a dozen or so hovering a foot behind your head, a relentless entourage you can't shake, no matter how far or fast you run. The mosquitoes aren't nearly as fleet, but they are more ruthless, and cagier. The minute you stop, they will devour you, tickling the backs of your knees, your wrists, every available inch of salty skin.
On the plus side, I feel faster at sea level, and not just because I'm trying to outrun tiny buzzing vampires. The pavement is flat and smooth and unbearably tedious, but my feet feel like they're flying.
Truth be told, I need the speed work. When I left Santa Fe two weeks ago, I was still recuperating from a 50-mile race. A month had passed since the Jemez Mountain Trail Run but my legs still felt heavy and sluggish, and some days I couldn't muster the energy or enthusiasm to go more than eight miles. I knew I was still in the throes of active recovery, but it seemed like I'd lost a gear.
Then I came to Canada. After boring myself to death on the flat farm roads, I run as fast as I can back to the lake. At the landing, I kick off my shoes and leap straight off the dock in all my clothes, a ritual that brings its own kind of joy.
And a funny thing is happening: I've shaved minutes off my average pace. On my first run here, I charged for 10 miles, got lost in the woods, was ambushed by mosquitoes, tacked on another four miles, and still made it home in far less time than it takes to run the same distance at altitude. The speed work's making me faster, but mostly it feels exactly like that: work.
Still, as much as I miss the familiar hump of the mountains and the slow, deliberate chug my legs climbing long hills, the memory of all my summers on this lake trumps everything else. Soon enough, I will be back in the crispy, drought-stricken desert, missing water right off the front dock and maybe even those dreaded farm-country roads and the mosquito-factory woods. Our lake house will go dormant for another year.
Trending on Outside Online