The Downsizing Uprising
Tiny homes simplify family life and make room for adventure.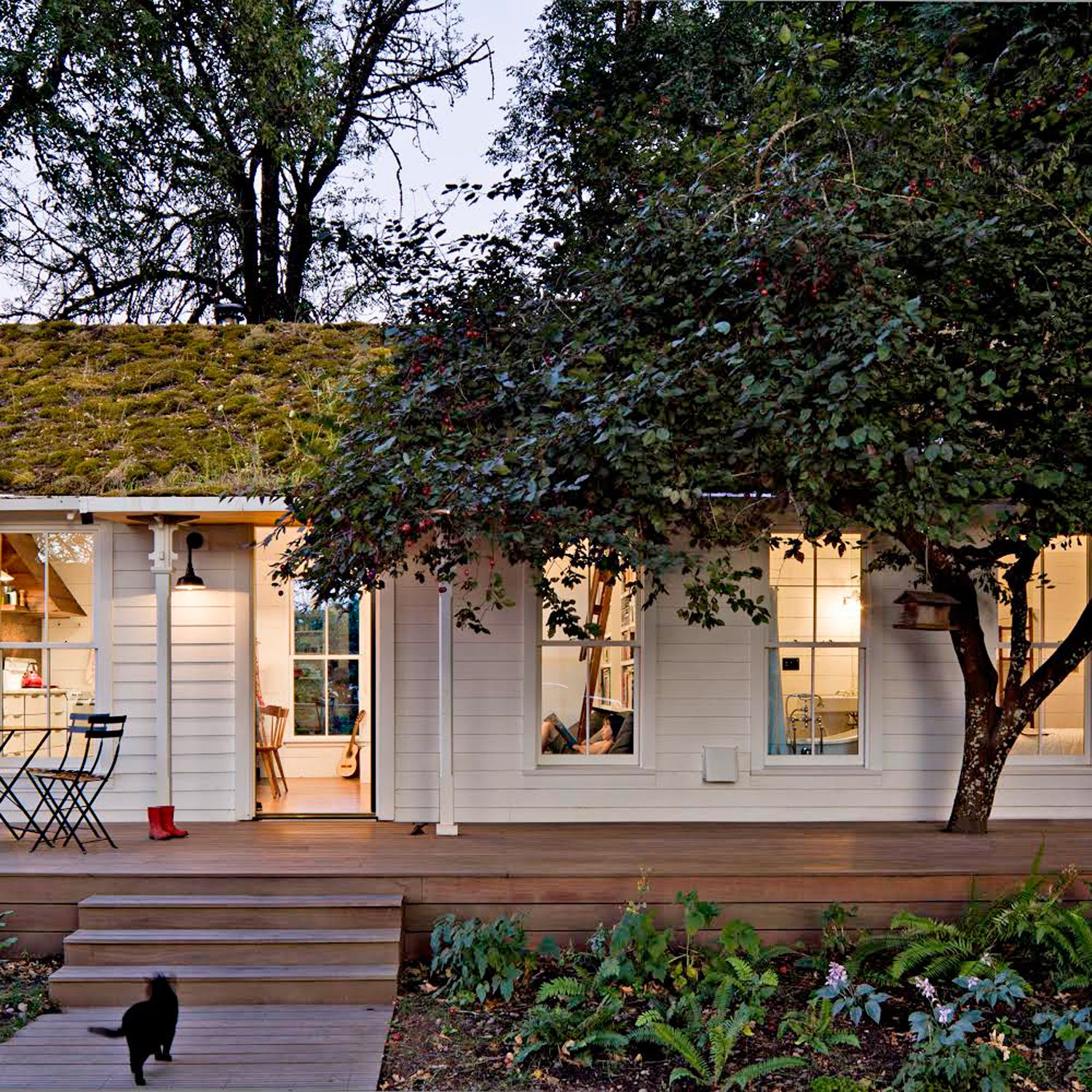 Lincoln Barbour/Jessica Helgerso(Photo)
Heading out the door? Read this article on the new Outside+ app available now on iOS devices for members! Download the app.
A couple of weeks ago, just as summer was about to click over to fall, we snuck in one last family river trip: floating the Green River through Labyrinth Canyon, one of the country's premiere stretches of desert flat water. For five days we paddled, swam, slept on sandbars, and played under crystalline Utah skies. Life was good. Life was easy.
There's something about living outside on water that simplifies and smoothes the rough edges away. No electronics, no alarms, no deadlines or bills, no toys scattered all over, only a handful of dishes to clean. All the food we need, packed into a few coolers.
On the long drive home, I fantasized about decamping with my family to live full time on the river. But as we pulled into our driveway in Santa Fe, I realized that living well is not merely a matter of location, location, location. We don't need a river or a tent with a view to simplify and minimize. We can live this way all year long, right where we are. We just have to be smart. We just have to live smaller.
---
We're not the only ones feeling the need to streamline. In the past five years, thousands of people have been taking simple to an extreme, ditching their three-bedroom homes for micro-abodes of less than 500 square feet. Tiny homes are popping up across the country—sleek glass boxes, log sheds on wheels, converted shipping containers, modern pods built by hand. You can take tiny home building courses online and buy tiny home building plans. There's an annual tiny house conference and even a new online dating network for tiny home dwellers, aka "tiny lovemates" (no offense?). Splashy digital slide shows and documentaries like Tiny: A Story about Living Small and Small Is Beautiful glamorize the simplicity of mini-living.
The benefits to going small are huge: Tiny homes cost on average $23,000 to build, easing the financial burden of a big mortgage. Downsizing eliminates clutter and limits spending and consumption. In some cases, smaller houses allow you to live off the grid, in remote locations, closer to trails and backcountry access. And when your house isn't much bigger than a storage shed, you'll naturally spend more time outside, like Laura LaVoie, whose al fresco kitchen in her 120-square-foot North Carolina home—a wooden bar-top with cookware stored below in plastic tubs—isn't much different from our camping kitchen. Not having to mow the lawn or spend your Saturday vacuuming 2,500 square feet means more time for travel and adventure.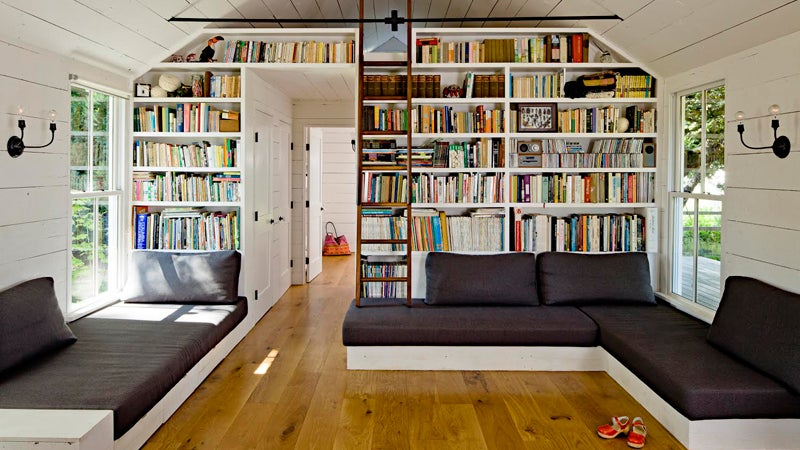 "I don't need as much money to live which means I don't have to work as much," explains Andrew Odom, who with his wife, Crystal, and their three-year-old daughter recently downsized from their 248-square foot house in eastern North Carolina into a 27-foot travel trailer. "Every penny we would have paid toward a normal American house goes toward living life and adventuring and figuring out the next step, whether that's living in a yurt or moving overseas."
There's plenty of new evidence to suggest that we'd all be happier shrinking our footprint and rethinking the American dream. According to a report published earlier this year by a team from Cornell University, people generally feel happier and more fulfilled when they spend money on experiences rather than material possessions; the anticipation of the outing—canoeing a river, climbing a peak, pulling off a bucket-list expedition—bumps up the happiness factor. In 2010, researchers at the London School of Economics correlated data from more than a million people who recorded their emotional states and locations on an app called Mappiness. The takeaway: We feel happier when we're outside (yeah, we knew that, too), especially—go figure—near water.
For Jessica Helgerson, an interior designer, happiness is a stylish 540-square-foot cottage she shares with her husband and two kids on five acres on Sauvie Island, in the middle of the Columbia River outside of Portland, Oregon. The family originally intended it as a weekend house—living small felt right from the start—but they began spending more and more time there. Then it dawned on them: They could live this way all the time.
In addition to reducing their footprint inside, the family has taken steps toward self-sufficiency outside, with a vegetable garden and 1,200-square-foot hoop house, a chicken coop, orchard and a green roof planted thick with native ferns for extra insulation.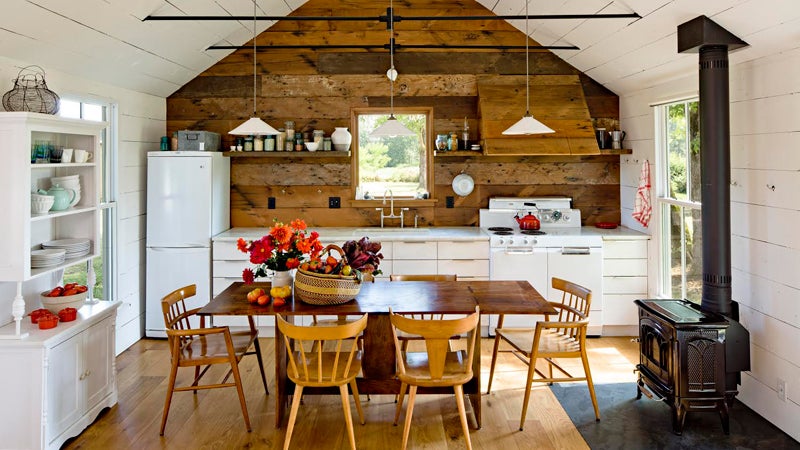 Of course, houses—big or small–don't really make us happy. That's our job. But there's no question that living lighter frees us up to do what we love, and that makes us happy. The good news is, you don't have to move to do it. You can start small right where you are.
For starters, advises Odom, "go through the house and take inventory of space you don't use. Don't heat rooms unless you use them. Don't store stuff there. This minimizes the footprint of the house without having to move." Next, empty junk drawers and ruthlessly cull the contents of kitchen and closets. You don't need five measuring cups. "If you have a pile of old 5k race T-shirts you're saving strictly as memorabilia, sew them into a quilt or cut out the logos." Ditto for periodicals. "You don't need the last six years of Dwell magazines," says Odom, who sold his collection on Craigslist for $150. Go digital with your DVD collection. As for toys: Odom abides by a strict "one-in-one-out" policy. For every new toy his daughter gets, she gives one away to a child in need.
---
A few days after returning from the river, I settled back into home life. I didn't have a choice: I'd broken my knee in a freak running/SUPing combo mishap and was laid-up with a renewed appreciation for the creature comforts that come with four walls and a roof—bed, dishwasher, couch for propping up my knee, ice pack still frosty from the freezer.
Still, when my husband asked me what I planned to do with all my newfound leisure, now that I couldn't run for six weeks, I didn't hesitate: "Go on a rampage at home." The impulse was innate, and too overwhelming to ignore. In a frenzy, I purged drawers and closets, chucked stacks of empty CD cases, donated piles of old running shoes, recycled obsolete phone books. Three weeks in, I'm nowhere near done, but clearing the clutter has already lifted an unseen burden and freed some mental and physical space for me to do more important work, like heal my knee.
And plan our next adventure.
Want to take the next step? Try a tiny home before you buy.
Lead Photo: Lincoln Barbour/Jessica Helgerso
Trending on Outside Online