Family Day Tripping
Get your local stoke on with these 7 tips.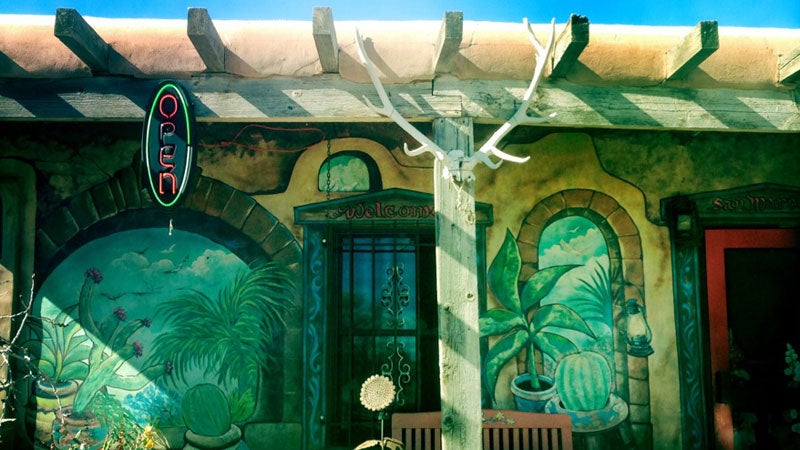 Heading out the door? Read this article on the new Outside+ app available now on iOS devices for members! Download the app.
Last weekend our little family pulled off a rare feat: a nearly perfect, close-to-home, adventure day trip. I say rare because in the hierarchy of family outings, day trips are usually overlooked and under-appreciated. Flashy international vacations get all the love; even long weekend multisport road trips to a neighboring state command more respect than the humble local outing.





That's because, with kids in the mix, it's all too easy to squander lone free days on the soccer sidelines, or ticking off your rather humdrum to-do list. And rallying gear and kids for a few hours can feel like too much work to be worth it.
When I pitched the idea of hiking in the Cerrillos Hills State Park, a network of desert trails about 30 minutes south of Santa Fe, to my husband last Friday, he actually replied, "Or we could stay home at take the screens off the windows." Seriously. And this is a guy who obsessively checks the NOAA radar app to track incoming storms and will happily evacuate the house at the last minute to drive three hours in search of fresh powder. He's not lacking in adventurous spirit, but when it comes to a random spare Sunday, he's quick to cave to the tug of responsibility. 
But a well-executed eight-hour outing can be just as satisfying and energizing as a more ambitious, longer trip. Not to mention, day trips cost a lot less and are much easier to plan and execute. Still, there's an art to pulling them off. Wing it too much and you might come home disappointed; plan too strictly and you'll miss out on unexpected detours that make local rovings so much fun.
Fortunately, there's a secret formula to successful family day trips. Follow this plan of attack on your next day off to maximize your local stoke.
Plan for adventure
Any good day trip requires at least a little thought. Without an outside activity to anchor the day, you and the kids can wind up feeling aimless and out of sorts. (Earlier this fall, we drove 90 minutes to pick raspberries, spent 45 minutes in the fields, and then drove home—the day would have been that much better if we'd made time to hike partway up a nearby peak.)
So choose your mission: setting up a few top ropes and climbing a wall, biking a rail trail, or cross-country skiing to an alpine lake. Make the goal appropriate for your kids' skills and ages, and do your homework ahead of time. I'd checked out the Cerrillos Hills' website the night before and knew there were five miles of gently-climbing trails that made a series of figure eights through the park—totally doable for a two young girls and a three-month-old puppy. You don't have to map out your every move—spontaneity and improv are essential—but it helps to have a game plan going in. 
Stay close
Whatever your activity, if you're heading out for a single day, you'll want to maximize your adventure and minimize your commute. Aim for a fun-to-driving ratio of at least 4:1. We spent roughly an hour in the car driving to and from the sleepy, semi-abandoned mining village of Cerrillos and its surrounding hills. This left the rest of the day for exploring the rolling trails and horse paths, scrub oak bushes and historic turquoise mines—some of the largest and oldest in the Southwest—and other cultural and culinary adventures. The drive was short enough that it was over before our girls got restless and we got frazzled, and scenic enough to keep them interested the whole way. Never underestimate the awesomeness of arriving at your destination in a good mood!
Make it fresh
Staying within an easy radius of home is key, but you don't want to get stuck in the same old adventure rut. Choose places you haven't visited in a while, or find new ways to experience your favorite haunts by exploring in a different season or switching up your sports.
Long before we had kids, I used to go for an annual horseback ride with friends in the Cerrillos Hills. A New Jerseyite-turned-cowboy named Harold runs Broken Saddle Riding Company, a small stable of smooth Tennessee Walkers just outside of town, and he'd let us run our horses through dusty arroyos and out onto high promontories with mountain views that stretched past Albuquerque. I hadn't been riding at Harold's for years, and the last time Steve and I had hiked in the hills was on the park's official grand opening day. Pippa, now five, had been an infant in a baby sling.
As we hiked this weekend, I was flooded with nearly two decades of memories—all the layers of my life in Santa Fe unfolding and folding back on themselves, making new patterns, and it felt as though I was experiencing these trails for the first time all over again.
Local flavor
Whatever you do, don't leave home without picnic supplies and a stockpile of tasty snacks—kidventures can be made or broken on contents of your goody bag—but you'll also want to leave time to duck into a nearby restaurant, bar, coffee house, or greasy spoon (preferably one you don't frequent often) to grab a bite with the locals. Not only does this give the kids something exciting to look forward to, but if you pay attention, you might also pick up some good intel on the area.
We packed fruit and PB&Js for the trail and planned on stopping post-hike for burgers and a beer at the Mine Shaft Tavern, a slightly grotty cowboy/biker bar in Madrid, a few miles south of Cerrillos. But then we remembered San Marcos Cafe, a popular roadside breakfast joint about halfway between Santa Fe and Cerrillos on the Turquoise Trail. We decided we'd all be happier if the girls hiked on full stomachs rather than empty ones.
As soon as we drove in, we knew we'd made the right call. The low-slung adobe cafe feels like an artist's creaky-floored casa, with colorful murals and mismatched wooden chairs. Just out back is the San Marcos Feed Store, and both places ooze character. While we waited for our huevos and homemade cinnamon rolls to arrive, the girls went exploring. Peacocks and chickens peck free in the scrubby grass, and a wall of horseshoes provided entertainment in the ferrier's room. We left with full, happy bellies and a new appreciation for the Turquoise Trail's real-deal ranching scene.
Be spontaneous
Unexpected detours are the desserts of day trips. Fortunately, here in New Mexico, strangeness seems to exist at every turn, so local oddities are easy to come by. After we finished our hike, we drove a few blocks past Cerrillos' false-front mining-era buildings to the Cerrillos Petting Zoo. We'd built this up big time for the girls during the hike and though tiny—a couple of goats, a few crazy-plumed chickens, an enormous coop full of white doves, and a llama named Cocoa—the zoo did not disappoint. Two dollars bought a bag of chicken scratch and a good 20 minutes of excitement while the girls fed the menagerie through the wire fence.
Quirky local museums, roadside farm stands, a local fair, or even a yard sale will do the trick. Bonus points if you throw a little quick, cheap, and harmless souvenir shopping into the mix. Next door to the petting zoo, the Casa Grande Trading Post is a dusty emporium filled with about a billion rocks and old glass bottles, turquoise jewelry, elaborate maps of New Mexico ghost towns, and just about any other Old West trinket a small child might crave. We left with a few tiny turtle rocks and a pioneer map of the state—cherries on the top of a great day.
Take a different way home
If possible, end the day with new scenery. Even though it was slightly longer, we drove back to Santa Fe via Waldo Canyon Road, a rutted dirt track that veers west out of Cerrillos along the railroad tracks, climbs through a sharp cut in the rock, past a craggy butte called Devils' Throne, and the faint remains of Waldo Ghost Town (circa 1900), and seven miles later, hits the interstate north to Santa Fe. It had been years since we'd driven it, and we were glad to find it still washboarded and little-traveled.
Crushed from the hike, three-year-old Maisy and Pete the puppy promptly fell asleep—a sure sign of a successful outing—while I mapped out a long winter run in my head, through the park, out past Waldo and back.
Which brings me to my last piece of advice: Never end one adventure day trip without plotting the next.