The Gear Junkie Scoop: Boba Kid Carrier
Heading out the door? Read this article on the new Outside+ app available now on iOS devices for members! Download the app.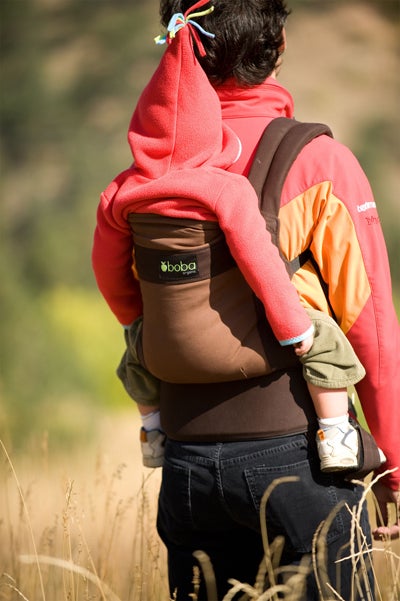 Active parents who want to take their kids along hiking, snowshoeing, or cross-country skiing have many choices in the category of kid carriers. A neat new option is the Boba carrier from Nap Inc.
The Boba, $99, is a "soft structured" carrier, meaning there is no frame for support. It is essentially a piece of rectangular fabric with foam shoulder straps and a waist belt. All the outer fabric is organic cotton.
Boba carriers let you carry a kid close to your body. They work on front or on back, and are good for kids from about 15 pounds to more than 40 pounds.
I have used my Boba (bobababycarrier.com) for a few months with our two-year-old boy. I hike with Charlie using the carrier, and we can even run slowly on trails near my home.
When Charlie is secured on back, the carrier's tight fit and low center of gravity keep him close. He doesn't bounce too much. He's comfortable for an hour or more, and after a few minutes, the pack carries so well that I can forget my 25-pound kid is back there.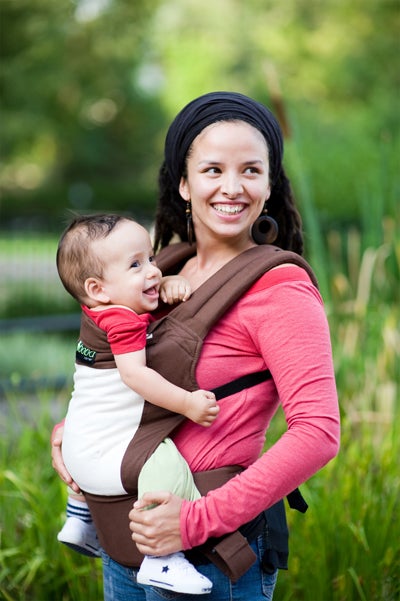 The Boba has no snaps or buttons. Its simple design includes adjustable shoulder straps and a padded belt. For a unique touch, there are foot straps attached to the waist belt to secure a kid's feet. The kid can push off and slightly stand for some self support. This allows for a "healthy sitting position" for the child, says Nap Inc.
Charlie did not use the foot straps much. Usually, when I put his feet in them, he would immediately pull them out. But he was comfortable with his legs dangling.
Getting a squirming kid situated in the Boba is a bit difficult at first. You can't see where the straps are on back, and you're reaching and cinching things up with a kid balancing back there. After a few tries, Charlie and I had it nailed, but I suggest getting help initially from your spouse or a friend to get used to the Boba.
A potentially sexist comment: I didn't feel silly wearing the Boba. Kid carrier backpacks are fine, and we use them all the time. But some of the soft-side and sling-type carriers my wife has are too feminine for me. Our Boba, which is a nice, deep-brown color, is gender neutral, low profile, and good looking on a mom or dad.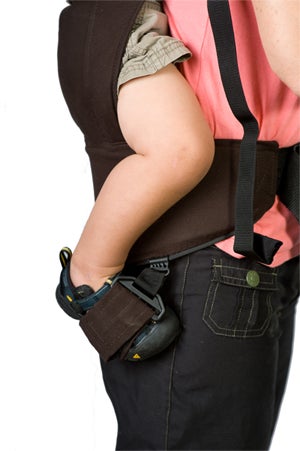 The Boba comes only in one size, and the company says it is designed to fit most parents between five- and six-feet tall. I am 6-feet, 1-inch tall, and the carrier did feel slightly small for me. The shoulder straps were extended to their max and almost too short, but they worked.
The carrier is said to accommodate kids from one to four years old. It is well-made and may have the strength to carry a 45-pound, four-year-old kid, but with no frame support, that would be a serious haul for most parents.
I plan to use our Boba with Charlie for at least another year. By then, William, our new baby boy, will be ready to pop in and take his place. We'll hike–and maybe run–the same paths along the creek near our home. Charlie will be on foot by then. William will be secured in the Boba, a hands-free piggy-back ride, as we move along unencumbered down the trail.
–Stephen Regenold writes about outdoors gear atwww.gearjunkie.com.