Getting Your Dog to Focus, Part II
The second in a series about the most important behavior in pups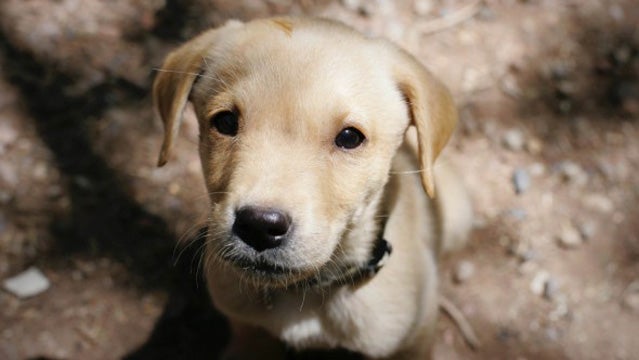 Heading out the door? Read this article on the new Outside+ app available now on iOS devices for members! Download the app.
Once you're getting a consistent glance away from a bumper or treat, it's time for the more advanced levels of focus. Gradually build in each of these levels in parallel to your basic obedience and socialization training.
STAGE II
In obedience training, every command is preceded by the pup's name. This will eventually allow you to work multiple dogs without confusion. Get the youngster to look you in the eye at the sound of his name. Once you've got eye contact, then give the command.
Sequence: "Deke" —> eye contact —> "heel"
Gradually lengthen the duration of the eye contact. This helps build focus no matter what you're training your dog to do. Then use the whistle instead of the dog's name. The objective: The peep gets the pup's attention and the eyes. This is where whistle stops begin—by building up a solid foundation.
Sequence: Whistle —> eye contact —> "heel"
STAGE III
Another point at which to gain focus is during hold conditioning, which we'll get to. (This is teaching the dog specifically to hold an object gently in his mouth without any chomping or chewing.) When teaching hold, maintain eye contact. Provide lots of praise. Later in the progression, as the youngster wants to take and hold the bumper to receive the immediate affection and praise, you may utilize a variation of Stage I. Hold the bumper to the side, and, without a word, wait for the eyes to lock on yours. Then, quickly, give the bumper and praise.
STAGE IV
Later, in stop-to-the-whistle training, I once again emphasize eye contact. During whistle stop exercises, hold those eyes for a brief period before the next command or cast. Do not allow glancing about or head swinging. If the dog looks about for the bumper (a behavior that can deteriorate into self-employment if the dog decides he knows better than you where that bumper is) or focuses on a thrown diversion bumper, use the whistle to regain the eyes and hold the focus briefly before the cast.
If you build up the behavior gradually over time, every whistle stop will result have your dog instantly hitting the brakes and looking to you for direction. We'll build in this same default response for every diversion, flush, gunshot, or bird down: eyes on their handler for instruction, which will ultimately be followed by the reward of a retrieve and lots of praise.
This article originally appeared on Outside K9, the former dog blog of Outside magazine, on May 19, 2009.