Going Solo: Why Every Parent Needs to Explore Alone
On a 36 hour multisport trip to Colorado, one parent discovers the importance of adventuring alone.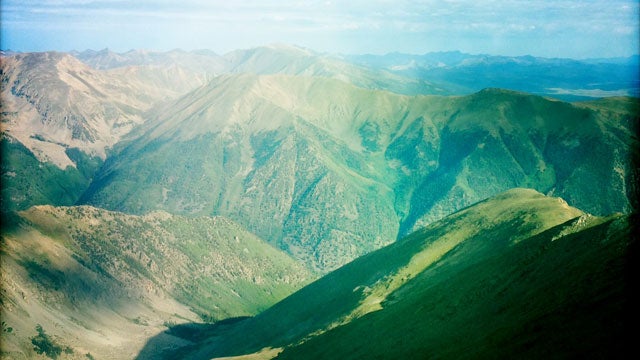 Heading out the door? Read this article on the new Outside+ app available now on iOS devices for members! Download the app.
I am driving north, cresting the high ridge that separates Santa Fe from the rest of northern New Mexico. At the top, I barrel down the long hill past the Opera, toward the scalloped sandstone ridge above Pojoaque that from this distance and in this early light looks like a rooster's comb, crenellated and so pink it's nearly red. I am sliding out of the mountains and into the desert. I'm leaving home, alone. When I get to the bottom, I'll be gone.
Buena Vista and the Collegiates from the Midland Railroad Grade

Tent for one

On the climb to Belford

Clear Creek Reservoir
All month I've been restless and itching for my old adventure life, when my husband and I would cram back-to-back summer weekends with paddling, climbing, running, and riding, stuffing the car with gear and dog and blazing north to Colorado. We paddled whitewater and raced up 14,000-foot peaks. We threaded down alpine singletrack and floated our canoe through wilderness. One year we even dubbed our project "Epic August." The point was to explore wild places, run ourselves into the ground, to come home exhausted but elated, to suck every last drop out of summer until there was nothing left, the weather changed, and it was time to ski.
Oh to be free. Now we have kids. Epic August has been downgraded. As a family, we camped twice last month, a couple of easy one-nighters not far from home. We cancelled a weekend of mountain biking because we were too fried. Steve snuck away on a last-minute guy's trip on the Rio Grande (but who's keeping score?). My older daughter started kindergarten. I tried to satisfy my outdoor cravings by running long miles up high, each run longer than the next. In this way, ultra trail running is ideal for adventure-seeking parents. I can push myself on solo expeditions out your back door but still be home in time for school pickup. Perfect.
But the big mountains were still calling me. I was becoming grouchy, intolerable. Then I realized: I could go by myself.
As parents, we're so rarely alone. Solitude is a foreign concept. We are mothers and fathers first. When we're not parenting, we're working. When we do play outside, it's usually with our kids, our spouses, or our friends. We're relentless multitaskers; working out with friends kills two birds with one stone: We can socialize and exercise at the same time. When we travel to adventure, we take the kids. Of course we want them to grow up loving wild places and the feeling of moving through them under their own power, but there are also practical concerns: Who would watch them while we're gone? So they come, too.
Even for those without children, being alone is an anathema in American culture. We're social animals, conditioned to think that we're better off with other people and that there's something wrong with us when we're not. This is especially true outdoors, in the mountains or remote wilderness. The general consensus is that it's not safe to go alone. It's selfish, risky, stupid. You could fall and break your leg or get your arm pinned under a boulder and have to saw it off with your pocketknife. Terrible things could happen and there would be no one to help.
This is a mostly unchallenged assumption, one that I've bought into it for years. I don't camp alone and I've only recently started running in the mountains alone. I wear a bear bell and carry my cell phone, but I can still freak myself out thinking about mountain lions and sinister people and falling and twisting my ankle on a high peak during the middle of a violent thunderstorm. All sorts of fantastical scenarios flash through my head when I'm alone in the wilds. Plus, I reason, the backcountry's more fun with someone else.
But little by little, I've been training myself. I stretch my solo runs out longer each week. The 20 miles I ran alone, a tiny dot in the enormous windswept Valle Caldera, during a 50 mile race last May were some of the happiest of my life. The year before, I went to France on my own and spent 36 hours alone in Paris. I walked all over the city all day by myself; then I spent a week, writing in silence at a farm in the country. I never got lonely. As a writer, I crave silence. I live for an empty house, so deliciously silent. So it only made sense that I put my independence to the test outside, on my first official solo adventure to the mountains of Colorado.
The night before I leave, I pack our two-person tent, purchased hopefully last Christmas but only used once to date (the six person behemoth sees far more action) and two sleeping bags in case I get cold. In the carport, Steve gives me a lesson in using our two-burner stove. I practice attaching the fuel canister and lighting the burner. It's so ridiculously easy I'm embarrassed to have shirked this job for so many years. I pack a small cooking pot, a single bowl, two spoons, a lighter, a can of of bug spray, and a cooler packed with food for one. The simplicity and economy please me: just what I need, no more. It's nothing like the mountain of gear required to take two small children into the wilderness, when you have to anticipate every possible contingency.
In the morning, I tape a note to the fridge reminding Steve about the girls' swim lessons. I make gentle yet pointed suggestions about what snacks to pack. When I drop my daughters off at their schools, they both cry a little—highly unusual—so I call Steve to alert him. I may be setting myself loose on a late summer adventure, but I'm going to micromanage my way out the door. Then, finally, I'm on the road. I've been scheming this adventure for weeks, but now that I'm actually leaving, I don't want to go. I miss my girls. I'm a mother. I belong with them. It's selfish to go. I'm needed at home—didn't their tears prove it? What am I doing?
It's a beautiful morning, bright sun after a late evening storm, everything green and dazzling and alive. Without the usual screeching distractions from the backseat, I'm seeing everything as if for the first time. In Ojo Caliente, a sign: Pigs for sale. South of Tres Piedras, a rusting box car, silver Airstreams, and a dilapidated boat sit abandoned in the sagebrush, which stretches unbroken all the way east to the Rio Grande Gorge. North of Alamosa, in the San Luis Valley, I pass an alligator farm and hit the Cosmic Highway, jaunty alien cut-outs beckoning from the side of the road. The jagged peaks of the Sangre de Cristo range are still snow free, but not for long. The season is on the cusp of change, and there are reminders everywhere: brilliant yellow sunflowers and blooming chamisa line the two-lane highway.
It takes me four hours to get to Buena Vista, at the north end of the Arkansas River valley. The town of about 2,500 sits right on the river, at 8,000 feet in the shadow of half a dozen 14,000-foot peaks. You know you're in a true whitewater town when Main Street dead ends at the river. My first stop is Colorado Kayak Supply, just two blocks from the Arkansas, to rent a paddle board. I'm in the market for a SUP of my own, and Earle at CKS kindly lets me rent two for the price of one, a polyethylene Bic and a wider, sturdier inflatable Star Board Whopper ideal for toting girls. ("My 9-year-old daughter is spoiled," he tells me. "She goes to school two blocks from the river and can paddle everyday.") He helps me put them on the roof rack and then gives me a lesson in strapping them down. Score another one for adventure independence.
My plan is to spend the afternoon SUPing on Clear Creek Reservoir, about 14 miles north of town, and then camp beside the lake. In the morning, I'll get up before dawn and hike 14,197-foot Mount Belford from the trailhead five miles west of the lake. But I'm feeling sluggish after the drive, so I leave my car in the park beside the Arkansas, cross the footbridge, and spend an hour running the network of hard-packed desert trails that wind through the foothills just east of BV. Eventually I end up on Midland Railroad Grade, a decommissioned railroad track-turned-dirt road that runs north to south for five miles, with big views of town and the Collegiate Range.
Afterwards, I change into my bathing suit and walk down to a swimming hole near the boat launch. A few kayakers are surfing the town wave, and a family with two young daughters and a chubby, naked toddler is splashing in the water. For a moment I lose myself in baby lust—how fun it would be to have a wobbly one-year-old again! how I miss my own girls!—but then I remind myself that I'm here to play hard and be free, so I wade in and dive under, and there in the swirling Arkansas, I am. I couldn't have asked for a better intro to the multisport ease of BV: You can paddle whitewater, run or bike trails, and swim—all within a couple blocks of downtown. Access this convenient takes the stress out of solo adventures.
The wind is picking up on Clear Creek Reservoir when I arrive, but I stick to my mission and spend an hour paddling alone in a slightly protected cove. The Bic is covered stern to bow with sticky rubber should I feel like doing a few spontaneous sun salutations, and even in the big chop, it tracks well in the water. Turning downwind, the waves are so big that pretty soon I'm surfing, planing with the Bic's tip out of the water. A few stalwart fishermen are trying to cast into the wind when I come screaming into shore to trade SUPs. The Star Board is wider and a little more barge-like, and it doesn't make that pleasing slap of fiberglass hull cutting through waves, but I can already tell that this is the bomber river board for my girls and me.
There's a BLM campground just west of the Clear Creek Reservoir, and in the early evening, I find a site near the creek to pitch my tent. Camping alone: This will be the hard part. I've only done it once before, and the trick—at least for me—is to find a place close to other people, but not too close. So far so good. My cell reception is spotty, so I can't give in to my urge check in with Steve; like my daughter's kindergarten teacher told us on the first day of school, "It's time to rip the Band-Aid off." As it gets dark, I realize I've forgotten my headlamp, but I brought a bento box of noodles, tofu, and rice from Whole Foods, so I don't need to cook, and before too long I'm deep into my sleeping bag, listening to the scratching of a tiny field mouse trying to drag off a chocolate bar wrapper and being lulled to sleep by the rush of the creek.
I wake at 4 a.m., alert and nervous, anticipating the climb and attuned to every creak and rustle outside my tent flap. The mouse's skittery claws sound like bear paws or the heavy stomp of human footprints, and more than once I lean out to see what's lurking in the dark. Nothing. But it has drizzled in the night and sky is still overcast, only a few stars glinting faintly through the clouds. Not exactly a promising start to a morning in the mountains. I doze on and off until 5:30, when the rumble of a car wheels on gravel shakes me from semiconsciousness, and I realize that if I'm going to get up and off this peak before the real storms roll in this afternoon, I need to get going.
Thank God I remember how to light the stove, and in about two minutes, I'm sitting down to a steaming mug of coffee and a bowl of yogurt. I'm almost beside myself with awe: I didn't die from fright in the night and I've boiled water by myself in the (sort of) backcountry! Who need husbands anymore? I leave the tent up, make a couple peanut butter sandwiches, shove a few layers into my running pack and drive four miles up the rough road to the Missouri Gulch trailhead. Steve and I have hiked a handful of fourteeners over the years, but alpine starts have never been our specialty, especially after we had kids. The few times we've schlepped babies to the summit, it was all we could do to rally the girls gear by 8 a.m.. And that was the easy part. Then came the long, steep slog.
This morning, though, I'm happily unencumbered: running shoes, a lightweight hydration pack, rain jacket, snacks, and a lighter, just in case. A dozen or so cars have arrived since I scouted the trail last night before dinner, but it's light enough now that I don't need a headlamp, and I'm still on my way by 6:40 a.m.—another victory for self-reliance.
Like most fourteener trails, Missouri Gulch to Mount Belford sees a lot of foot traffic. I'd chosen this peak for its proximity to the lake and camping and the paved main road, as well as for its straightforward route to the summit. It's a walk up, without much scrambling or exposure. The biggest hazards I'd face in going solo would be getting caught in a storm or twisting an ankle—risks I felt comfortable taking. I'd planned to run up, but almost right away I realize that I'm too tired to move that fast, and the trail's too steep to run at anything quicker than a slow jog.
I settle into a brisk walk and as I do, the forest gets lighter and the sky brighter, though I can tell it's going to stay cloudy for a long time, maybe all day. After a couple miles, I climb out of Missouri Gulch and into a high, open basin just below tree line. That's when it gets steep in the relentless way that Colorado peaks do, but New Mexico mountains don't—it's all in that extra 2,000 feet, more or less straight up. I put my head down and grind through the last 500 feet, over the false summit—because there's always a false summit—and reach the top of Mount Belford at 8:40.
There are three other people on rocky knob when I arrive, and the sun is trying to come out, though not very convincingly. Spiky, bald peaks ripple out in every direction: Mounts Massive and Elbert to the north, Yale and the rest of the Collegiates to the south. A thousand feet below, a narrow foot path winds down an exposed ridge to a mountain tarn. I was so focused on getting to the top before the weather turns, but now seeing the vast sprawling wilderness bathed in sunlight, I wish I hadn't been in such a hurry. That's one of the downsides to going solo: Without someone else to talk to, there are fewer reasons to linger—fewer rest stops and snack breaks—so it's easy to find yourself pushing harder and faster than you mean to.
Case in point: I didn't eat anything on the climb and now I'm famished. I pull out one of my sandwiches and a handful of dried apricots and sit down to a high-altitude breakfast on Belford. The other hikers are going on to Oxford, another mile and 700 vertical feet along an exposed ridge, but I guess I'm still in a hurry because, looking at the grey-bottomed clouds massing to the west, I decide to play it safe and head down. I'm not here to bag summits. I'm just grateful to be sitting on this one now. And since part of my mission is to find silence and stillness in my solitude, I can't help but fantasize about taking a late-morning snooze, and maybe writing a few pages a few pages in my notebook—things I never get to do when I'm camping with my kids, and too rarely, if ever at home.
Picking my way down Belford's steep shoulder, I break into a run, losing altitude fast. The big peaks disappear from view and I find myself wishing I'd stayed high, exploring that skinny trail or tagging along with the others to Oxford. But then it begins to rain lightly and I picture my tent beside the creek and the exposed ridge above me, and I know that, today at least, I made the right decision.
Back at camp, I boil water for a cup of tea, eat another bowl of yogurt, and bathe my trail-filthy self in the creek. Determined to make my solo trip last as long as possible, I crawl back into my tent for a nap—the ultimate adventure luxury. When I wake, it's nearly noon, and I laze around writing and reading for a bit before breaking down camp. The storm that's been threatening all morning still hasn't materialized, but I want to squeeze in one more SUP session.
This time the lake is glassy and calm; a few boats and fishermen are out, but otherwise I have the place to myself, and I make long lazy loops on the boards, past drifting swans and sticky mud flats where the lake level has dropped. I love the mountains, but I'm most at home on water, and I could stay out here all day, feeling the waves moving up through the board and into the soles of my feet. On the lake, I don't need company. I'm in the water and the water's in me, and I don't even have to get wet.
On my way out of town, I drop the SUPs off at the river shop and then duck next door to the Buena Vista Roastery, where I sit for a while with a latte and my writing notebook. I'm tempted to run the town trails one last time, but my legs are heavy from 4,600 feet of vertical and if I leave now, I might make it home before dark. 
South of Poncha Springs, the Sangres are lit up golden in the late-afternoon, late August light and far to the south, pressed up against the folds of the mountains, the Great Sand Dunes are piled up like a shimmery grey mirage. I can't help it: The car practically turns itself, east down a long road that leads straight to the mountains. Two elk dart across the asphalt and into a field of sunflowers, kicking up dirt as they go. To the north, a rainbow arches over the dunes. It's so beautiful I almost can't bear it, so I make a deal with myself: If there's an open campsite at the Sand Dunes on this first night of the last long weekend of summer, I'll stay the night.
But the dunes are like a mirage, hovering in the distance and never getting any closer, and after 15 miles, I start to waver. The adventurer in me doesn't want to leave, but the mother in me knows it's time to go. It's the same feeling I had in Santa Fe, only in reverse. I see that this is how it is now. I'll always be both the same time. I can't be one without the other. I crave adventures and love my family. I mourn my old life and miss my daughters. It doesn't make any sense, but it makes perfect sense. I may have been alone, but I was never lonely. Reluctantly I turn south and head for home, vowing as a I go to make time every year—maybe even every season—for solo time outside. 
A couple of days later, Steve and I take the girls hiking in Taos. On the two-mile descent from Williams Lake, we run into an acquaintance on her way down the trail. She'd spent the night by herself at a Taos inn and gotten up early to hike Wheeler Peak alone. Her husband is at home in Santa Fe with her five-year-old. She can't decide whether to stay another night. Stay, I tell her fervently. Real life has reabsorbed me, as it always does, but I'm still missing my 36 hours of freedom and solitude. She turns to go, and I follow, trailing after my girls who have run ahead of me down the trail. I can't wait to catch up.
—Katie Arnold
@raisingrippers
Trending on Outside Online