A Greener Road Trip: Traveling With the Sierra Club's First Family
Over the past five years, nine new national monuments have joined the ranks of America's protected lands. But Michael Brune, the man who heads up the Sierra Club, would like to see more. Elizabeth Hightower Allen joins him, his family, and a pack of rambunctious llamas on a tour of New Mexico's highlands.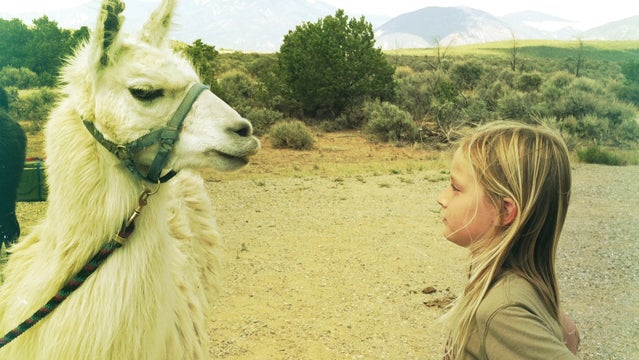 Elizabeth Hightower Allen(Photo)
Heading out the door? Read this article on the new Outside+ app available now on iOS devices for members! Download the app.
It's a hot June day in New Mexico's new Rio Grande del Norte National Monument, and Sierra Club executive director Michael Brune is bouncing on his toes at the Little Arsenic Springs trailhead. Brune is a tall, fit 41-year-old, made even taller by the looming backpack cradling his eight-month-old daughter, Genevieve. He shifts back and forth from one foot to the other, doing the universal daddy dance.
Genevieve's soft honks echo those of our companions: Rio, Diego, K2, and five more shaggy split-lipped llamas, loaded up with supplies for a switchbacking 800-foot descent into the Rio Grande Gorge. The llamas hum back and forth to one another and munch on "llama-nola"—oats provided by the double handful by Brune's eight-year-old daughter, Olivia—as their keeper, Wild Earth Llama Adventures' owner and wilderness advocate Stuart Wilde, gives the Brunes and a handful of local conservation activists the drill on hiking with llamas.
"So what does my bumper sticker say, Olivia?" Wilde asks. "That's right: Spit happens. These guys have got a pecking order and—hey, Sebastian, come over here, buddy. Raja gets grumpy sometimes. I'd hate for you to get a faceful." Sebastian is Brune's four-year-old son, and it would indeed be a bummer if the kid got slimed by a llama: He already sat on a cactus earlier this trip.
The Brune family is on the tail end of a great American road trip, to kick off the Sierra Club's Our Wild America initiative. Two weeks ago, Michael and his wife, Mary, piled their three kids into a silver Chrysler Town & Country minivan and chugged out of their hometown of Alameda, California, to see the West. Like the Griswolds in an enviro Vacation, they've been driving and camping their way through Nevada, Utah, Colorado, New Mexico, and Arizona, stopping off at new and proposed national monuments to trumpet the recent conservation successes of wild lands in the West—and to push for the designation of more. (To date, President Obama has used his authority under the 1906 Antiquities Act to add nine national monuments—sites of natural, historical, or cultural significance—to the now 108-monument total.) 
The idea for the adventure came on one of Brune's many transcontinental lobbying trips to D.C. "Honestly," he says, "I was on yet another red-eye from Washington Dulles to San Francisco, landing at two in the morning, and I thought: If I'm going to be doing all this travel for work, I should do something fun with the family. So we decided to wrap it up with the Our Wild America initiative. We're doing the national monuments, and showing the kids."
The Brune family has camped in Utah's Dead Horse State Park—home of a proposed Greater Canyonlands National Monument. They've hiked with Iraq veterans along the Arkansas River in Colorado's Browns Canyon, which Senator Mark Udall proposed as a national monument in March, and explored the new Chimney Rock National Monument in Colorado's San Juan Mountains, created by President Obama last fall. And today they've landed in one of the country's newest monuments, designated in March.
The Rio Grande del Norte is 242,000 acres, a pinon-and-juniper highland cradled between the Sangre de Cristo and San Juan Mountains and cut by the Rio Grande Gorge. Local river runners, guides, farmers, ranchers, and native Americans have been working to protect this area for 50 years, not only for wildlife—elk, eagles, pronghorn antelope, even river otters—but for traditional uses like hunting and piñon nut gathering. That's important here in northern New Mexico, where rural communities, a mix of Native American, Hispanic, and Anglo, remain profoundly connected to the land.
"It's so inspiring to me personally and to us as a family to show our kids these places with the people who've worked so hard to save them," says Brune. It's not often that a kid gets to fly in a small Cessna over lands splintered by hydraulic fracking or to see the effects of tar-sands mining here in the United States. Olivia and her dad flew with EcoFlight pilot Bruce Gordon over bright blue potash mining pits near the Colorado River in Utah, and over Colorado's rig-pocked Roan Plateau. It's one thing learning about the environment in the classroom: it's another to see it from a tiny plane banking over red-rock canyons and forested mesas.
The Sierra Club as a whole is placing a big emphasis on youth these days. "Young people now, they already get it," says Brune. "You don't have to explain any of this to them at all. They understand environmental issues almost instinctively." He's pushing for more twentysomethings to join the Club's chapter leadership. "I'm gonna call on young people to occupy the Sierra Club, to run for office and take over," he says. "I'm joking maybe 25 percent."
Maybe Olivia will be on that team. For now she's got llamas to lead. Olivia and Diego are instantly tight: Diego likes to walk second in the pack, so she falls in behind Rio and me, and we descend into the canyon. Wilde, scouting back and forth up the trail in his ponytail and hat, alternates between herding his novice llama handlers—"No, you've got to walk uphill from them!"—and filling us in on the canyon's ecosystem. Of course, we're all too transfixed by our wooly trail buddies to fully listen, but I believe Wilde says something about the Rio Grande del Norte's ecosystem being kinda upside-down, its shaded reaches and cool river mimicking elevation gains as we descend. We move from piñon and juniper down into Ponderosa pines, Englemann spruce, and Douglas firs.
With their padded feet, the llamas barely make any noise, though they jostle when they get too far from the one in front. In a tall pine grove above the river, we tie them off and hike up to gather wild watercress in Little Arsenic Springs and, for Sebastian, to rock hop in the green, cold Rio Grande. Genevieve, who kept her mom up half the night in the tent, finds a shady shelter to gurgle and snack. After lunch—a luxurious spread thanks to burly white K2, who packed in two Coleman coolers—we set off in search of petroglyphs. The river corridor has tens of thousands of them, dating back 1,300 years and more.
Wilde knows every nook and cranny of this canyon, and he leads us to a large slanted slab filled with boxy elk etched here by the Ute culture 400 to 800 years ago. Just a few feet away, Olivia discovers another petroglyph: a rounded curving bighorn sheep by the Pueblo culture hundreds of years before.
It's a hot hike out, a mile straight up to the trailhead. Little Sebastian soldiers almost all the way up on his own before letting Mom carry him. Olivia leads Diego up and out, with Genevieve nodding in her dad's pack. The Brunes are off to Santa Fe and then the Grand Canyon, but not before Olivia gives every last llama his llamanola and leads all eight of them, one by one, into Wilde's livestock truck. Then the Town and Country pulls off towards the mountains, and with a wave the Brune family heads west.
For more information about proposed national monuments, check out Sierra Club's Our Wild America.
Lead Photo: Elizabeth Hightower Allen
Trending on Outside Online