Sponsor Content: L.L.BEAN
How to Keep Your Family Active This Fall and Winter
Practical tips from two experienced adventure moms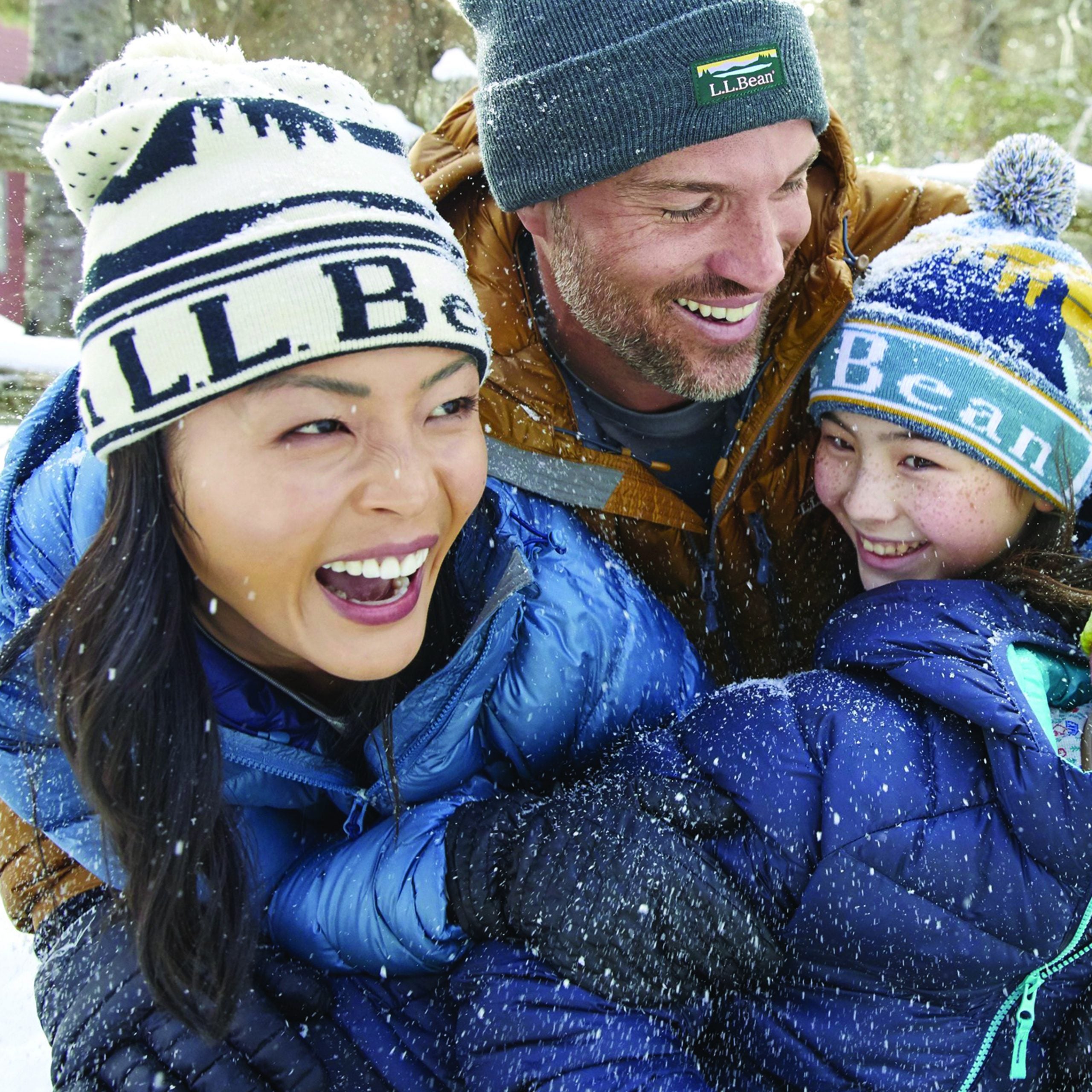 If we learned anything from this historically weird summer it's that outdoor adventures with the family—no matter how micro or close-to-home—are more important than ever. And guess what! It's easier than you think to keep those open-air vibes going through fall and winter. To get your wheels turning, we asked Madison Bowman (@theamericanfieldtrip) and Melody Forsyth (@downwithadventure)—two moms who creatively work adventure into their families' everyday lives—for their best advice.
Jump-Start Your New Year's Resolutions
You don't have to wait until January 1 to set goals for your family. "Make plans at the beginning of the season," says Bowman. "Come up with a few outdoor targets that you can look forward to when those winter days are dark." Try setting an ongoing goal, like visiting all the state parks within three hours of your home, so you're never scrambling to find something to do on the weekend. And, of course, as you head out to achieve that goal, be sure to bring layers. L.L.Bean's Katahdin Fleece packs well and has a hood and hand-warmer pockets in case a chill sets in during the hike.
Go on a Leaf Hunt
Prefer to ogle trees from the ground? Bowman recommends putting a treasure-hunt spin on your standard family hike by seeking out and identifying different kinds of leaves along the trail. The app LeafSnap takes facial-recognition software and applies it to trees, so you can take a picture of a leaf and learn about the species it came from. Can your kids find five different leaves in your local state park? 
Build the Ultimate Snow Fort
Don't let travel restrictions dash your dreams of staying in an ice hotel: build one in your own backyard instead. All you need is snow and that sand bucket from your last beach trip. Pack snow in the bucket and turn it over to create building blocks. Keep the walls thicker at the bottom, fill in the gaps with snow as you go, and add water to the inside and outside of the walls, from the bottom up, to give them extra stability.
Sled like a Pro 
A well-executed day on the sledding hill can be the highlight of your family's winter. Here are three tips from Forsyth that will help you sled like a pro.
It's all about the gear: "If you can keep your kids' hands and heads warm and dry, they can go forever." But don't forget to keep yourself warm too: Forsyth likes the Mountain Classic Down Parka, which is stuffed with water-repelling 650-fill DownTek, for the coldest days on the sledding hill. 
…And the hot chocolate: "Bring an insulated bottle with hot chocolate and break it out in the middle of the adventure to reenergize." Don't settle for instant powders—go with a good recipe that includes actual chocolate, melted into hot milk. With a one-liter capacity, the Insulated Bean Canteen will keep a family's worth of cocoa hot for even the most epic sledding sessions.
Skip the sled and go with a tube instead: "They're much more fun than a standard sled because you can go faster and spin. My kids love them." Forsyth recommends the L.L.Bean Sonic Snow Tube, whose semirigid polyethylene base doubles as a slick sliding surface and insurance policy against punctures.
Organize an Epic (and Safe) Snowball Fight
The snowball fight is a hallmark of childhood, whether it's a small skirmish between siblings in the backyard or a multi-family battle that involves the whole neighborhood. Here's how to elevate this winter classic. 
Build a home base for each team. Having a bunker of snow that kids and parents can hide behind will give younger combatants a point of safety and older ones a place to plan their attack.
Stockpile arms. A simple snowball maker can really ramp up snowball production. Stash a few piles around the field to keep the action moving.
Make a game of it. Give the fight purpose and structure by adding a game like capture the flag or freeze tag.
Hit an Off-Season National Park 
"Some of the most crowded national parks are empty in the winter," Bowman says. Find one within a day's drive of your home and dedicate a weekend to exploring it fully, enjoying the solitude as you take in the landscapes without the crowds. Depending on where you live, the experience could be snowy, which changes the types of adventures you can enjoy (you can take a snowcoach into Yellowstone!), or just chilly; Zion rarely sees snow and winter temperatures can be ideal. Pack L.L.Bean's Storm Chaser boots, which are fully waterproof and lined with PrimaLoft, and your toes will be toasty regardless of the conditions. 
---
At L.L.Bean, we design products that make it easier for families of all kinds to spend time outside together. For more than 100 years, we've recognized the benefits of getting outdoors and sharing the fresh air – because the only thing better than being outside is being outside together. #BeanOutsider