How to Take Any Dog on an Adventure
Even if you don't own a dog! (Yes, this is possible.)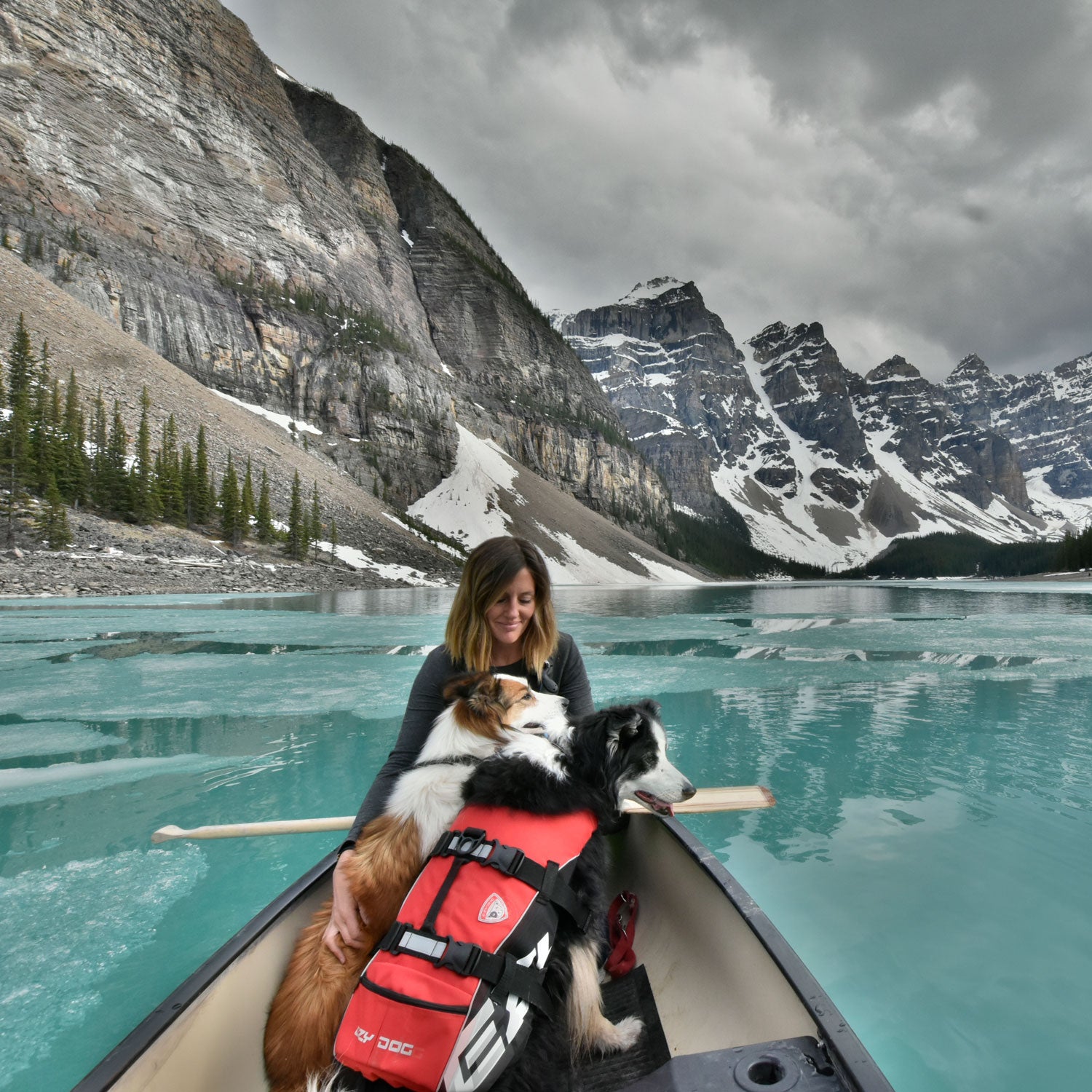 Mike Halprin(Photo)
Heading out the door? Read this article on the new Outside+ app available now on iOS devices for members! Download the app.
If there is such a thing as an expert on adventure dogs, Rachael Rodgers is it. The resident of Canmore, Alberta, volunteers to take dogs from local animal shelters into the mountains to play. She has recreated with dozens of different kinds of dogs, from a tiny dachshund-like mutt to a 90-pound pit bull—most of which she had just met. "Every breed of dog is an adventure dog," Rodgers says. "The trick is matching the type of adventure to the dog's personality."
Rodgers posts photos of her outings to her Instagram handle, @trailsandbears, along with adoption information. She got the idea in 2017, after her photo of kayaking with her dog Denali—who her partner rescued from a shelter 13 years ago—went viral, and her followers exploded from mostly friends and family to 20,000 like-minded dog lovers. "It's a way to get more positive publicity for adoptable dogs," Rodgers says. "A shelter isn't a place where you're going to see their true character."
In less than a year, Rodgers has helped 30 dogs find their permanent homes—and learned a ton along the way. Here are some of her best practices for how to take any kind of dog (including your local shelter dogs) into the wilderness.
Choose the Right Adventure
Rodgers' favorite outdoor activity, with or without dogs, is kayaking. But she recognizes that some of her canine companions may prefer a leisurely picnic in a mountain meadow, so she stays flexible. Rodgers starts by assessing the dog's mood and energy level that day. "If I kneel in front of the dog and it's licking me and smiling, that's a good sign the dog is calm enough for something like kayaking," Rodgers says. "If the dog is jumping all over me like a coiled spring and mouthing me like a puppy, I take it on a hike." As a rule, the more rambunctious the dog, the steeper the hike. An older dog or one that isn't in good physical shape or has poor general mobility gets a short hike to a scenic picnic spot and lots of cuddles.
For dogs that seem to be in the right mindset for kayaking, Rodgers does a test run on dry land, letting the dog check out the boat and climb in and out. She also pays special attention to how the dog is feeling during the car ride to the lake. A dog that appears carsick is also likely to experience motion sickness in a canoe or kayak. Your dog may do fine in the car while on flat city streets, but that doesn't mean much—winding mountain roads into the wilderness will give you a better approximation for whether your dog is prone to motion sickness.
And good news for new dog owners: Rodgers tries not to make activity assumptions based on the dog's breed. She has learned that looks can be deceiving. "This past winter, I took a husky cross-country skiing [skijoring] because I thought he would love pulling," she says. "But he turned out to be really gentle and just wanted to trot along by my side."
Pack Smart
Whatever outdoor activity Rodgers chooses, she always has a plan B, depending on how the dog is reacting, and then a plan C. That means she typically brings a variety of gear to cover a variety of mountain sports. Rodgers always brings a standard six-foot leash, two liters of water just for the dog, and a bowl. "If a dog is nervous and panting, that's doubly dehydrating," Rodgers says. Because she lives in Canada, she also brings bear spray. Rodgers carries dog treats and wears dog-specific clothes that can get dirty or torn. Even if your dog is not a jumper or a scratcher at home, it could behave differently in the wilderness, so it's not a bad idea to wear long layers to save your skin.
For watersports, Rodgers brings a dog flotation device, and in winter, she always has a coat on hand for the dog. Every adventure includes a picnic lunch of a turkey and cheese sandwich or a peanut butter and jam croissant. For dogs without any food issues, she includes one for the dog, too. "Dogs love sandwiches," Rodgers says. "It's something special that creates a positive association with being out in the wild."
Take Better Photos
Rodgers uses an SLR camera with a wide-angle lens, which she says isn't great for human portraits but works really well to bring out the nuances of canine facial features. Some dogs fear the big lens, in which case, Rodgers has a less-obtrusive compact camera with manual options on standby. Scared dogs never photograph well. "Don't lean over the dog," Rodgers says. "Instead, squat down and call him or her in a nonthreatening tone." For food-motivated dogs, she'll use treats to reinforce a positive experience with the camera. Rodgers almost never uses the viewfinder so as not to break eye contact. "I don't want to disappear from the conversation with the dog," she says. "We all have friends who do this with their phones, so we know that quickly becomes boring."
Volunteer
Rodgers was surprised to find out, through comments and questions on her Instagram feed, how few people know that shelters have programs for volunteers to take dogs on walks or adventures. You'll want to call the shelter first, because you'll typically need to complete a volunteer orientation before you can take a dog. And remember to post photos from your outing. It helps with adoption efforts, even if you don't have 20,000 followers on Instagram.
Lead Photo: Mike Halprin
Trending on Outside Online