Jackson Family Face-off
Dane vs. Dad at the World Freestyle Championships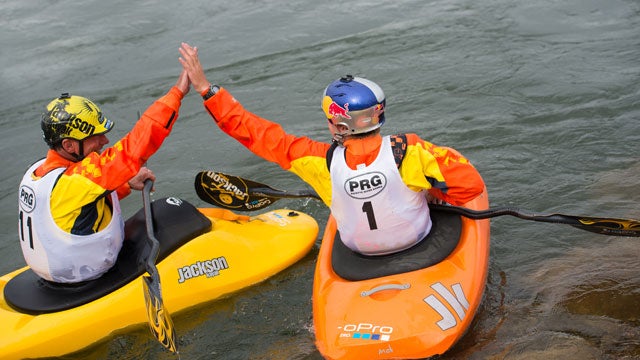 Gary Ertter(Photo)
Heading out the door? Read this article on the new Outside+ app available now on iOS devices for members! Download the app.
If you spend any time outside teaching your kids to ski or ride, paddle or run, serve and volley, or snowboard, there will come a day when said offspring will whup you at your own game, once and for all.

Dane Jackson

Eric Jackson, founder of Jackson Kayaks, throws a Front Loop for the crowd.
It's an inescapable milestone of parenting, one you might wear like a badge of honor, if only it weren't so bittersweet. It happens slowly over time, so gradually you can pretend it isn't happening, but then one day the ass-kicking is so definitive that you can't deny it any longer: Your kid can crush you. Your only hope is that no one was watching.
But if you're Eric Jackson, four-time world champion freestyle kayaker who's raised two of the sport's most talented paddlers, you won't be so lucky. EJ's very public trouncing happened this past week in front of several thousand spectators at the World Freestyle Championships on the Nantahala River in North Carolina, when he faced off with his arch rival and phenomenally talented son, Dane, 20, for the first time in the men's open division of a major international kayaking competition.
In the weeks leading up to Worlds, the men's freestyle kayaking event was being hyped as the ultimate father-son showdown. Dane and EJ had been trading wins for the past year, with Dane taking the most recent match-up at the USA National Championships on August 21 (his sister, Emily, who produced EJ's first grandchild in July, was the women's champ; EJ took third—not bad for a grandpa).
But at 49, EJ's been off the podium more in the past few years than he's been on it, and at the last Worlds, in 2011, he finished in a disappointing eleventh place. Though still a voluble and larger-than-life figurehead in the whitewater subculture, EJ was going to have to pull out some major moves in the Nantahala Gorge have a legitimate shot at his heir apparent.
Dane dominated the play hole from the start, winning each of the three rounds going into the final and notching huge scores for tricks like the McNasty and Lunar Orbit (in the quarterfinals, he finished 500 points in front of second-place Mathieu Dumoulin, from France). EJ, meanwhile, was struggling with his tricks, missing moves and posting lower-than-normal scores.
"I was a little bit shocked," says EJ, who was eliminated in the semi-finals, missing the cut-off by 57 points. "The showdown wasn't exactly as hyped. Dane was paddling incredibly well. It was definitely his competition to lose. He killed it!"
Of course, if you're going to flame out, better to do it at the hands of your own flesh and blood. Losing to the son you reared from 12 weeks premature and taught to paddle when he was three certainly takes some of the sting out. "To watch him go from a little kid prodigy to becoming the best kayaker in the world on this day—as a parent, I couldn't ask for anything better. He has the confidence now to go through life knowing he can do great things."
Not that EJ is ready to cede his ground—just yet. "Dane and I are very much on the same trajectory—or, I should say, we're in the same game. We're both competing because it's fun. I'm a lot stronger than Dane, and faster, and I have better endurance. I'm in as good shape or better as when I won Worlds in 2007." 
Modest EJ's not, but you can't help but love the guy for his optimism and spunk. And why not? His two kids Emily and Dane are the only paddlers in the history of the sport to win back-to-back junior world championships and world championships. He has a business to run—his company, the eponymous Jackson Kayak, is the largest whitewater boat manufacturer in the country—and another couple of prodigies to raise. Son KC celebrated his fifth birthday in late August on the Nantahala, and grand-baby Tucker Troutman (aka TNT) isn't far behind. That'll make for another epic Jackson family battle in… 2028?
—Katie Arnold
@raisingrippers
Lead Photo: Gary Ertter
Trending on Outside Online