How to Get Your Kid to Love Skiing, According to Daron Rahlves
Last season, Rahlves brought his son on his first Alaskan heli trip, and Warren Miller chronicled the journey for their latest film, 'Daymaker.' Spoiler alert: they both rip.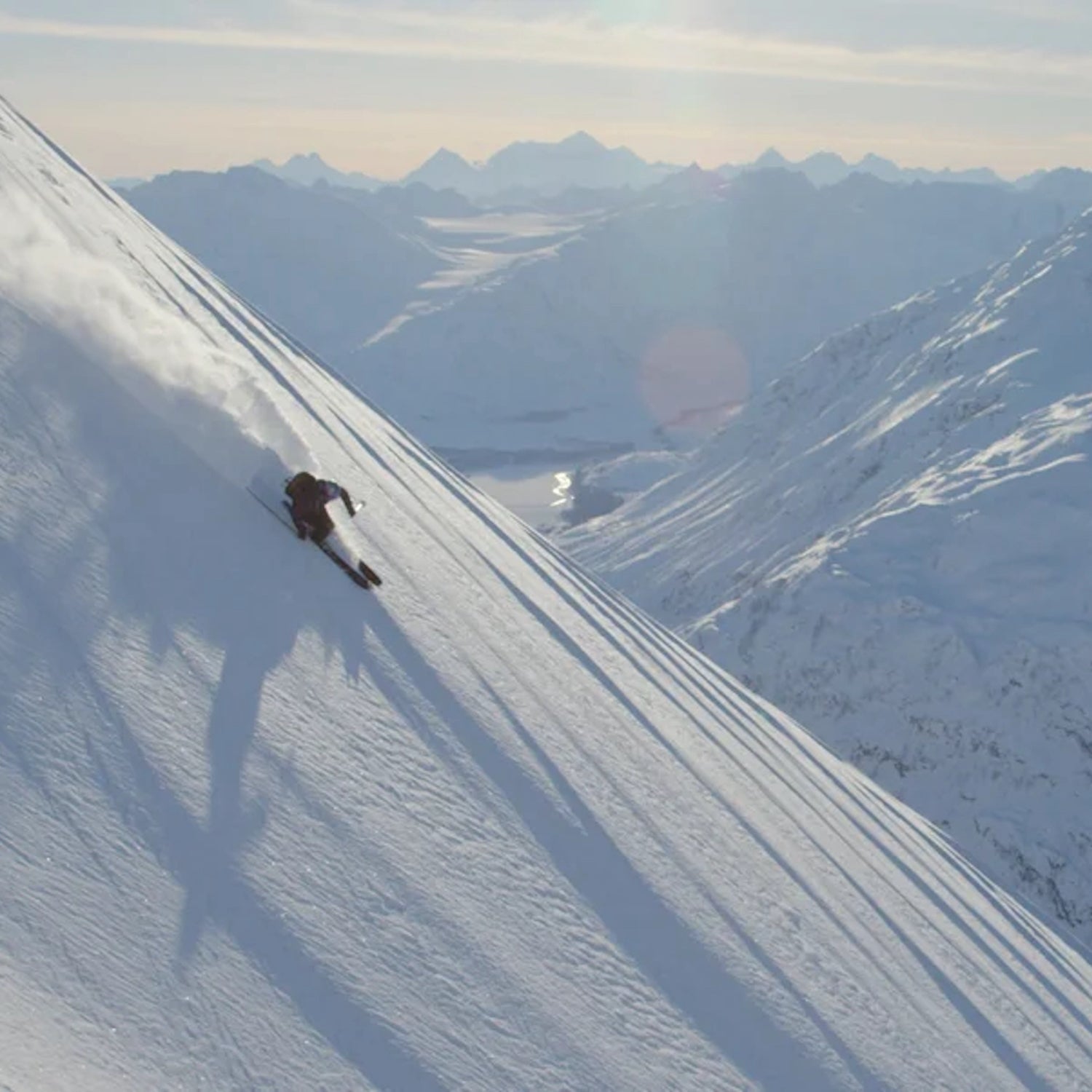 Heading out the door? Read this article on the new Outside+ app available now on iOS devices for members! Download the app.
Daron Rahlves is skiing royalty. In 2003, Rahlves became the first American to win the Hahnenkamm downhill in Kitzbühel since Buddy Werner, 44 years prior. He then won the Super G on the same hill the following year. His storied racing career landed him 12 World Cup wins and 28 podiums, including a super-G gold at the 2001 World Championships. Rahlves eventually pivoted to skiing Alaska spines for Warren Miller films. But Rahlves, father to 15-year-old twins Miley and Dreyson, had to figure out how to instill a love for skiing in his children just like the rest of us. Sort of. Last season, Rahlves brought Dreyson on his first Alaskan heli trip, and Warren Miller chronicled the journey for their latest film, Daymaker. Spoiler alert: they both rip. 
"That Alaska trip was so special sharing the experience with Drey," says Rahlves. "I hope the segment captures how much it meant to both of us." 
How did Rahlves get his kids from pizzas and french fries to power-shredding Alaskan spines? A lot of hard work. Here are the legend's tips. 
_____
Miley and Dreyson have been skiing since age four. That first year, I had a pocket full of gummy bears cut in threes. I would bait them with those to ski across the hill. Drey was especially a challenge as his go-to was a wedge straight line, but get their mouths across the hill and the body follows.
Take a snack break in the woods or a spot with a killer view. 
Safety was our priority on the chair and on the hill. Take it seriously and sit correctly on the chair. Be observant of your surroundings. Fully focus and commit. I skied behind them once they were able to control their speed and wanted others to see me before approaching my kids. A few times I stuck my poles out to make more room with oncoming skiers. 
Teach them to carry their own gear. I had them carrying their own skis at age 4. People would ask how I got them to do that. I said there was no other choice. To be a skier, you need to be responsible for your own gear. Miley would step up and even carry Drey's skis when he complained. 
Search for the best snow.
They wanted to ride the chair by themselves so bad, and I made sure to let them know the only way they could was if they rode responsibly and didn't mess around on a chair ride with me, mom, or another coach or adult. At age 7, they were on their own. If anyone caught them messing on the chair then that privilege was taken away.  
Say hi verbally or wave with a thank you to the lift operators, ticket checkers, ski patrol, cat drivers, and any staff. 
I like to inspect terrain, and snow conditions, and pick my line when riding up the lift, and I've shared that with my kids. Take advantage of the lift ride and work out a plan. 
Ski the trees. 
I would point out what the snow might be like by inspecting it or watching others ski. Then ski it and ask them if it was exactly like they expected. Have them inspect the terrain and snow when they are on it and compare that to what they saw. This builds the visual experience and knowledge. 
Play follow the leader. 
Keep it fun and challenging. Ski as many turns as you can, straight line safe short sections, ski on and off the groomer, see how much you can spray the snow with a big slash or hockey stop, know what's on the backside of blind terrain, take to the air off all sorts of terrain, absorb rough and choppy snow, ski in all conditions. 
Get them off the hill wanting more. 
Lead Photo: Warren Miller