Let Your Kids Get Dirty
What good is there in letting them loose on the nearest mud puddle? Let me count the ways.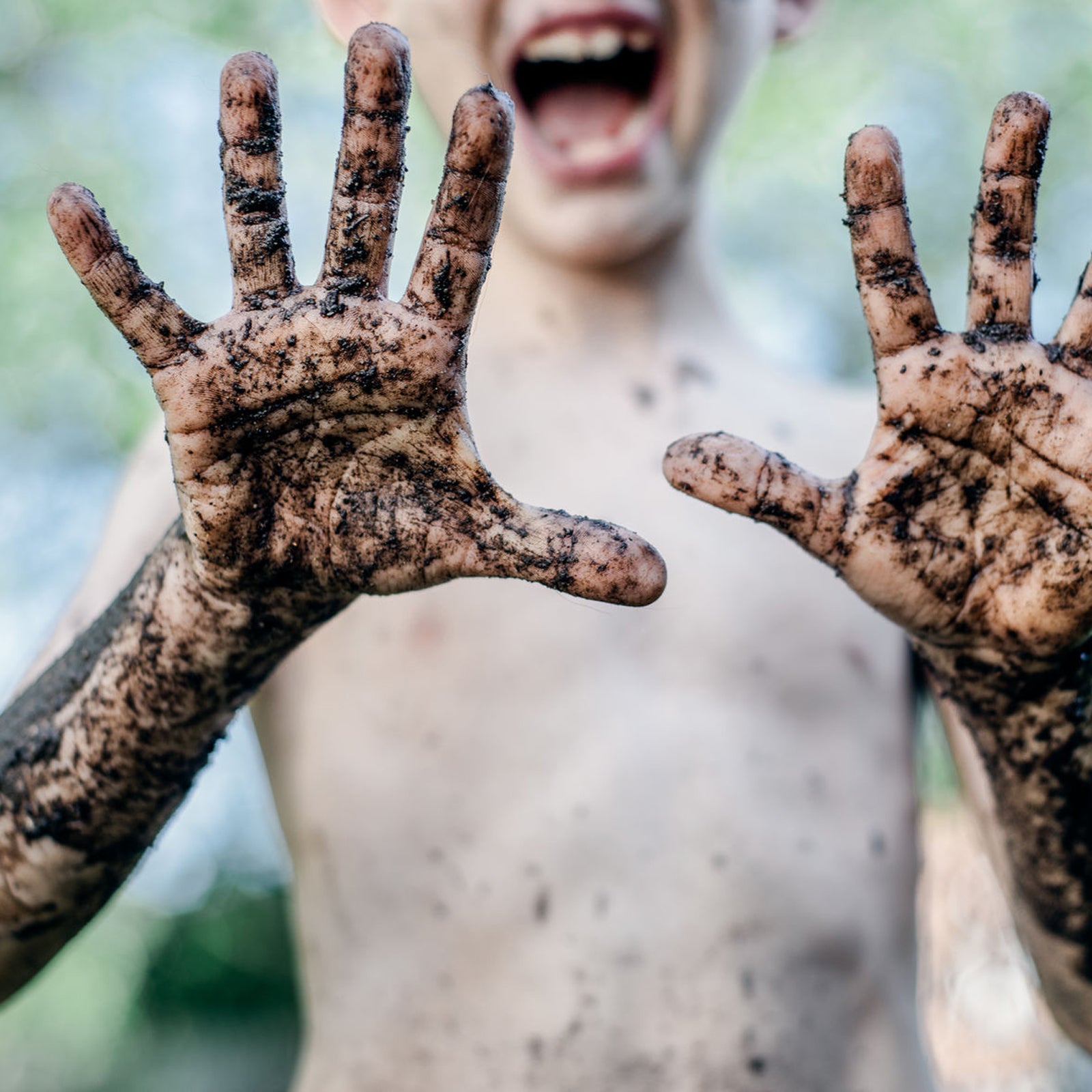 Heading out the door? Read this article on the new Outside+ app available now on iOS devices for members! Download the app.
Two days after the mid-March bomb cyclone moved through my hometown of Boulder, Colorado, the clouds lifted, the sun glared in the sky, and all of the kids at my sons' elementary school wore shorts. The heat melted the snow and transformed the school grounds into a massive mud hole. With no after-school activities, I let my boys loose—along with about a dozen friends—and within minutes, they were unrecognizable.
Mud clumped in their hair and filled their shoes. Their clothes turned an ugly brown. They used the earth to paint lines and dots on their foreheads and cheeks.
I loved it. Another mom wrung her hands before leaning into me conspiratorially and saying she had a basketball in her car.
"And?" I asked.
"We could distract them from the mud."
As if anything could distract a kid from rolling around in cool muddy mud. Put simply: Kids love to get dirty. They splash in puddles and roll around in dry dirt, or they shuffle their feet so they look like a walking, talking version of Pigpen from "Peanuts." In my nine years as a parent I have learned that, given the chance, kids will get dirty—if their parents let them.
I almost always let them.
When a kid gets dirty out in the world, it's almost entirely on their terms. They become the boss of their body.
There are few things kids can control in their own lives. From the minute they're born (and even before that), they're monitored and regulated and socialized. It happens before you even know it: pediatricians charting an infant's weight and length within hours of their birth and then continuing to do so throughout childhood. Preschool teachers holding conferences with parents where they discuss, in all seriousness, a four-year-old's aptitude when it comes to painting or sharing. Team sports, music lessons, drama classes, and more starting in kindergarten and ratcheting up in intensity all the way through high school. Rules and homework and discipline.
I'm glad for these social mores—I don't want to raise kids who are assholes. But I also want to encourage independence and help my kids experience that ineffable feeling of an untroubled mind and body acting in unison.
It's not always easy. Dirt helps.
When a kid gets dirty out in the world, it's almost entirely on their terms. They become the boss of their body. Their imagination goes into overdrive, and they experience the independence and thrill of flaunting social expectations that say they ought not get filthy.
Playing in the dirt is also good for kids' immune systems. Ours is a mostly sanitized society and has become much more so since the industrial revolution. With the majority of citizens living in cities and suburbs, as opposed to farms, kids are less exposed to microbes and other healthy bacteria. Scientists believe that lack of such exposure can contribute to the onset of chronic inflammatory disorders and allergies. In the dirt (with the obvious exception of dirt that is known to be polluted), kids excavate microbes and other bacteria that bolster their systems.
Save for the possibility of ruining some clothes (but you didn't send them off in their most precious duds, did you?) or getting cold when the mud dries and the sun goes behind the clouds, there's very little risk to letting kids get dirty. The rewards, by contrast, are high.
At the end of my boys' muddy day in March, they were covered head to toe. They had an exuberance to them, and they bellowed in glee as we walked home. That night they showered, cleaned the bathtub, and then showered again. They ate heartily at dinner and cheerfully helped tidy up afterward. Both boys went to bed early and fell asleep without fuss. Whether there's a smudge or an entire layer of muck on that joyful youngin', my only bit of advice is to roll with it. Better to have a happy kid and dirty towels than a clean, sanitized one whining that there's nothing to do.
Lead Photo: Cara Dolan/Stocksy