Make Fewer Resolutions
In the new year, play more.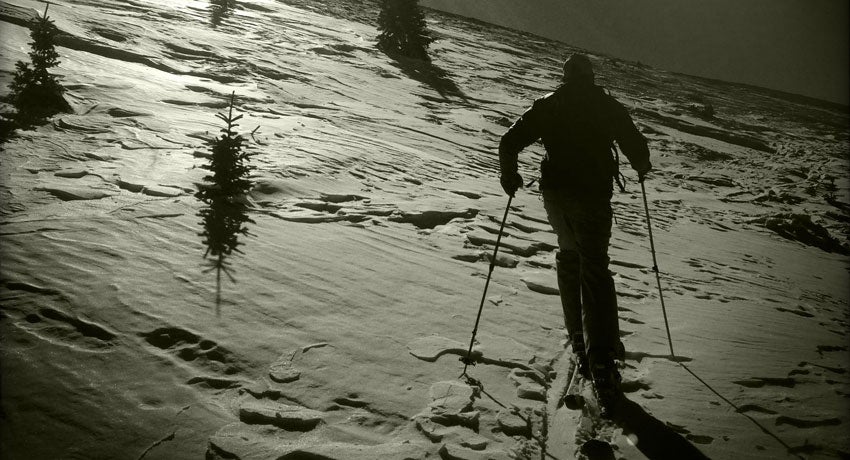 Heading out the door? Read this article on the new Outside+ app available now on iOS devices for members! Download the app.
I'm a big fan of making New Year's resolutions, and there's no better time for wishful contemplation than the quiet, dreamy days between Christmas and New Year's, when life is still on holiday schedule and the sun is low in the sky and streaks in through the kitchen windows. 
Some years I create ambitious lists of specific goals; others, I'm more open-ended, choosing words or mottos or themes for how I hope to live for the next 365 days. Whatever the approach, I've found it helps to write things down. 
Let it be noted, then, that my only resolution this year is to make no resolutions. 
A year ago this week, I went all Type A and penned a long list of adventure goals for 2013. I wanted to camp with my family every month and disconnect from wi-fi and go analog more often. I wanted to meditate for ten minutes a day and travel internationally and run a 50-mile trail race.
The list pleased me, and gave the unformed year ahead reassuring shape and purpose. But even as I wrote it—and posted it here—I felt a twinge of uncertainty. These were big goals, big public goals. Would something be lost in blabbing my private intentions to the digital world? And would I be able to achieve them?
Pretty much right away it became apparent that sleeping outside every month, especially in the dead of winter, would take some scrambling and creative thinking. Fortunately, we eased into the experiment in January at Dunton Hot Springs, a restored ghost town in southern Colorado, where we slept in a swanky tented cabin and soaked in lovely, rustic hot springs.
February wasn't too rough either—two blissfully serene nights at a ski-in backcountry yurt in the San Juan Mountains. So far so good. 
March was busy, with my husband's annual powder pilgrimage to British Columbia, and we had to punt: On the last night of the month, we slept in an open-air cabin, serenaded by a chorus of tropical birds, at a remote Costa Rican eco lodge. Unforgettable, but definitely stretching the definition of camping.
April came and almost went, and in a desperate, last-ditch effort to make good on my plan, I dragged my sleeping bag into our vintage Airstream, parked in the driveway. The window above the fold-out bed was still broken from our ill-fated Thanksgiving expedition to Chaco Canyon, and away from the clamor of small girls, with the rustle of fresh air on my face, I slept almost as deeply as I do outside. 
Still, as reluctant as I was to admit it, the experiment was beginning to wear us out. It's one thing to camp because you want to, and another altogether to camp because you declared it your mission in the darkest days of December, and now you have to stick with it to save face. There's almost nothing I love more than sleeping outside, but to do it on command, every four weeks, with small children and work schedules to juggle, was clearly backfiring. 
Fortunately, though, spring finally came to the Southwest in May, and for two nights we slept in a tent along the San Juan River in Utah. June saw car camping at 10,000 feet on Molas Pass, north of Durango. In July, the girls and I spent a month in bare feet on an island in Ontario, but failing utterly to camp, unless you count sleeping in a boathouse with all the windows flung open (I didn't).
August brought high summer in the southern Rockies and car camping (complete with a five-year-old's raging ear infection) at Junction Creek outside of Durango, plus a 36-hour solo mission to Buena Vista to run, camp, and paddleboard. September was three nights on sand bars in Labyrinth Canyon on the Green River.
I had dreams of a quick mother-daughters campout at Great Sand Dunes National Park in October, but the government shut down shut us down, and by the time we arrived in Moab for Thanksgiving, winter had beat us to it, and we hunkered down in a cabin beside the semi-frozen Colorado River, not wishing for a moment that we were sleeping on the ground.
By December, I'd let go altogether. We were nine for 12, if you count the more liberal interpretations. Not a complete fail by any means, but not the perfect score I'd fantasized about back in January. 
I was even less successful with my plan to unplug. If anything, I spent more time on the internet this year than last, worked at my computer later at night and more nights each week; no doubt because by day I was running farther and training longer (I did race a 50-miler—two in fact). My daily meditation regimen petered out by late January. I was too preoccupied with trying to manage my adventure resolutions and plot our monthly camping missions to sit quietly for more than a few seconds at a time (though I did complete a six-week meditation course in late winter and squirrel away some ommm for the day when I have more time). 
If I measure this year by the batting average of my resolutions, 2013 was so-so at best. But when I think back on all that's happened in the past 12 months, it was one of the all-time greats: crammed with quality outside play time, solo and with my brood; work that I love; travel to foreign and familiar places; new life and good health; and adventures at every turn—most of them, things I never thought to wish for.
I didn't set out to run across the Grand Canyon and back this year, but I did, and it was one of the greatest adventures of my life. I didn't start 2013 with the intention of quitting sugar, grains, alcohol, and dairy for two months, but I did, and I've never felt stronger. I started cross-training, adopted a puppy, and wrote a poem every day for ten months. And at a silent writing retreat in Taos just a few weeks ago, I found a stillness I'd never experienced before.
That's why this year, I'm abstaining from lists. It's not that I don't have goals. I still want to meditate regularly, spend less, run 100K, travel to Central America, go on river trips, work on my book, stop eating sugar (again), take better care of my fingernails, be more patient with my daughters, and go deeper and farther into wild places.
But my biggest goal by far is to simply stay open and trust that 2014 will unfold as it will; that there's no hard delineation between this year and next; or last year and this one; and that the sweet, spontaneous momentum of 2013 can and will keep flowing. Let it rip!
What are you dreaming about this year?