Sponsor Content: Citizen Watch
Make Time for Adventure This Father's Day
Adventure dad Jacob Moon shares his advice on the most important part of parenting—spending time together outdoors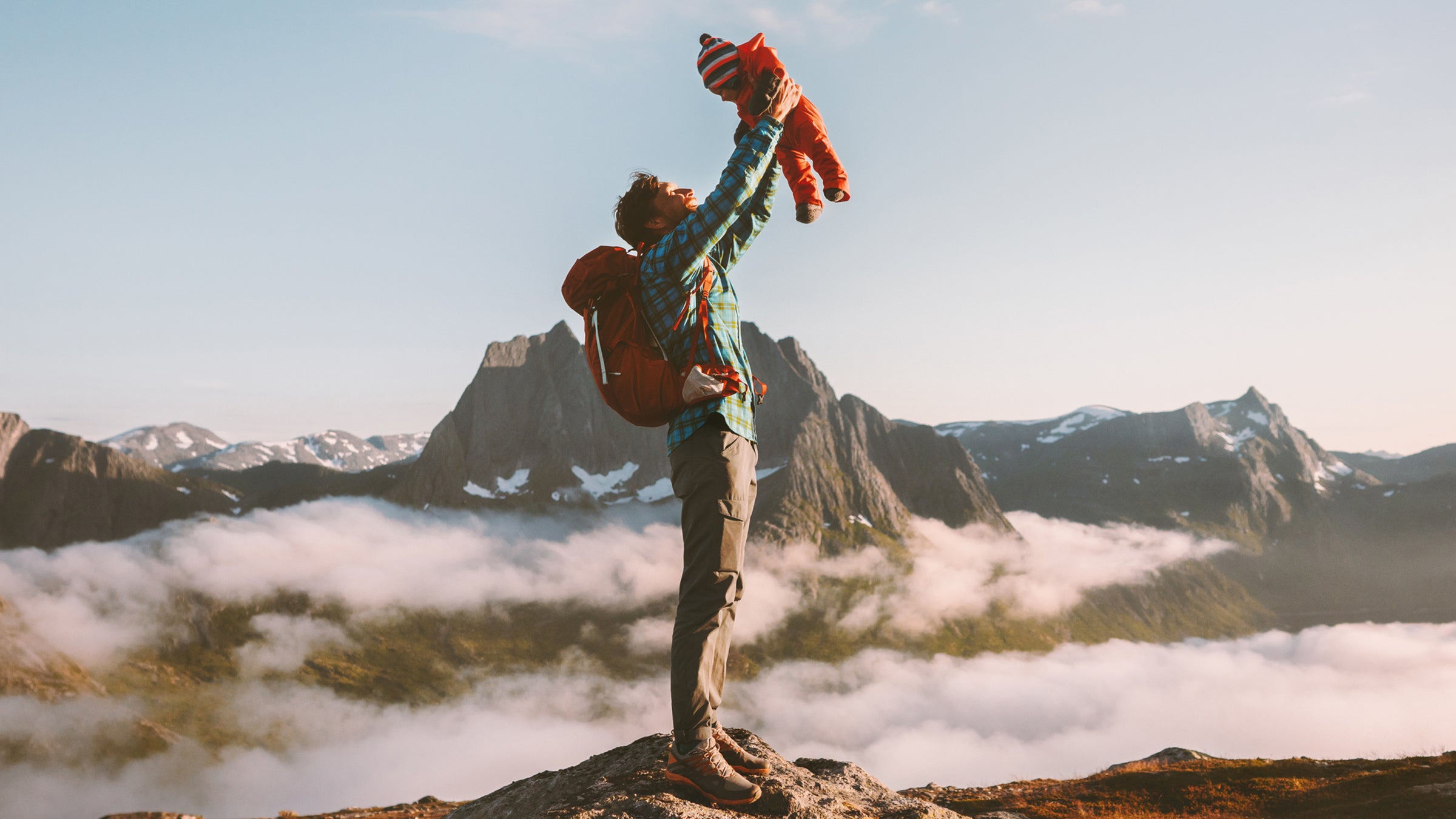 Getty Images
When photographer Jacob Moon and his wife, Natasha, went on their first date, they climbed a mountain together. With snowshoes on and ice axes in hand, they tagged the snowy summit of Mount Superior, outside of Salt Lake City. The Moons discovered they are the best and happiest versions of themselves when they spend a lot of time outside, so that's what they did. Since then, their life together has been infused with adventure and far-flung trips. 
Their values didn't change when their daughter, Zoey, was born six years ago. After years of working as a travel nurse, with ample stints of time off between gigs, Moon took a job as full-time nurse at a hospital. But he quickly realized the job wasn't a fit because it didn't allow for his nonnegotiable: the ability to be outside with his family as much as possible. He quit the job and leaned into photography.
The first year of Zoey's life on planet Earth was epic—a camping trip to Jade Lake in Washington at three weeks old, a backpacking trip in Montana, a road trip down the West Coast, and a van trip in New Zealand. She saw the redwoods, the ocean, and tall jagged peaks. Getting out there was less about stunning vistas and picture-perfect landscapes—though those certainly didn't hurt—and more about prioritizing spending time together in nature, away from life's distractions.

"We wanted to give her the best life that we knew how," says Moon. "That's a life outdoors." Moon didn't get hooked on the outdoors himself until he was 26. Even though he'd long stared at the Wasatch Front and wanted to hike a mountain, none of his friends did outdoorsy things, so he never felt like he had the chance. One day, he decided to go for it. Moon grabbed his dad's camera and hiked to the top of Utah's Mount Timpanogos by himself. "From there, it seems like everything totally did a 180," he says. He started spending all his time outside learning new things—ice climbing, rock climbing, backcountry skiing—and loved every minute of it. 
Today, the Moon family spends eight months a year on the road. Zoey loves when the family drives the van down to Baja, where they spend their days splashing in the water, learning to swim, and paddleboarding. She also has a soft spot for slot canyons and the otherworldly sandstone towers in Utah's Goblin Valley State Park.


Zoey learned to crawl in New Zealand. She took her first step in Death Valley. Her first bike ride was on a dry lake bed in Utah. There were a lot of firsts along the way for Moon, too. "You get to experience things again for the first time through her eyes," he says. "When we took her to the Washington coast, we were like, 'Here are clouds, here are wildflowers, here's a tree, here's moss.' It's really cool to experience things for the first time and share them with somebody you really love." 


While Moon takes the concept of "adventure dad" to the extreme, he believes anyone can tap into the joy he's found—and he hopes they do. He encourages folks to start small like he did. When he and Natasha took Zoey camping at three weeks old, they brought a "gigantic 12-person tent, massive cots, and massive chairs." All that gear helped them feel safe and comfortable. It also helped them realize camping wasn't that scary and they probably didn't need all that stuff the next time they went. "You don't have to go that far to have a new experience outdoors," Moon says. "Get away from electronics and distractions, and focus on time together." 
View this post on Instagram
Moon sometimes worries that sharing his grand adventures might make other parents feel like they could never do it, but that's not true. "You just have to build up to it. Start simple, go ahead and take everything but the kitchen sink with you, learn how to take care of a kid outdoors, and then move up to bigger adventures," Moon says. "The end goal is just spending uninterrupted time together in whatever fashion."
---
Citizen, a pioneer in watchmaking and innovation since 1918, promotes excellence in quality and design with a deep-rooted respect for craftsmanship. Citizen was an early pioneer in advocating for the environment, launching the first light-powered watches with proprietary Eco-Drive technology in 1976, thus adding "eco-mindful" as a core company value. The brand's diverse portfolio of high-performance and eco-mindful watches is accessibly priced and ranges from professional-grade, sport-inspired designs to sophisticated, timeless designs that are beautiful as well as collectible.
Lead Photo: Getty Images
Trending on Outside Online