Our Lady of Strays
The world's greatest dog sanctuary is on a small farm in Costa Rica, where hundreds of canines run wild over the land—eating huge piles of food and slobbering happily on Lya Battle and her small band of dedicated volunteers.
Heading out the door? Read this article on the new Outside+ app available now on iOS devices for members! Download the app.
For many hundreds of years, in Costa Rica's Central Valley and its lush surrounding highlands, one well-respected family has been known for one enduring distinction—not for its great wealth or political influence or cultural prowess, but for the extraordinary beauty of its women. Lya Battle, who looks like a petite, auburn-haired heroine on Game of Thrones, is living proof of the Barrantes family's legacy, and 49 years of being put through the wringer hasn't really dented that firepower.
Yet any true story about Lya plays out between the opposite poles of what is beautiful and most desired in the world and what is ugly and unwanted. In the emotional heartlands between those two realms, Lya became famous, not just in Costa Rica but around the globe, for her undying devotion to ugly—not just plain old ugly, but fugly ("fucking ugly"), a word you often hear in one of her favorite sentences, "Oh, my love, you're so fugly, give me a kiss"—and her generous kisses make her perhaps the most promiscuous woman on earth, with hundreds of panting, downtrodden lovers, most of them with four legs, if not three, and wildly scrambled pedigree.
Download the Audm app for your iPhone to listen to more longform titles.
One could be forgiven for thinking that as a dog lover (or "dog slut," as she laughingly describes herself), Lya Battle is out of control. But out of control is a matter of perspective. Especially considering how it was that Lya became renowned as the Mother Teresa of Mutts, the mistress of a place called Territorio de Zaguates (roughly translated as "kingdom of strays"), a situation that might never have happened the way it did if one day her father, who she adored, had not shot her mother, who she did not.
---
The journey to the Territorio is so cartographically challenging that somewhere along the way, you begin to believe that the place is imaginary, a mythical Dogtopia of endless, drooly love. It seems impossible to get there, and yet eventually you do, zigzagging through the provincial capital of Alajuela's maze of avenues and alleys, winding your way up into the mountains through a puzzle of villages and coffee plantations, frowning at your cell phone as its Waze app tells you to turn on routes that bear no markings. Somewhere ahead is the town of Carrizal, and beyond that the Poás volcano, and in between, the dogs.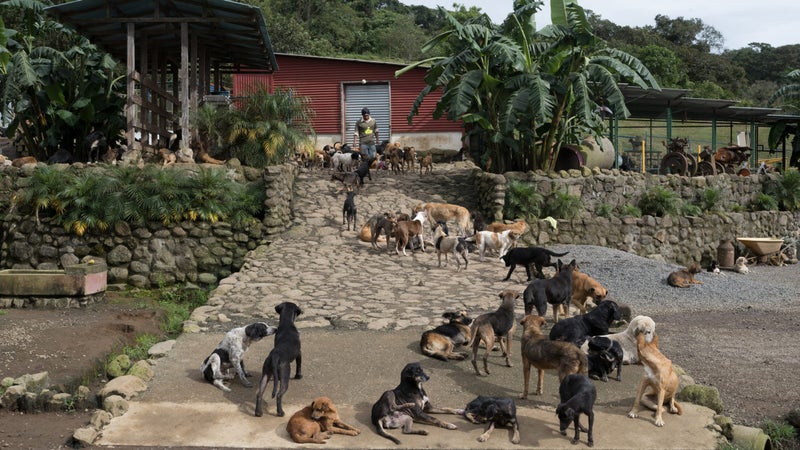 Past Carrizal's parish church, you turn up a narrow potholed lane that climbs the mountainside, passing through a neighborhood of ramshackle houses, scowling old men in tank tops sitting on their stoops, guys washing their cars on the street. Nobody waves back, and although the vibe is not exactly hostile, it's certainly not welcoming, either. In fact, Lya and the community are at war, she claims.
Beyond the last houses, the lane goes up and up through dense jungle until it is blocked by the Territorio's massive gate, flanked by high walls that vanish into the bush. Here, rain or shine, in the middle of the road, sits an extraordinary white dog, Yiya, less of a guard than a self-appointed greeter, a solitary figure separated from everybody else by another quarter-mile of driveway. Yiya telegraphs the message "I'm a born outlier but an essential part of the operation." He'll leave his station at feeding time, go up the hill to eat, and then return to duty at the gate, not a fellow with an identity crisis.
The drive carves around a grassy slope, arriving at a small plateau and the first signs of spreading chaos, punctuated with tail-wagging clusters of bedlam. On the plateau, and in the pastures above the central compound, there's a mad flow, like English soccer fans or swarming bees.
I don't know who counted them, but reportedly there are one billion dogs on earth. One-fourth are pets, which means 750 million are zaguates—strays, mutts, mongrels, village dogs, scavengers, pariahs, or whatever endearment or insult you wish to assign them. The Territorio's fluctuating population is six or seven or eight hundred, Lya is never quite sure, although there's a continuous effort with pro bono vets to vaccinate, neuter, and tattoo them all.
My wife and I arrive on volunteer day. The visitors seem to be just playmates, each with his or her own pack of admirers dotted across the terrain, which is exactly what Lya hoped for when she invited regional businesses and organizations to donate their employees' time. There are also weekend events, hours-long hikes that sometimes attract hundreds of people from down in the capital, San José, which sprawls all the way to Alajuela. When I ask Lya the size of the Territorio de Zaguates, her smile is uncertain and she gestures up the mountainside into the clouds; later she'll explain that the dogs run on about ten acres of her family's 142-acre farm.
From the moment we park, we are a magnet for dozens of barking dogs, half-suspicious, half-delighted, a subgroup best categorized as Who's There!? Not everybody cares. The majority group, clearly, belongs to Let's Go Somewhere!, a prevailing sentiment with an irresistible appeal for those so inclined, no matter their mobility or lack of it. But other spirits are determined to hunker down and can't be budged, the sick or the slothful looking on from the sidelines, the paranoid or obsessively territorial glued in place.
"Who isn't loved? Snakes? Then I love snakes. Who isn't loved? Toads? Then I love toads. I'm the kind of person who says it hurts to see cattle or pigs or chickens in trucks."
There is something so fantastical, and a bit freakish, about Lya's vision, that its actual existence blends naturally into magical realism. Dogs gaze at us from within sections of concrete culverts, or stare over the top of individual foxholes they've burrowed into the red soil, or follow us with sleepy eyes from the shady bushes. I expect to see them up in the trees as well and am not surprised when we reach the main building, part storehouse, part bunkhouse, and find dogs head-high up on the supply shelves, peering out from the shadows like barn owls. They're under the shelves, too, and huddled into open closets, and sprawled on every inch of the veranda not already occupied by a row of donated baby strollers, each containing a partially paralyzed dog or, less charmingly, a muttering furball who refuses to be evicted.
Incredibly, every dog has a name. Everybody's different, clownish and hilarious: fuzzy splats of happiness, skeletal shells of wincing eagerness, buoyant lumps of grinning muscle, the faltering and the withered, the robust and the dignified, dogs like pieces of frayed rope with legs and head, senatorial dogs like Boris, old and wise and reposed, a seeming mix of corgi and Bernese mountain dog that resembles the 30-pound butt of a half-smoked cigar. Blanquita is a dirty-white floor mop who has betrothed herself to Ronney, one of the workers, and cries inconsolably from the minute he leaves the compound until his return the next morning. There's a sweet little dog I of course call Stumpy, his right front leg hacked off with a machete by his owner after a long night drinking at the cantina. And there's Milu, one of the precious cohort Lya calls her "walking dead," who came to her with distemper a couple of years after she opened the Territorio in 2008. To save a dog from distemper is no small task, and now Milu, in his dotage, weighs less than a fart and walks like a drunken tarantula.
Behind the building are the holding pens for a handful of seriously bad kids—Lya declares that they made their own hell and now they can live in it—and the newbies, who take days or months to assimilate. Today's newcomers are, unfortunately, typical—a teat-swollen, wailing mother dropped off without her litter, a handsome Rottweiler abandoned because he jumped on people to greet them, and an enormous slobbery bulldog-mastiff mix, who only Lya can approach because he's learned to hate men. His owner drove up in an expensive SUV with a large sack of food, a rifle, and the dog. Take him or I'll shoot him, said the man, who wrongly claimed that the dog was deaf and therefore worthless.
Down the length of this terrace of pens and outbuildings stretches a long, gutter-like cement trough where a trio of Nicaraguan workers lay down hundreds of pounds of kibble each morning, igniting a quasi-orderly hierarchy of eating, a four-wave sequence based on personality types, until everybody has snarfed their fill.
Watching over it all in black rubber boots, khaki pants, and a white T-shirt is the imposing figure of Alvaro Saumet, 47, the Territorio's seemingly gruff alpha commander of the perros. Alvaro is a Colombian, and you can readily imagine him in a military uniform, leading his men on a raid of a guerrilla hideout. He is also Lya's husband and the former lingerie king of Costa Rica. Connecting the dots between bras and bulldogs is fairly complicated.
---
It's easy to forget or overlook that beauty has a price, sometimes extracted from its source yet often paid by its admirers. Lya has, like an alchemist, transformed something ugly into something beautiful, and that would also be the story of her family, except in reverse. Decades ago, the Territorio was the farm of Lya's maternal grandfather, a short, dark-skinned man—part indigenous Indian, he claimed—praised for his nobility and goodness, who became one of the first pharmacists in Costa Rica. He married Lya's famously pretty grandmother, who everybody said looked like a movie star, yet she shared a more problematic trait with the other Barrantes women—a cold, closed heart. Lya's grandfather loved German shepherds, but his wife, who hated them, would poison her husband's dogs. Together, Lya thinks, they must have screwed up her own beautiful mother's brain.
Lya's mother, Maria Barrantes, was an exceptional student, and her father sent her to the University of Toronto, where she met Matthew Battle Murphy, Lya's father, whose family had immigrated to Canada from England after World War II. Matthew was a biologist, Maria an educator. When Lya was five, her homesick mother decided to return to Costa Rica. Lya and her younger brother, Steven, grew up in an old, affluent neighborhood in San José, in a house with a father who always looked at life positively and a mother who only saw the dark side of everyone and everything. Her overprotective parents would not allow Lya to have a boyfriend until she turned 15. Nor were they role models of any healthy exchange of affection. Lya, meanwhile, had inherited her father's fascination and tenderness toward the nonhuman world.
"Who isn't loved? Snakes?" she says. "Then I love snakes. Who isn't loved? Toads? Then I love toads. These are the things that keep you going. I'm the kind of person who says it hurts to see cattle or pigs or chickens in trucks. All I knew about animals is how much I loved them."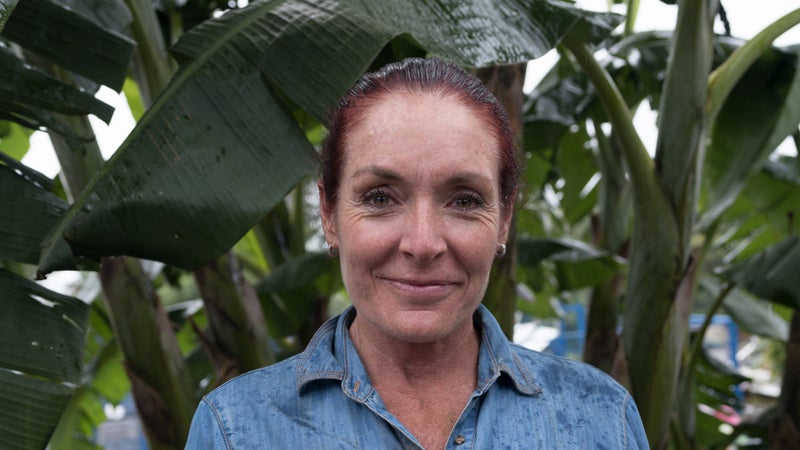 Seriously afflicted with attention deficit disorder, Lya struggled through school. She studied preschool education in college, then allowed herself to be prematurely talked into marriage with a perfect gentleman from one of San José's best families. She was 22 when they divorced.
Then she met Alvaro, who, though younger than Lya, was more mature than the society bons vivants she'd been dating. Alvaro was an entrepreneur with an eyebrow-raising profession—he smuggled high-end women's underwear from Colombia to Costa Rica and sold it on the black market. He told her he couldn't guarantee her the life of a princess, but they moved in together and he went legit, opening the first Touché lingerie franchise in Costa Rica, then two more. Lya spent her days working as a tutor, helping high school kids with their college applications, which she still does.
At the same time, however, Lya's younger brother decided to become an operator in Costa Rica's booming travel industry, packaging cruise tours, and lured the family into the mess he eventually created. As his project slid into bankruptcy, Lya and Alvaro's business began a slow tumble, and Steven's foibles inflamed their parents' already volatile relationship. What happened next, as Lya tells it:
And one day there comes a time when a kind man has finally had enough—Dad just shot her. This is a man who couldn't squash a fly. They were arguing about Steven. My dad always carried a pistol in his car, because every week he had to drive into the mountains to pay the workers at the farm in cash. So this day he picked my mother up after her exercise class in the city and told her he wanted to drive up to the farm to get a weed whacker, and they started arguing, and he stopped at a vacant lot and shot her, dragged her body out into the lot in full view of people in the area, and drove on to the farm, where he cleaned off the seat, picked up the weed whacker, drove home, and acted like nothing happened.
That was in 2000, and her father went to jail the next year, where he remains today, at age 83. After the murder, her brother tried to seize the farm; after eight years in court, Lya and her father got it back.
By this time, Alvaro and Lya were facing a radical restructuring. "We were going to make our life simple," says Lya, which in retrospect sounds like a cosmic joke. Unable to afford their suburban home in the hills, they moved into a smaller place in town. Previously, Lya had kept a dog, abandoned by a construction worker, and a pet pig. The new place, however, had a backyard, and that's how her dog love took over.
"We started picking up strays, taking them to vets," Lya remembers. "I started thinking, What happens to the dogs you rescue but can't keep? So I started keeping them."
A year passed, and then another, and Lya had about 30 dogs. At first it wasn't really a problem—there were no neighbors—but then someone built on the lot behind them. By this time, Alvaro's shrugging tolerance for Lya's passion had transformed into his own big-hearted love for the dogs, yet the situation quickly became untenable. They married on 8/8/2008 (the only date Lya was certain she would not forget), the farm emerged from litigation, and Alvaro suggested that they move the dogs there. The idea was to hire a family to take care of them, but that never worked out. So Lya and Alvaro commute 45 minutes to the farm most days.
By 2009, they had about 120 dogs. Then one day they heard that a large shelter in the capital was closing and had decided to euthanize its 80 dogs, so Lya and Alvaro took them, and two years later simply stole the same shelter's dogs when, infuriated, she learned it had never actually closed. "We kind of did know that we were crazy," she says, "and now we had 300 dogs, but still nobody knew about us. And we couldn't afford to buy another grain of kibble."
---
The first guardian angel to appear on Lya's doorstep was a young woman named Marcella Castro Wedel, pushing a doll carriage with Puppy inside, a diminutive pit bull with paralyzed hindquarters. A solitary go-it-alone dog rescuer, Marcella started coming over to photograph Lya's dogs to post on Facebook. "We were enjoying the dogs and not really worried about what was going on outside," Lya says, "but Marcella changed that." She convinced Lya that the farm needed its own Facebook page.
As the Territorio's profile began to blossom on social media, one of Costa Rica's biggest advertising agencies, Garnier BBDO, decided to launch a public-service campaign aimed at animal welfare; to Lya's astonishment, it chose the Territorio as its centerpiece. The agency created a brilliant, joyful video celebrating what it promoted as the unique, one-of-a-kind breed of every individual mutt—the Bernese mountain corgi, for instance, or the golden doodle terrier and the German Staffordshire retriever. Highway billboards advertised the mutts, television stations broadcast features, and Lya and her dogs began to garner media attention around the world. Then Superperro, Costa Rica's biggest dog-food manufacturer, stepped in to the campaign, donating kibble for every Facebook like.
From the moment we park, we are a magnet for dozens of barking dogs, half-suspicious, half-delighted, a subgroup best categorized as "Who's There!?"
"We never wanted to grow," says Lya. "It happened because it happened, and now people from all over the place were dumping dogs at our gate. We just wanted the dogs to have a better life and for people to get that shit out of their heads about mutts." Generally, in Central and South America, strays are accepted as an unappreciated part of the landscape by everyone except private rescue agencies and compassionate individuals. Now people were showing off their mutts and competing for the most eclectic "breeds" as status symbols. "But the campaign caused more problems," says Lya.
A popular Costa Rican joke describes a man selling lobsters from two baskets, one basket labeled imported, with a lid on it, and the other basket lidless, labeled local. When asked about the difference, he explains that you don't need to put a lid on the Costa Rican lobsters, because if one tries to crawl out, the others will drag it back in.
"This is very true of our society, people pulling down anybody who tries to rise above the bottom," she says. "I don't mind having a shitty car, living in a little house—my happiness is with the dogs." Four years ago, she alleges, "there was this former volunteer who managed to hack our Facebook page and shut it down, 84,000 followers just disappeared, and we had to start over from scratch."
Some organizations were angry about Lya's loud criticisms of shelters and their shabbiness. Others still feel the Territorio is overpopulated. "My personal opinion is that they have too many animals," Lilian Schnog, manager of the Animal Shelter Costa Rica, told Outside in an e-mail. "I never visited them, but we get a lot of last year's vet students at our shelter; they were in tears and said all the animals have ehrlichiosis. I do not believe that a shelter can run properly without a vet present." To this Lya replies that the tick-borne disease is indeed a problem in Costa Rica, but a veterinarian from the National Animal Health Service (Senasa) does visit the Territorio monthly to certify that the animals are in decent health.
The ongoing battles with neighbors are particularly disheartening. The boundaries of the Territorio are porous, and occasionally a dog will wander downhill into town and end up poisoned. Vandals have smashed irrigation pipes to deprive the dogs of water. Recently, Alvaro and his crew noticed vultures circling above one of the high meadows and hiked up to find five of the farm's eight horses had been butchered by poachers to sell the meat to illegal sausage makers.
Inevitably, there are the issues with waste and sanitation. (Not to change the subject: after our first visit, my wife retrieved her cell phone from her handbag to discover, inexplicably, a mysterious dollop of poop on its screen.) Disposal is a Sisyphean chore usually handled by the Nicaraguan laborers, who shovel the excrement into empty dog-food bags. The bags are hauled to the municipal dump, and Lya is given a receipt to verify the transaction.
The neighbors, she says, claim "we contaminate the land with our shit, the underground water supply with our urine. Oh, I say, do your cows not piss in the fields? But now I had to get legal proof. It costs thousands of dollars to get scientific proof to satisfy Senasa. And here, you're guilty until proven otherwise. But we always find angels in the darkest moments."
One day an elderly woman who followed the Territorio's Facebook page contacted Lya, offering the free services of her daughter, an environmental engineer. The daughter was able to certify that the mountain's aquifer was clean. "There's nothing our neighbors can do," says Lya. "They've tried everything. And now it's traffic—they say we're damaging the road." True or not, the narrow road through the neighborhood leading to the farm becomes impassable on days when the Territorio opens its gates to the public. "When people say, 'Why do you go through all this shit?' I say because what we're doing is right, and conventional shelters are not the solution."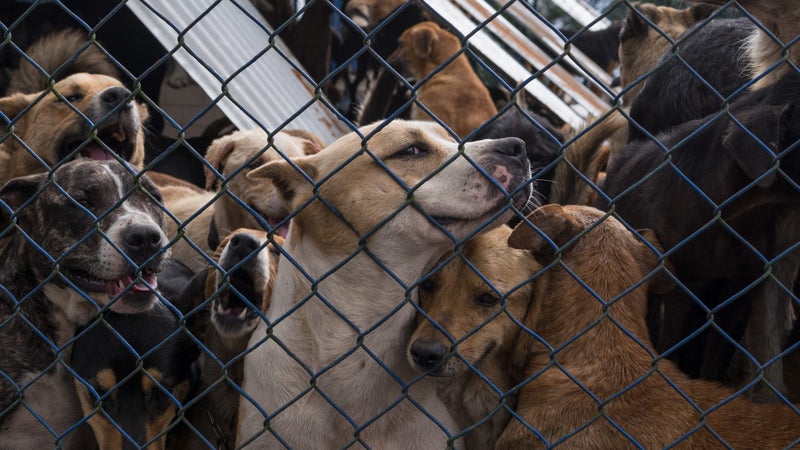 Indisputably, there's an overload of sadness and pathos and loneliness out there in Shelterland. Cue the lugubrious ASPCA commercials back in the States, the wretched images and bereaved voice-over so depressing you want to shoot yourself. In the Territorio, though, you're always smiling.
---
We're hiking up the mountain with the dogs, through pastures and bush and canopy, hoping the afternoon rains hold off for another hour. My wife is ahead with Alvaro and Daniel, one of the local employees, while Lya and I dawdle behind with the main pack, scores of mavericks spread out on our flanks, a river of raucous fur flowing euphorically up the slope, a sight every bit as marvelous, even in its reduced magnitude, as the wildebeests on the Serengeti plains. Unless, of course, you don't like dogs.
"If you can hold on to your problems while you hold on to a dog," Lya believes, "you have bigger problems than you think. We have to go through hell with our dogs, but it's how we grow. If you can't connect with a dog, then there's something really wrong with you."
From Lya's perspective, nobody's more dangerous than someone who would hurt an animal. It's a subject that invites diatribes from her about Costa Rica's success at living off the fame of being eco-progressive while its toothless animal-welfare law doesn't seem to care how you treat an animal as long as you pick up its shit. Noncompliance benefits everyone from the meat industry to cockfighters to hunters who poach sloths in the rainforest. "It's illegal to have dogfights, and what's the punishment? Nothing," she says. "We call it the Ley de Mierda—the shit law. We printed the actual law on dog-poop bags, and put turds inside the bags and took them to the government in protest." Finally, after years of promised reform, the national legislature is close to passing a referendum meant to toughen enforcement.
A river of raucous fur flows euphorically up the slope, a sight every bit as marvelous as the wildebeests on the Serengeti Plains. Unless, of course, you don't like dogs.
As we ascend the mountainside, Alvaro and his local muchachos, in front of us and racing toward the clouds, qualify not only as extreme athletes but as some of the world's best anger-management specialists. Back at the compound a thousand feet below, which sometimes has the anticipatory feeling of a crowded open-air bus terminal where all the passengers are excited dogs, bubbles of tension form regularly, and a visitor quickly realizes that to be employed at the Territorio, you have to have a big, authoritative voice. Somebody's always bellowing, "Don't do that!" When the tension turns into a scuffle, Alvaro or the nearest available muchacho jumps into action, hollering "Vamos vamos vamos!" and sprinting up the slope. The incipient brawl dissolves into thin air, dogs by the dozens peeling off from the rumble to gallop after them.
About 500 feet above us, Alvaro and Daniel and my wife and 300 of their best friends have paused to rest, and above them rolling thunder echoes off the Poás volcano as storm clouds gather darkly. Lya and I don't hear the command to turn around, but suddenly the pack reverses course and cascades down toward our own pack of 200, and in a few minutes they merge riotously. Daniel, approaching us, has the impulse to throw himself flat on the ground, and within seconds he's invisible under a smothering tsunami of dog love.
Every dog is determined to lick Daniel's laughing face. Every dog cannot lick Daniel's face. Ergo, a fight erupts, and Lya and I watch speechless as a little brown and black punk, a min pin, a dwarf Doberman, flies out of the heap like a rocket-propelled grenade and bites my wife on the calf, then flies away in guilty glee. "You little shit!" Lya and my wife both shriek in outrage, but the attack was so cartoonish in its ridiculous lack of motivation that we had to stop ourselves from laughing. After all these years, Lya has been bit so many times that she claims she's no longer impressed.
No matter what, no matter how badly the dogs have been mistreated before they arrive here, no matter that they're a mangy mess, they still want to be around people, which is why Lya and Alvaro started the public walks, and the dogs, even the malefactors, are infectiously exuberant as communal beings. In fact, their happiness raises a question that doesn't seem to have a perfect answer.
---
Before word of Territorio de Zaguates began to spread, Lya and Alvaro would adopt out three dogs a month, a rate that's since quadrupled, the running count to about 130 dogs, with 10 to 15 new dogs arriving weekly. Superperro has developed a DogMates app, which helps match people with strays in need of a home, but Lya and Alvaro are particular about who can have their dogs. Before they agree to an adoption, they want to meet the potential owners and follow up with a phone call a month later.
On our first day visiting the zaguates, we met Amanda, a young woman from San Francisco searching the hordes with her mother-in-law, who on a previous trip had fallen for a dog she wanted to take home. Trying to imagine the arc of that dog's destiny seemed impossible, but Lya is full of stories with happy endings. She takes out her phone and shows me a photo of one of her dogs, Chifrigo, lolling around Miami with a pair of cats and a bichon frise. A vicious chow mix known as El Chapo, after the notorious narcotrafficker, is now Kate. She has become adorable.
But the likelihood that the hundreds of other dogs will ever be adopted is zero, which raises the eternal existential question: So what? The difference between shelter dogs quivering in a kennel and Lya's zaguates scampering through the idyllic meadows of a canine paradise is profound and, ultimately, irreconcilable. "You don't have to adopt them," Lya says, "but at least you can be nice to them," a philosophy that applies to all refugees, human and nonhuman, from an insecure life, and in this case only Lya and Alvaro know the real cost of that kindness. "Yesterday," says Alvaro, "I promised I wasn't going to take any more dogs. I'm so tired. But you find out the horrible things that happened to them, and you can't tolerate it." Sometimes there's no money to pay their workers at the end of the month.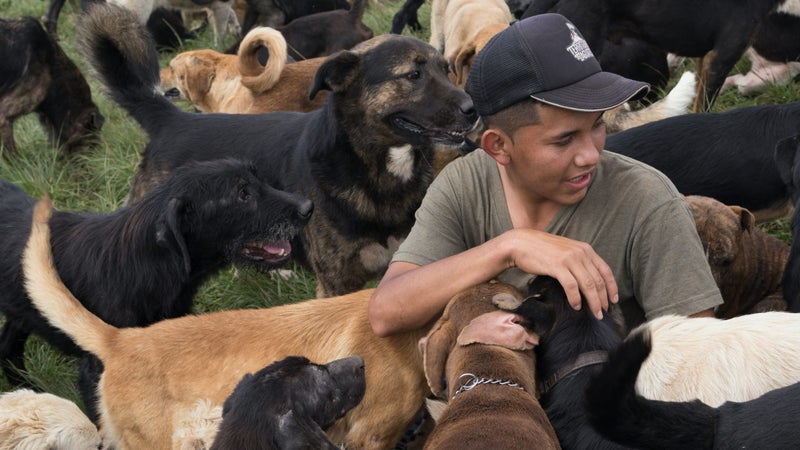 Only man, says Lya, can domesticate an animal and then ignore it. The zaguates are never asked to be not-dogs. The dogs are provided food and companionship without any inclination to compromise their freedom. It's hard to say if, without the proper funding, the Territorio can provide a sustainable model on its own terms, or one that can be reproduced in other countries by other rescuers. Regardless, the Kingdom of Strays exists as a realized, functioning vision of a better, more humane world.
The day before we arrived, we'd spent the night at an isolated resort on Costa Rica's magnificent Pacific coast. At dinner that evening in the resort's outdoor restaurant, I watched as a little black dog stopped at a table where a young couple were dining and waited patiently for a handout that never came. Perhaps the dog sensed my disapproval of her lousy people judgment, and she finally gave up and approached our table, where she hit the moocher's jackpot. My wife wondered what her name was, and I said she must be Negrita—little black one. The waitress stopped by and indeed confirmed her name—Negra, black but not so little, because the staff, when they sit down to eat their own meals, always fix Negra a plate as well. She comes and goes as she wants, said the waitress, but most nights she follows guests back to their rooms, and sometimes they invite her in and she sleeps with them. And so it was in the morning. I woke up to find Negra lying on the sofa, my wife feeding her cold cuts.
We had found the only zaguate in Costa Rica who had no need for Lya and Alvaro and the embrace of their boundless, sheltering love. Still, I couldn't help but think that Negra was missing out on all the fun.
The latest book by contributing editor Bob Shacochis is Kingdoms in the Air. His 2013 novel, The Woman Who Lost Her Soul, won the Dayton Literary Peace Prize.